Legends Return to Greentree
CORAL GABLES, Fla. – With dozens of former Hurricanes greats behind him and hundreds of young football players in front of him, Michael Irvin delivered a simple, passionate message.
If any of those young football players aspired to be Miami Hurricanes themselves, to eventually play in the NFL and leave their mark on the game, there was no easy path for them to follow.
No filmed Instagram workout would get them there. No quick practice would do the trick.
Hard work – and lots of it – would make the difference and on this particular Saturday morning, they'd have the chance to do some of that work in front of some of Miami's biggest names.
But Irvin didn't merely speak to the hundreds of young campers that filled the Carol Soffer Indoor Practice Facility. The Hall of Fame receiver joined them on the Greentree Practice Field, showed them how to run routes and offered advice to more than a few attendees of Miami's Legends Camp.
The event, the first under new head coach Mario Cristobal, brought together Miami's past, present and potentially its future, with current and former Hurricanes players guiding the campers through drills.
And, Cristobal said, it served as a reminder of what Miami has the potential to be again.
"I feel that we're working to address the things that need to be addressed, right? This is month seven and there's work to be done. That's what excited us about coming to Miami, amongst other things and we feel that's being done," Cristobal said. "We feel like the gap is closing. That people, once they set foot in Coral Gables, they realize how special Coral Gables is, how special the University of Miami is.
"And when they're around guys like this…I mean, let's call it what it is on that field right there and…in that indoor right now. These are the best players in college football, the best players in pro football. Guys they still see on TV. Michael Irvin addressed the entire audience. It's great to see a guy like Reggie Wayne, who is now the wide receivers coach for the [Indianapolis Colts] be here…able to mentor and encourage guys as they go through workouts. It's just very real. It's organic. Let's look back at the days when Miami was doing what Miami does, look at the sideline. You had an extra 40 assistant coaches in the form of Pro Bowlers and Hall of Famers. Those are some of the things we're encouraging and working on, to make sure that alumni bond, that brotherhood is there for the world to see and that it's real. It's no BS."
Among the Hurricanes greats that were in attendance Saturday along with Irvin and Wayne were Antrel Rolle, Brett Romberg, Jon Beason, Rohan Marley, Bennie Blades, Greg Mark, Jeremy Shockey, Hurlie Brown, Martin Bibla, Lamar Thomas, Tolbert Bain, Duane Starks, Roscoe Parrish, Randal Hill and Bryant McKinnie, to name a few.
Some of the newer members of Miami's NFL fraternity were in attendance, too, including Greg Rousseau, Jaelan Phillips, Duke Johnson, Deon Bush, and Jonathan Feliciano.
Also on hand was Hurricanes great Alonzo Highsmith, who joined the Miami staff last month as the program's new general manager of football operations.
His return – like Cristobal's – was one welcomed by many of the former players in attendance. They expressed hope that Highsmith's years of experience as an NFL executive would only be a boon as Cristobal continues the work of reshaping Miami's program.
"To see [Cristobal] come back and take the reins, but also interject the right people…Miami's done a good job this time around, getting Alonzo here also," Irvin said. "That's big. I talk to Zo all the time. I called him when he got this job and I said 'Man, it's so, so great.'… I said to him, 'Nobody saw those hours you put in. Nobody saw the work you put in. You've earned this spot. Nobody gave it to you.' We need that throughout the building. That's what I talked about with Coach [Cristobal], too…
"Winning championships doesn't just happen on the practice field. It happens within the building. The whole building has to be on championship alert and that's what we're getting back to now. That's what Coach has talked about. You can't be half and half on this…It has to be from the top down and everybody's got to work toward the same thing."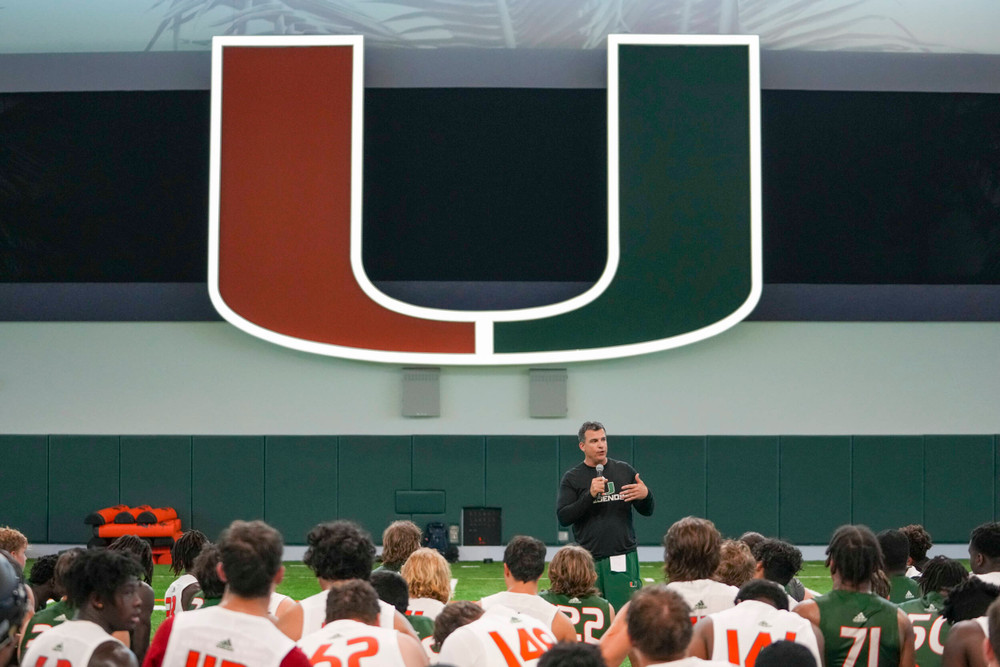 On Saturday, the Hurricanes legends were among those doing the heavy lifting, hoping their presence and support would make an impression on not only the campers in attendance, but the current Hurricanes who are just weeks from returning to Greentree for the start of preseason camp in early August.
"The standard at this particular university has always been championship or bust. So the first thing that [Cristobal] is trying to do is instill that in his kids that are currently here, knowing that if they work extremely hard, the chance that they get a championship can happen," said Beason, a former Miami linebacker and a three-time Pro Bowler. "That's something that has to be consistent across the board, obviously. Then the opportunity to get this next wave of kids that are coming in, to have them kind of see what it's like, to feel what it's like…If they want to be great and special, this is the standard."
At least one current Hurricane said that message definitely resonated with him and his teammates.
"It's been a very humbling experience, just seeing these greats. And we're not just talking about University of Miami greats. We're talking about greats in the game of football," said Miami receiver Xavier Restrepo. "What these guys have done on every single level, and exceeded…to hear their mindset is truly just a blessing. I don't think you can get this at any other university and that's what makes it all so special. I love what Coach Cristobal is doing here, just trying to bring all the alumni back. I think it's awesome."