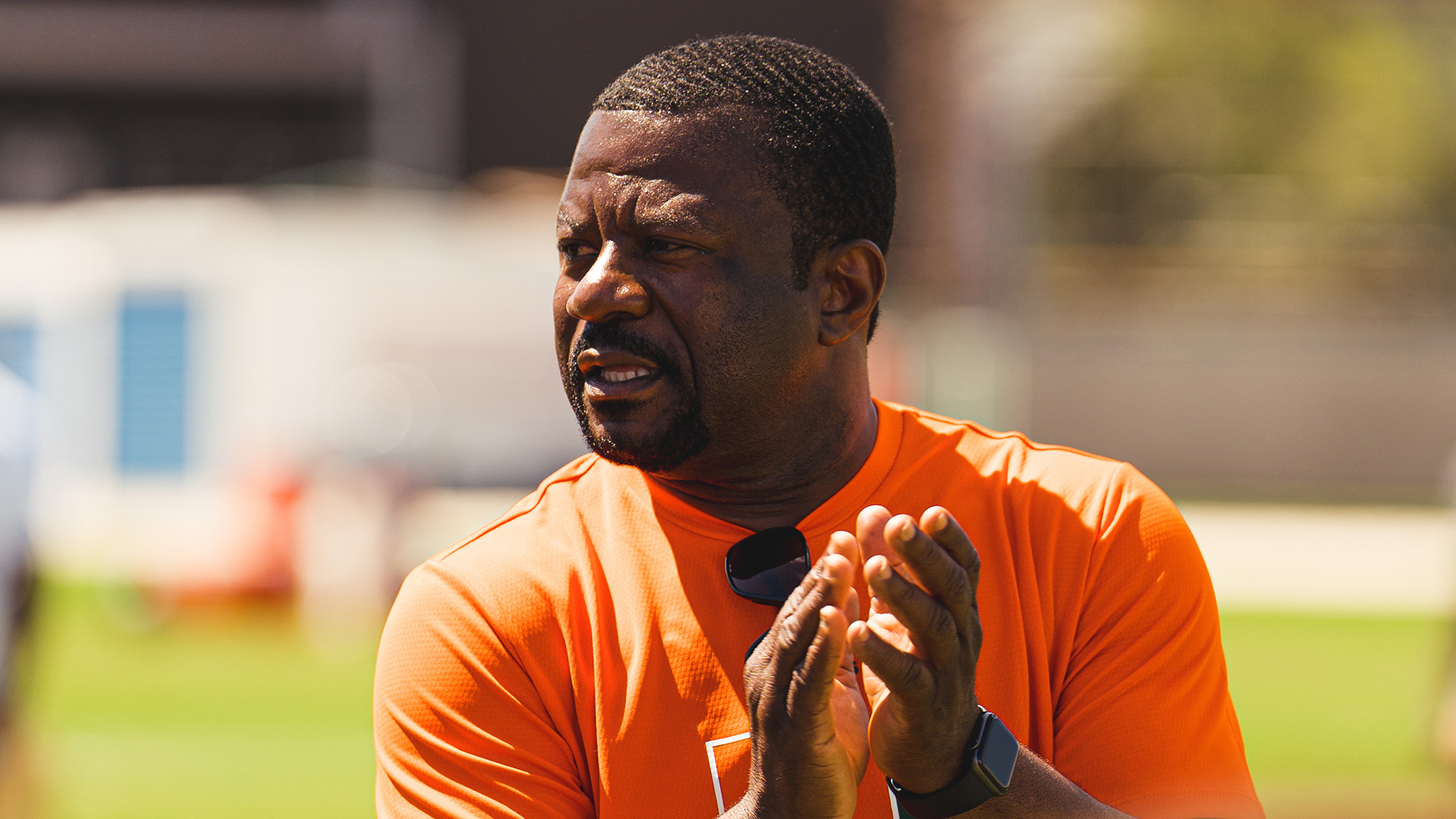 CORAL GABLES, Fla. – Roland Smith still remembers the emotion of that incredible moment.
When the University of Miami offered him a football scholarship, his father wept. And Smith – then a standout at Miami Northwestern High School – knew full well what the opportunity he'd been given meant not only to him, but to his family and his community.
"It was very special," said Smith, a former defensive back who played for Miami between 1987 and 1990 and won two national titles with the Hurricanes. "My dad got teary-eyed. He knew what I came from. He knew how special this would be for our family. I'd be the first graduate in my family to go to school and get a degree. I just loved that feeling."
Today, Smith – one of the most respected and well-known voices in the South Florida football community – is hoping to help countless other student-athletes and their families experience moments like those.
He joined head coach Mario Cristobal's staff earlier this year as the Hurricanes' new director of high school relations and already, Smith has thrown himself into his new role.
During spring drills, he was a constant presence on the Greentree Practice Fields, answering questions for the prospects who visited Miami's campus and connecting with their high school coaches and families. He's using his experience as both a former player and former coach to study film of the prospects the Hurricanes are considering.
And he's doing his best to serve as a liaison between the program he loves and the community he loves, knowing more than most exactly how intertwined the Hurricanes and South Florida truly are.
"The community rallies around this program like no other. I was probably too young when the Dolphins won [a Super Bowl]. I was in the heyday when Dan Marino went to the Super Bowl, but they lost. I was here when the [Miami] Heat won. But there's just something about when the University of Miami wins a championship," Smith said. "How they embrace us, how the city really loves us, how we're known nationally…We were the trendsetters and we want to get that back. We want everyone to recognize this brand, which they do, but we want to make sure they understand that we're here and we're not going anywhere. We're here to stay. That's our goal as a staff, to make sure people know we're back and we're here to stay."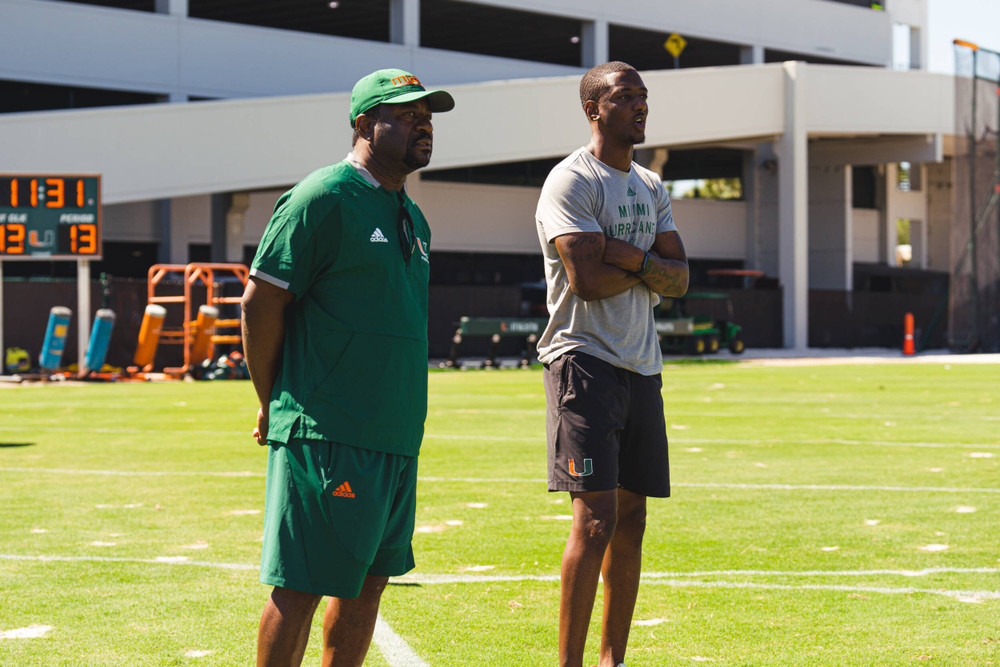 And Smith has a unique perspective to help him with his work.
He was a teacher and coach in Miami-Dade's public school system for nearly three decades. He led the football programs at Miami Northwestern and Miami Central to a combined seven state championships. And during his time as a high school coach, he guided countless top-notch prospects through the recruiting process.
He knows the questions those prospects and their families want to have answered as they try to make one of the biggest decisions of their lives and he knows what opportunities Miami can give those student-athletes.
All of that, he says, will help him as he continues to adjust to working in college football after an incredibly successful career at the high school level.
"Usually, when we have [athletic director] meetings and coaches meetings, I'm one of the ones spearheading those meetings, just trying to bridge the gap between both parties to make sure they understand how important they are and how important [it is to us] to make sure that we keep our student-athletes home in South Florida," Smith said. "That's our first priority, even though we're going to recruit on a national level. We're going to make sure we cover all our bases in our [tri-county] area and make sure we get the best student-athletes that fit the University of Miami."
And once those athletes visit Coral Gables, Smith is more than qualified to tell them about what a Miami education and the opportunity to play for the Hurricanes can do for them.
After all, he noted, he lived that experience himself.
"It means a great deal. The pride and respect I have for this program…This school did a lot for me as a student-athlete when I came from Liberty City and from Miami Northwestern Senior High School," Smith said. "Getting a degree here from the University of Miami, helping this town win two national championships was an honor for me. I was here. I saw the championships. I saw how this University brought the city together. I just want to see that again, experience that feeling again. I've experienced it as a high school coach, winning state championships. But it's even better as a national champion here at the University of Miami."
Like Cristobal, Smith acknowledges bringing Miami back to that point will require plenty of work – both on the field and in the community.
But he says he is committed to doing that work and he relishes the opportunity to help Cristobal reshape the Hurricanes into the kind of program both know it can be.
"A lot of people out there want to see Miami back on top. I was just at a gas station the other day and a guy said, 'Coach, we need a championship this year' and I said 'This year, huh?' Well, that's always been my motto at the high school level, to win one year in and year out. That's not going to change at the University of Miami…
"We have to continue to bring in great student-athletes here at the University of Miami so we can continue to compete on a national level year in and year out. And that's our goal as a staff here at the University of Miami…I'm glad to be home."