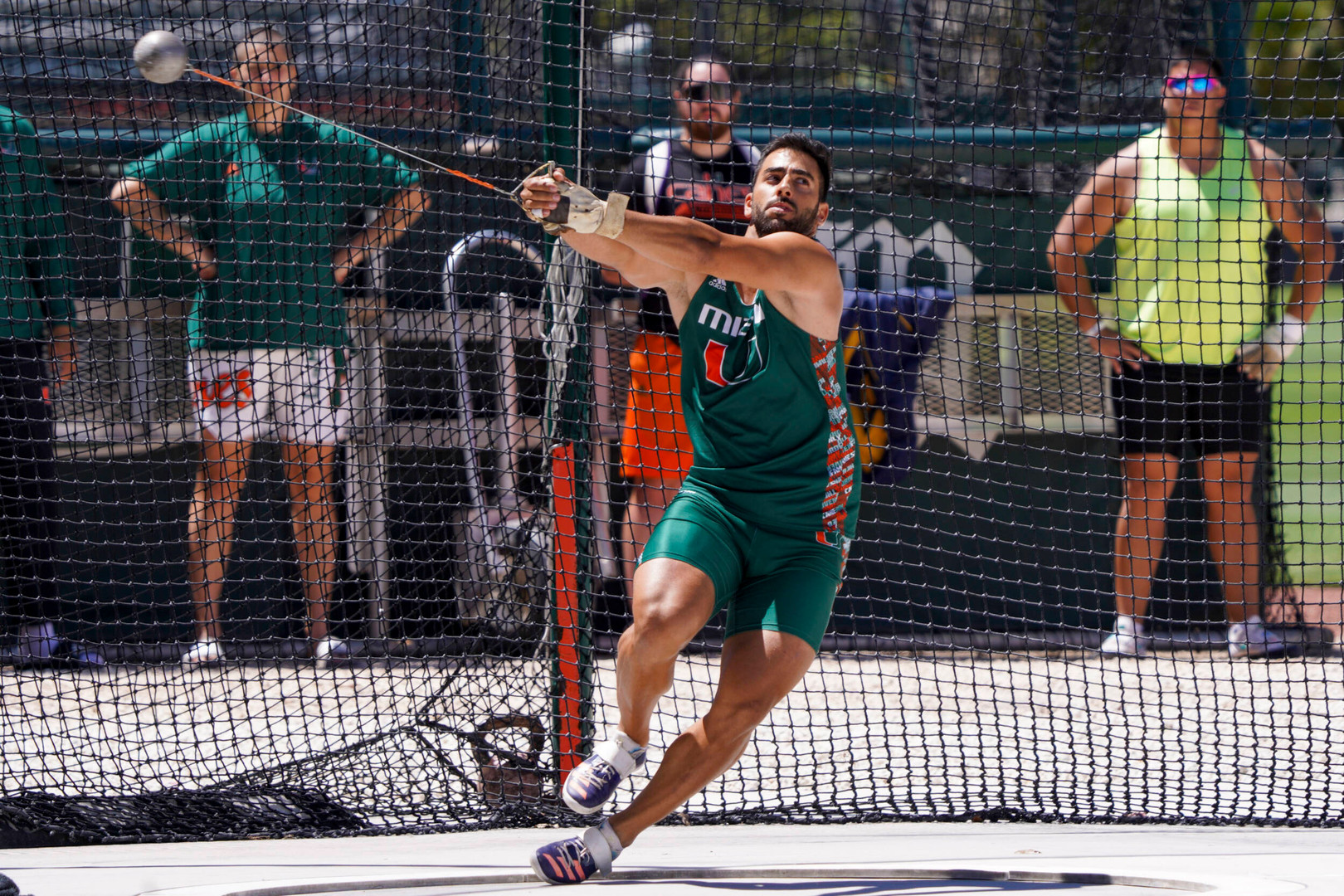 CORAL GABLES, Fla. – Décio Andrade came to Miami looking to challenge himself.
A transfer who'd already won a Division II national championship while competing in the hammer throw at San Angelo College, Andrade knew that with guidance from Hurricanes coaches Amy Deem and Cory Young, he'd not only be able to compete on a bigger stage, but potentially, leave Coral Gables with not one, but two master's degrees.
It was a no-brainer and now, as Miami prepares for this weekend's ACC Outdoor Track and Field Championships, Andrade is ready to build on the success he's quickly found with the Hurricanes.
"Going into ACC's, I'm a lot more confident right now than I was even 10 days ago," said Andrade, whose 71.76 meter throw in late March broke a Miami record and stands as the third-best mark in the country this season. "I think I'm a better athlete, not just physically, but mentally as well. I've improved on that here with the higher standards and higher expectations every week. That pushes you to be tough…I believe I'm prepared for ACC's this week and hopefully, regionals will go accordingly and then nationals."
Deem and Young – veteran coaches who've worked with their share of All-Americans and national champions – believe Andrade has the potential to shine this weekend and beyond.
The thrower has competed internationally. He was a star at the Division II level and his businesslike approach on a day-to-day basis has already helped the Hurricanes pick up their share of points throughout the outdoor season.
"He has tremendous passion and maturity and he wants people around him that have that same passion and dedication to the sport and to their events," said Deem, who has directed both Miami's men's and women's track and field programs since 2008. "He's very much a student of his event. He's a sponge, always trying, always wanting to get better…You want athletes that are bought into the program, into your coaching philosophy and kids that just push and push and push to be the best they can be. Decio is all of that. He's fun to watch, fun to be around and his energy and passion are contagious."
Added Young, Miami's associate head coach and throws coach, "It's always a steep learning curve when you come in as a transfer. Decio had tremendous success before he got here and there are going to be times when it's a little rough because you have to get on the same page with what you're trying to accomplish. Getting on the same wavelength can take a little bit of time, but the good thing is, Decio gets it. He's able to communicate on his end what he feels or what he knows should be happening in his throws…He's has a good understanding of how the event feels, how things should go in the system and he brings a great work ethic…He's relentless in what he wants to do."
Andrade's drive extends beyond his event and his sport.
The graduate student has already earned a degree in business administration and expects to earn a master's degree in international administration this summer.
After that, he'd like to complete a second master's degree in business analytics while continuing to compete for the Hurricanes.
All of that, he says, is possible at Miami, which has given him opportunities that simply didn't exist in his native Portugal.
"That's the best part of it all. Track has given me a future…If I hadn't come to the U.S., I probably wouldn't be competing now. In Portugal, it's so hard, as it is everywhere," Andrade said. "And having the education I've gotten here at UM, I know what I can do. I've become even more ambitious. [Coming to school here] has taught me what I can accomplish in my professional career. Here, I'm able to both [compete and study]. We'll see how this season ends, how next season goes and after that, we'll be one year from Paris [and the 2024 Olympics]. If I'm in a place where I can fight for that, I definitely will."
Andrade won't be the only Hurricane to watch at this week's ACC Championships.
Graduate student Isaiah Holmes enters the meet as the reigning indoor conference champion in both the long jump and high jump. In March, he became the first male Hurricane to earn the ACC's distinction as Indoor Field Performer of the Year.
Jumper Russell Robinson, meanwhile, broke his own program record in the triple jump earlier this year with a mark of 16.45 meters, a number that ranks fifth nationally heading into the weekend.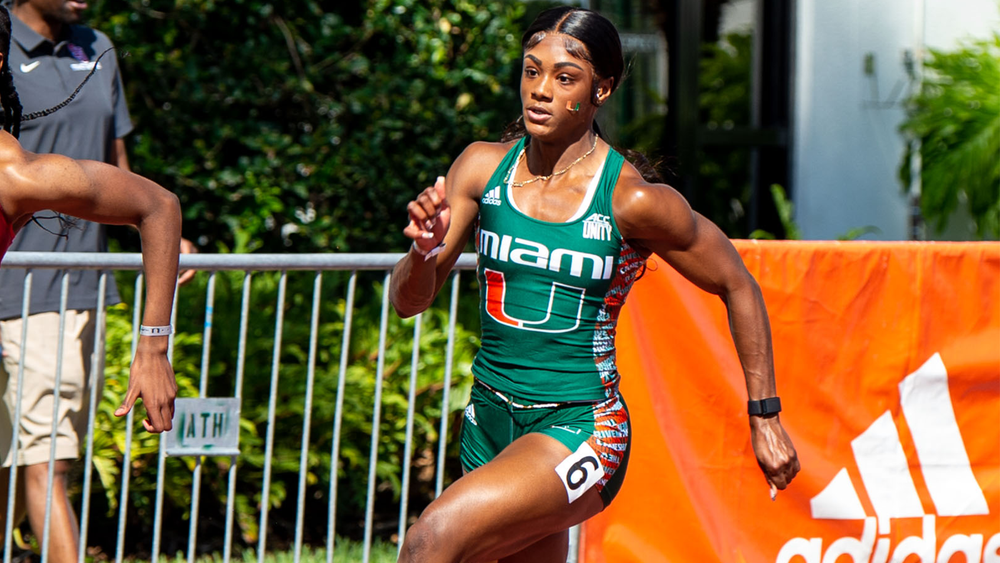 On the women's side, sprinters Moriah Oliveira and Jacious Sears won titles at the ACC Indoor Championships in their respective events, the 400-meter and 60-meter dashes, while veterans Debbie Ajagbe and Alfreda Steele have been consistent performers not just this season, but throughout their Miami careers.
All of that has Deem feeling good about the Hurricanes' chances in Durham.
"I really feel like both our programs are in a position to do really, really well," Deem said. "I feel like they're coming together at the right time. I'm really excited about both programs. On the women's team, we have some younger student-athletes that really need to step up for us to be successful, but I think the light bulb is starting to go on. I'm starting to hear conversations amongst them about what they want to do and what they want to accomplish. You put that together with the leadership of a Decio, of a Freda, of a Debbie and I think we're going to have a really good championship. I'm excited."