Courtney Elevated to Associate Head Coach
CORAL GABLES, Fla. – University of Miami head men's basketball coach Jim Larrañaga announced Monday the promotion of Bill Courtney to associate head coach.
A 26-year coaching veteran, Courtney recently completed his 12th year on Larrañaga's staff and his third at Miami, helping lead the Hurricanes to the Elite Eight for the first time ever. He moves into the position vacated by Chris Caputo, who is now the head coach at George Washington.
"I'm incredibly honored to step into this role at Miami. I want to express my sincere thanks to both Jim Larrañaga and Dan Radakovich for their faith and trust in me," Courtney said. "It is truly a privilege to put on the 'U' each and every day. To do so while working for a great man like Coach L is uniquely special. I'm so excited to continue to build this program and look forward to helping us create more memories in the years to come."
Courtney worked for Larrañaga for nine consecutive years, from 1996-2005, the first at Bowling Green and the latter eight at George Mason. During that time, the duo made five postseason appearances, including two NCAA Tournament berths, and posted five seasons with 19-plus wins.
Following seven years as a Power Six assistant coach at four institutions and six years as a Division I head coach, Courtney reunited with Larrañaga at Miami in 2019.
Courtney has quickly become one of the finest recruiters in the ACC, serving as the lead on the highest-rated commit in each of the last three classes. Eight of Miami's nine high school signees over those three years have ranked top-150 in the 247Sports Composite. Six were four-star, top-105 prospects in their respective classes, with Courtney leading the recruitment efforts of five of them, including all three top-85 signees.
The past two years, the Alexandria, Va., native has helped Miami sign a top-25 class in the 247Sports Composite rankings.
In addition, Courtney was the primary recruiter for both of the Hurricanes' transfers last offseason, Jordan Miller and Charlie Moore, each of whom averaged at least 10.0 points and 1.7 steals per game, the latter mark top-four in the ACC. They combined for 42 double-digit scoring performances and logged 68 of a possible 74 starts.
More recently, Courtney served as the primary recruiter this offseason on both of the team's transfer signees, Nijel Pack and Norchad Omier, who are ranked second and No. 12, respectively, in ESPN's transfer portal rankings. Pack was a First Team All-Big 12 designee and Big 12 Most Improved Player in 2021-22, while Omier was the Sun Belt Player of the Year and Defensive Player of the Year.
"Throughout his 12 years on my staff, including the last three at Miami, Bill Courtney has proven again and again just how valuable he is. Bill is an excellent recruiter, a tremendous coach and, most importantly, a fantastic leader and mentor of young men," Larrañaga said. "He is an essential part of Miami basketball and helped bring us to unprecedented heights this year. Dan Radakovich, who has aided our program so much, and I both know just how instrumental Bill is to the success of this team, both in the past and in our assuredly bright future. Bill's new position represents just that."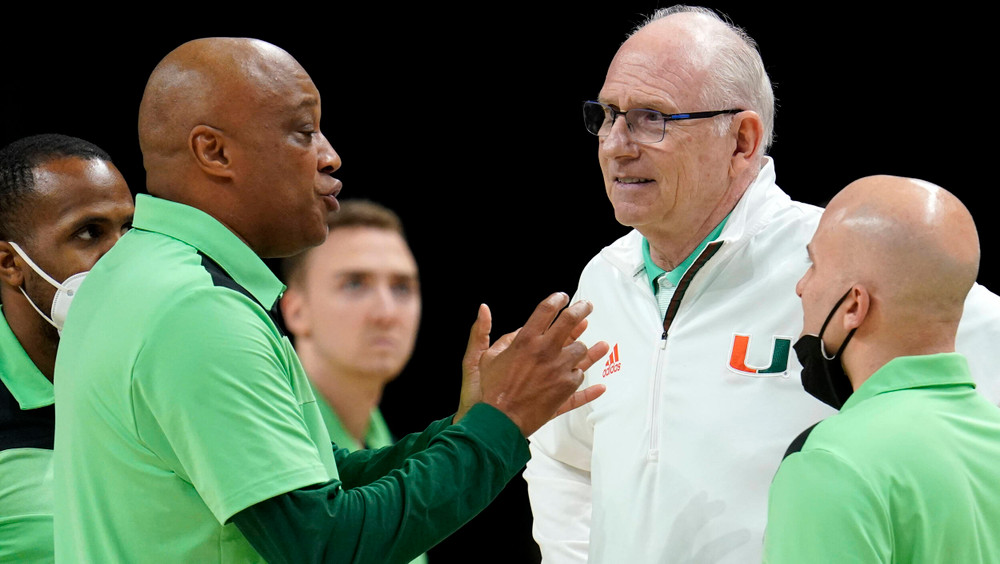 After working as Miami's scout-team coordinator from 2019-21, Courtney moved into the offensive coordinator role in 2021-22 and led the Hurricanes to one of their finest offensive seasons ever.
Miami finished the year No. 19 in the country in KenPom offensive efficiency at 113.9 points per 100 possessions. Both numbers are the program's second-highest of the KenPom era (1997-present). Miami also finished seventh nationally in turnover percentage (14.0), No. 25 in 2-point percentage (54.8) and No. 37 in effective field-goal percentage (53.3) according to the website.
In addition, the Hurricanes ranked sixth in turnovers per game (9.5), eighth in turnover margin (+4.41), No. 15 in assist-to-turnover ratio (1.49), No. 29 in total assists (524) and No. 30 in field-goal percentage (47.3). Miami also averaged 75.8 points per game in ACC play, breaking the program record of 74.8 set in 2007-08.
The Hurricanes' offensive prowess helped the team post a sensational 26-11 (14-6 ACC) record, good for the third-most wins in program history and a top-four finish in the ACC.
Miami logged three wins over teams that ended the year ranked top-15 nationally. That included two victories over top-three teams, as it beat the national runner-up, North Carolina, by 28 and defeated another NCAA semifinalist, Duke, on the road.
After earning the program's fourth Sweet 16 berth, including the third under Larrañaga, and first Elite Eight bid, the Hurricanes' historic season ended against the eventual national champion, Kansas.
To keep up with the University of Miami men's basketball team on social media, follow @CanesHoops on Twitter, Instagram and Facebook.