Leading and Teaching by Example
CORAL GABLES, Fla. – There are moments, even still, that Xavier Restrepo feels a sense of awe.
When he looks at the U on his helmet. When he pulls on the orange and green. When he steps on Greentree for practice or workouts with his teammates. When former Hurricanes stars take him aside and offer advice. When he has the opportunity to train with those former stars.
Restrepo, a third-year sophomore, had one of those very opportunities just last week when former Hurricanes receiver Braxton Berrios visited Coral Gables with his New York Jets teammates Michael Carter and Zach Wilson.
The trio of NFL players invited Restrepo to join them on Greentree. He happily obliged.
"I was out there running routes with those guys, just listening to how those guys talk and saw how they practiced on their own," Restrepo said. "No coaches know they're doing that. It's just player accountability, self-accountability…When I'm playing football, I'm not thinking about anything at all. It's just my time away from the whole entire world. But when I sit back and just really listen to these guys talk, I'm like 'Wow. I'm blessed.' This is just a great place to be."
For Restrepo, the chance to play at Miami has been the stuff of dreams. To now find himself the experienced leader in Miami's young receivers room is a responsibility he doesn't take lightly.
With record-breaking receivers Mike Harley and Charleston Rambo now in the process of preparing for this month's NFL Draft after exhausting their eligibility at Miami, Restrepo – who appeared in all 12 games the Hurricanes last fall and totaled 24 catches for 373 yards with two touchdowns – knows all eyes are on him.
And not only is he determined to rise to the occasion on the field, he's determined to set an example and mentor Miami's younger receivers in the way Harley and Rambo mentored him.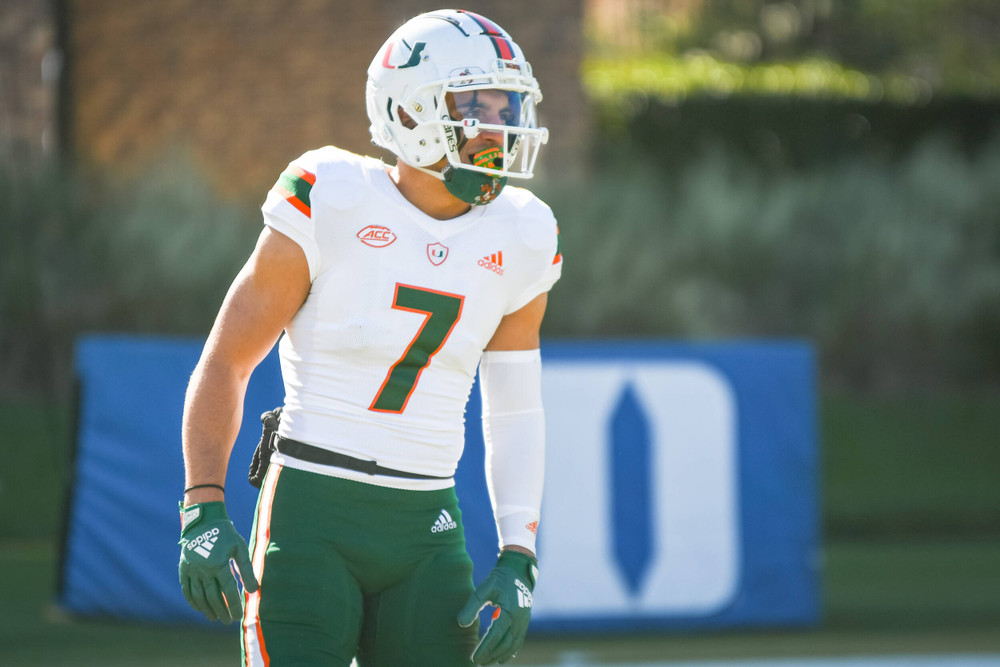 He began preparing for his new role virtually as soon as the 2021 season ended.
"Whenever the game's on, whenever the film's turned on, ball to you, you give 100 percent effort and make plays. At the end of the day, you have to have the quarterback trust you and you can ask Tyler [Van Dyke] himself if he trusts me," Restrepo said with a confident smile. "I trained my butt off. Took care of my body and really got into the mental part of the game in the off-season, studying defenses, techniques, stuff like that."
Said Van Dyke, "He's that guy out there. When receivers aren't catching balls or aren't doing the right things, he'll be the one that calls them up and gets them right, makes sure they get it right. And on the football side of things, he's definitely stepped up. He's starting to become that lethal weapon out there that I can trust to make plays on the field."
For Restrepo and Van Dyke, building that receiver-quarterback trust extends beyond Greentree.
Yes, the two forged a near-instant connection during the recruiting process and their bond only grew once they both arrived in Coral Gables in 2020. But it's some of the work they've done together away from Miami's campus that has helped the pair take their friendship to the next level.
During his free time, Restrepo helps coach his younger brother Dominic's youth football team with his father, Jaime. And more than once, Van Dyke has joined the Restrepo family on the field.
It's an experience both the quarterback and the receiver have relished – especially given that their squad of 8- and 9-year-olds has more than held its own against some older competition, winning five of the last seven tournaments they've entered.
"Before spring started, I was out there every single Saturday. My boys, those kids are everything I live for," Restrepo said. "I just love seeing those kids go out there, give effort and all the emotions they have. When it's a tight game and they drop a pass, you get to see their emotions…They're not crying because they're sad. They just have this competitive edge to them and that's a good thing. It's not a bad thing…My kids are amazing. My kids are outstanding."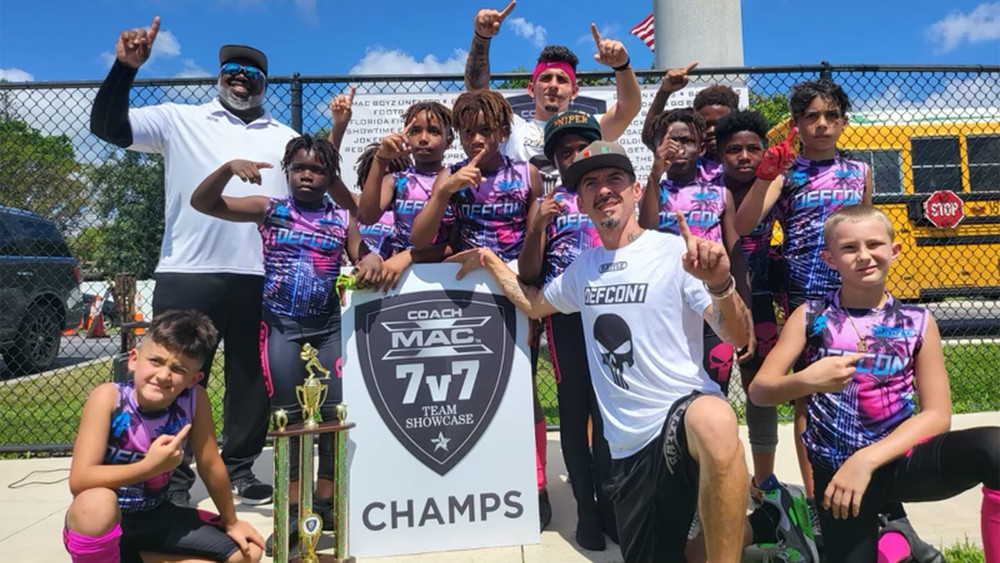 Those young football players have had the chance to see their coach in action this spring and Restrepo has done his best to make them proud.
It's not unusual to see the receiver run hard through every rep of every drill on Greentree. It's not unusual to see him get emotional himself when he makes a big play – or comes up short on a catch he knows he should have made.
For him, there is no speed other than full-speed, no way to approach the game other than to dive into it fully every day.
"I love football. It's plain and simple as that. I just love the sport," Restrepo said. "I spent a lot of time in my offseason just getting into all the mental part of it. I've been able to talk to [Miami offensive coordinator Josh] Gattis and I'm just listening, taking in all the information about the new offense. I feel like it's got me one step further out there. I just want us to keep doing what we've been doing, execute at a high level, play with a fast pace and just make plays for our guys under center."
That he gets to do that at Miami only makes every day on the field that much better.
"It's been a lifelong dream, my whole entire life to play here," Restrepo said. "It's a dream come true and every time I'm able to put on that U and rock this orange and green, it's a blessing."