Building on a Rich Tradition
CORAL GABLES, Fla. – Rod Wright hails from Houston. He starred at Texas, where he was part of a national championship team. His professional career included time with the Miami Dolphins.
Needless to say, he knows there's a perennial debate about whether Texas or Florida produces the best football players. But he's not about to weigh in on that. Not yet anyway.
Right now, one of his top priorities is finding ways to get as many of South Florida's top players to Miami, where he now coaches defensive ends as part of head coach Mario Cristobal's staff.
And already, Wright is eager to dive in.
"I'm a Texan, and Florida and Texas always argue about who has the best football players, but down here, it's different," said Wright, who joined head coach Mario Cristobal's staff earlier this month. "The players, the speed, the size, the ability. We've got to keep these guys home. That's when Miami was its best, when you had those best players stay home and why not? Why not stay home? We've got everything you need, from the facilities, the city, the coaching staff, the tradition. There's everything you can ask for here."
There's something else Wright can point to as he works to bring top ends to Miami: the Hurricanes' tradition of putting top pass rushers into the NFL.
Less than a year ago, two former Hurricanes defensive ends – Jaelan Phillips and Greg Rousseau – were first-round draft picks. Fellow end Quincy Roche was drafted, too.
In recent years, Miami has also sent the likes of Chad Thomas, Joe Jackson, Jonathan Garvin to the league, adding to a tradition that includes former Miami greats like Calais Campbell, Olivier Vernon, Kenard Lang, Kenny Holmes, Allen Bailey, Jerome McDougle and so many others.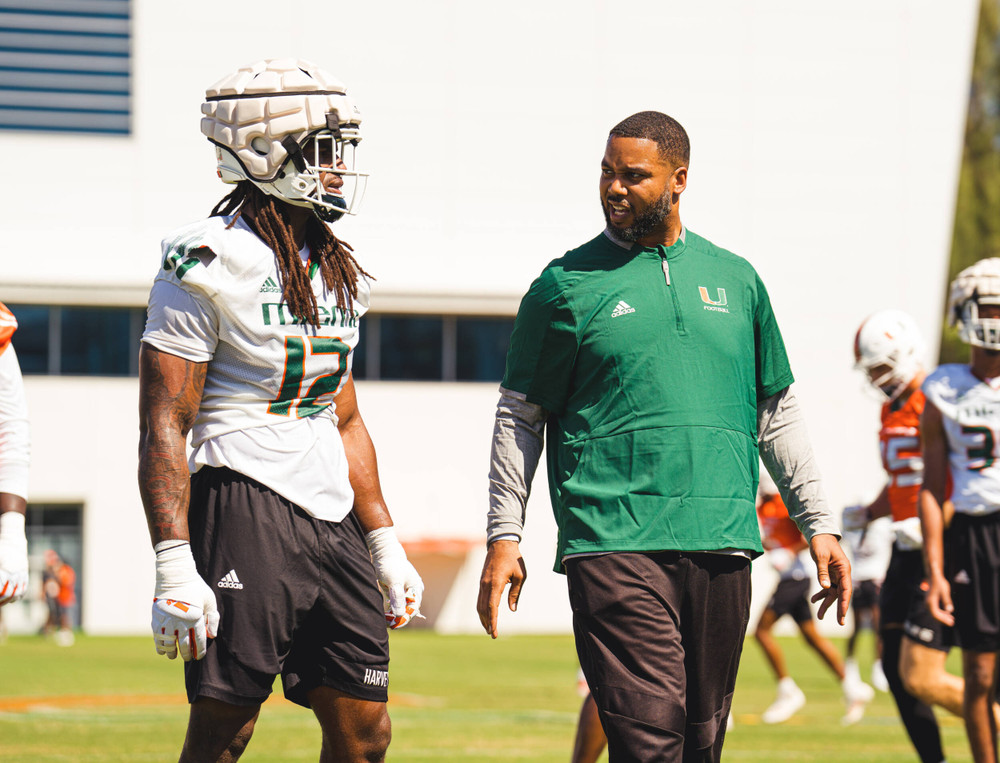 Developing players that will continue to uphold that legacy is another responsibility Wright doesn't take lightly. And he believes his experience – both as an All-American in college and a former NFL defensive lineman himself – will only help him as he continues to connect with his new players at Miami.
Having Pro Football Hall of Famer Jason Taylor, a former teammate with the Dolphins, now on the Hurricanes' staff with him as a defensive analyst won't hurt either.
"Playing in the NFL just brings credibility…To be able to tell them things that they're going to see, that they have to be ready for when they get to that side, that's what they want to hear," said Wright, who was drafted by the Dolphins in 2006 and played four years in the league. "Playing with Jason Taylor as well, who's now on my side as a coach, heck, I learn from him. Why do I listen to Jason Taylor? He's a freaking Hall of Famer, right? You want to listen to guys who've been there, who've done it. That brings credibility. And it's not just about ability – it's about being a pro, understanding I have to show up early. I have to take notes. I have to look at the notes. I have to apply that. I have to get better every single day. Those are things that kids aspire to be, so they listen to that. They're like 'Hey, this guy's been there. This guy's done that.'…To be able to bring that credibility, those kids are just champing at the bit to hear the knowledge that we've had and the things that we've learned because that's what they want to do one day."
Once his playing career ended, Wright returned to his alma mater where he began taking the first steps of his coaching journey as a student assistant and later as a defensive special assistant.
After that, he coached the defensive line at Sam Houston State. He later worked with the same position group at East Carolina and in 2019, he took over as defensive line coach at the University of Texas-San Antonio. Last season, the Roadrunners posted a 12-2 record and were ranked No. 14 in the nation in rushing defense, allowing just 114.7 yards per game.
That came after a 2020 season in which UTSA led Conference-USA in sacks (25), tackles for loss (85), interceptions (11), takeaways (19) and turnover margin (+7).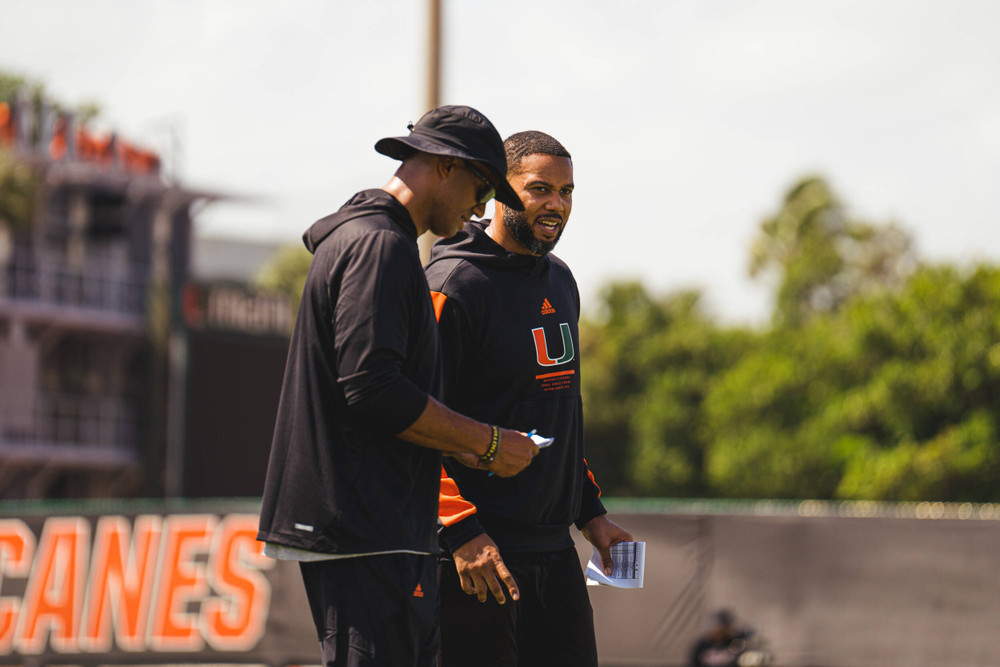 Now, Wright – who served as co-defensive coordinator at UTSA last year – is hoping to help Hurricanes defensive coordinator Kevin Steele create that kind of success at Miami.
Through the first two weeks of spring drills, the coach has already seen plenty that's got him excited.
"The defensive end room has some guys that have played and some young guys that haven't played that are going to be able to play," Wright said. "We have a healthy share of both sides of it and I think those older guys are ready to step up into the role. They played with those guys that are playing on Sundays, so they know they can make that and they know what it takes.
"And we've got some young guys that are long and can run and have twitch. I think it's a really good group, a really humble group that wants to be taught. They want to do it the right way. Obviously, it's going to take all spring, all summer, all camp to get them to the finished product, but they want to be good. They want to be pushed and that's something you've got to have…It's a humble group. It's a hungry group. And it's a group I feel like we can really get some stuff done with."
If those players are able to grow the way Wright believes they can, he says Miami's defense – from its interior linemen, to its ends, to its linebackers and the secondary – can help the Hurricanes be a force.
"Coach Cristobal's not here to do okay. He's here to be great," Wright said. "That's what I'm hoping I can help this staff and this team be."