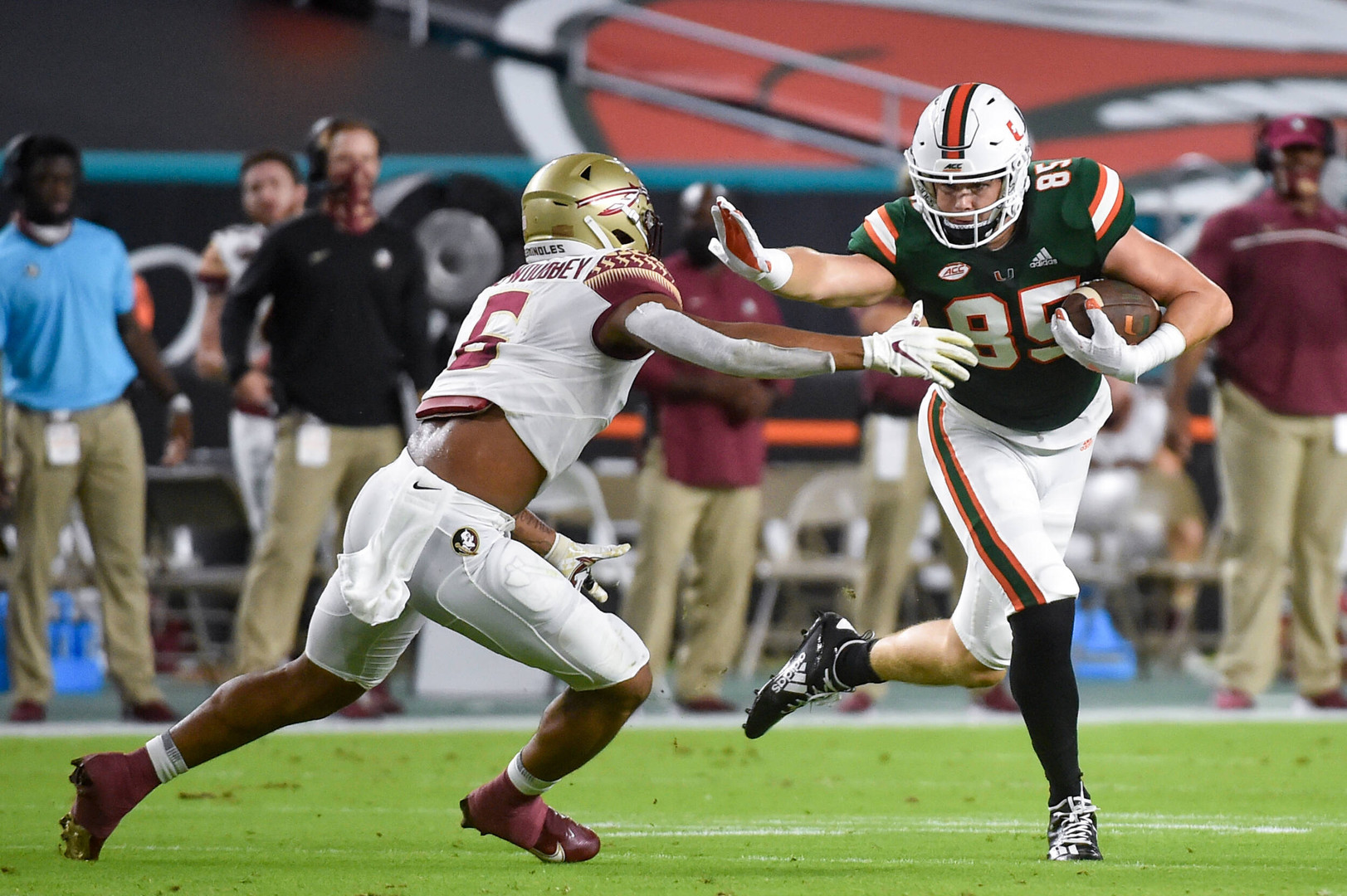 CORAL GABLES, Fla. – When he takes a glance around the Miami Hurricanes football locker room, Will Mallory can't help but notice the difference.
It's not just about the teamwide weight gains after the offseason strength program or the increased sense of urgency – both of which have been on display in the early going of spring football.
It's the new faces that stand out the most.
"I look around and I'm like, 'Wow, there's not many people here that I came in with,'" Mallory said with a laugh.
"But it's really cool to get a chance and an opportunity to work with the younger guys and make more relationships. That's what it's all about."
Mallory's upperclassman presence will be felt in his own position room, which includes second-year players Elijah Arroyo and Kahlil Brantley to go along with heralded midyear enrollee Jaleel Skinner.
Mallory, a Jacksonville native, has caught 73 passes for 1,006 yards and 11 touchdowns in his career. He has started 28 games in his four seasons and ranks among the most prolific tight ends in program history.
And while the group's collective numbers without Mallory's contributions are far from eye-popping – Arroyo caught five passes last year, Brantley one – Mallory affirmed his confidence in the unit.
"Since I've been here, this is probably the most talent, depth-wise, that we've had," Mallory said. "That's from top to bottom. This is a great opportunity for me to work with these guys and hopefully show them the ropes a little bit. But they push me every single day, which is most important. They make me better. Without them, I couldn't do anything."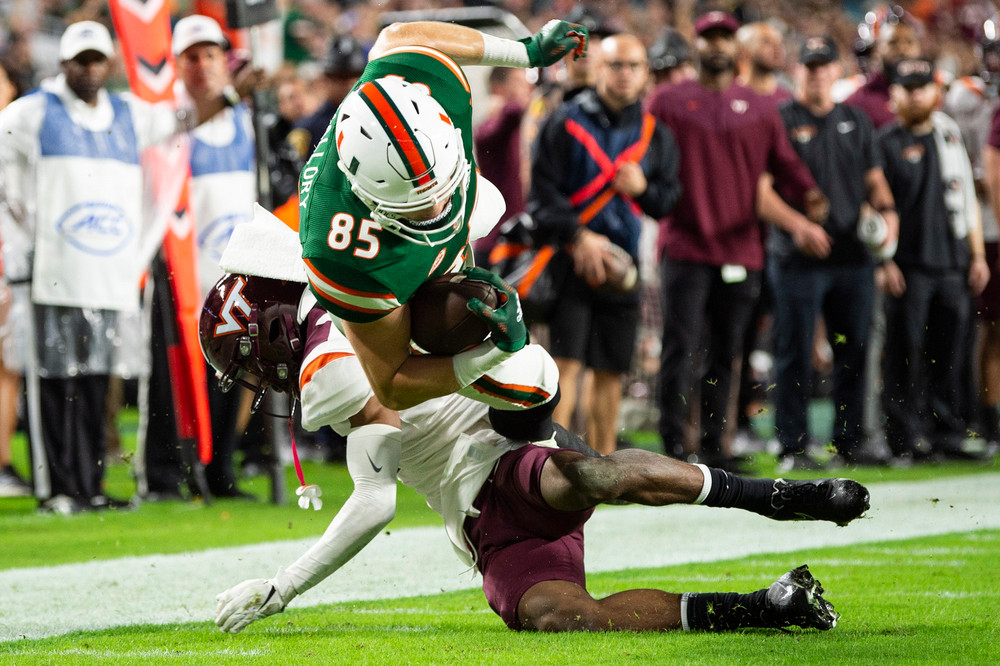 If offensive coordinator Josh Gattis' remarks during the first week of spring practice are any indication, Mallory and the rest of the tight end group will be playing a pivotal role down the line as the Hurricanes continue their offseason installation period.
"The tight end position for us is like a Swiss army knife," Gattis said. "We're asking those guys to do so much for us. We're going to develop a complete tight end. That's the thing that will be a little bit different – asking those guys to be involved in the run game as much as in the pass game."
Mallory, in particular, has caught Gattis' eye through the first few practices.
"When you look at Will, I think he has the ability to be a special player in this league," Gattis said. "He can do a lot. Not just in the run game, but in the pass game and in pass protection. That tight end room has been recruited really well."
There was a chance Mallory, who had 30 catches for 347 yards with four touchdowns a season ago, may have bolted for the NFL after 2021.
Ultimately, he decided there was more to show – not just to professional talent evaluators, but himself.
"I wanted to return because I wasn't ready to leave yet," Mallory said. "There's a lot left I wanted to show and a lot left I wanted to prove to myself. With everything going on here, I'm very fortunate to come for a year like this, as well. It's a great opportunity for me to get to be with all these coaches and all these players. I'm really fortunate to be at this university. It was hard for me to leave. There's a lot left that I wanted to do to prove to myself. I was excited to get back and get to work."
And while the entire group is pushing Mallory through some unusually hot March days on the Greentree Practice Fields, Mallory's face brightened when speaking about Skinner, who inked with the Hurricanes during the early signing period.
"He's a lot better looking than I was when I came in, that's for sure," Mallory joked. "He's very impressive. All the coaches, they've brought in quality young men, and that's what's most important. Jaleel has come in and fits in well with the group. He's really good kid and has a really bright future."
Will Mallory talks to the media after the Canes' second spring practice.
Skinner, like many of the newcomers on the roster, are adjusting to the increased workload that college football demands.
To Gattis, that's part of the process for all players – veterans and rookies alike.
"It's all about intensity, effort, execution and fundamentals," Gattis said. "Right now, that's all we're trying to establish. If we can establish the culture, that will carry over into the season and allow us to be the team we need to be. We still have a ton of work to do, and we're working hard. That's the thing I appreciate – our guys, they've been very coachable. They're really taking on a lot, learning how to practice the way we want to practice. I've been pleased so far, but we've got a long way to go."
As long they put in the necessary work, Mallory knows he and his teammates have what it takes to carry on the legacy of Tight End U.
"[Tight ends] are a huge key. With that comes a huge standard," he said. "We have to live up to that standard. It depends on us on how successful plays can be – whether that's in the run or the pass game. It's really exciting to have the opportunity [Coach Gattis] is giving us.
"But like I said, with that comes a high standard. Every single day we have to bring it. We have to compete, have to be better to help this offense."