Poised and Competitive, MBB Visits Atlanta for Next Test
CORAL GABLES, Fla. – Few feelings in sports beat the thrill of a half-court, game-winning buzzer-beater.
The University of Miami men's basketball team got that thrill Wednesday night at Cassell Coliseum in Blacksburg, Va., as Charlie Moore banked in a shot from the logo to give his team a 78-75 road win over Virginia Tech.
It marked the first true buzzer-beater—with 0:00 left on the clock—by a Hurricane since Ja'Quan Newton's famous heave to stun ninth-ranked North Carolina on Feb. 27, 2018.
While the final moment of the game understandably stole the show—it was No. 2 on SportsCenter that night—it was part of a truly excellent game, even without the scintillating ending, between two conference foes.
"Well, one of the things that was very apparent is that both teams shot the ball well and were very efficient on offense," Miami head coach Jim Larrañaga said. "Virginia Tech shot the ball extremely well, being at home and playing with a lot of confidence in the second half. It really took a determined effort by our players to match them every step of the way. We were very fortunate that we were the last ones to make a shot because it was tied at that time. It looked like an overtime thriller, but Charlie Moore took care of that."
A sixth-year redshirt senior guard in his first season at The U, Moore finished with 13 points, six assists and a game-high five steals in the triumph. On a night he also surpassed 500 collegiate assists, he gave Miami fans a moment they will remember for years, as, of course, will he.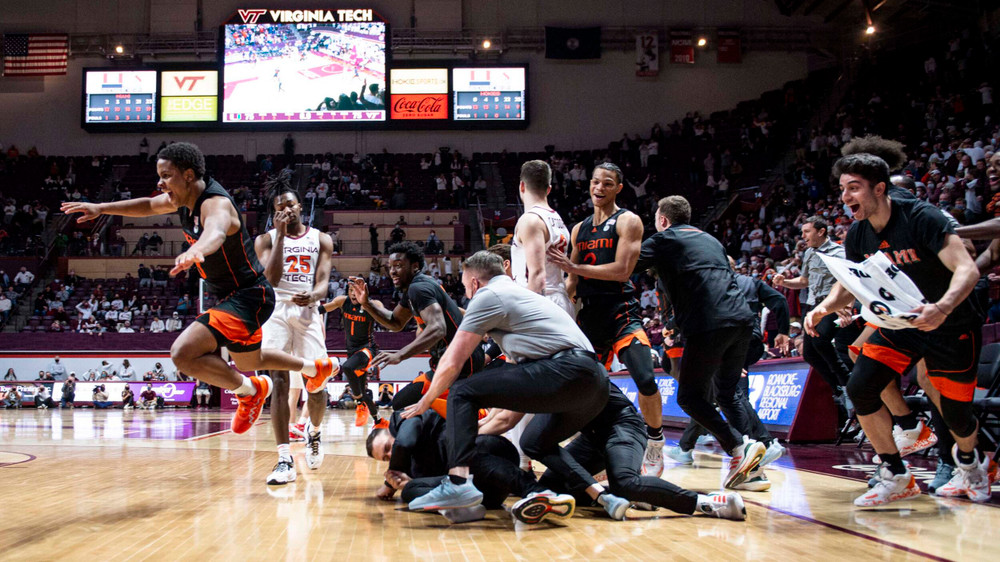 The Chicago native's buzzer-beater sealed yet another comeback win for the Hurricanes, who trailed by six with fewer than seven minutes left and by five in the last two minutes.
Miami (15-5, 7-2 ACC) once again rallied for a victory, marking the eighth time this season it has won a game it trailed in the second half, including the fifth time away from home and the third in a true road outing.
This veteran-laden team has proven again and again it simply does not quit.
"I think, when guys enjoy playing with each other and the games are really competitive and fun, that they enjoy the competition," Larrañaga shared. "When you have experienced guys who have been through the wars over a period of time, they realize that the game is not over until it's over. Every possession is important—every shot, every turnover. All those things create the opportunity to win at the end. And our guys have been very poised down the stretch.
"They've hung together, they've trusted each other, they've made some very good decisions and they've also done that at the defensive end of the floor," he continued. "It's not just been our offense, but forcing turnovers or forcing a missed shot or getting a key rebound; we've done all those things."
Indeed, the Hurricanes turned in another strong defensive performance against the Hokies, whom they held without a point for the final two minutes. Miami also logged 10 steals, its fifth time in the last seven games reaching double figures.
The Hurricanes also excelled at the other end of the court Wednesday night, posting their best 3-point percentage in nearly six years and their third-best mark ever in ACC play. The 61.1 clip (11-of-18) is the highest ledger allowed by the Hokies in Mike Young's three years as the head coach.
Miami got 3-point shooting, paired with pinpoint offensive execution, from several players. Sixth-year redshirt forward Sam Waardenburg made all four of his field goals, both 3-pointers and both free throws, finishing with 12 points, a figure matched by third-year sophomore guard Isaiah Wong.
Fourth-year junior guard Jordan Miller scored 18 points on 7-of-9 shooting, while sixth-year redshirt senior guard Kameron McGusty had 19. Alongside Moore, that gave the Hurricanes five double-digit scorers for the first time since March 9, 2021.
McGusty, in particular, proved key for the Hurricanes. After a 1-of-8 performance in the first 25 minutes, he shot 6-of-6 and totaled 17 points in the final 15.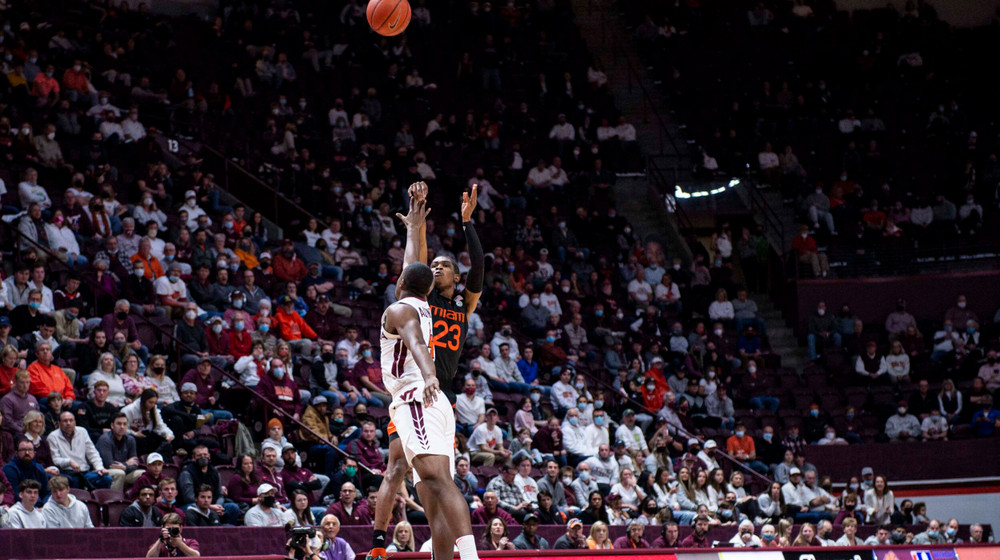 "Actually, while the game was going on, I was very concerned about him because he had missed a couple of shots he normally makes," Larrañaga said. "He had gotten himself in a position where he could've had a huge game, but in the second half, he seemed to just calm down, relax, focus and take advantage of each opportunity that presented itself. He ended up having an overall great game."
As exhilarating as Wednesday's triumph was, the Hurricanes must quickly prepare for the next step in the ACC grind. Miami now has a second consecutive road game, slated for Saturday at noon against Georgia Tech in Atlanta.
Only about 36 hours after arriving home from the buzzer-beating win, they will take off for the Peach State to play another dangerous ACC team.
While some teams may have an emotional letdown after such a joyous victory, the Hurricanes appear poised and focused for their next task.
"Well, there is always a concern emotionally after a game like that, but [we know] Georgia Tech is a very good basketball team, especially at home," Larrañaga said. "They just beat Florida State, who just beat us. So, we know we have our hands full and our players understand that you've got to take the season one game at a time."
The Yellow Jackets are 9-10 (2-6 ACC) on the season, but knocked off the then-ACC-leading Seminoles by 14 points, 75-61, Wednesday night at McCamish Pavilion, where they now host Miami.
Georgia Tech turned in a splendid 2020-21 campaign, including winning the ACC Tournament after ending the Hurricanes' Cinderella run—and their season—in the quarterfinals. Miami does own a 14-12 record against them though, including a strong 6-6 mark on the road and a 7-6 ledger in Larrañaga's tenure.
"I think Josh Pastner has done a great job of alternating his defenses, playing the zone, playing man. They're a high-energy team," Larrañaga said. "They have a lot of interchangeable parts; they're all about the same size. They play very well together. I think Michael Devoe and Jordan Usher are two really high-level ACC players. You've got to guard them because they're capable of carrying the offense for long periods of time."
Devoe presents a particularly difficult task for ACC defenses. A Preseason Second Team All-ACC honoree, he is the league's second-leading scorer at 19.2 points per game.
The senior guard lit Miami up for 29 points in the teams' first meeting last year, shooting 11-of-16 from the floor, including a blistering 7-of-11 beyond the arc. He scored 13 points on 4-of-8 shooting, including a 3-of-4 tally on 3-pointers, in the ACC Tournament contest.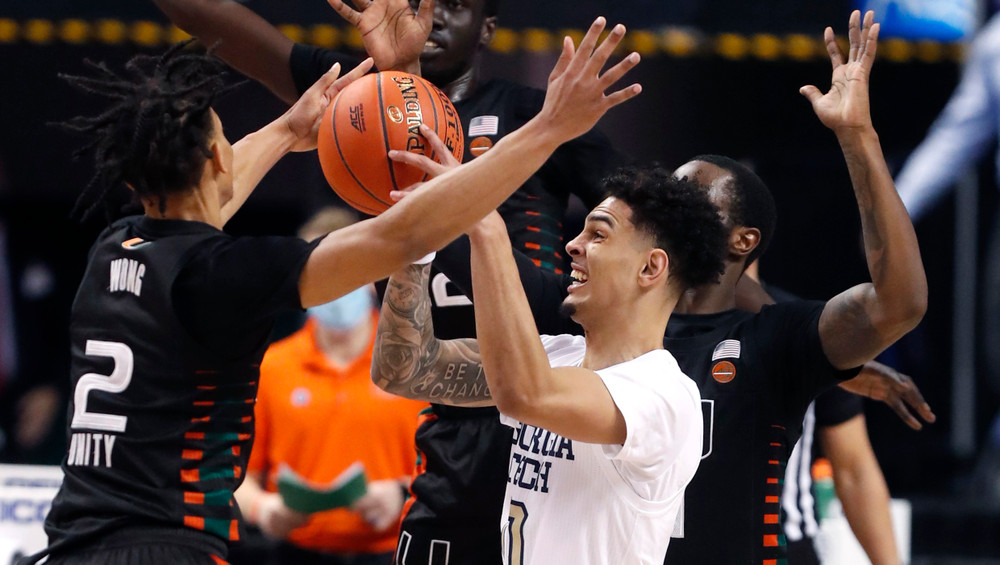 Larrañaga knows his players once again have their work cut out for them in trying to limit Devoe this time around.
"You can't get any separation on Michael Devoe. He is such a high-octane scorer that if you give him a three, he's going to make the three and if you overplay the three, he's so good at getting to the rim," the two-time ACC Coach of the Year said. "He's very, very clever in the paint, shot-faking and getting fouled. He can play the one, the two, the three. He's very good in the open court. He is, deservedly, a very well-respected player around the ACC and the country."
Miami's outing in Atlanta will be shown live on RSN—that is Bally Sports Florida locally—with Bob Rathbun and Brian Oliver on the call. A full affiliate is available HERE and it can also be seen on WatchESPN, subject to blackout, HERE. Joe Zagacki will have the radio broadcast on AM 560 Sports WQAM HERE, while live stats will be available HERE.
Following its matchup with the Yellow Jackets, Miami returns home to host Notre Dame Wednesday at 7 p.m., live on RSN from the Watsco Center in Coral Gables.
To keep up with the University of Miami men's basketball team on social media, follow @CanesHoops on Twitter, Instagram and Facebook.