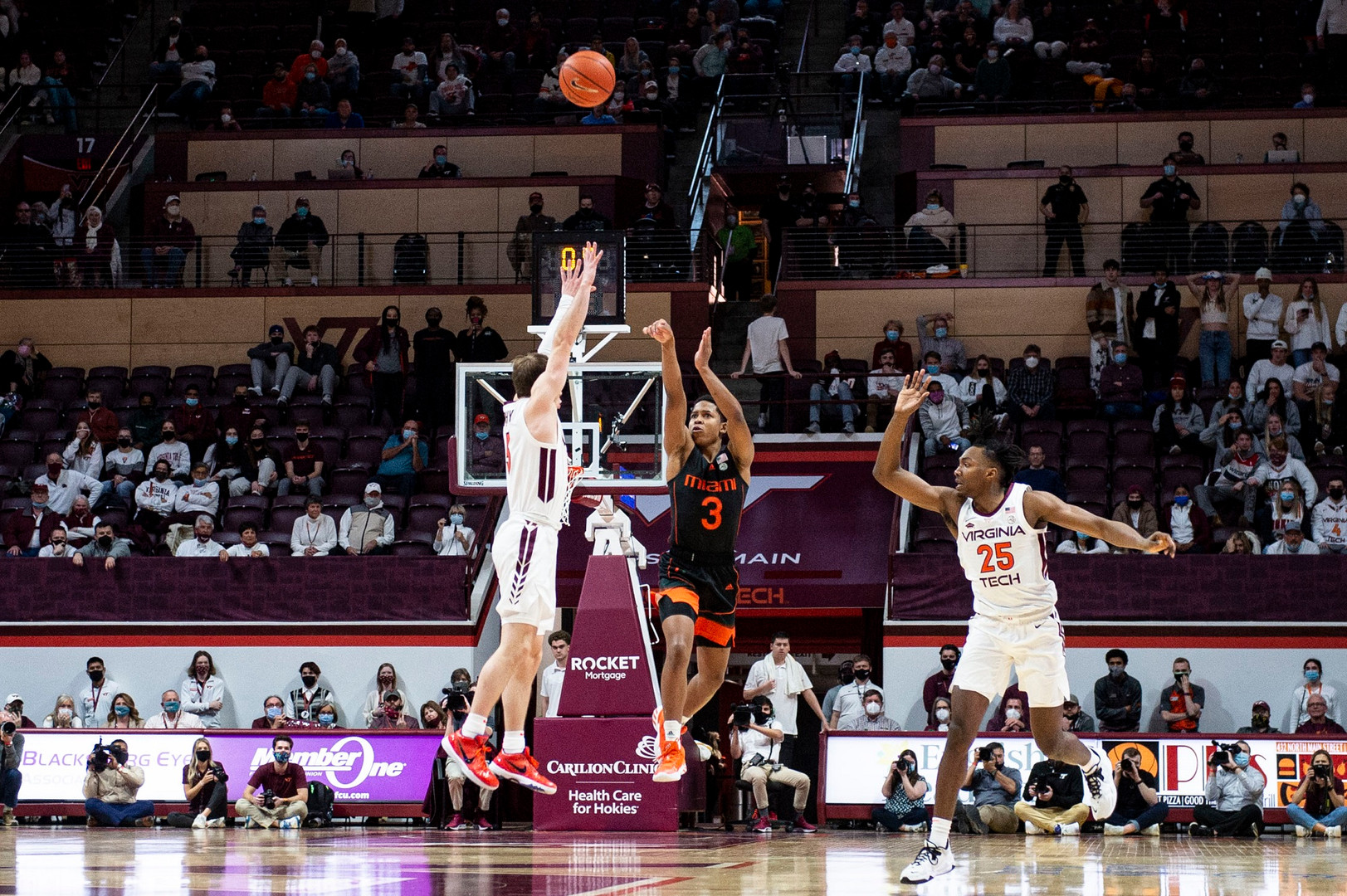 Charlie Moore has managed to hit a few half-court shots during his basketball life.
But never one like this.
Never one that silenced an entire arena. Never one that gave his team a conference win on the road. Never one that capped yet another memorable game for the Miami Hurricanes.
"That shot was kind of special," the sixth-year redshirt senior guard said of the buzzer-beating heave that lifted Miami to a 78-75 win over Virginia Tech in Blacksburg on Wednesday night.
Special indeed.
With 1.8 seconds left on the clock and the game tied, Moore and the Hurricanes returned to the floor after a timeout knowing they'd have little time to work if they wanted to get out of Cassell Coliseum with a win and without having to play overtime for it.
But Moore felt comfortable, thinking to himself he might have just enough time to give the ball a little dribble before putting up his shot.
He did.
The shot banked off the glass, fell and pandemonium ensued on the Miami sideline, with the Hurricanes chasing after Moore as he rushed down the floor and out the tunnel in pure joy.
"My coaching staff, they showed a great play for me and my teammates executed it very well," said Moore, who finished with 13 points and earlier in the game notched the 500th assist of his college career. "Coming out of the timeout, I knew my coaches and my teammates trusted me to take this shot…I just wanted to get a shot up, give us a chance to win and it happened to go in. I'm excited. My teammates are excited for me. I'm just happy we came out with a win."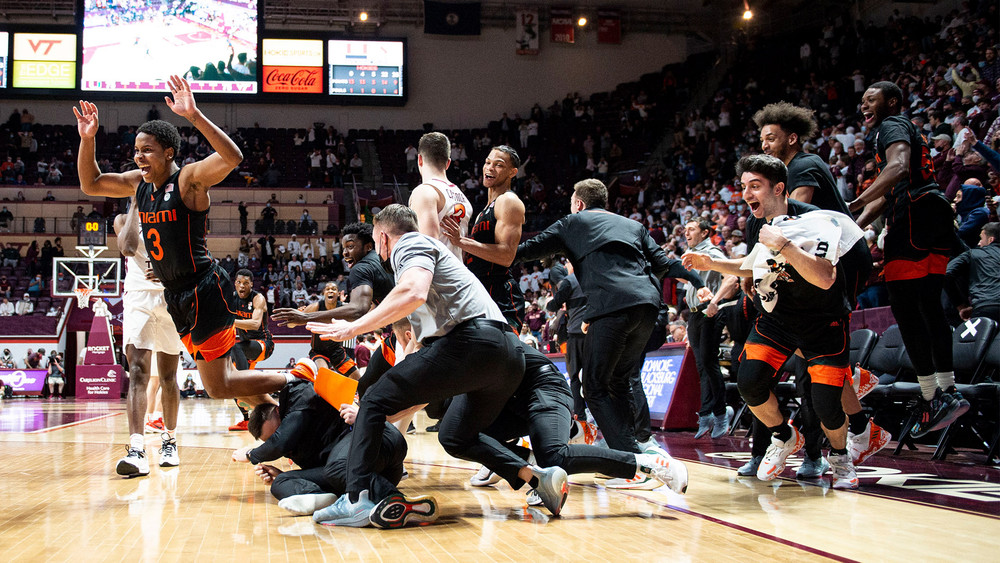 It's a win that not only put the Hurricanes (15-5, 7-2) alone atop the ACC standings, but proved yet again they're a resilient bunch that can't be counted out, even in the toughest of situations.
Miami trailed Virginia Tech by six points in the final seven minutes and by five in the final two before closing the game on an 8-0 run. That stretch included three key free throws from Isaiah Wong and a clutch rebound from Jordan Miller that gave the Hurricanes – and Moore – the final shot.
Before Wednesday's effort, already this season, the Hurricanes rallied from an 18-point deficit to beat Syracuse 88-87. Miami trailed by nine with five minutes left in an eventual 80-75 win over Clemson. The Hurricanes hung on for a 76-74 thriller of a win over then second-ranked Duke at Cameron Indoor Stadium.
And just days ago, though Miami ultimately came up short, the Hurricanes fought back from a 26-point deficit against rival Florida State and gave themselves a chance to win on the game's final shot.
"We've been in so many of these games already. Just look at [our] last games," Hurricanes head coach Jim Larrañaga said. "Syracuse we won by one. At Duke, we won by two. At Florida State, we lost by one. Florida State at home, we lost by one. Now, we win by three. Our guys have been very, very consistently poised in the last three, four minutes of games. They've been making big play after big play."
Said Moore, "We believe in each other. We trust in each other's talents and what we're able to do on the court. We feel like we're a great team. We have confidence to make these comebacks and runs…I feel like us just believing in each other, trusting each other and just staying poised, we have those characteristics as a team and that helps us continue to fight when we're down in games or things like that. It says a lot to have a poised team all across the board. It's pretty rare. We just have to continue to get better, continue to trust each other. We still have a long season ahead of us. We have to continue to stay humble as well."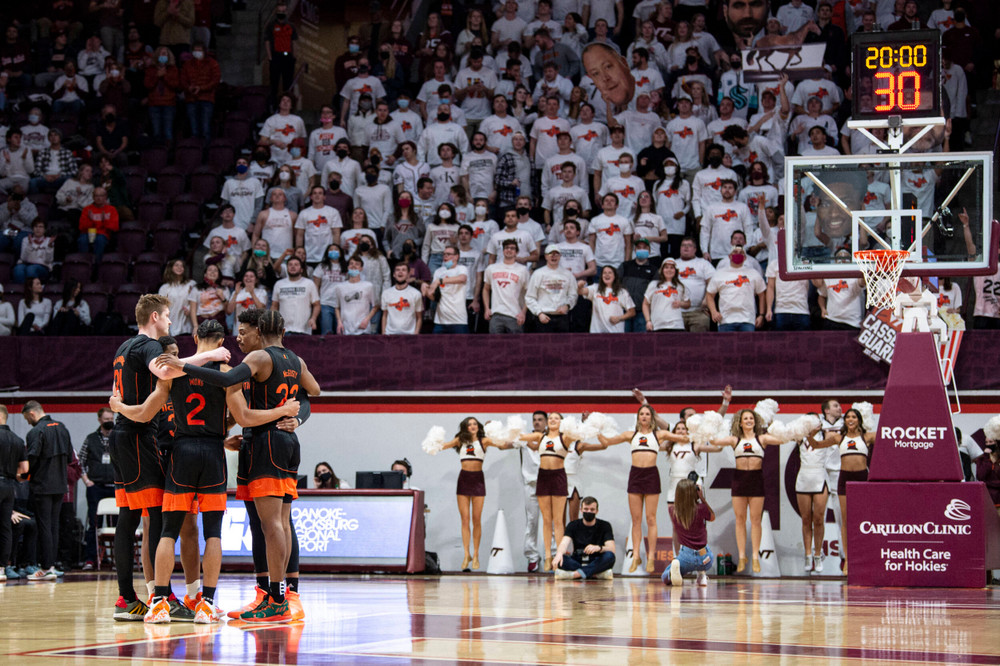 For the Hurricanes, the next test comes Saturday at Georgia Tech (9-10, 2-6).
Though the Yellow Jackets have struggled this season, on Wednesday night, they knocked off the same Florida State team that has challenged Miami twice this season. And the Hurricanes know nothing can be taken for granted in the Atlantic Coast Conference.
Miami will look to put together another balanced effort like the one against Virginia Tech that featured five players scoring in double figures, including Kameron McGusty, who had 17 of his game-high 19 points in the final 15 minutes.
The Hurricanes know they can continue being a force. But they have to keep working together.
"Going into an environment like Virginia Tech, playing teams like Virginia Tech tough, making those shots, executing well, we've got to be poised," Moore said. "Those types of teams are going to make runs. We're going to make our runs. We can't get down on each other or start doubting each other. We know we have to stick together in those types of games because we're in the ACC. Those types of games are going to happen night in and night out. If we doubt each other, it's not going to work out in our favor."