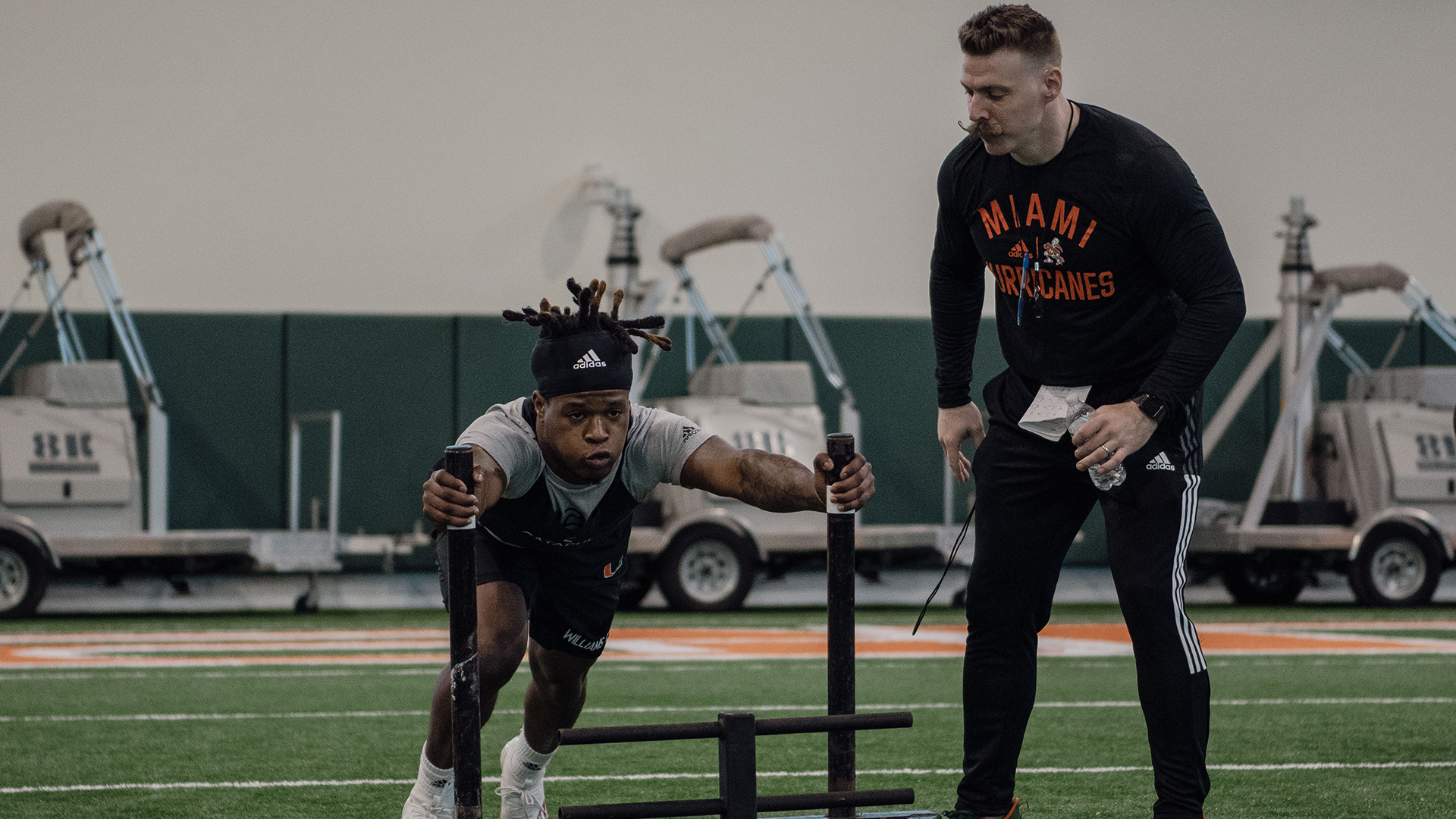 CORAL GABLES, Fla. – It took Aaron Feld all of 48 hours to realize Miami was different.
The warm weather made an immediate impact, sure. The food and Cuban coffee he enjoyed didn't hurt either. And he already had an appreciation for the Hurricanes' rich football tradition.
But it was the people he met during his first days in South Florida and on Miami's campus that made the biggest impression and quickly made Feld feel like he was truly in the right place.
"This place is full of great people, which is why they've had the success they've had over the years," said Feld, who joined head football coach Mario Cristobal's staff earlier this month as Miami's new strength and conditioning coordinator. "There's an opportunity here. There's an area of opportunity here to invest in the infrastructure. A lot of places have it backwards: they have great stuff. Great people is the foundation with which programs are built and that's what has got me excited. This place is full of great people."
Already, Feld has jumped into the process of getting to know those people – in particular Miami's players – a little better.
The Hurricanes began their new offseason conditioning program last week and Feld has been leading the charge in the weight room, the Carol Soffer Indoor Practice Facility and on the Greentree Practice Fields.
His goals are simple: he wants Miami's players to be physically and mentally ready to challenge their opponents deep into the fourth quarter; he wants to help Cristobal establish a winning culture on and off the field; and he wants to do everything in his power to make sure the Hurricanes become the best people they can be.
If all that happens, Feld says, the wins and the success will take care of themselves.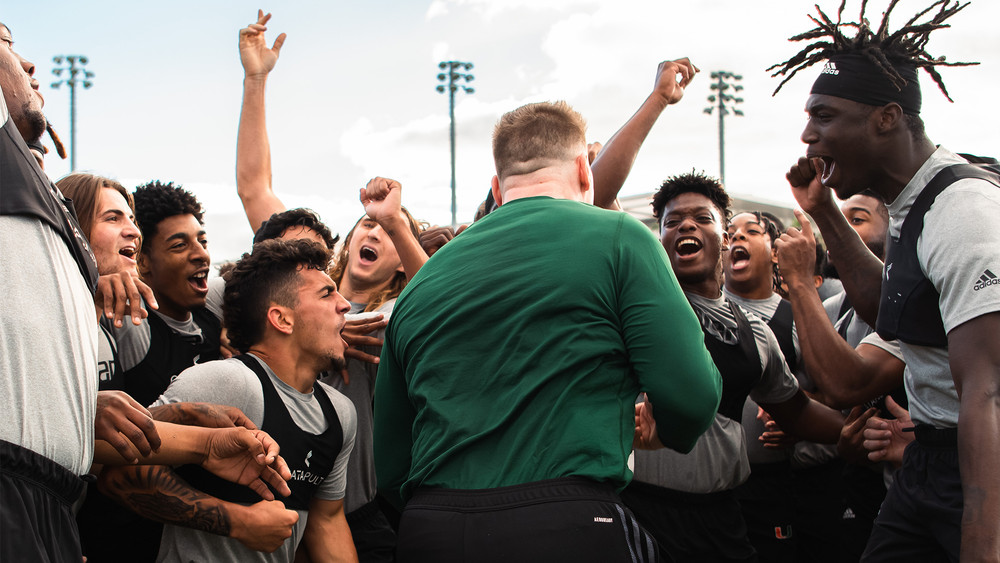 "Coach Cristobal and I share a mind on how a lot of things are supposed to be done. My job is to help establish his culture," Feld said. "The words that I speak, they should hear my words but they should hear his voice. Everything we do, it's got to be in step and in sync. We're here to build culture first. My philosophy is everything we do is specifically designed to make us better football players. We're not power lifters. We're not strong men. We're not Olympic lifters. We're not Crossfitters. We're football players and everything we do has to be to be better [at] football…
"Coach Cristobal and I both believe this wholeheartedly: better humans play better football, period. So everything you need to be a great human – resiliency, toughness, consistency, effort, tenacity, ambition, empathy – all those things make you a better football player…It's with that understanding that we purse perfection on the football field and in the weight room. We don't do it [just] because we want to win football games and championships. Yes, we want to win football games and championships, but we want to develop better people and better humans…better future husbands, better future fathers, better future members of the community."
For Feld, that philosophy extends beyond the weight room and football field.
A former long snapper at Mississippi State who coached at UAB, Alabama, Georgia and Oregon before coming to Miami with Cristobal, Feld is driven to make a difference in the community.
With help from social media, he has organized multiple fundraisers for the Special Olympics, a cause that has been close to his heart for years. And each summer in the weeks leading up the start of fall camps across the country, Feld has encouraged football coaches and fans alike to be more physically active with his 45-Day Challenge, a program that calls for participants to do arm workouts for 45 days straight, while maintaining a positive attitude when not working out.
"I've made it a point to spread as much positivity as possible," Feld said of the work he tries to do online. "It's not about health and eating clean, but being active and moving and taking care of your body. That's really important to me."
There's little doubt that Feld's work has made an impression.
He was a player and fan favorite at Oregon and his energy has made an impression with so many, including Cristobal, who brought Feld with him to his alma mater.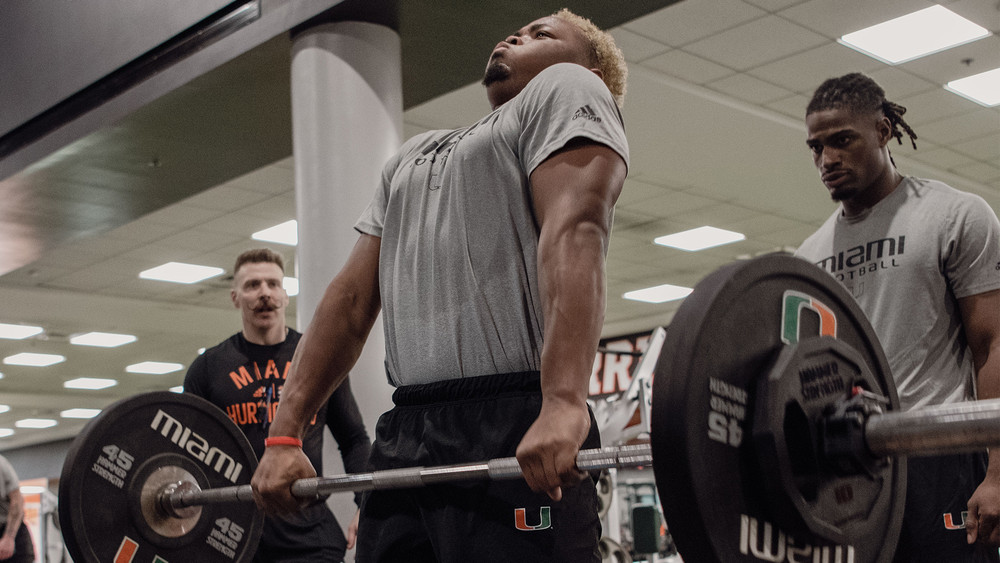 "What people don't realize is [Cristobal] loves people. But he doesn't let his love for people take away from the process and the blueprint of elite-level success and sustainable success," Feld said. "He never lets that cloud business decisions on holding people accountable and setting high expectations…He's a very exacting, high-expectation, high-intensity boss and I'm grateful for that. I need that. I'm always operating a million miles an hour and sometimes, when you do that, you're not able to think and some things start to slip because you're focused elsewhere. His point is nothing gets to slip. You operate at a high level in everything you do or you don't do it. And I appreciate that."
All of that, Feld says, has made him a better coach. And that experience as a coach has prepared him for the journey he took on just last summer: fatherhood.
In July, Feld and his wife, Brittany Burgess Feld, welcomed their son, Buck. Now, he says, all three of them are ready to embrace not just life in Miami, but becoming part of the Hurricanes family.
"Sustainable success requires everything from everyone, administration all the way down," Feld said. "That's the deal. People, the people here are what's got me excited about this."
He paused and smiled before continuing.
"And my wife is a superstar…We're in this thing, together, 100 percent of the time."