Canes Post 2-0 Record in Monday Doubleheader
CORAL GABLES, Fla. – The University of Miami men's tennis team posted back-to-back wins on Monday, starting the spring season 2-0 in dual match action.
The Hurricanes bested the Troy Trojans (1-2), 6-1, in the morning match, before dominating the Binghamton Bearcats (0-3), 7-0, to close out the day at the Neil Schiff Tennis Center.
Fifth-year senior Bojan Jankulovski paved the way for the Canes, posting a 2-0 mark at first singles and a 1-0 record at third doubles across the two matches. The Skopje, Macedonia, native defeated Troy's Pelayo Antuna, 6-2, 6-4, in the morning before besting Binghamton's Shourya Verma, 6-2, 6-2 to cap the Canes' victory.
In their first collegiate matches, freshmen Martin Katz and Casper Christensen went undefeated, accumulating a 4-0 record between the two of them.
Katz made his Miami debut at second doubles, working in tandem with fourth-year junior Juan Martin Jalif to clinch the doubles point for Miami with a 6-2 victory over Troy's Nicolas Simkin and Christophe Tasker. He then followed up with a gritty win at fourth singles, defeating Troy's Manuel Bernard in a two-set battle [6-2, 7-6 (3)].
Christensen dominated the court against Binghamton, posting a resounding 6-0, 6-0 victory at sixth singles over Courage Crawford.
Coming off stellar performances at the Miami Spring Invite, fourth-year junior Oren Vasser and graduate student No. 121 Dan Martin carried their momentum into Monday's matches.
Vasser conceded just eleven games across all of four of his singles and doubles matches, recording a 3-0 mark, with one doubles contest remaining unfinished.
Martin started singles action with a tough three-set match, ultimately falling to Troy's Carles Anton in a third-set 10-point tiebreak, 7-5, 2-6, 9-11. The grad transfer regrouped in the afternoon session, posting a win in both doubles and singles action, including a decisive 6-1, 6-0 victory at second singles against Dan Pergel of Binghamton.
The seventh-ranked duo of fifth-year senior Benjamin Hannestad and fourth-year junior Franco Aubone, picked up where the left off at ITA Fall Nationals, tallying a 6-2 victory at first doubles against Troy.
Hannestad added a pair of victories at third singles to his resume, while Jalif notched a win of his own at sixth singles, defeating Troy's Tasker in a three-set thriller, 4-6, 6-2, 11-9.
Miami is back in action on Friday when it hosts Florida Gulf Coast at 3 p.m. at the Neil Schiff Tennis Center.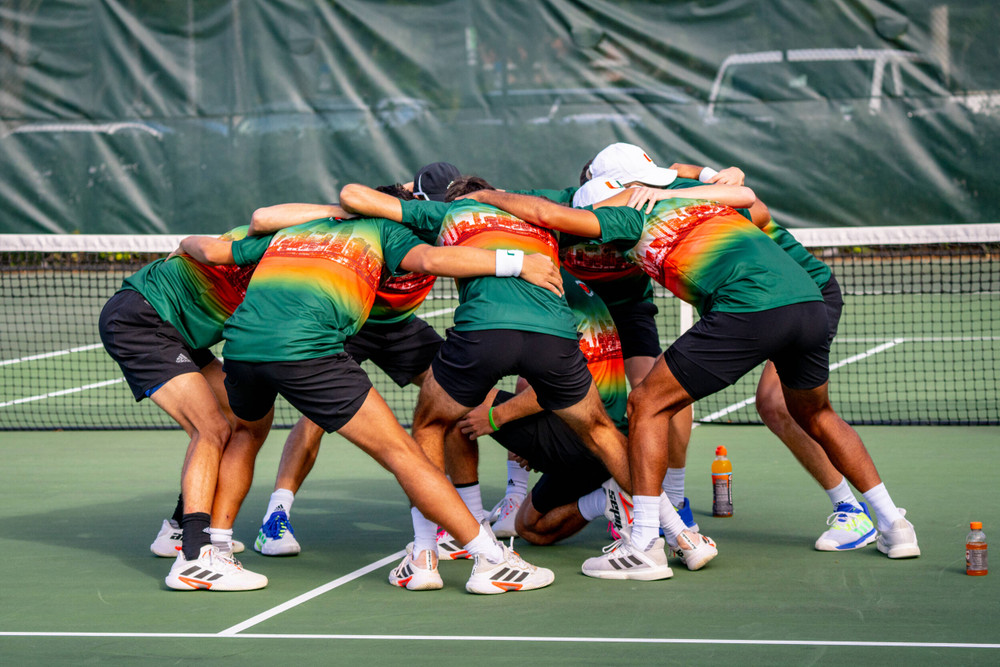 Full Results:
Miami 6, Troy 1
Singles competition
Bojan Jankulovski (UM) def. Antuna, Pelayo (TROY) 6-2, 6-4
Anton, Carles (TROY) def. #121 Dan Martin (UM) 5-7, 6-2, 11-9
Benjamin Hannestad (UM) def. Martens, Noah (TROY) 7-5, 6-0
Martin Katz (UM) def. Bernard, Manuel (TROY) 6-2, 7-6 (7-3)
Oren Vasser (UM) def. Simkin, Nicolas (TROY) 6-2, 6-4
Juan Martin Jalif (UM) def. Tasker, Christopher (TROY) 4-6, 6-2, 11-9
Doubles competition
#7 Franco Aubone/Benjamin Hannestad (UM) def. Martens, Noah/Llinares, Vito (TROY) 6-2
Martin Katz/Juan Martin Jalif (UM) def. Simkin, Nicolas/Tasker, Christopher (TROY) 6-2
Oren Vasser/Dan Martin (UM) vs. Anton, Carles/Antuna, Pelayo (TROY) 5-2, unfinished
Miami 7, Binghamton 0
Singles competition
Bojan Jankulovski (UM) def. Shourya Verma (BU) 6-2, 6-2
#121 Dan Martin (UM) def. Dan Pergel (BU) 6-1, 6-0
Benjamin Hannestad (UM) def. Kyle Weekes (BU) 6-2, 6-3
Oren Vasser (UM) def. Anshumat Srivastava (BU) 6-2, 6-0
Martin Katz (UM) def. Adi Ben-Ari (BU) 6-2, 6-0
Casper Christensen (UM) def. Courage Crawford (BU) 6-0, 6-0
Doubles competition
Martin Katz/Benjamin Hannestad (UM) vs. Shourya Verma/Dan Pergel (BU) 4-2, unfinished
Oren Vasser/Dan Martin (UM) def. Kyle Weekes/Anshumat Srivastava (BU) 6-1
Bojan Jankulovski/Juan Martin Jalif (UM) def. Adi Ben-Ari/Courage Crawford (BU) 6-1