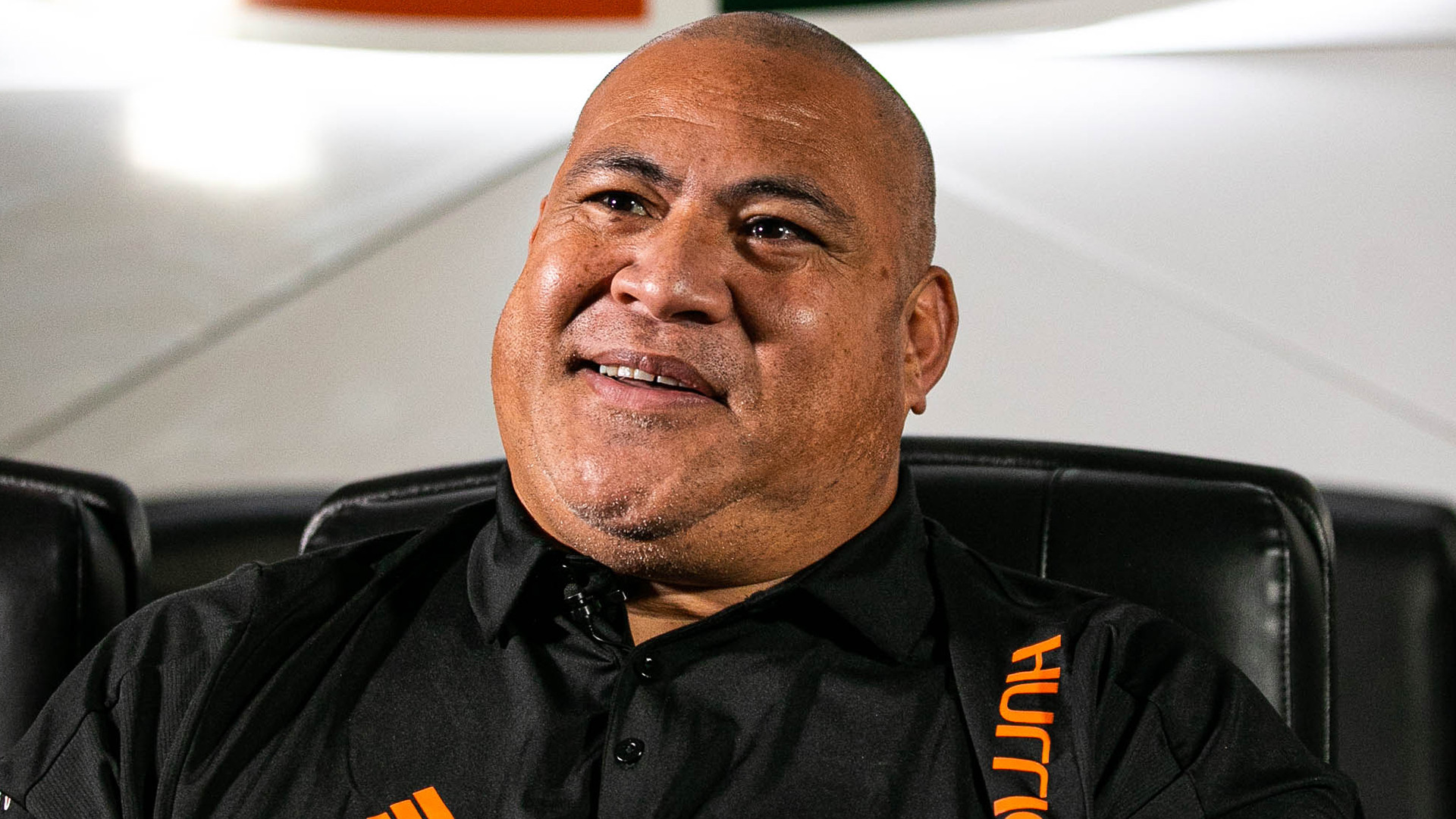 CORAL GABLES, Fla. – His eight-year NFL career included stops in Washington, Baltimore, San Diego and Tennessee. And throughout his journey, Joe Salave'a met more than a few Hurricanes.
Each one he talked to – including the late Sean Taylor – couldn't help but passionately share their stories, all of them raving about the brotherhood, history and tradition at Miami.
Today as Salave'a walks through the Hurricanes' football facility, he can't help but think of those players and the responsibility he now carries on his broad shoulders as Miami's new associate head coach, defensive line coach and defensive run-game coordinator.
"It's a bit surreal. I've had the fortunate of playing with some former U guys in the likes of Kenny Holmes and obviously my brother Sean Taylor," Salave'a said. "So being in this building now, I have a profound respect for what this place is and the people that came before…Being in a program that needs no introduction as to the legends that came here and [now] helping these young men build themselves and make sure their dreams come to fruition through hard work and mentoring and pushing these guys, I'm excited for this opportunity."
Salave'a brings with him to Coral Gables a resume that will, no doubt, capture attention.
He played at the highest level and was on the roster in Tennessee when the Titans appeared in Super Bowl XXXIV. He lettered at Arizona as a defensive tackle and was a first-team All-Pac-12 honoree in 1997, with second-team and honorable mention recognition in 1996 and 1995.
He totaled 157 career tackles during his college career and led the Wildcats in both sacks and tackles for loss in both 1996 and 1997.
Once his playing career ended, Salave'a – inspired by his former college coach, the late Dick Tomey – wondered if coaching was the next logical step for him.
It was and he got his start at San Jose State working as Tomey's defensive line coach. Stops at Arizona and Washington State followed before he joined the staff at Oregon in 2017 as the Ducks' defensive line coach. His colleague as offensive line coach? Mario Cristobal.
When Cristobal took over as head coach at Oregon, Salave'a remained with the Ducks and took on additional responsibilities as Oregon's co-defensive coordinator and run-game coordinator.
During his time there, Salave'a helped reshape a line that endured its share of struggles and in 2016 was part of a defense that was among the nation's worst in several statistical categories.
By 2019, the Ducks were among the top 25 in scoring defense, rushing defense, total defense, sacks and tackles for loss.
Last season, two of Salavea's top defensive linemen – Kayvon Thibodeaux and Brandon Dorlus – earned first-team Pac-12 recognition.
Thibodeaux capped a dominant three-year career by becoming the first player on the defensive side of the ball at Oregon to earn consensus All-American recognition. He is tied for seventh in program history with 19 sacks in 31 career games, totaled 34.5 tackles for loss and the defensive end is widely regarded a top-five pick in the upcoming NFL Draft.
Cristobal and Salave'a are now hoping to recreate that success in Miami, with Cristobal – who returned to his alma mater in December as the Hurricanes' head coach – asking Salave'a to join his staff in Coral Gable earlier this month.
Though it's meant getting re-adjusted to life on the East Coast, Salave'a jumped at the chance.
"When you look at the type of person he is, the leadership that he brings, cannot be more happy for our guys because we're getting a true leader, a players' coach that's from here, played here and paid his dues," Salave'a said. "The opportunity to contribute to the success of this program is tremendous. We're very, very fortunate and excited for that."
One of the reasons Salave'a is excited for this next chapter? He knows that continuing to work with Cristobal and Alex Mirabal, Miami's new assistant head coach and offensive line coach, means the Hurricanes will be putting a focus on physical line play on both sides of the ball.
That's a philosophy Salave'a appreciates as a former defensive tackle himself.
"I think if you look at the history of this game, it's never going to change. The schemes and the X's and O's might differ and be finagled to make a certain look become a certain way, but when you look at the film, it's about the physicality and the approach to the game at the line of scrimmage," Salave'a said. "Those are things [that] working with Coach Cristobal and Coach Mirabal, man, it's refreshing. Those are things that matter. If we don't take control of the line of scrimmage, it's tough to win. But those are things you can't profess. You can't talk about it. You've got to work at it. You've got to work at it and you've got to train to it."
The opportunity to successfully continue shaping a new generation of tough, physical football players is also especially personal to Salave'a for another reason.
A native of American Samoa and a member of the Polynesian Football Hall of Fame, Salave'a knows his work can inspire budding football players and coaches on the other side of the globe.
To further the game's growth, he founded the Joe Salave'a Foundation in 2001 to help introduce football to more youngsters in American Samoa and Hawaii. The foundation specialists in free football clinics there and in 2005, Salave'a's work was recognized by Congressman Eni Faleomavaega and former president George W. Bush at a White House Ceremony to celebrate Asian-Pacific Heritage Month.
Serving as an example to those back home is not something Salave'a takes lightly.
"It means a lot. I would honestly say I stand on the shoulders of giants. Guys like [Bob] Apisa, one of the first few Samoans to break over to the mainland over at Michigan State, right down the line to Jesse Sapolu [and] Manu Tuiasosopo," said Salave'a, who grew up playing rugby and was introduced to football after moving to California. "All these guys contributed to the evolvement of the game of football…As I do well, it gives another kid from some remote part of the island a chance to get recruited. That's been the case. All the guys I've been honored and privileged to coach with the island lineage, I always share with them, 'If you guys do well and do what you're supposed to do, you give another young man or a young lady a chance to be recruited and exposed to those things.' It's a cycle, paying it forward.
"The biggest thing I always share with my players is that to be your best version of yourself, you have to get out of your comfort zone. But you also have to be able to go to work…We've got to go to work and we're excited for that. Hold on, man. Get your seatbelt fastened up. We're ready to go and excited for the opportunity."