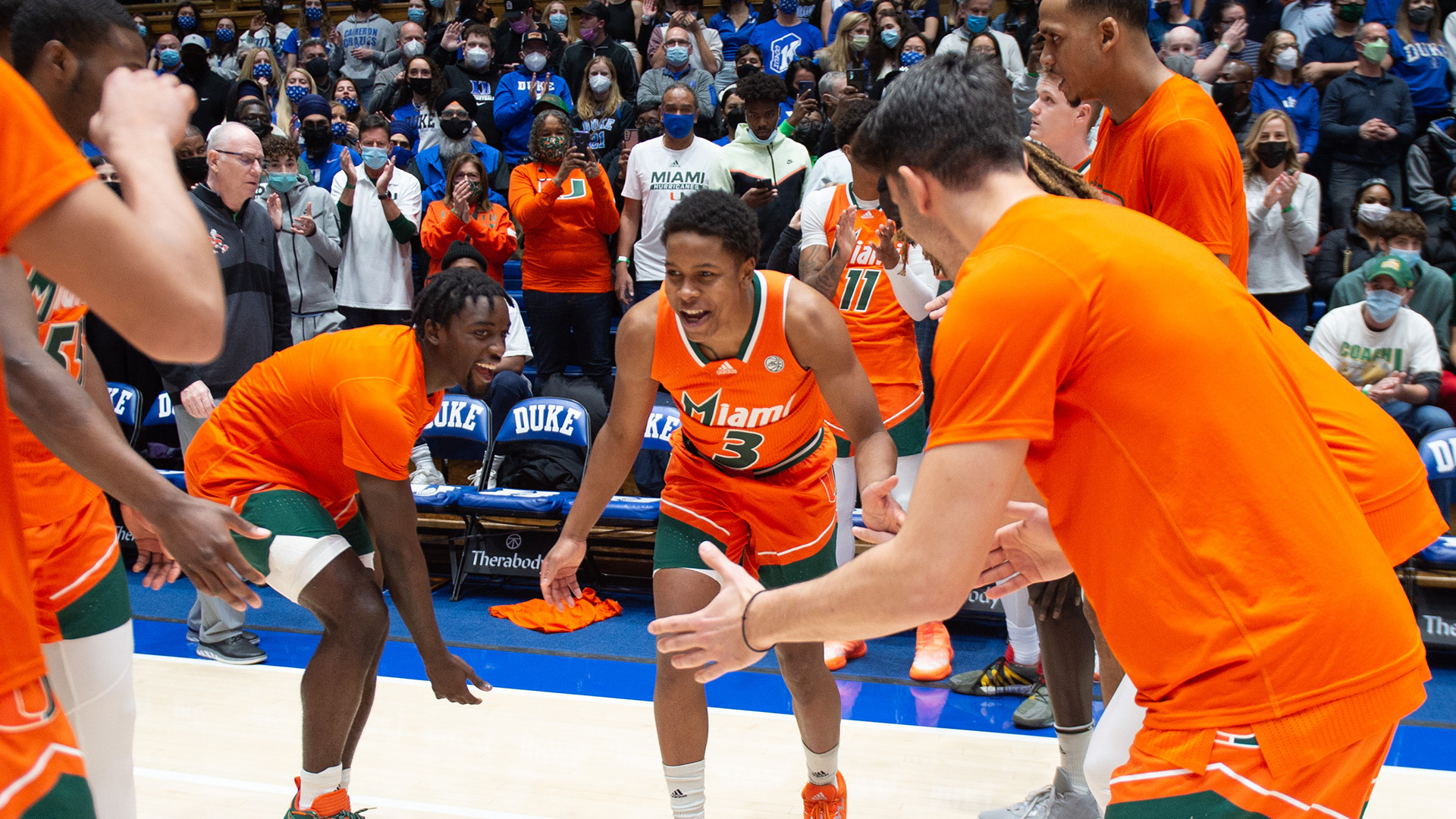 As they excitedly poured into the locker room, Jim Larrañaga looked around.
The Hurricanes head coach knew his team was ready to celebrate – as well it should, after upending the No. 2 team in the country. But the moment didn't feel quite right yet, not with one player – guard Charlie Moore – still outside wrapping up television interviews after Miami's stunning 76-74 win over Duke at Cameron Indoor Stadium on Saturday.
All night long, the Hurricanes had played as a complete team. For them to truly enjoy their incredible moment, all of them had to be there. And so, when Moore rejoined his teammates, there was joy –pure, unadulterated joy.
"It was very exciting," Larrañaga said. "A lot of energy in that locker room. It was a great team effort."
A team effort indeed.
Four different Hurricanes scored in double figures against Duke. Others found ways contribute by distributing the ball, while still others helped by turning up the defensive pressure on the high-scoring Blue Devils, who came into the game as double-digit favorites on their home floor.
Moore, a sixth-year redshirt senior, led the Miami offense with 18 points and had a game-high seven steals, the most ever by a Hurricane in ACC play. Fourth-year junior Jordan Miller added 17 points. Third-year sophomore Isaiah Wong had 15 points and sixth-year redshirt senior Kam McGusty finished with 14 points, including a layup with 23 seconds left that proved the eventual winner.
Sam Waardenburg was plenty involved, too, dishing out a team-high five assists while collecting a team-high three blocks. Both were season-high marks for the sixth-year redshirt senior.
But the balanced scoring wasn't the only hallmark of Saturday's thrilling win for Miami, which has now won nine straight and is a perfect 5-0 in ACC play.
The Hurricanes forced Duke into a season-high 17 turnovers and notched 15 steals, matching the program's record for most ever in ACC play set against North Carolina in 2005.
All of that, the Hurricanes know, made a difference in giving Miami its fourth-ever win over a team ranked in the top two of the Associated Press Top 25.
"We're not very big and we're not bulky. We know whenever we play an ACC team, they're probably going to be bigger and more physical than us," Larrañaga said. "We really have to [have] teamwork. I thought our guys today really showed great anticipation and kind of understood what Duke was trying to do with their offense. We were just trying to limit how many times they dunked the ball on us in the paint. It took a whole team to do that. We surrounded them. Deflected the ball a couple of times, stole it a couple of times…That's teamwork. Charlie Moore was everywhere in the first half, getting steals and also scoring the ball. This is a team that relies very heavily on each other and they trust each other and have confidence in each other."
Added Moore, "It wasn't easy. Those guys are great players, skilled players. Big players as well. We just used our energy and we helped each other a lot out there in order for us to not have them contribute as much as they should or the way they normally do. It was just a fun experience helping each other out there with what we planned to do."
And while beating the Blue Devils at home may have put the Hurricanes in the national spotlight this weekend and given them plenty of reasons to be excited, Miami's players and coaches made it clear after their celebration that this was a win to build on – not one to dwell on.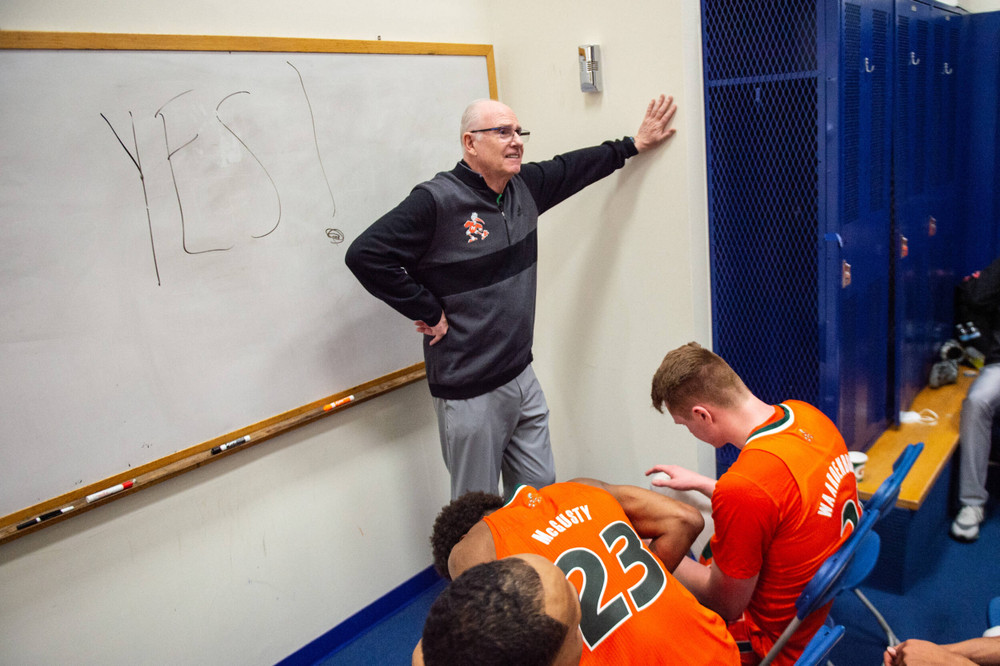 The Hurricanes (13-3, 5-0) are set to face Florida State in Tallahassee on Tuesday. It'll be the first of two matchups against the Seminoles in 11 days, with a showdown against North Carolina sandwiched between the two rivalry games.
And March – when Miami wants to be at its best – is still more than a month away.
That leaves plenty of time to keep growing and continue improving.
"The league is a marathon, not a sprint," Larrañaga said. "[Of] 20 games, we've won five. But there are still so many obstacles in the way to just focus on one victory. We have to continue to build on what we're trying to do…I think one of the things we knew coming into the season, and hoped it would materialize on the court, is that we have a bunch of veteran guys. It was a matter of 'Are they going to be willing to sacrifice and do all the things it takes to have a really good team, chemistry-wise?' And Charlie Moore and Jordan Miller, our transfers, fit in beautifully. Our returning players have all done really well. Our freshmen are contributing. It's really been a total team effort."
Added McGusty, "I knew it was only a matter of time…Summer workouts, practice before our actual first game. I always knew we had the pieces. We just had to put it all together. We got off to a slow start [this season], but like I always tell my guys: a loss isn't a loss. It's a lesson. We're always very good at going back to the drawing board, going back to the film and communicating and talking to each other about what we need to do to help each other. We've come such a long way in terms of talking on the court, learning each other's game. We're basically a whole new team…Does it surprise me? No. Am I happy for us? Yes. And yes, we have to continue to keep going. It's just another win. We've got to take it as we're supposed to win these games now. That's what we have to do. Back to the drawing board, start scouting for Florida State and get ready for Tuesday."