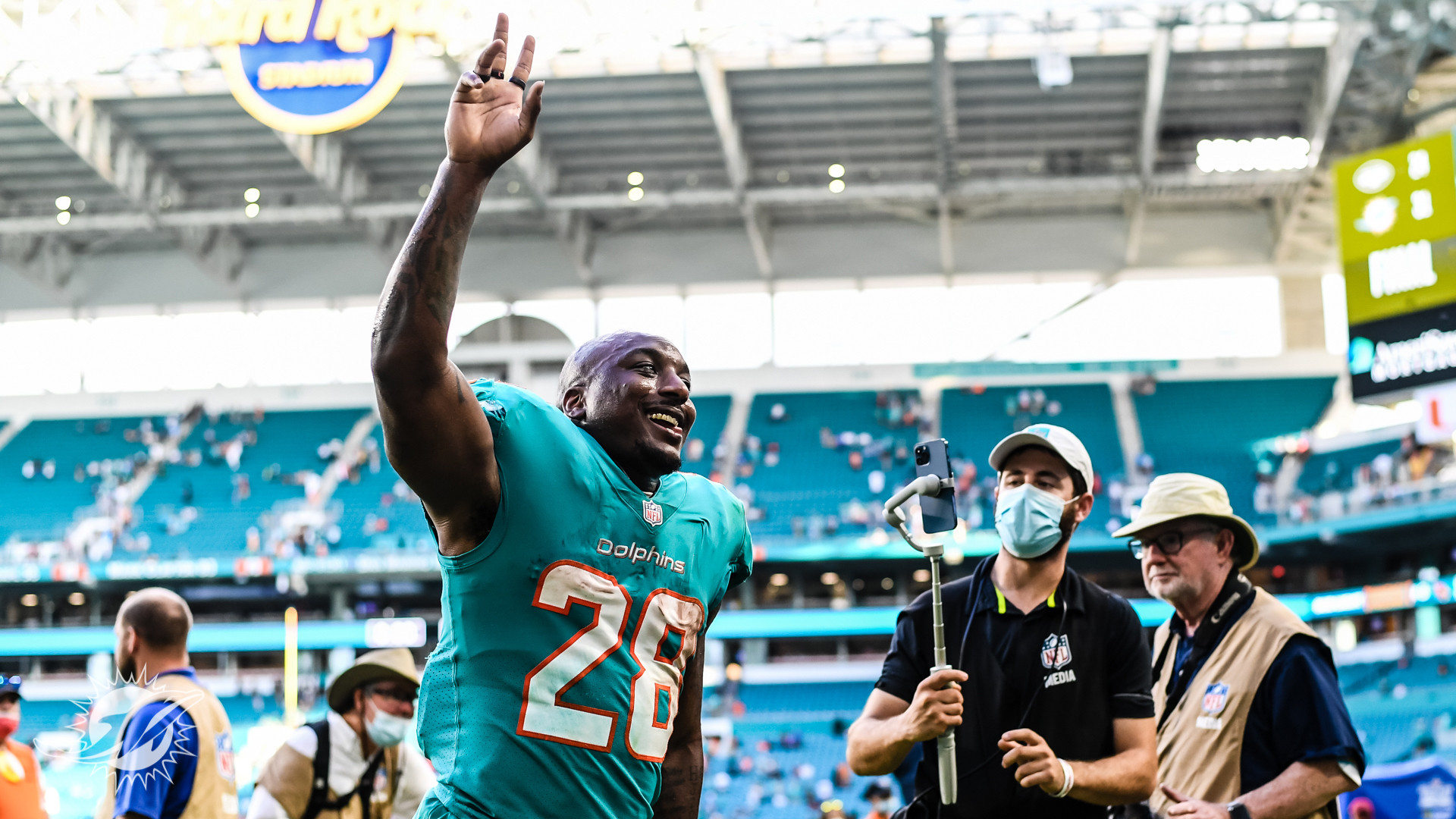 MIAMI GARDENS, Fla. – More than once, the familiar chant rang through the stadium.
And every time he heard the Miami Dolphins faithful shouting "Duuuuuke," Duke Johnson couldn't help but recall how often he'd heard the same when he played at Hard Rock Stadium as a Miami Hurricane.
"It just reminded me of college," Johnson said with a grin. "It felt like my college days again."
In many ways, Johnson's performance in the Miami Dolphins' 31-24 win over the New York Jets on Sunday afternoon was reminiscent of the kind of effort Hurricanes fans cheered for years.
The seven-year NFL veteran, who made his first start as a Dolphin on Sunday, finished with 22 carries, 107 yards and two touchdowns. All were career bests.
That he was able to put together a game like that in the same stadium where he starred as a Hurricane and not far from where he grew up only made the day that much sweeter.
"I think for me it means a lot to do it in the area I grew up in, the college field I played on," said Johnson, who was a standout at nearby Miami Norland High before signing with the Hurricanes in 2012. "I think the most important thing is that I did it and it led to a win. If it had led to a loss, it wouldn't have mattered as much as it does now."
Said Dolphins head coach Brian Flores, "He played well. Definitely gave us a spark. Ran it well, ran hard and picked up first downs and tough yardage in a lot of instances when they knew we were running…I thought he definitely gave us a spark."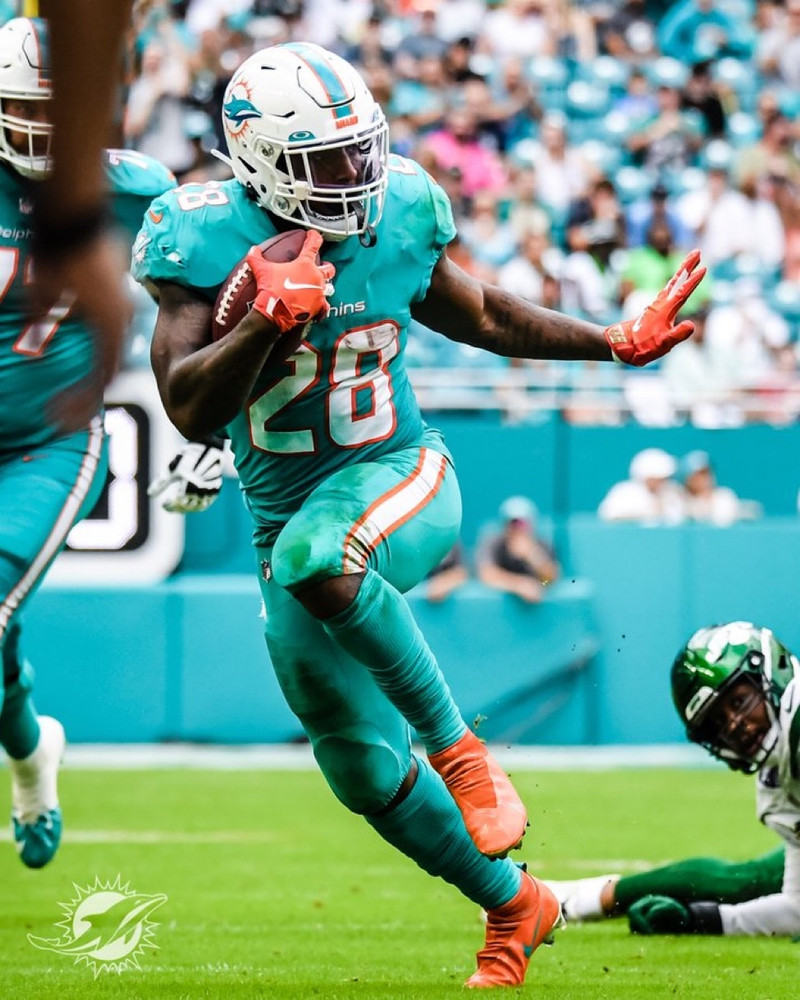 Johnson, of course, had plenty of family and friends cheering him on during his big day, though he joked he wasn't sure quite how large that crowd actually was.
One thing he did know? His cheering section included a group of fans from Charles Hadley Park, where he played youth league football and first learned the importance of making an impact in his community.
"I think the biggest thing I learned from Charles Hadley was support, from top down," Johnson said. "At the time, no one really thought those kids could make it to where we are now, except for the commissioner of the park. And he pushed us and made sure we were the best people, as well as football players, we could be."
Johnson carried that mentality with him to Norland, where he became a five-star recruit and the nation's top running back prospect.
He brought it with him to Miami, too where as a Hurricane, Johnson was a record-breaking force.
His 3,519 career rushing yards at Miami are the most in school history. During his career, he totaled 14 100-yard rushing performances – a record he shares with Clinton Portis.
And in 2014, Johnson had six straight 100-yard games – a feat matched by only two other Hurricanes: Willis McGahee in 2002 and Edgerrin James in 1998.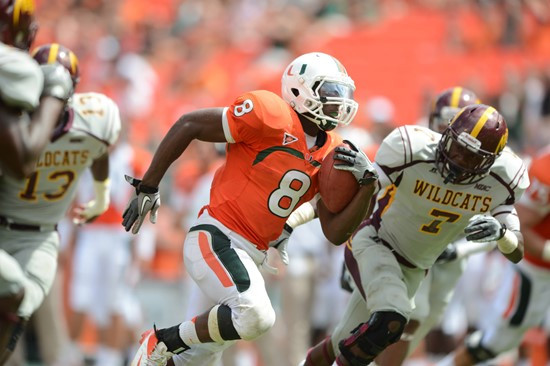 The NFL, of course, eventually came calling, with the Cleveland Browns selecting Johnson in the third round of the 2015 draft. He spent four seasons in Cleveland before joining the Houston Texans for two seasons in 2019.
In October, Johnson's NFL journey brought him home, initially as a member of the Dolphins' practice squad. He saw action in Miami's win over the Jets in November, but was limited to just four carries.
With the Dolphins dealing with COVID-19 issues this week, he was called on to carry a much heavier load on Sunday.
He responded in dominating fashion – and the Dolphins teammates he's still getting to know thought it was all pretty neat stuff.
"I think I heard the crowd saying 'Duke' with a lot of 'Duuuuuke' and I thought it was pretty cool," Miami quarterback Tua Tagovailoa said. "I know he enjoyed it. But just knowing the person that he is, he's very grateful for the guys out there as far as the linemen and whatnot. So, I'm happy for him."
Johnson, himself, was plenty happy, too.
The running back had a hard time wiping the smile off his face during his post-game media session with reporters. And he made it abundantly clear that he's ready to do whatever the Dolphins need from him moving forward.
"I really prepare every week as [if] I'm going to be the guy, regardless if I'm the guy or not," Johnson said. "It's just kind of sticking within my routine and just doing what I normally do and I let the cards fall where they may…I know there are certain times with certain teams, my role was always different. And my role was this today, but it could change tomorrow. For me, it's just about not really looking at the stats and looking at the touchdowns and the yards, but whatever it is to win and help my team win."