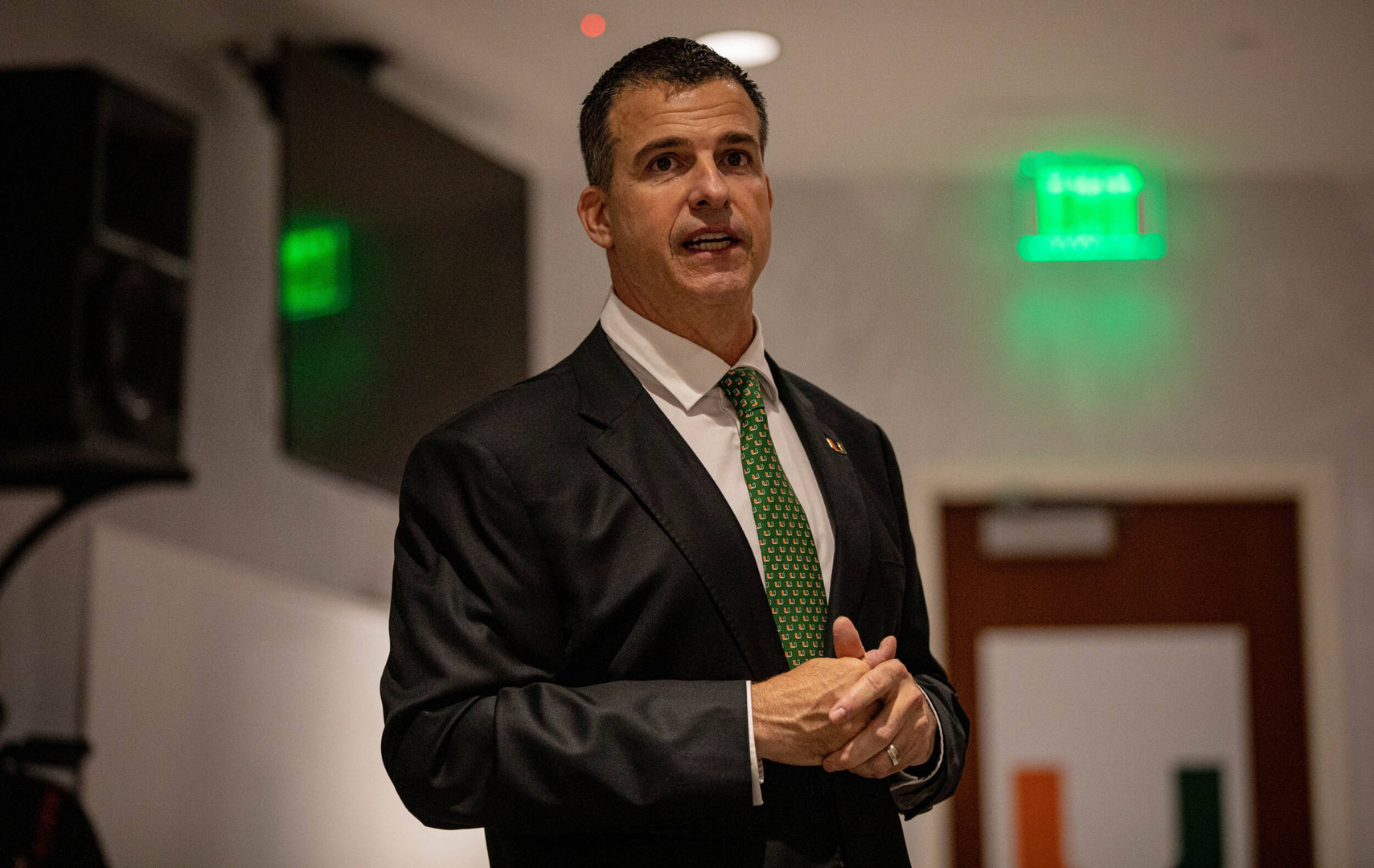 CORAL GABLES, Fla. – More than once, on visits home to see family, he'd swung by for a look.
In so many ways, he found that the University of Miami looked different than when he'd played there and when he'd returned first as a graduate assistant and later, as an assistant coach.
But the impact the University had on Mario Cristobal was a constant, one he'd never forgotten.
That's part of the reason the former Hurricanes offensive lineman returned to Miami again – this time, as the Hurricanes' new head coach, one determined to make sure the players wearing orange and green today have the same kind of life-changing experience he had – or better.
"I'd taken a peek before, every now and then, when I came to see family and it'd bring up so much stuff," Cristobal said Tuesday after he was formally introduced as the 26th coach in program history. "The University of Miami is always going to be the difference-maker in my life…It generates those feelings, those emotions…It's my turn to work with everyone here and grant those same types of pathways and opportunities to the players that are here now so they can feel that same way; they can hopefully have an even better experience, so they can accomplish everything they came here to do while taking the program to the next level."
For Cristobal, the first major steps in that process came Tuesday morning when he met with those players for the first time as their new coach.
They continued later when he publicly outlined his vision for the Miami program and they grew even more intense in the afternoon when Cristobal jumped right onto the recruiting trail in an effort to strengthen the Hurricanes' roster.
The veteran coach who led Oregon to three straight Pac-12 conference championship games before arriving at Miami expects the coming days and weeks will be a blur, especially with the Early Signing Period looming.
But Cristobal is more than ready to dive into all the work that has to be done and is confident the experience he gained during his time in Eugene and before that as the head coach at FIU and as an assistant at both Alabama and Rutgers has prepared him for the challenges ahead.
"I think there's nothing like experience," he said. "You cut [your] teeth in different places, with different landscapes, recruiting experiences across the country…Getting to know, nationally, the landscape. Geographically being able to map out 'I can go here and know people. I have some boots on the ground in this part of the country. I can go east, west, north, south.' I think that's huge."
But recruiting and getting to know his new team won't be Cristobal's only immediate priorities.
While the coach noted Tuesday that he doesn't plan to coach the Hurricanes later this month when they take on Washington State in the Tony the Tiger Sun Bowl, he does plan to be present at Miami's practices in the coming weeks.
Along with getting to know his players' strengths on the field, he wants to ensure the Hurricanes finish the academic semester on a positive note in the classroom. And he plans to begin the process of putting together a staff that will help Miami become the team Cristobal believes it can be, on and off the field.
"There are no sub-cultures," Cristobal said. "There's one culture. How you do anything is how you do everything. That's the bottom line. You want to be an elite athlete, kick butt on the football field, you have to do the same thing in the classroom…We want to walk a certain way. We want to talk a certain way. We want to train a certain way."
For the coach, ensuring all of that happens is especially personal.
A Miami native who played at nearby Christopher Columbus High School before earning both his bachelor's and master's degrees at the University, Cristobal's ties to South Florida run deep.
Cristobal – a two-time national champion during his playing days at Miami – knows what is possible when the Hurricanes are at their best. He understands, better than most, what the Miami program means to this community. And he's excited to do his part, though he knows it may take time to get the Hurricanes back to where they want to be.
"When the University of Miami is rolling – and it takes a lot of work to get it there; we have a lot of work we have to do, some painful steps we cannot skip – but when it's rolling, it's unique," Cristobal said. "It's unlike anything else, from the University itself, the team, the brotherhood, the alumni, the city, the community, it's different. And I think everybody knows that. Hopefully, it's scary for others."
That knowledge and experience is only part of the reason so many of Cristobal's fellow former players reveled in the opportunity to welcome the coach back to Coral Gables on Tuesday.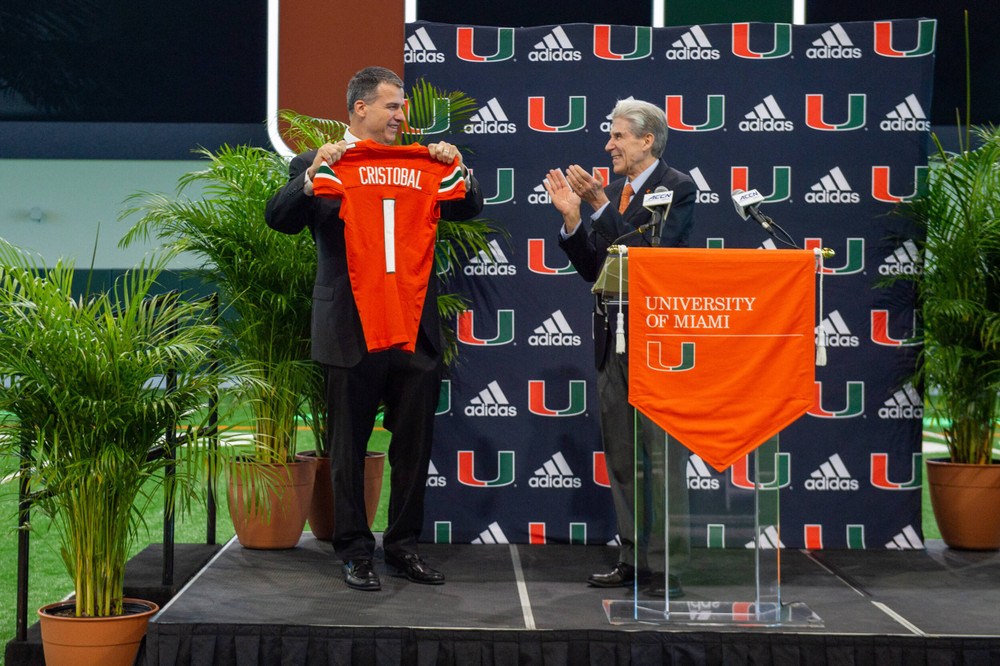 Many – including former offensive linemen Brett Romberg, Joaquin Gonzalez and Bryant McKinnie, linebacker Jon Beason, defensive lineman Greg Mark, receiver Lamar Thomas, defensive back Tolbert Bain, offensive lineman Luis Cristobal, the coach's brother, punter Brian Monroe and former cornerbacks DeMarcus Van Dyke and Mike Rumph, both of whom are on staff at Miami – attended Cristobal's introductory press conference and offered him their support.
"It's surreal. It really is," said Gonzalez, who played at Miami while Cristobal was a graduate assistant in Coral Gables. "The first thing I tweeted when I found out the news was that the tone was about to change in the building. You can kind of feel it already…This is such a great day for the University."
Added Romberg, "Mario has held himself to an elite standard, whether it was professionalism, ability, responsibility, accountability and I think he's going to project that not only on the football players, but throughout the building…He's intense, but he's a really good role model for a lot of these young men. If they emulate the same path that he walks in, they're going to go through life and create for themselves a nice character complex."
That, Cristobal reiterated multiple times on Tuesday, is his plan.
His players will be at the center of what he does not just in the coming days, but in the weeks, months and years ahead. The fact that he'll be doing that work now in his hometown and at his alma mater only makes it that much more meaningful.
"What's more real than one of your players coming back home to serve? To serve, because that's my job. To serve the University and the team, to do everything humanly possible to keep taking steps and elevating step by step," Cristobal said. "There's some painful steps you can't skip, mind you. But to keep going and going and going…We're just going to keep coming, man. We're just going to keep coming again and again."