Records Fall as Harley, Rambo Shine
DURHAM, N.C. — Mike Harley looked at the screen and fought back tears.
First, Reggie Wayne. Then Santana Moss. Then Lamar Thomas.
One by one, some of the receivers Harley passed on his journey to becoming Miami's all-time leader in receptions sent their congratulations in video form.
And as he watched their messages, Harley could only hold back for so long before the emotions and the enormity of the moment washed over him.
On this sunny Saturday afternoon at Duke, when the Hurricanes closed out the regular-season with a 47-10 win over the Blue Devils, he'd made history.
And some of the same Miami receivers he'd grown up cheering, the Miami receivers he'd admired for so long, hadn't just noticed.
They'd reached out in a most special way.
"Those guys paved the way and made the way for us to get here," Harley said. "They had to go through everything. They had to build a culture. They set high standards. And like they said, records are meant to be broken…I didn't know I was going to be legendary like them guys and break records, but I did it. And I know it means a lot."
Harley, a fifth-year senior, didn't just become Miami's all-time leader in receptions with his 174th career catch, which passed Wayne's total of 173 catches set between 1997 and 2000.
He also became Miami's single-game receptions leader, finishing the day with 13 catches for 96 yards.
His memorable effort played out in front of his family, which surprised Harley at Wallace Wade Stadium on Saturday after his mother told the receiver she wasn't sure they would be able to make the trip.
And it came not too long after Harley contemplated giving up football after two frustrating seasons early in his Miami career.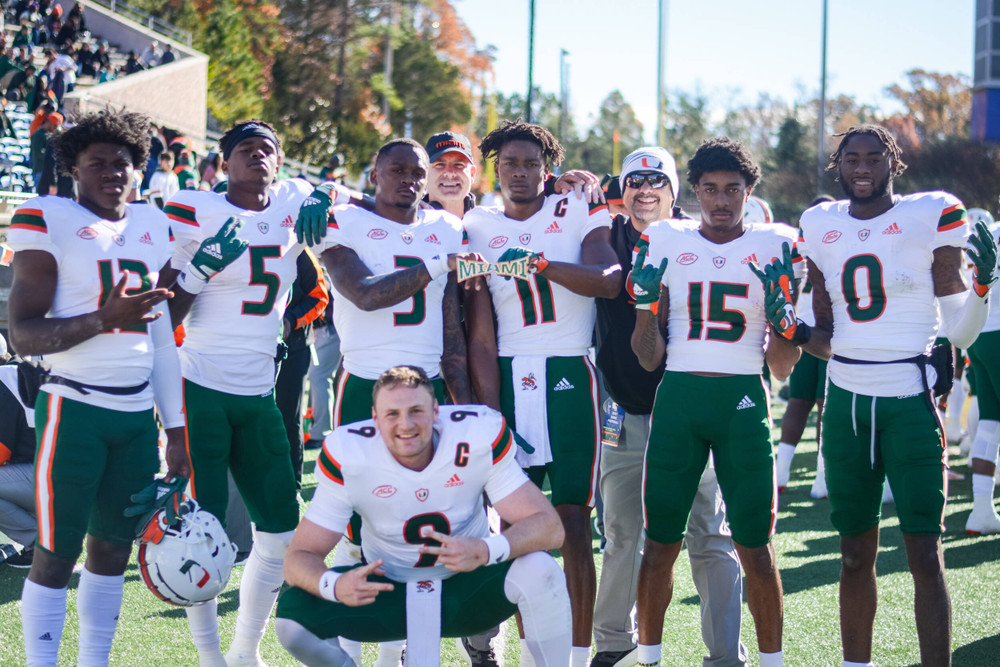 "I was at my lowest," Harley said of some particularly dark days after his sophomore season. "I was on my second receivers coach. I was lost. I was in a bad place. But I had my parents and I had God with me, so I knew I had to keep pushing. I put my head down and kept pushing. Just don't give up. If you have faith, and you trust in the Lord, trust him with your heart and your plans…this was already written. I was born to do this. I was born to break records and born to play at the University of Miami…Now, hopefully, I can send a video to the University of Miami when someone breaks my record."
Harley wasn't the only Hurricane to rewrite the Miami record book on Saturday.
Charleston Rambo, who arrived in Coral Gables earlier this year as a transfer from Oklahoma, capped one of the most prolific seasons by a Miami receiver with his eight-catch, 101-yard performance against the Blue Devils.
Not only did he become the Hurricanes' single-season leader with 1,172 receiving yards, he also became the Hurricanes' single-season leader in receptions with 79 catches in 12 games. Those previous records were held by Allen Hurns and Leonard Hankerson, respectively.
And though Rambo hasn't been at Miami as long as Harley, the two quickly formed a tight bond they say helped propel them to their historic day Saturday.
"We push each other, always, on and off the field," Rambo said. "Even if it's a question that one person doesn't know, who's going to get it first? There's competition, obviously, in the receivers room and we just build off what we do in practice. We come out here on Saturdays, make plays, go watch the film and keep doing better. Having Mike in there with me is a definite plus."
Said Harley, "Rambo coming in in the spring, I just knew he was going to be a huge plus for this team…I pushed him to be his best…I was there to help him become the best receiver he could be and as you can see, he's on the field lighting it up and I'm just so proud of him because of all the hard work he did and the sacrifices we made together."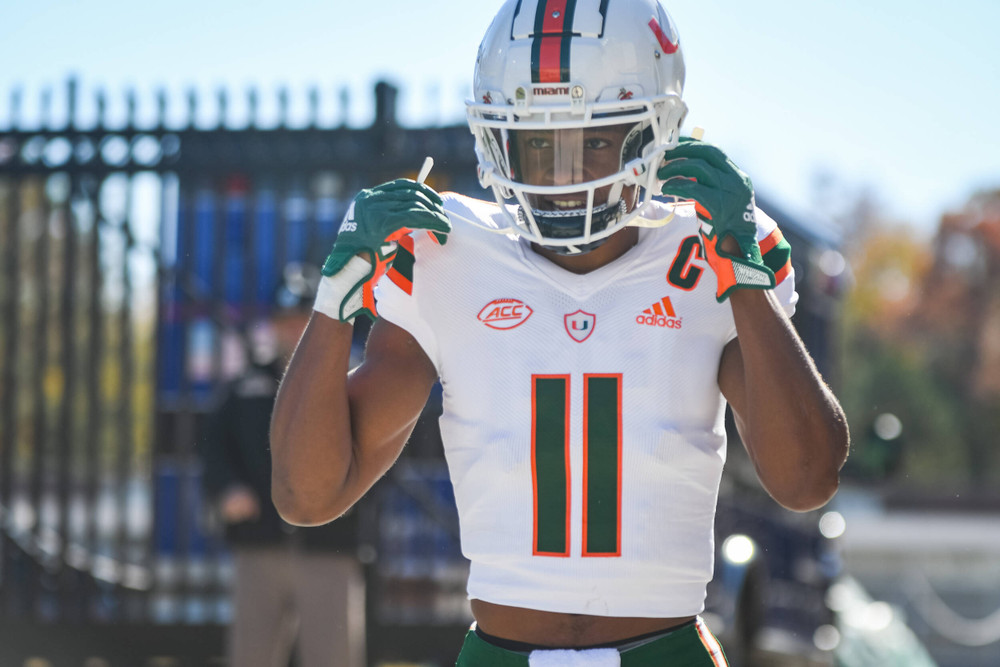 While Saturday's milestones were especially meaningful to Harley and Rambo, their teammates – particularly their quarterback – enjoyed celebrating their highlight-worthy plays, too.
Among those plays? A beautiful, one-handed touchdown grab by Rambo in the third quarter that gave him the single-season yards record.
"It means a lot, just getting them the ball and having them make plays. It's special," said Hurricanes quarterback Tyler Van Dyke. "It's special to the whole team. It starts with the 0-line just protecting me and giving me the opportunity to get the ball out to them…They've meant a lot to this team this year. Rambo was voted a captain mid-year. Mike's always been that guy that's kept everyone up when times were low. Both of them have been great leaders, not only to the receivers and the offense, but to the whole team. They've really stepped up and I'm just so happy for them that they got those records."
Ahead of Saturday's game, Van Dyke – a second-year freshman – said the Hurricanes would do everything in their power to make sure Harley and Rambo had the opportunity to make history.
That's exactly what happened and ultimately, Miami left Duke with its fifth win in six games.
The victory only made the day – and their accomplishments – even more meaningful for both receivers.
"This feels good," Rambo said. "Even before we got to play ball, when I got here, it was straight grinding and working hard. Today, it paid off. And there's much more to come."
Said Harley, "This place made me a man. This place made me humble. This place made me get closer to God. This place made me become a football player. This place made me be a big brother, a leader. This place made me give back to the community. I could name a lot. I don't regret anything that happened in my college career. I'm grateful to be here."