Takeaways from Miami's Win over Virginia Tech
MIAMI GARDENS, Fla. – Some of them danced in the rain. Some slid across the wet, muddy turf. And their seniors? Their seniors were carried off the field by their teammates and coaches.
When the clock ran down on Miami's home finale on Saturday night, the Hurricanes celebrated.
The Hurricanes' 38-26 win over Virginia Tech didn't just give Miami's a bounce-back win after last week's heartbreaking loss at Florida State, it gave the seniors a memorable last game at Hard Rock Stadium and gave Miami bowl eligibility for a ninth straight year.
No wonder the Hurricanes wanted to savor the moment – even in a driving rainstorm.
"You can't erase what happened last weekend and no one will ever forget that. What happened last weekend, a lot of those guys had never lost to those guys. But what we said is that we can win our last home game and that's an everybody goal," Hurricanes head coach Manny Diaz said. "Everybody had to play a part, the true freshman had to play a part. Everybody had to play a part and everybody did."
While the Hurricanes won't play another game at Hard Rock until next season, they still have one more regular season game left on the schedule before turning to bowl preparations.
Ahead of that finale at Duke, here's some of what Miami's players and coaches said they could take from the Hurricanes' win over the Hokies…
1. The Canes remain a resilient bunch
The Hurricanes have weathered their share of ups and downs this season. They've lost veteran leaders like quarterback D'Eriq King, safety Bubba Bolden, center Corey Gaynor and running back Cam Harris to season-ending injuries. And they rallied to win three straight conference games after starting the season 2-4.
That's why, even after last week's tough loss at Florida State, the Hurricanes were confident they'd find a way to bounce back against Virginia Tech on Saturday.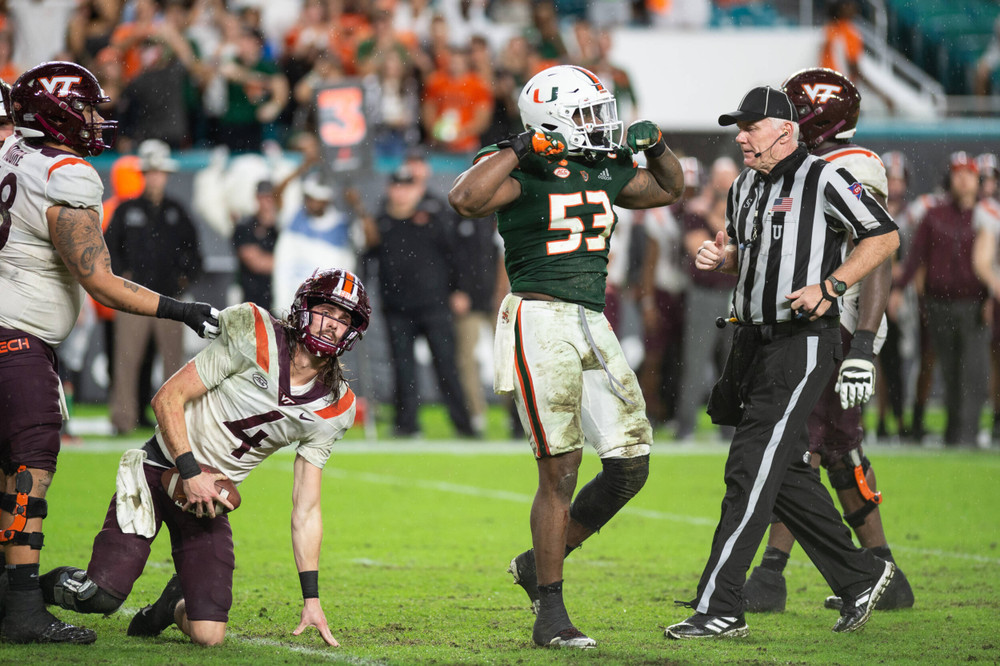 Miami set the tone quickly, jumping to a 21-3 lead. And when the Hokies pulled within five in the second half, the Hurricanes pressed on, with a fourth-quarter 55-yard touchdown pass from Tyler Van Dyke to Mike Harley giving Miami some late breathing room.
Across the field Saturday, the Hurricanes proved – again – they're a team with plenty of fight.
"I thought the team was intentional all week of preparing themselves to play very well…The word that you hear coaches throw around all the time, maybe sometimes it is overused, is culture. We said this would be a culture over strategy game and that our culture would eventually see us through," Diaz said. "Even tonight, they made a run and there was a series where we weren't playing at our best. The word that you mentioned, the resiliency, the mental toughness, the resolve and not flinching, all those things, as a coach you are so proud to coach a football team that exerts those principles."
Said Van Dyke, "Coming off that heartbreaking loss against FSU, we still fought. Everybody came together and fought for the seniors. It was just a great way to send them out, especially Mike Harley. That last touchdown to put it away, he'll never forget that moment ever. So I'm happy for him, happy for every single senior."
2. Bowl bound, again
As the Hurricanes prepare to head to Durham for their regular-season finale against Duke, no longer will they have to worry about securing bowl eligibility.
That's already been done. Now, Miami can work on improving its bowl stock with a win over Duke and focus on finishing the season strong.
"It means a lot. I feel like it goes for the future, just getting that extra game, [as well as] possibly getting eight wins," Van Dyke said of Miami securing its ninth straight bowl berth. "Right now, we have one goal in mind and that's preparing for Duke. We're just going to go out there, have a great week of practice and just focus on one game at a time."
3. Miami's seniors delivered on Senior Day
Miami honored its seniors in ways big and small on Saturday and many of those players made sure they helped make their final game at Hard Rock as Hurricanes as memorable as possible.
Harley's touchdown gave the Hurricanes a late cushion. Sixth-year senior Zach McCloud, who this season transitioned to playing defensive end, notched his first strip-sack of the season. Lou Hedley averaged 41.2 yards on his four punts and had two land inside the 20-yard line. And defensive tackle Nesta Jade Silvera and striker Gilbert Frierson were among Miami's defensive leaders with six tackles each.
For each of them, the finale at Hard Rock will more than likely be a memory that lasts a lifetime.
"That moment meant a lot. That moment meant a lot," Harley said of his final touchdown. "I wasn't supposed to be in on that play, but [offensive coordinator Rhett] Lashlee looked at me and was like 'Get in' and I just ran in there. It was so crazy. I was smiling, literally smiling…I caught the ball and I scored, but I was smiling the whole time. It was crazy."
4. Tyler Van Dyke keeps rolling
Entering Saturday night, no quarterback – including Pittsburgh's Kenny Pickett or North Carolina's Sam Howell – had been able to throw for 300 yards against Virginia Tech.
Van Dyke became the first to hit that milestone.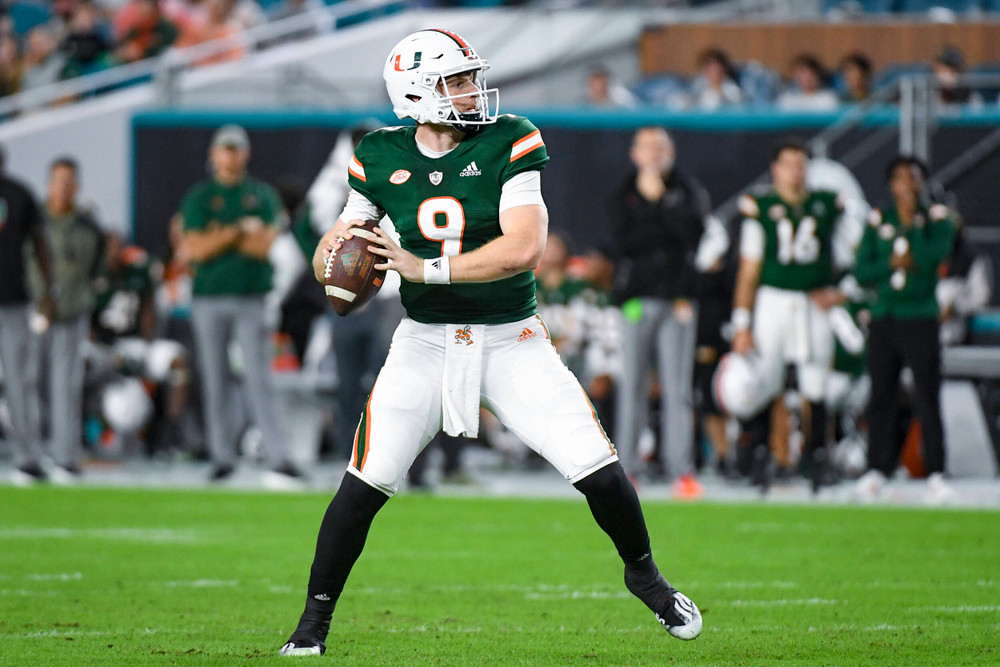 The second-year freshman finished with 357 passing yards and three touchdowns. It marked the fifth straight game in which Van Dyke has thrown for 300 yards or more.
Even more impressive? Van Dyke put together his performance against the Hokies through multiple periods of heavy, heavy rain.
The quarterback – who hails from Connecticut – was clearly unbothered by the conditions.
"I don't think the feet were a problem for me. I think it was that the ball kept getting wetter and wetter and my hands kept getting wet. So, at times, it was kind of hard to grip the ball," Van Dyke said. "The guys did a great job getting a new ball in there sometimes. But, I've played in rain and snow. I'm kind of used to that, so it didn't really phase me."
5. Harley, Rambo chasing history
Harley and fellow receiver Charleston Rambo have both put together impressive seasons and both continue their pursuit of Miami history.
Rambo, who transferred to Miami from Oklahoma, finished with seven catches for 116 yards against the Hokies and became just the fifth receiver at Miami to record a 1,000-yard season.
Ahead of the regular-season finale at Duke, Rambo has totaled 71 catches for 1,071 yards. That's one catch shy of Leonard Hankerson's single-season mark for catches (72 in 2010) and 91 yards shy of Allen Hurns' record for receiving yards in a single season.
Harley, meanwhile, totaled three catches for 65 yards against the Hokies. He is now five receptions from passing Reggie Wayne's record for all-time receptions at Miami (173 set between 1997-2000).
When asked about the possibility of breaking Wayne's record after Saturday's win, Harley noted it'd be a special accomplishment, of course, but he hasn't reached the mark yet.
"That would be huge for me and for my family," he said. "When I break it, I'm going to be happy, but that just shows all the ups and downs and perseverance and how I kept going. I don't know; I've got to break it first. So, really can't speak on it, for real.
6. Mallory continues second-half surge
Tight end Will Mallory didn't have the start to the season that he hoped, but in recent weeks, Mallory has been beyond effective for the Hurricanes.
The junior caught a 9-yard touchdown pass from Van Dyke on Miami's opening drive to give the Hurricanes an early lead. He finished with three catches for 27 yards and had a 72-yard touchdown called back because of a penalty.
The tight end has now scored in four touchdowns in Miami's last five games and has totaled 27 catches for 313 yards on the season.
7. Cleaning up mistakes made a difference
In their games against Georgia Tech and Florida State, the Hurricanes struggled with ball security, turning the ball over a combined six times.
Miami was able to escape with a win over the Yellow Jackets, but ultimately, came up short against the Seminoles.
Saturday against the Virginia Tech, the Hurricanes didn't turn the ball over at all and given the conditions on the field, that wasn't anything to take for granted.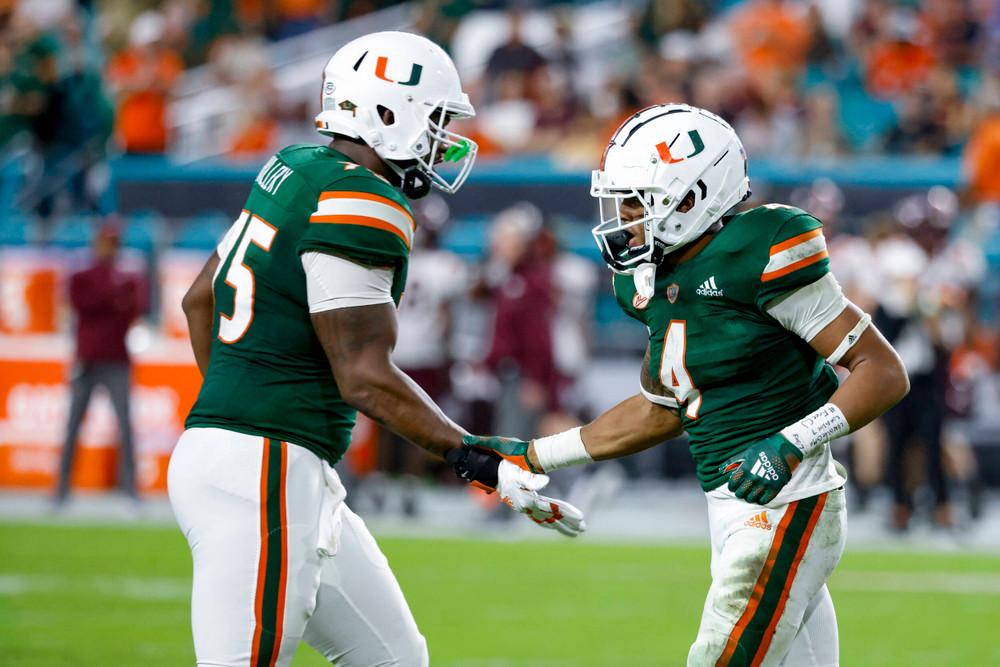 And while a penalty may have negated Mallory's touchdown, in all, the Hurricanes played a much cleaner game on that front than they did in Tallahassee.
Saturday against Virginia Tech, Miami was penalized just five times for 45 yards. That's a marked improvement from the 14 penalties that cost them 105 yards against Florida State.
8. The Canes got after the quarterback and in the backfield
The Hurricanes knew they'd face a challenge containing mobile Virginia Tech quarterback Braxton Burmeister, who entered the game as the Hokies' second-leading rusher.
But they pressured him enough Saturday to notch four sacks and two QB hurries. In all, Miami finished with 10 tackles for loss in the win.
"That's always a part of the plan. If you can get after the quarterback, you get after the whole offense. Everyone feels it when the quarterback gets hit," McCloud said. "Not to say we're out here trying to hurt anybody, but it's a man's game and out here trying to play a man's game. Again, we don't want to see anybody get hurt or injured, seriously or anything like that. I don't want to give off that impression, but as much time as you can be around the quarterback, you can definitely affect the game more and that's what we're looking to do, affect the game when we're playing defense."
9. Explosive plays make a difference
Against the Hokies, the Hurricanes had more than a few big plays on both offense and special teams.
A 75-yard touchdown pass from Van Dyke to Brashard Smith. The 55-yard scoring pass to Harley. A 39-yard to Rambo. A 29-yard punt return by Jacolby George. A 32-yard pass to George. And another punt return by George, this one from 32 yards.
In all, Rambo totaled 116 all-purpose yards, George totaled 104 all-purpose yards, Smith had 102 all-purpose yards, Restrepo had 74 all-purpose yards and the Hurricanes totaled 411 yards of offense.
10. On to Duke
After 11 games, the Hurricanes find themselves at the end of November.
They've weathered their share of struggles, but on Saturday afternoon in Durham, they'll take the field at Wallace Wade Stadium looking to close the regular season out with five wins in their last six games.
And while they know there's a bowl game waiting for them after that, right now, the focus remains on Duke.
"I'm just thinking about Duke next week," defensive end Deandre Johnson said. "I'm going to enjoy this win for 24 hours and then on to Duke."