Hurricanes Set for Rivalry Showdown with FSU
CORAL GABLES, Fla. – Amari Carter can still remember how quickly the silence descended.
He was a freshman at the time, a newcomer to the Miami-Florida State rivalry and just moments before Darrell Langham's back-shoulder catch and Malik Rosier's improbable throw, Carter had been on Miami's sideline marveling at the loudness all around him.
But then Rosier made that throw, Langham made that catch and with just six seconds left, the visiting Hurricanes took a 24-20 lead that stunned a majority of the 78,169 fans crammed into every corner of Doak Campbell Stadium.
The only noise Carter did hear? The cheering around him on the Miami sideline.
That was more than enough as the Hurricanes went on to win that game in 2017 and, in the process, end a frustrating seven-game losing streak to their biggest rivals.
It was a moment that left an indelible mark on Carter and so many of his Miami teammates.
"I remember me and a lot of the other freshmen just being there and it was crazy," said Carter, a senior striker. "It was crazy how the whole stadium just kind of went silent and the roar of our sideline made up for all the silence in that stadium. It's probably my favorite memory against Florida State."
The Hurricanes haven't lost to Florida State since and now, on Saturday in Tallahassee, Carter and the Hurricanes will have another opportunity to create more memories against the Seminoles when the programs meet once again.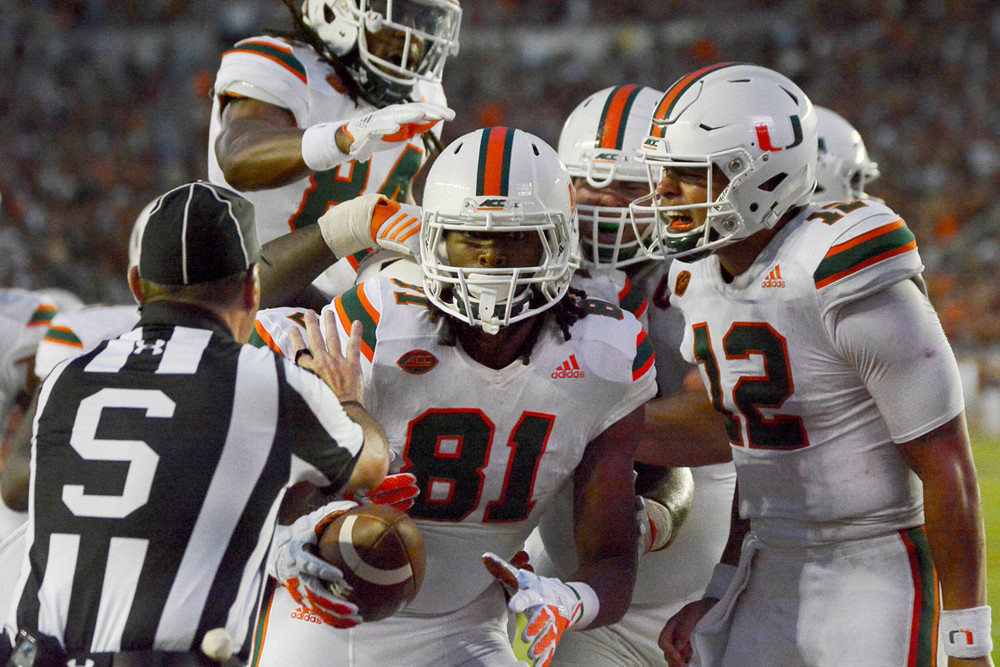 Outside of Coral Gables and Tallahassee, the stakes may not seem as high as when the Hurricanes and Seminoles have contended for national titles in the past. But the Hurricanes (5-4, 3-2 ACC) remain in the hunt for a Coastal Division title and a berth in the conference championship game.
Bragging rights are most definitely on the line, though and so, too, is pride. For Miami, a win would secure bowl eligibility and for Florida State (3-6, 2-4), a win over the Hurricanes – who have won three straight – could provide a spark in what has been, to this point, a tough season.
As both the Hurricanes and Seminoles would say, right now, the records don't matter at all.
"We're not the 2-4 team we were three weeks ago. They're not the 0-4 team they were when they started the season," Hurricanes head coach Manny Diaz said. "I think both of us have a lot in common. Both rosters have sort of settled out. I think both have had new additions that have grown into their roles on the team. Both have found an identity at quarterback and so, they're a much, much better version of themselves than they were in September, but I think we are, too. The records don't indicate, in my mind, the true value and potential of either team."
For Miami, that identity at quarterback comes in the form of Tyler Van Dyke, who will make his first start against the Seminoles on Saturday.
The second-year freshman, who took over the Hurricanes' starting job after an injury to veteran D'Eriq King in September, has been a force during Miami's three-game win streak, completing 79 of his 109 passes during that stretch for 1,140 yards with 10 touchdowns.
He earned ACC Rookie of the Week honors after each of those games and has proven to be calm under pressure with all three of those wins having been decided by four points or less.
The quarterback knows he'll face a challenge and a hostile environment at Doak Campbell Stadium, but he believes he and his teammates can build on their success in recent weeks.
"I'm just going to play my game confidently and we're confident in this offense, in this team and can't wait to go out there and play FSU," Van Dyke said. "We've shown our team has a lot of fight and that our team can go out and win any type of game."
And while Van Dyke has a talented pool of playmakers around him – including receivers Charleston Rambo, Mike Harley and Xavier Restrepo, running back Jaylan Knighton and tight ends Will Mallory and Elijah Arroyo – the quarterback and his teammates know that against Florida State the Hurricanes will have to be much sharper than they were last week against Georgia Tech.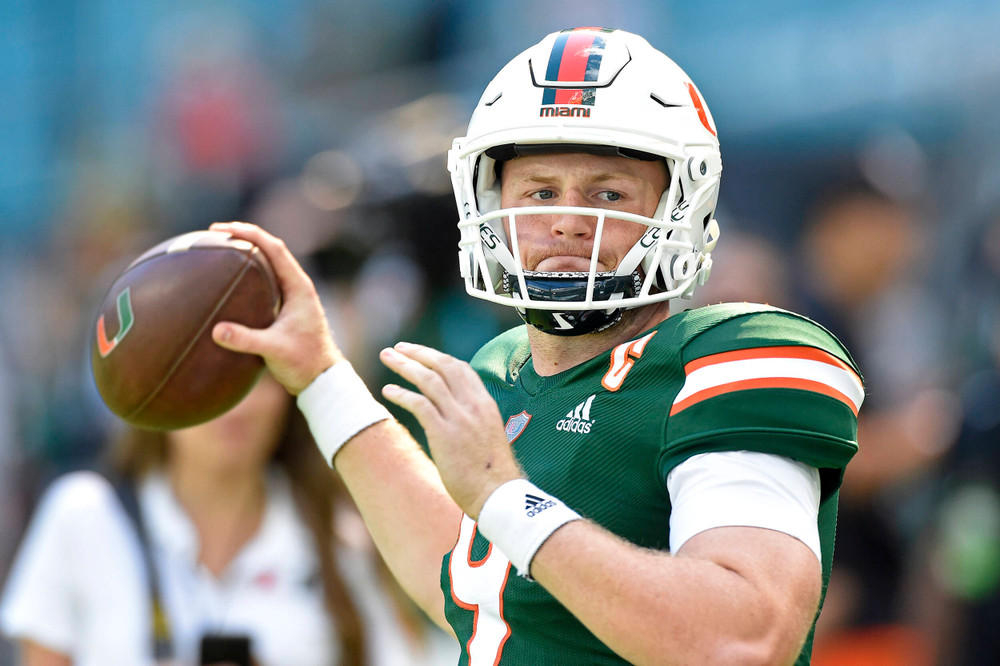 While Miami totaled 563 yards of offense and ultimately edged the Yellow Jackets 33-30, the Hurricanes turned the ball over three times – which helped keep the game closer than Miami would have liked.
Mistakes like those will likely prove extremely costly in a game like the one the Hurricanes will be playing in Saturday.
"Florida State is not a garbage team. They're a great team and with the players they have, you can't make mistakes like that," said Knighton, who rushed for a career-high 162 yards in last week's win over the Yellow Jackets. "They'll capitalize on stuff like that. We have to limit those. We have to execute. We have to limit all fumbles. Ball security. Not miss reads. We have to be on point with every last assignment. Everything."
Defensively, the Hurricanes have found ways to make a series of crucial stops during their three-game win streak. And that, players say, has to continue.
Miami's tackling has improved during that time and it will be important to keep that trend going, especially given that FSU is averaging 5.13 yards per rush, a number that ranks third in the ACC and 25th nationally.
"I feel like we have to go up there with that edge that we've been having," said defensive end Chantz Williams. "We didn't start off how we wanted to and that's on everybody's shoulders right now. That's how everybody's feeling. But especially Florida State week, I feel like everybody has a bigger chip on their shoulders…We've got to go up there with the mindset that we're ready to win…Every week we try to capitalize and try to build on the momentum that we have. We just feel like improving every week is super important. Especially this week, out of all weeks, we need to do that."