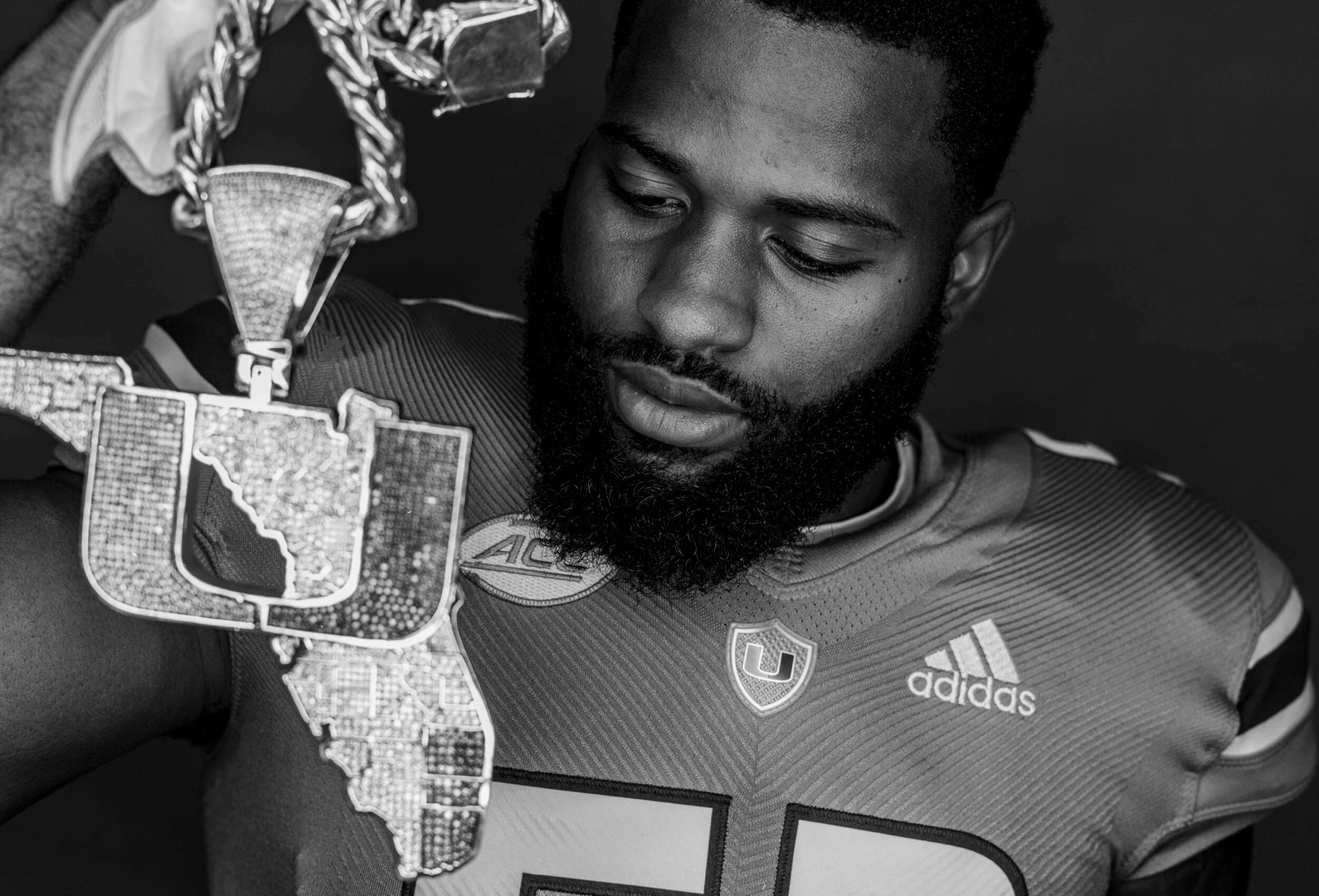 CORAL GABLES, Fla. – It's become a sort of running joke, one Zach McCloud enjoys cracking.
"I tell everyone I'm a freshman defensive end," he laughs. "There's a weird duality to it."
Duality indeed.
McCloud, a sixth-year senior, has been at Miami longer than any of his teammates.
And he has experienced virtually all of the highs and lows of college football, from coaching changes and injuries to making school history when in 2016, he, Shaq Quarterman and Mike Pinckney became the first trio of freshman linebackers to ever start together at the University of Miami.
But it's now, during his final months as a Hurricane, that a position change has given McCloud a new sense of purpose and made him feel even more comfortable on the field.
"I felt like I was really at home doing that, regardless of not having any idea what I was doing," McCloud said of his move from linebacker to defensive end last December. "It just felt like the right thing, to go out there and try to give that my best shot."
The idea to try his hand on the line started initially as another one of McCloud's jokes.
After former Miami defensive ends Jaelan Phillips and Quincy Roche both opted out of last year's Cheez-It Bowl to begin preparing for the NFL Draft process, the Hurricanes faced a depth issue at one of their strongest positions.
During film study before the game, McCloud quipped maybe he should move to end.
"I was like, 'I can do that,'" McCloud said.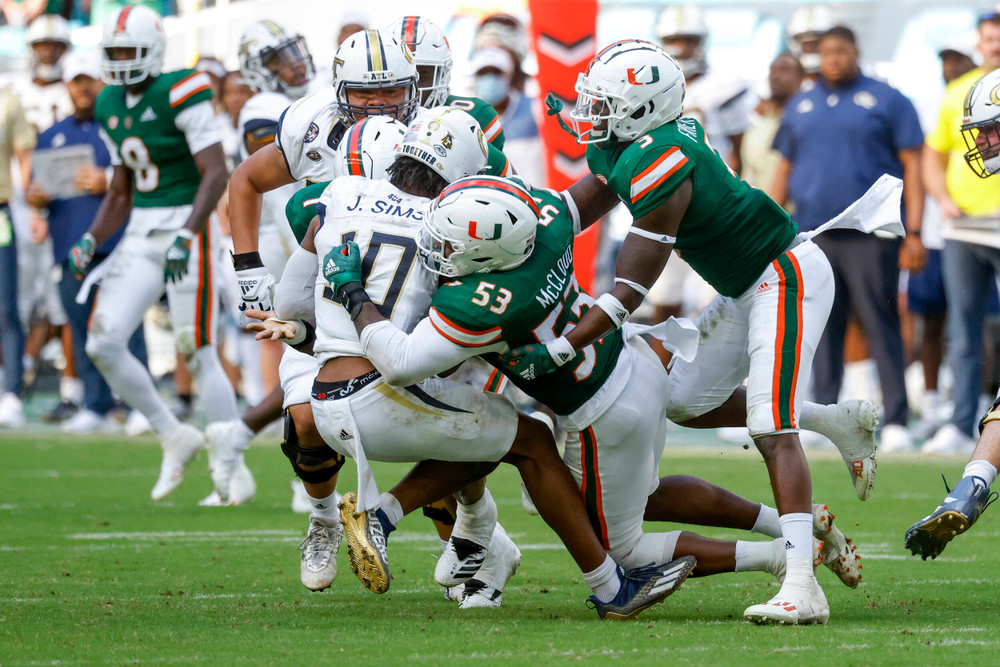 He didn't put together the most memorable of performances against Oklahoma State, totaling just 1.5 tackles. But afterward, McCloud wondered – if he dedicated himself to learning the position during the offseason, could it be a viable long-term option?
Nine games into the season and with the Hurricanes preparing this week for their annual showdown against rival Florida State, it would certainly seem so.
McCloud has a team-high 4.5 sacks, is tied for the team lead with seven tackles for loss, has totaled three QB hurries and has notched 25 tackles.
There have been growing pains, of course. But his teammates and coaches haven't been surprised by McCloud's success at his new position.
"From the day he made the move in the spring to go to defensive end, you'd see him out the window, working in the indoor [practice facility] by himself, running around bags and working on pass-rush moves," Hurricanes head coach Manny Diaz said. "Then he went through the springtime and doing it in real practices. Then the fall, scrimmages and into games. The progress doesn't always come when you want it, but if you keep hammering at it, lo and behold, the sacks have started coming. It's a great story for Zach and it's been a great way for him to finish out his career. I do think he's natural at that spot and he's playing the way we thought and hoped he would."
Said redshirt freshman defensive end Jahfari Harvey, "Man, Zach's like, if not the hardest worker, one of the hardest workers on the team. You see him every day, day in and day out, grinding. You can tell this means the world to him. You see how much he's improved already. Watching him on Saturdays, making plays, it feels good. It motivates everybody else to work hard and shows you what hard work can do for you."
McCloud's work ethic has, undoubtedly, helped make this transition easier for him. But defensive line coach Jess Simpson say there's more to it than that.
The veteran's personality, competitiveness and natural skill set can't be taken for granted either.
"I think it fits him and his mindset and his personality even better than playing linebacker," Simpson said. "And I think some of the stuff he did at backer has made him a better defensive end. He's a go-guy. When the ball snaps, he's going to run into folks full speed. He's a gritty guy. He's got a lineman mentality. He's that kind of guy."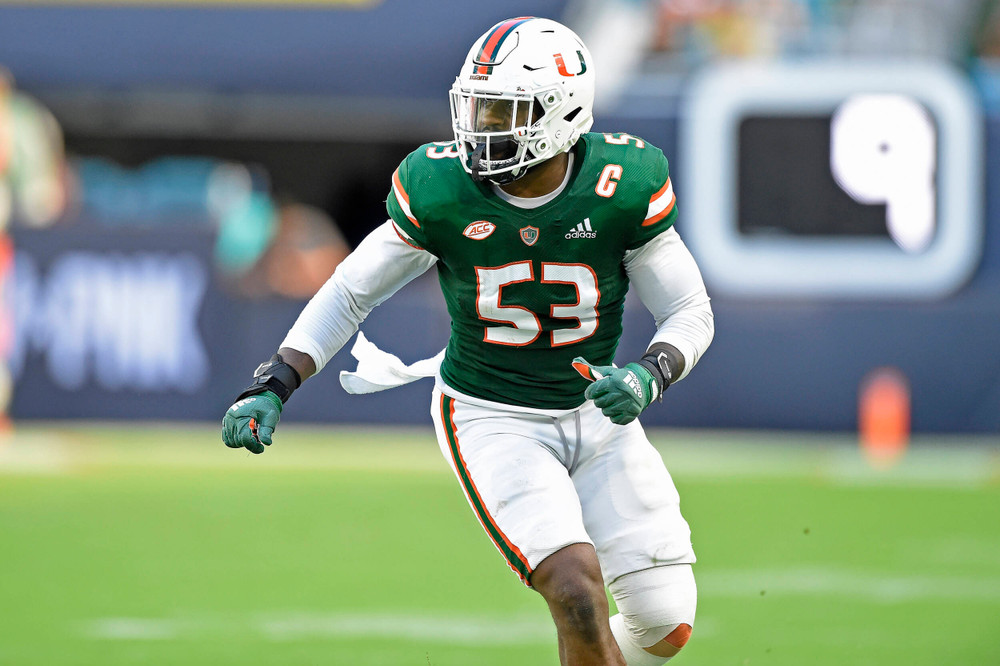 With just weeks left in his Miami career, McCloud is determined to not only continue playing his best football as the Hurricanes look to remain in the ACC race, but to help leave a legacy that will inspire his teammates moving forward.
It's why he's been so eager to spend as much time with Harvey, Chantz Williams, Elijah Roberts, Jordan Miller and the rest of Miami's younger linemen as he can.
His hope is that he can give to them some of what Miami has given him.
"I can't put one word on it, but I'd say I'm learning and I've been learning since the day I walked into this building. And not just about football, but how to be a man, how to be a good person, how to work," McCloud said. "There are so many lessons. I feel like I had a base to work with when I got into the building and then being here, it really formed my mindset of what I was going to be as a man moving forward in life.
"There have been so many life lessons and up until my final day, these are things I'm learning from people in this building. And I'm learning that even if you think you have it all figured out, you don't. There's always more wisdom and things you can take from other people and give to other people. This place changed me forever, in the best of ways."