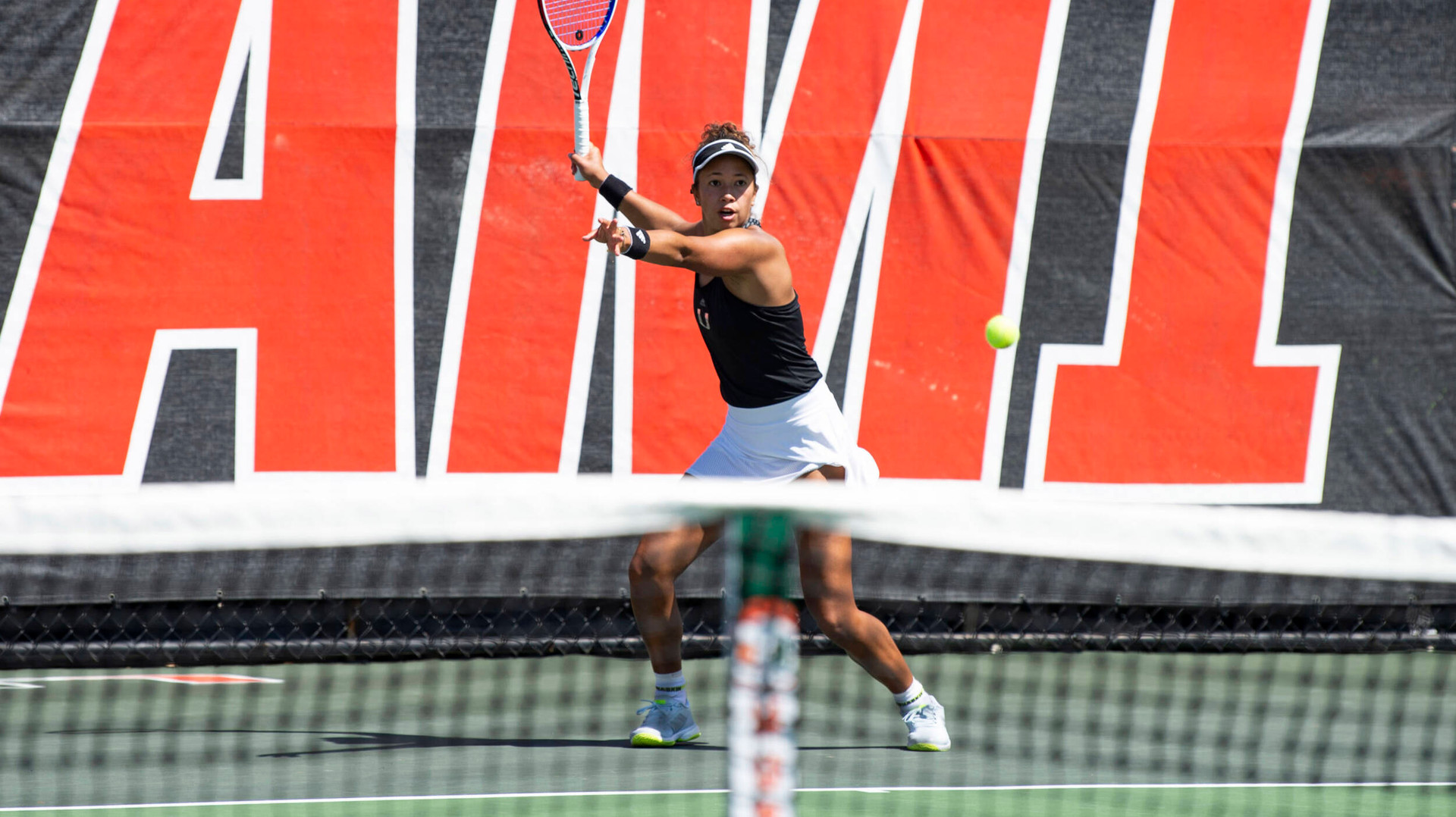 CORAL GABLES, Fla. – The last time the University of Miami women's tennis team played on its home court was April 16, nearly seven months ago.
The last time it hosted a multi-day tournament at the Neil Schiff Tennis Center was Jan. 18-20, 2020, almost two years ago.
That will change this weekend, when the Hurricanes welcome Barry, Columbia, Duke and Kentucky to Coral Gables for the Miami Fall Invite. Action is to begin at 9 a.m. Friday and Saturday, followed by an 8 a.m. start Sunday.
"Well, I think it's amazing because it's been awhile. We haven't played at home or hosted a tournament in such a long time," Miami fourth-year junior Daevenia Achong said. "For Eden [Richardson] and Audrey [Boch-Collins], it's going to be their first tournament at home. I think everyone is super excited to go out there and just compete."
Two teams headed to the Miami Fall Invite are familiar foes. Duke is an ACC team and most Hurricanes faced players from Kentucky at a tournament last month.
The other two, Barry and Columbia, feature few well-known faces for the members of Miami's roster. That, however, will not change how the Hurricanes enter their matches against the different possible opponents this weekend.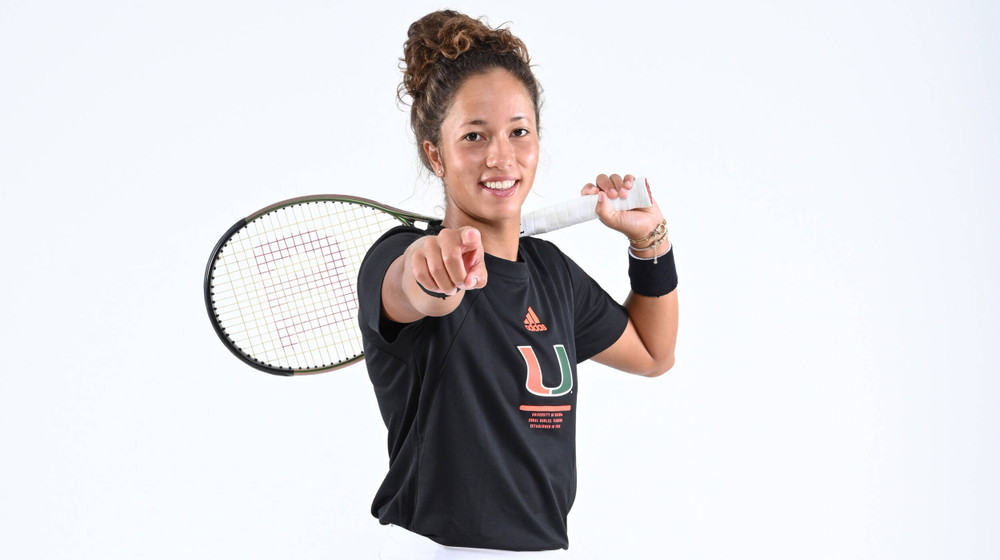 "We prepare the same way for every single team," Achong said. "We expect them all to be great. They're great, all four teams. We just need to be ready; ready to compete and ready to go out there."
Thrice this season, multiple Miami players have competed in the same collegiate tournament. This weekend will be the last time that happens.
Through tournaments in North Carolina, Tennessee and nearby Orlando, Fla., the Hurricanes have grown as a team and enters this home weekend in a strong place.
"I think we're in a great spot. We've been working very hard, practicing hard, playing well," Achong shared. "Everyone is playing well and I think everybody is ready to compete and play matches and just go out there with the team, have a great time, support each other and just work our butts off."
During the fall season, coaches have the opportunity to assess their teams and determine both strengths and weaknesses. This is, certainly, a talented Hurricanes team with a long list of strengths.
However, there are still some areas head coach Paige Yaroshuk-Tews and associate head coach Alex Santos have been stressing to their players.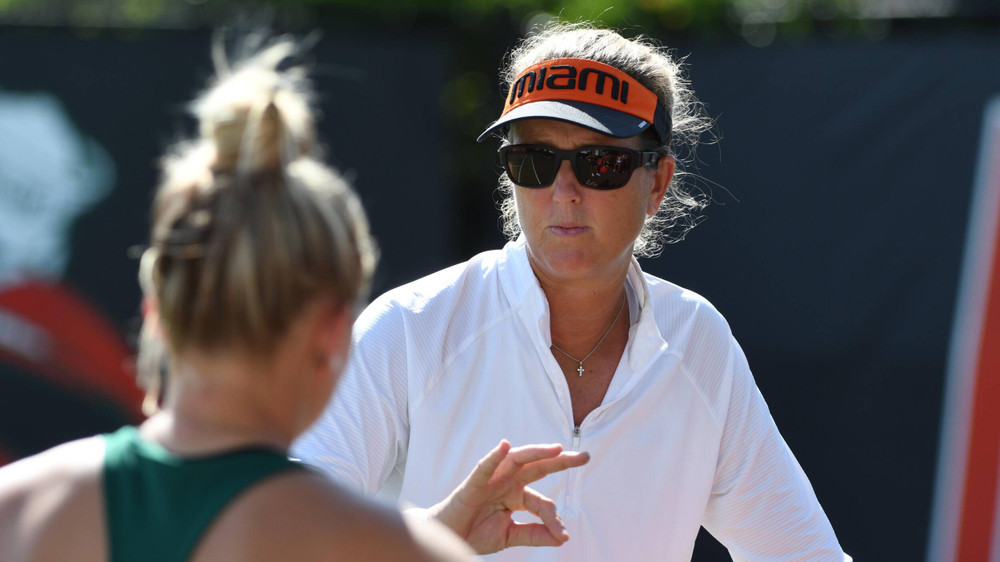 Achong, of course, knows just what the points of emphasis have been over the last two months of fall competition.
"I think we've been focusing a lot on fitness," she said. "[We have been] just going out there, working hard for every point, not giving one point away. Every point counts. And we've been working on playing a lot of aggressive tennis and going out there and stepping up, taking the balls that present themselves and just taking action."
It makes sense that Achong's individual areas of focus would mesh with what her coaches are preaching to the team as a whole and that is indeed the case.
"I'm working hard on and off the court," the 2019 Second Team All-ACC performer said. "Mentally, I think I'm in a great spot. Just going out there; just play my game, play aggressive and just have fun and compete with my team."
Achong's commitment has shown in her results ledger, as she co-leads the team in doubles wins and is tied for second in singles victories.
The Geleen, Netherlands, native owns a pair of top-100 singles triumphs, along with a stellar top-10 doubles win alongside Richardson, with whom she has a "great vibe" on the court.
However, on-court achievements are not the only thing to come Achong's way of late. Last week, she was among the four Miami student-athletes tapped into Omicron Delta Kappa, a prestigious national honor society.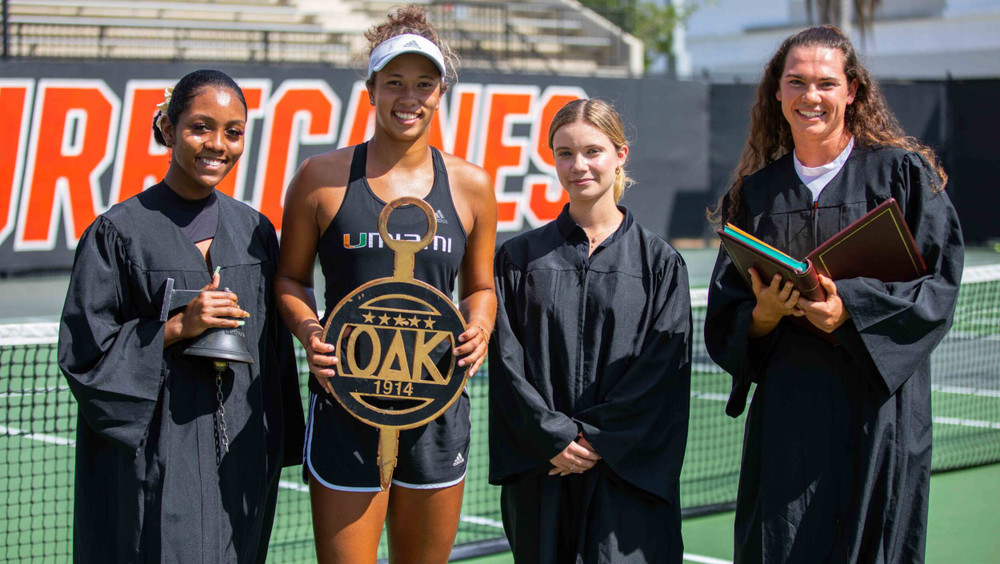 "It was a very cool experience," Achong shared. "They came out to the courts, so that was also very nice. I am very happy and feel honored that I got tapped into ODK."
It will be on those same courts this weekend that Achong, the longest-tenured Hurricane on Miami's roster, again plays in front of the loyal, local fans.
She is looking forward to doing just that for three consecutive days.
"Hopefully we get a lot of people out there this weekend and also for the following matches in the spring," Achong said. "We should get a lot of people out there [who will] hopefully get really excited for us that we're playing at home again."
Fans in attendance at the Miami Fall Invite will receive a free adidas towel, for as long as supplies last.
Friday and Saturday will feature singles at 9 a.m. and 2 p.m., with doubles matches in between at approximately 11:30 a.m. Sunday's singles matches are scheduled for 8 a.m. and 1 p.m., with doubles in the middle at about 10:30 a.m.
For fans who wish to follow the Miami Fall Invite action from afar, live stats will be available HERE throughout the weekend.
To keep up with the University of Miami women's tennis team on social media, follow @CanesWTennis on Twitter, Instagram and Facebook.