Canes Set to Face No. 17 Pittsburgh
CORAL GABLES, Fla. – In so many ways, last week was exactly what the Hurricanes needed.
After back-to-back, last-second conference losses, Miami started fast against then-18th-ranked North Carolina State, answered when the Wolfpack rallied and ultimately, found itself on the right side of a close game with a 31-30 win.
It was a game in which the Hurricanes' young quarterback had a career night; one in which their defense – which has weathered its share of struggles – made big plays when they were needed.
Now the Hurricanes have to do it all over again.
For the second straight week, Miami will face a top-20 opponent, this time on the road. And for the second straight week, the Hurricanes (3-4, 1-2 ACC) will take the field feeling as if they have something to prove.
This time, though, they'll do it with an extra dose of confidence. That's not something they take for granted as they prepare to face 17th-ranked Pittsburgh (6-1, 3-0) at Heinz Field on Saturday.
"We still have to remember where we are and we still have something to prove every single week. We've got a chip on our shoulder," tight end Will Mallory said. "We know we're a good second-half team. We know we're going to put up points and we're going to finish. We just have to start fast and keep the momentum that we have. I think last week we did a great job of coming together, the last couple weeks, really, and playing for each other. That's something we have to play with this whole season and the rest of the year."
As re-energized as the Hurricanes may be after their win over NC State, they know they face a different kind of challenge against the Panthers, who stand atop the Coastal Division standings and are coming off a 27-17 win over Clemson.
Senior Kenny Pickett is generating Heisman Trophy buzz after leading Pittsburgh to four straight wins, all by a double-digit margin.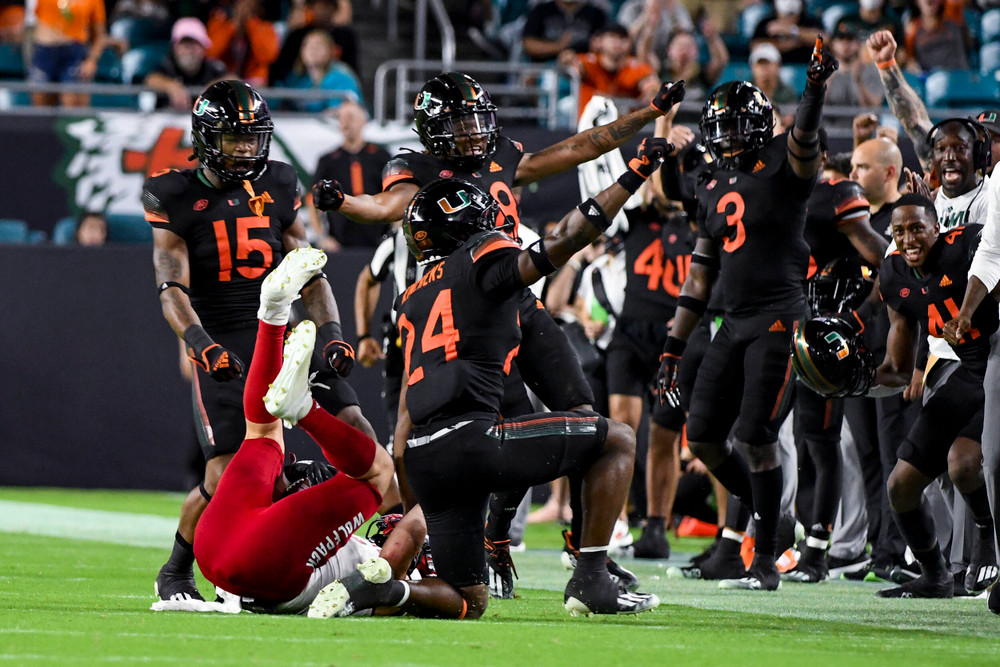 He has completed 69 percent of his passes and thrown for 2,236 yards and 23 touchdowns with just one interception. And Pickett – who made his first career start against the Hurricanes back in 2017 – is now on the verge of rewriting the Panthers' record book.
He needs just two touchdowns to break Pittsburgh's all-time career touchdown responsibility record set by Panthers' legend Dan Marino from 1979 to 1982. And Pickett is just 166 yards shy of breaking the school's record for total offense.
Finding ways to keep Pickett from connecting with his receivers is a task that will now weigh heavily on two freshmen safeties – Kamren Kinchens and James Williams – both of whom are expected to see significant playing time after veteran safety Bubba Bolden's season-ending shoulder injury.
The two freshmen expect they'll be challenged this weekend, but feel confident their training and preparation has prepared them for this moment.
"He's one of the best in the country," said Kinchens, who last week made a drive-ending tackle on NC State's final possession. "They do a ton on offense. It's not like 'If they get in this formation, they have these three plays.' They have a bunch of plays with every formation. They know how to attack zone, they know how to attack man. We have to be disciplined because they play disciplined football. We just have to do what we've been doing every day this whole week and if we go out there, eliminate the mental mistakes and play fast, we can come out with the 'W.'"
Said Williams, "Me and [Kam] have been talking about it. We've been watching film all week. We've got to communicate and stay together as one back there. We know it's going to be our first time playing a full game together, so we have to communicate, stay on task, stay focused and get the job done to win this football game."
While Miami's defense will have to contend with Pickett, the Hurricanes' offense – led by second-year freshman Tyler Van Dyke – will have to handle a defense that is allowing an average of 318.7 yards per game, a number that ranks among the top 20 of FBS programs.
Against NC State last week, Van Dyke threw for a career-high 325 yards and four touchdowns. He led Miami on a scoring drive on its first possession – something the Hurricanes hadn't been able to do in either of their first conference games against Virginia and North Carolina.
Starting fast was a priority against the Wolfpack and it remains one against Pittsburgh now – especially after last week's success.
"The whole offense starts with me. I have to distribute the ball to the players," said Van Dyke, who on Monday was named the ACC Rookie of the Week. "Once I play well and get the players involved, [receiver Charleston] Rambo's going to have nine catches…[tight end] Will [Mallory's] going to have a couple catches and a touchdown…We have a lot of confidence in our offense and we're only going to get better."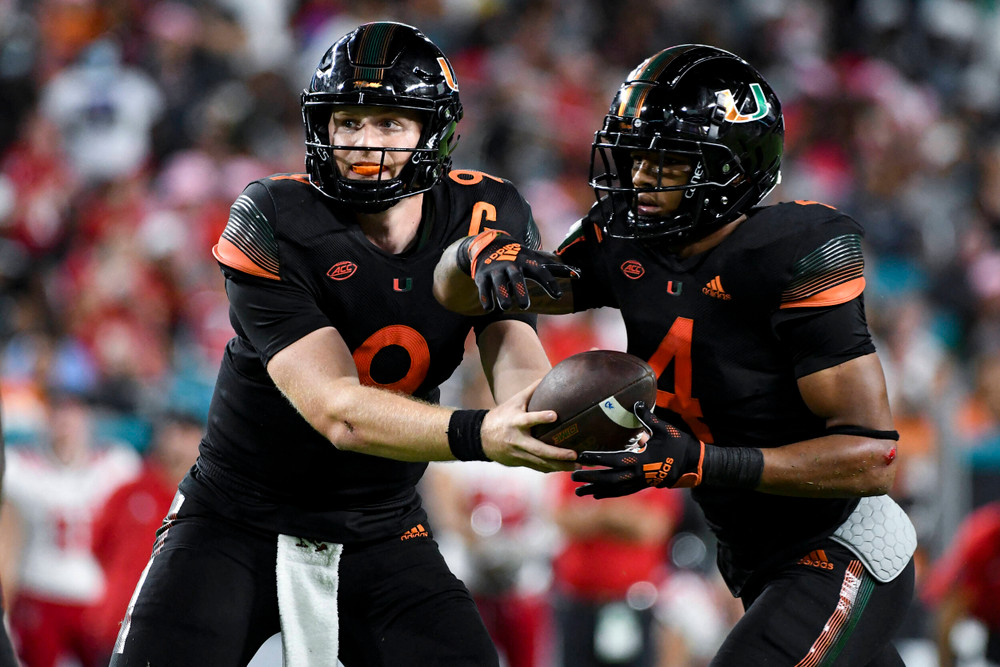 And while Van Dyke knows the quarterback across the field is having a memorable season, he knows it's important that he focus on his game and what he does best, instead of trying to match Pickett pass for pass.
"He's having one hell of a season. Might be the Heisman," Van Dyke said of Pickett. "I'm just going to worry about my game, go out there and play with my teammates and worry about what the offense has to do, get the whole team fired up and after that, hopefully we can get that win."
For all of the Hurricanes, carrying the momentum from last week's win can make a difference.
Rambo and Mallory both had big performances against NC State. So, too, did running back Jaylan Knighton, who totaled a game-high 166 all-purpose yards against the Wolfpack.
On the other side of the field, Miami's defense – led in large part by budding young stars like Williams and Kinchens – had its moments, too.
Now, Miami's players and coaches know, it's time to build on what they started.
"Another great challenge for us. Obviously, it was a good feeling in the building [Sunday] when the players came in, but it was a quick turnaround in terms of putting the State win to bed and getting our attention on Pitt," Hurricanes head coach Manny Diaz said. "They're certainly deserving of it. Right now, them and Wake Forest are the class of our league. We've got a chance to go on the road against the 17th-ranked team…We've had great games with Pitt in the past and we expect this to be no different."