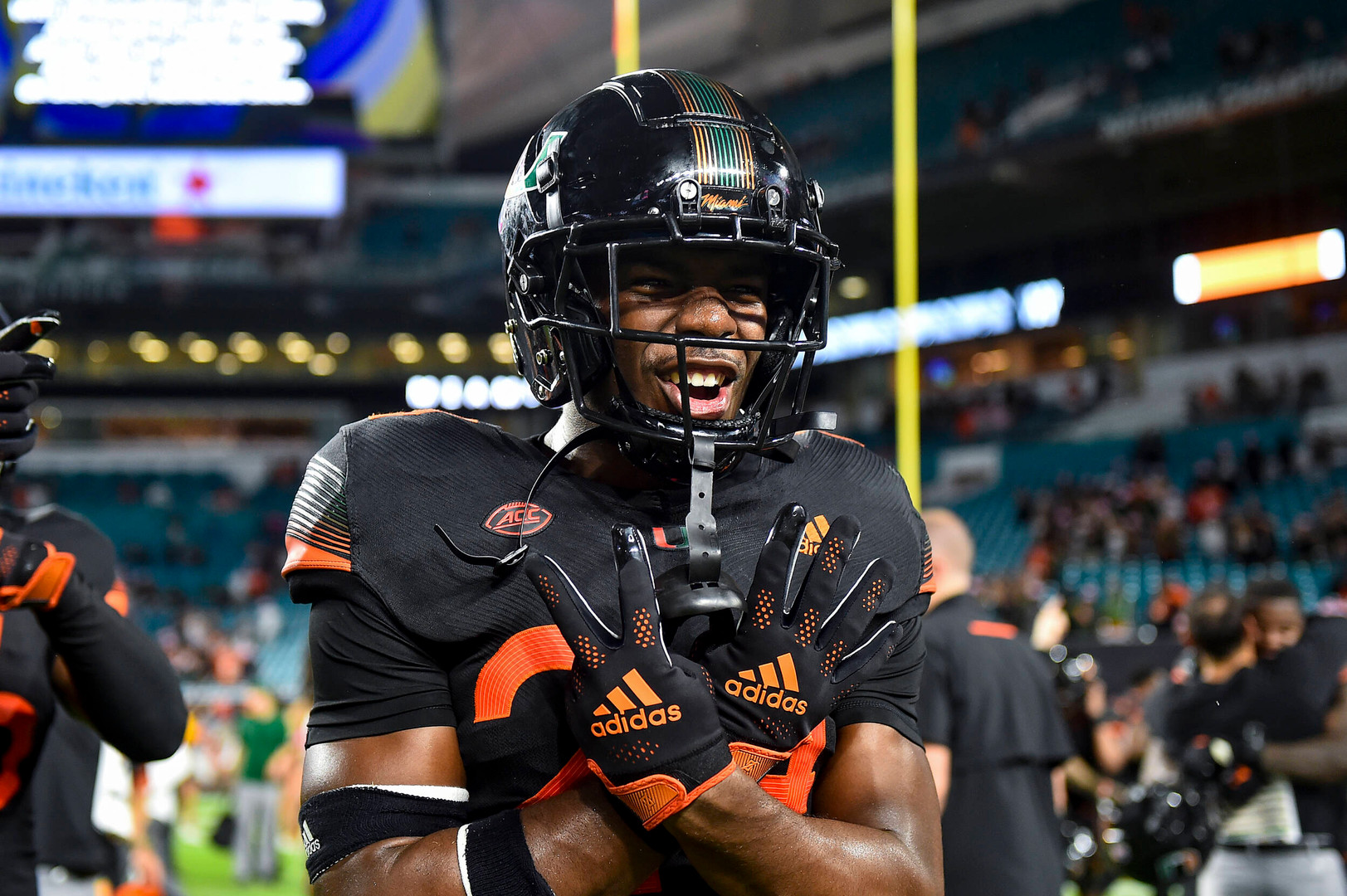 CORAL GABLES, Fla. – Kamren Kinchens watched Thayer Thomas line up and it just clicked.
He knew exactly what North Carolina State's veteran receiver was going to do. Hours of film study had prepared him for this moment. All Kinchens had to do now was make the play.
Sure enough, Thayer ran an out route as Devin Leary heaved a pass on fourth down. Thayer made the catch, but before he could get the first down the Wolfpack needed to extend their final drive and potentially retake the lead, Kinchens brought the receiver to the ground.
Kinchens looked up. Thayer and the Wolfpack were two yards shy of the marker.
The result? Miami ball, with the Hurricanes up 31-30 and just 2:49 left on the clock.
"It was a pretty big moment, yeah," Kinchens said with a smile. "When I made the tackle, the first thing I did was look to the sticks to make sure he didn't get the first. And then, then after that, I held up my hand to say I stopped him. Then the whole family came around."
In that moment, the family Kinchens was referring to was his Hurricanes family – the teammates and coaches who'd watched the play develop right in front of the Miami sideline.
Arms were raised, high fives and hugs exchanged and moments later, the offense clinched the win with a first down of its own, one that allowed the Hurricanes to run out the clock and secure the upset of the then-18th-ranked Wolfpack.
"It added so much more, that it happened on our sideline," the freshman safety said. "It was like doing it right around your family. They were already right there, seeing it right in front of their eyes, literally three feet away. As soon as the whistle was blown, they ran onto the field."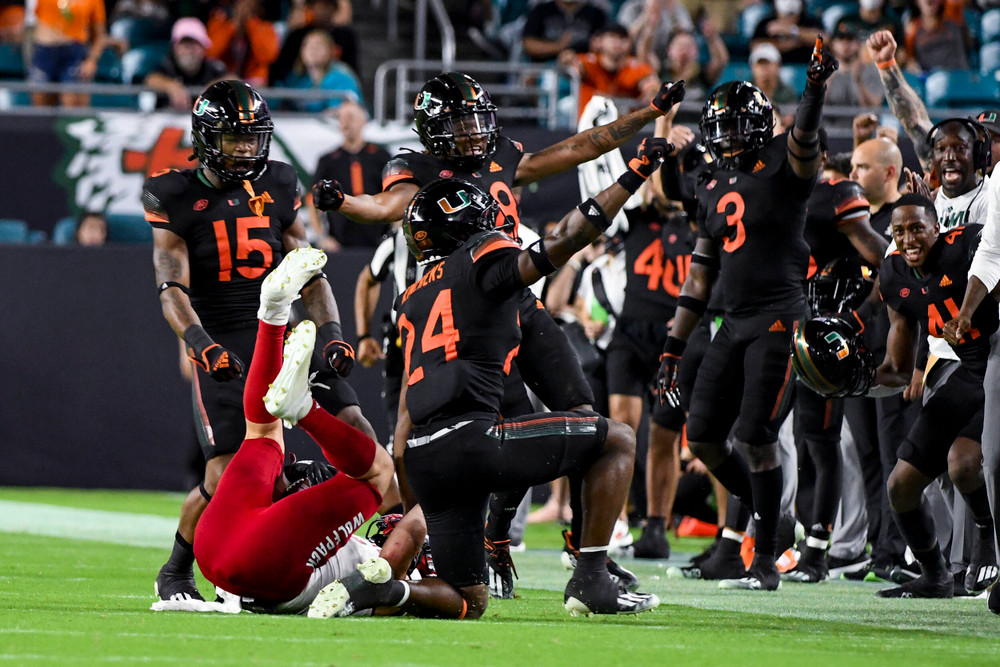 Kinchens' family – including all his younger brothers – were in the stands at Hard Rock Stadium to watch the play unfold, too. And that was plenty special for Kinchens in its own right.
The Miami native, who starred at Miami Northwestern, has always wanted to inspire his siblings. He knows his work on and off the field now will only help on that front.
Those younger siblings will have plenty more opportunities to watch their big brother this season, especially now that Kinchens has been called on to take a much bigger role than he could have ever expected when the year began.
With veteran safety Bubba Bolden now ruled out for the season because of a shoulder injury, Kinchens and fellow freshmen James Williams have been moved to the top of the depth chart and will now be called on to help lead the Hurricanes' secondary.
Kinchens says he believes the two are ready – in large part because they've spent months preparing for the challenges that await.
"It all started in the offseason with me, James and [defensive quality control coach Bob] Shoop. Throughout the spring, me and Coach Shoop built a bond. Literally every day, after practice, we were in the film room. Every day, we were making sure we were getting 30 minutes, an hour of extra film," Kinchens said. "And as I learned the plays, I tried to ask him more questions. Once James came in the summer, I was like, 'Shoot, me and him are both safeties. Let's get together' and we started doing the same thing. Watching film, film, film, film, making sure we knew every little thing we could know at the time."
That film study has only gotten more intense now that the season is here.
Kinchens and Williams are roommates when the Hurricanes travel and have, more than once, spent time in their room the night before games breaking down what they see in their opponents.
Back home, even after long days on Greentree and in the classroom, the two push each other to continue studying, to continue working, to continue getting better.
Kinchens believes that work, and that willingness to keep going will only pay dividends now that he and Williams will be called on Saturday to try and contain one of the nation's top quarterbacks, Pittsburgh's Kenny Pickett.
"There are some days, you wake up or it's after practice and you're like, 'Dang, I don't want to watch film. I'm tired. I want to take a nap.' and James is pushing me. He's like, 'C'mon, we've got to go. This is only going to make us better,'" Kinchens said. "And some days, he's tired and I'm right behind him like 'Let's go, we've got to do it.' It's good to have somebody by your side to push you when you need it and for you to push when they need it."
Said Williams, "Me and [Kam] have been talking about it. We've been watching film all week. We've got to communicate and stay together as one back there. We know it's going to be our first time playing a full game together, so we have to communicate, stay on task, stay focused and get the job done to win this football game."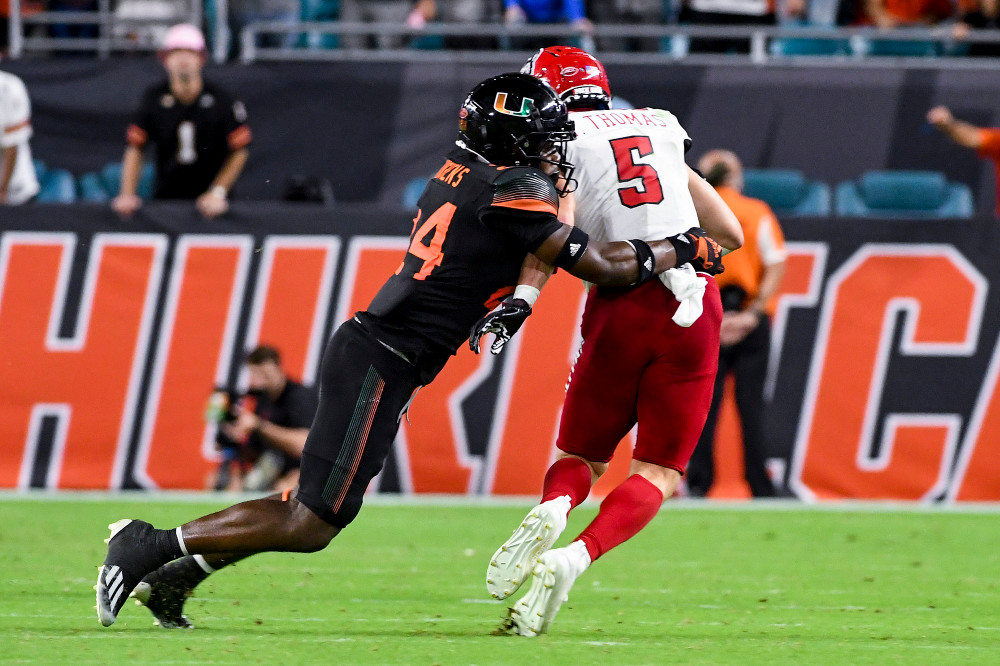 Their coaches and teammates have confidence their growth will only continue.
Kinchens, who arrived at Miami earlier this year, wasted little time making an impression during spring drills and earned praise from head coach Manny Diaz after making an interception and notching five tackles in the Hurricanes' spring game.
"Kam did not look like a freshman or really a mid-year enrollee," Diaz said earlier this year. "He looked like an older guy. He's got great football instincts, really good movement skills, which helps in coverage and by the end of the spring, he was actually playing multiple positions for us in our sub-defense because he could handle it mentally."
Said Shoop this week, "Kam has great athletic ability. But his maturity, for a true freshman, is off the charts. His composure…He plays with really great technique in fundamentals and is arguably one of our steadiest and most consistent tacklers…The play Kam made at the end of the game on the 4th-and-8 pass is one that certainly helped us win the game, if not win the game. And it's something he can build on for the remainder of the season."
That, Kinchens says, is his ultimate goal now.
While being given more opportunities to play has been exciting, he understands there is still much for him and the Hurricanes to do.
Six conference games remain on the schedule, starting with Saturday's game against 17th-ranked Pittsburgh. Given the ups and downs of the season across the ACC, competing for both a division and conference title is still an option for Miami.
Kinchens is determined to do his part to help the Hurricanes reach their goals.
"I feel like the [win against NC State] was a great win, especially because it was a ranked opponent," Kinchens said. "That just boosted our confidence for this game. We've already beaten one ranked opponent. Let's do it again and let the ball keep rolling…That's one of Coach Diaz's things. We control our own destiny…I have to step up."