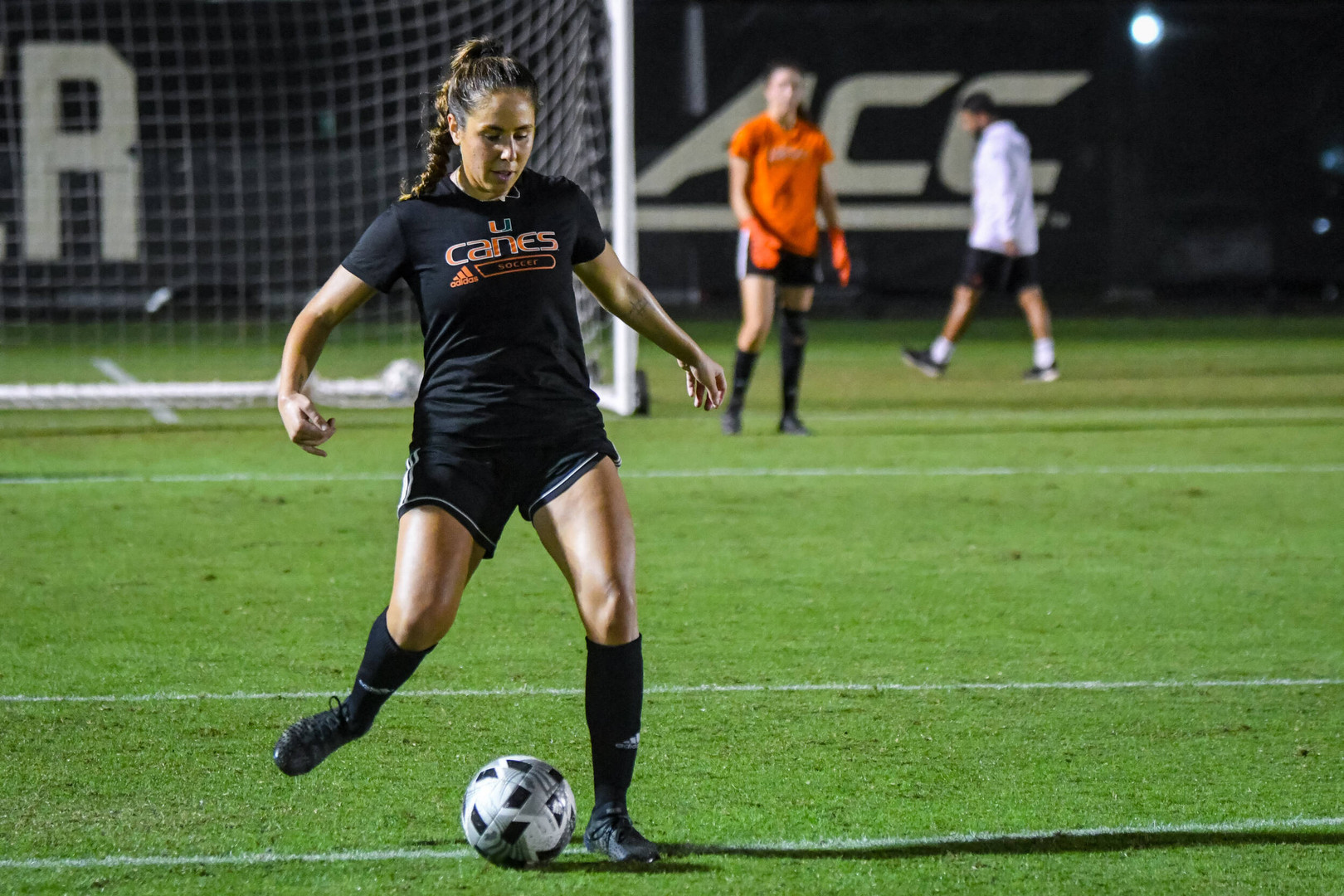 CORAL GABLES, Fla. — Johanna Barth wanted to make a strong first impression.
"I was pretty stressed out because I was eager to be in my best shape," she said. "I knew I was transferring and I wanted to impress everyone at the new school."
Barth, who transferred to Miami after two seasons at Wisconsin, set her sights high on carving out a crucial role on the Hurricanes' soccer team.
In the summer of 2020, amid the COVID-19 pandemic, Barth was back home in Rydeback, Sweden, gearing up for her transition to South Florida.
After catching COVID-19, Barth put her training on pause.
"I started working out as soon as I even felt slightly better," she recalled.
Barth made the trek across the Atlantic Ocean and arrived in Coral Gables to join her new teammates for summer workouts.
During the initial sessions, Barth was struggling more than she had been accustomed to.
At first, she thought the inactivity coupled with adjusting to Miami's blazing heat caused the initial adversity.
"I would get tired walking upstairs. I'd wake up and have heart palpitations. During preseason scrimmages, I had to walk off. I never had to do that before," Barth said. "I didn't want to make any excuses and just figured I was out of shape."
Barth focused on doing extra conditioning during her free time, going to the campus gym.
"I realize now that I didn't let myself really feel what I was feeling," she said. "I started having calf issues and headaches."
The 5-foot-6 midfielder fought through the pain.
Barth and the Hurricanes traveled up to Jacksonville to play the Clemson Tigers. She logged 14 minutes in her debut in the orange and green but still, something wasn't right.
When the Canes made the six-hour trip back, Barth was given a stress test and an MRI. The results revealed a high level of inflammation, forcing her to sit out of practice.
While standing on the sideline during training, the team's athletic trainer, Karl Rennalls, examined Barth. Rennalls noticed her left calf was twice the size of her right.
Rennalls scheduled an ultrasound for Barth.
After conducting the test, the sonographer instructed Barth to talk to the person that sent her.
"At this point, I'm freaking out," she said. "I called my mom, crying. I walked to Karl's office and he told me the news."
Rennalls revealed Barth had deep vein thrombosis, a medical condition that occurs when a blood clot forms in a deep vein.
Nearly 5,000 away from home, Barth had to venture on a new trek, heading to the hospital by herself because of COVID-19 protocols.
The doctor administered a CT scan of Barth's lungs, uncovering more blood clots.
"It was the scariest thing I've ever gone through," Barth said.
Barth stayed the night in the hospital with her soccer bag by her side. From her hospital bed, she watched the Canes face the Louisville Cardinals.
The next morning, Barth was released before heading to her next exam. She was diagnosed with myocarditis and would be forced to sit out the remainder of the fall campaign.
"When I found out about the blood clots in my lungs, I really thought I was dying," she said. "It made me think back to the times I was sitting on the bike doing extra conditioning. My body was screaming at me to stop and I was just continuing and continuing. I'm 21 like this shouldn't be happening to me."
Barth's blood clots didn't only impact her physically, but also mentally.
She watched every practice on the bench sitting next to Rennalls. Following the fall slate, she wasn't able to fly home for the holidays.
"I did have a life crisis wondering who I am if I don't play soccer. It's been such a big part of my life," Barth said. "I tried to find a role as someone that the players on the team could lean on, and be a leader in other ways."
For Barth, it was a challenging time but the support of her family, friends, teammates and coaches helped her push through.
Once she was cleared to resume activity, Barth was over the moon.
"All those steppingstones and milestones were huge for me," she said. "The first passing drill, people were so excited for me. I was super excited. It was important that people around me here have really recognized what I've been through. Even though it might seem like a small thing for someone else, it speaks volumes to the people that are here and why I'm so thankful for them."
Barth worked her way from simple passing drills to full contact training and, ultimately, returning to appear in the final match of the spring against Florida.
"The talk was always when she was going to get back to play, not if she was ever going to play again," Rennalls said. "When she got back out onto the field, she worked her butt off. She was so excited to do everything again even if it was biking or running. She realized how somebody could take it for granted and appreciated every activity. We always talked about it when she would get frustrated but the other option wasn't an option."
Over the summer, she prepared for her second year at Miami. Hoping, her senior season would be more what she invisioned, Barth played with a team in Sweden.
Barth competed against Lipscomb and at Missouri but started experiencing pain, again. This time, an MRI showed she had a partially torn quad.
"It came to me like, 'Why is this happening again?' I just want to be able to complete at the end of the day," she said. "Compared to everything else, this is minor. At least my heart and my lungs are healthy now. I can deal with a torn muscle. There was no way after everything that I went through that a torn muscle was going to end my soccer career."
She received a PRP injection and sat out for five days. Barth began to ramp her activity back up, beginning her return with time on the conditioning bike.
"I trust him with my life now. He saved my life," Barth said of Rennalls. "Being healthy is the most important thing. I got the wake-up call. It's not about pushing your body until the breaking point. Soccer isn't the end all be all. To live a long and healthy life is the priority."
Barth's story has served as an inspiration to her teammates and coaches. Her commitment and dedication to the team, despite the scariest of circumstances, has earned her the utmost respect.
"She is really a team player. She's been super invested, regardless of the fact that she couldn't even travel last year," Miami head coach Sarah Barnes said. "She comes to training every day with a smile on her face. She works as hard as she can. She holds people to higher standards. She leads by example but she's not afraid to be vocal. She adds so much value."
Barth has been cleared to participate fully in training. Her next opportunity to get back on the pitch is Saturday evening against the Clemson Tigers.
"It's going to be emotional," she said. "It's going to be exciting. All of those small steppingstones, just looking back, it feels like an eternity ago. It brings it full circle. I'm always going to have those reminders that are going to be very important for me. I'm extra thankful for where I'm at today. This place has turned into a second home. I don't think I could have ever asked for a better support system."