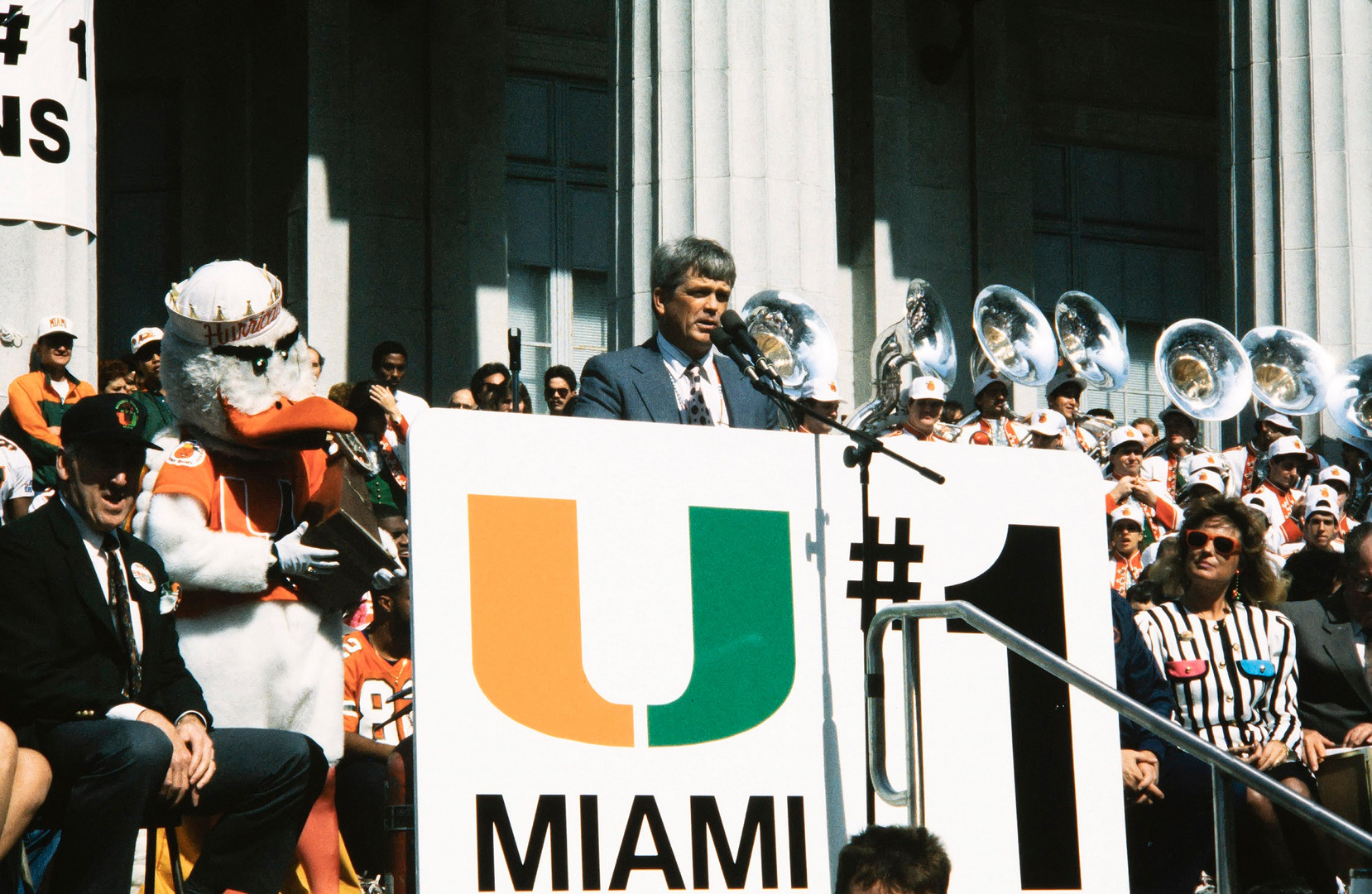 CORAL GABLES, Fla. – There will be good-natured jokes, ribbing and plenty of reminiscing.
That tends to happen any time they get together and this weekend, the members of Miami's national championship team will have the opportunity to do exactly that when they return to South Florida to celebrate the 30th anniversary of their memorable title run.
Those former players and coaches will be honored Saturday when the Hurricanes host Michigan State in a nationally televised non-conference showdown at Hard Rock Stadium and for Miami's current players and coaches, that joining of past and present isn't anything they take for granted.
"It's part of the legacy of this program," Hurricanes head coach Manny Diaz said. "What these legendary players, and more importantly, legendary teams of the past accomplished provides the blueprint for us. That's obviously what we're building this program toward so any time we get those guys back around our players and coaches, it means a lot. It's what inspires us to get to that level."
There's no doubt that 1991 team was a force worth trying to emulate.
The Hurricanes outscored their opponents 386-97 en route to a perfect 12-0 season. Miami's defense held eight of those opponents to 10 points or less, while quarterback Gino Torretta and a group of skill players nicknamed "The Ruthless Posse" averaged 32 points per game.
It was a team that entered the season feeling it had something to prove and that, Torretta said, pushed them even months before their 31-3 season-opening win against Arkansas.
"We kind of all felt slighted, really, going into the season," Torretta said. "We dominated in the Cotton Bowl and we lost some players, but I had experience at quarterback. And going off my class that came in in '88…we felt pretty good…We had a chip on our shoulder, especially the first-year starters…We were a young, hungry team, a very talented team that felt very confident, very prepared going in each and every weekend."
Added former offensive tackle Leon Searcy, "The '90 season, in our opinion, was a disappointment…We came into the season in 1990 the preseason No. 1 and we lost to BYU and we lost a close game against Notre Dame, so going into that Cotton Bowl, we had a little temper about us. We knew we had a talented enough team to win a championship, but those two losses early on cost the opportunity to play for a championship. So we went into that '91 season like we weren't going to allow ourselves to put ourselves in that kind of situation. So we said, 'The only way you can do that is if you go undefeated.'…12-0 was the only thing we were thinking about because we let a season go by in 1990 where we had a stellar team and should have won a championship, so we definitely wanted to do something about it in '91."
Still, with a talented roster that included Torretta, Searcy, fullback Stephen McGuire, receivers Lamar Thomas and Horace Copeland, offensive linemen Kelvin Harris and Mario Cristobal, defensive linemen Kevin Patrick and Rusty Medearis, All-American kicker Carlos Huerta and the famed Bermuda Triangle of linebackers Jessie Armstead, Micheal Barrow and Darrin Smith, the Hurricanes survived a handful of thrillers.
There was a close 26-20 win over Penn State in October and a 19-14 November win at Boston College.
But it was a thriller at Florida State that longtime college football fans have never forgotten,
The Hurricanes, ranked No. 2 at the time, traveled to Tallahassee to face the then top-ranked Seminoles and as was so often the case, the two powerhouses put together a classic.
Miami rallied from a nine-point fourth-quarter deficit on the strength of a 45-yard Carlos Huerta field goal and a one-yard touchdown run by Larry Jones to take a 17-6 lead with 3:01 left.
Florida State responded with a drive of its own, setting up a 34-yard field goal attempt by Gerry Thomas, who to that point had made all three of his field goal attempts.
But Thomas' final kick sailed wide right, the Hurricanes celebrated and a rivalry game was cemented in national championship lore.
"The only game that we really circled was the fact that we had to go to Florida State toward the end of the season," Searcy said. "We figured if we could overcome that hurdle, we'd be good."
Added McGuire, "It was number one versus number two and it was on."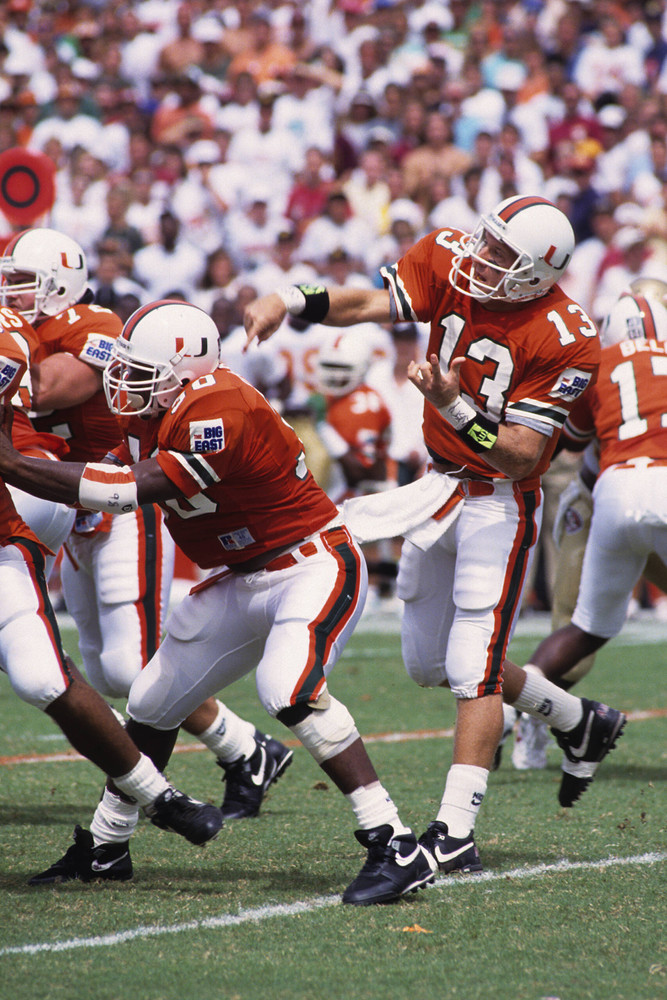 After those wins against Florida State and Boston College, the Hurricanes closed out the regular season with a dominant 39-12 victory over San Diego State.
They earned Miami a berth in the Orange Bowl where the Hurricanes bested Nebraska 22-0 to clinch the national title – their second in three years.
"To win one national championship is amazing. For guys to win their second in three years, that hasn't been accomplished by many. That's what makes this championship special," former coach Dennis Erickson said after the win. "It came in a situation where we had not been picked to be that good. Some people said we'd be No. 3 in the state of Florida."
Thirty years later, there is no questioning what Erickson and his players accomplished.
The 1991 team cemented its legacy in dominating fashion, but players and coaches say it was what happened off the field that was just as special.
That, too, will be celebrated this weekend.
"We genuinely cared about each other…That's why we call ourselves family," Searcy said. "We literally wanted everybody on our team to succeed and have success because we know how hard, we know the time and the effort and the blood and the sweat and the tears that we put into every game…We pushed each other every day in practice. We competed…We literally pushed each other to the brink and held each other accountable to the excellence that was set before us. We had a great deal of pride in our school, in our university and that's why we called ourselves family. We knew the time and effort we put into being Miami Hurricanes."