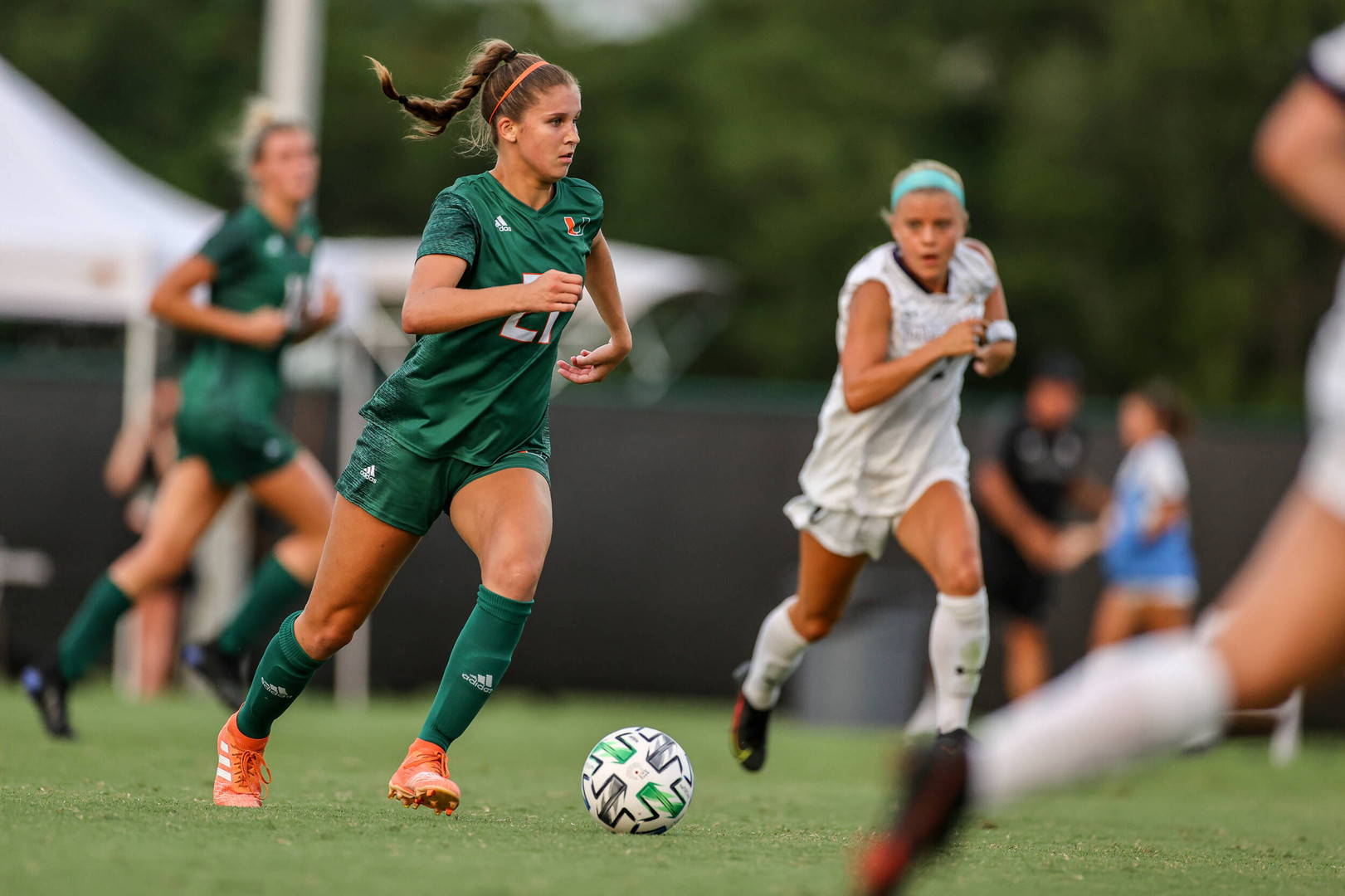 University of Miami midfielder Lauren Meeks looked like she'd been there hundreds of times before.
Against crosstown foe FIU, the freshman bolted free just outside the Panthers' box. Meeks received a pristine cross from Maya Rogers and settled it at her feet. She ripped a screaming shot into the bottom left corner of the net, tallying her first-career goal.
Meeks calmly took a few steps, before hugging her teammates, ultimately, cracking a wide smile.
"I'm still a little bit in shock that it happened," Meeks said. "It was pure adrenaline. My first reaction was, 'did that just happened?' It was a great build-up and a really nice ball from Maya. I was just in the right place to finish it off."
Starting four of the five matches, Meeks has made a smooth transition to the college game. With the Hurricanes wrapping up non-conference play Sunday against USF, the 5-foot-8 midfielder has quickly made an immediate impact.
"I'm just happy to be able to help the team," Meeks said. "All of the freshmen have done a really good job of making an impact on this team and the program.
For many incoming student-athletes, adjusting to the pace of high school to college soccer can take time. For Meeks, she's used to adapting to new environments.
Growing up, Meeks lived in six different places, including two countries. Born in South Carolina, Meeks and her family moved to Germany and back to the United States, stopping in Illinois, Alabama, Arkansas and Virginia.
Meeks' father, Bayne, served in the Air Force and was deployed in support of operations in Southwest Asia, Bosnia, Afghanistan, Iraq and Kosovo.
"It was obviously hard," Meeks said. "Every place was a new beginning, kind of like coming to college. You just adjust and you find your place. I've seen so many places and experienced so many new environments. It made the adjustment easier. I'm used to having to adapt. I came in this past summer to try and get acclimated. It was a really good decision and helped me out."
As a kid, Meeks quickly fell in love with soccer. It immediately served as an outlet for her, wherever her life took her.
"I love the sport so much," Meeks said. "With all of the stresses of life, every day, the most exciting part of the day is just to focus and play soccer."
As Meeks got older, she started to understand the sacrifice her dad was making.
"I'm not sure how old I was but it hit me when we were stationed in Germany," Meeks said. My best friend, her dad was deployed in Afghanistan. He sadly passed away in an accident. That's when it hit me that maybe my dad won't come home. Every time he came home I was so happy to see him. I'm just so proud of his service."
Ultimately, the family settled in Fairfax Station, Va., where Bayne worked at the White House and the Pentagon, before retiring in 2013.
In her new home, Meeks found her form on the pitch.
She competed for McLean ECNL, leading her team to a first-place finish. As one of the top goal scorers in the ECNL, she was twice named an ECNL Mid-Atlantic All-Conference selection.
With her sights set on playing collegiately, she fell in love with the University of Miami.
"Miami was the perfect balance of everything I was looking for," she said. "The coaches are amazing and the girls on the team are great. The ACC is an awesome soccer conference, arguably the best. Academically, it had a variety of options."
In the classroom, Meeks is studying microbiology and immunology.
Whenever her playing career wraps up, she aspires to do genetics research, helping with vaccines.
"My mom is the one who inspired me to pursue a career in STEM," Meeks said. "I want to be like her. She's a successful aerospace engineer and a leader. She is the hardest working person I know."
The example of hard work and dedication Meeks' mom, Kim, instilled, laid the foundation for the midfielder on the pitch.
As she continues to develop with the ball at her feet, she hopes to help the Hurricanes any way she can reach their goals.
"The team has been working so hard to push each other and be relentless every time we step on the field," Meeks said. "We have come a long way but we have our sights set high."