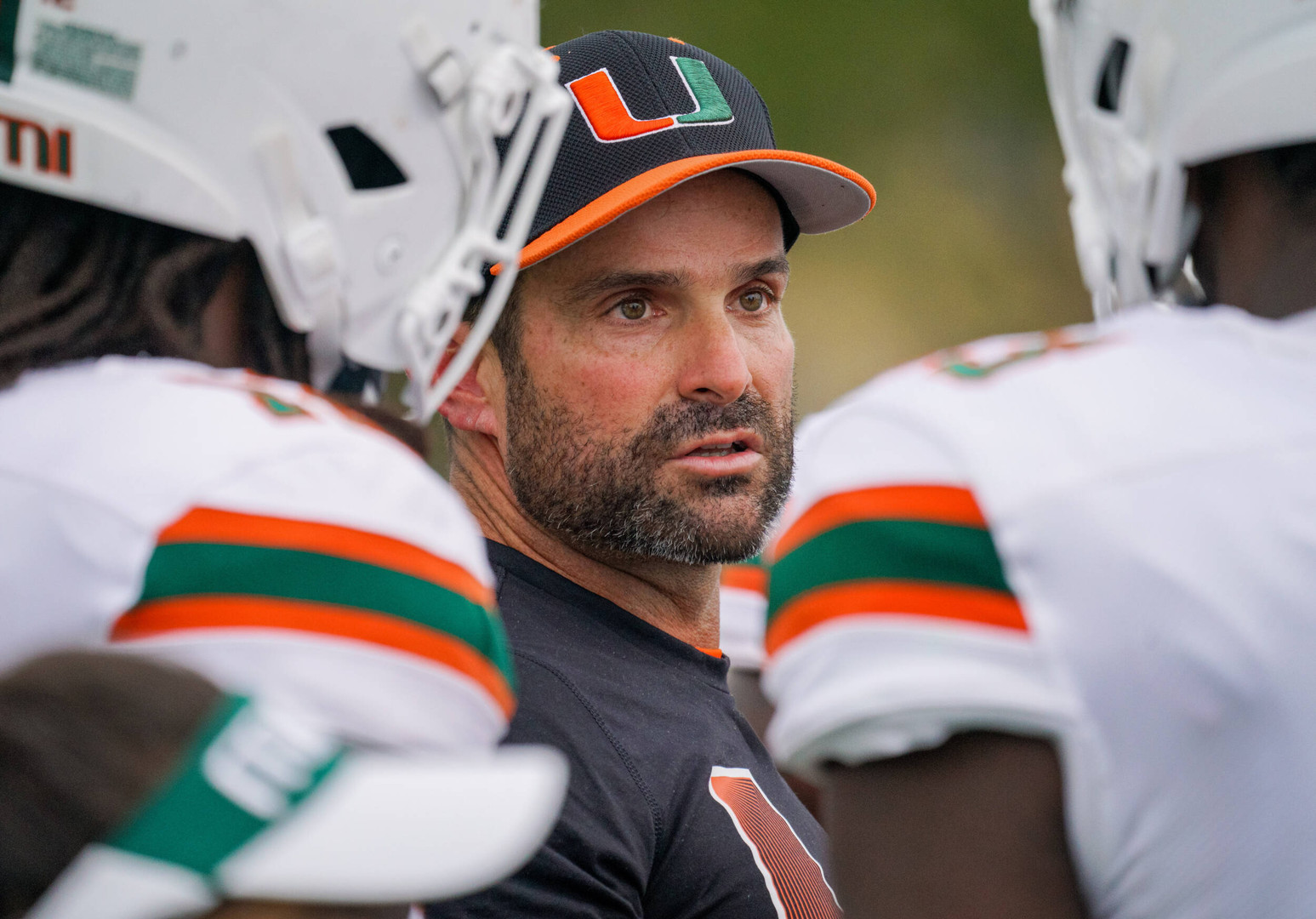 CORAL GABLES, Fla. – For months, the Miami Hurricanes have worked toward this moment.
The offseason conditioning program. Spring practice. Summer workouts. Preseason camp.
All of it has led to this: a season-opening showdown against defending national champion Alabama on Saturday afternoon in the Chick-fil-A Kickoff at Mercedes-Benz Stadium in Atlanta.
Understandably, the 14th-ranked Hurricanes are eager to see how they match up against one of college football powerhouse programs. But they know they face a daunting task.
Alabama has missed the College Football Playoff just once since its inception in 2015. The Crimson Tide have won three national championships in the last seven years. The program has earned the top spot in the Associated Press Top 25 at least once each season since 2008 and during that same period, Alabama has posted a 66-17 record against other AP Top 25 teams.
The Crimson Tide are a powerhouse. Still, Miami head coach Manny Diaz and his players understand the opportunity this game provides, the kind of boost it can give the Hurricanes going into the season.
And they say they're determined to make the most of that opportunity.
"Our guys have put in a lot of hard work since we came back after the bowl game and it's upon us," Diaz said. "We have a great opponent that we've got a ton of respect for, but our guys are excited to get on that stage. We're delighted to be a part of one of the showcase games in college football here in Week One…[We've] got to be ready to be at our best Saturday at 3:30 because for sure, that's what it's going to take to defeat Alabama."
Added center Corey Gaynor, "It's going to take every ounce, every cell in our bodies. But this is what you signed your scholarship for. I couldn't be more excited. I love it."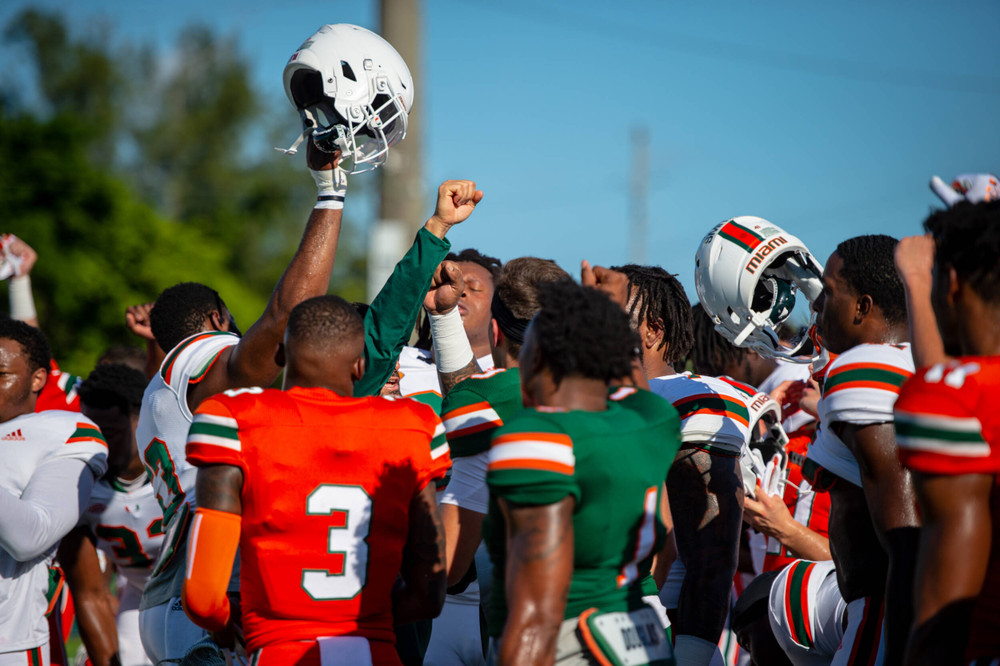 While the challenge of playing the nation's top-ranked team is a compelling storyline in and of itself, the Hurricanes enter their opener knowing this game will likely help them start to answer some questions about themselves.
How well has quarterback D'Eriq King – one of their unquestioned leaders – rebounded from the devastating knee injury he suffered in last season's finale? How will a revamped, new-look defense respond when faced with its first significant test? And which of Miami's young standouts has the ability to step up on a huge stage and potentially have a breakout season?
In both Coral Gables and beyond, all eyes will be on King, who, after throwing for 2,686 yards and 23 touchdowns while rushing for another 538 yards last year, finds himself on the preseason watch list of several major preseason awards including the Davey O'Brien Award, the Johnny Unitas Award and the Maxwell Award.
He has earned praise from teammates, coaches and even the likes of ESPN College Football analyst Kirk Herbstreit for how he has tackled the rehabilitation process after tearing his ACL in December. But now King knows it's time to once again show what he can do, especially since this will be his second year in offensive coordinator Rhett Lashlee's system.
"This is the first time ever in my college career playing in the same system," King said. "So usually, in spring ball and fall camp, I'm still learning a new offense or trying to get the wrinkles out. I feel comfortable. I know the offense in and out. I know the way Coach Lashlee thinks. I think it's a big deal for the quarterback and the offensive coordinator to be on the same page."
As to how he felt physically through preseason camp?
"I feel fine. I went through all camp, thank God, with no injuries, no setbacks," King said. "I feel pretty good right now."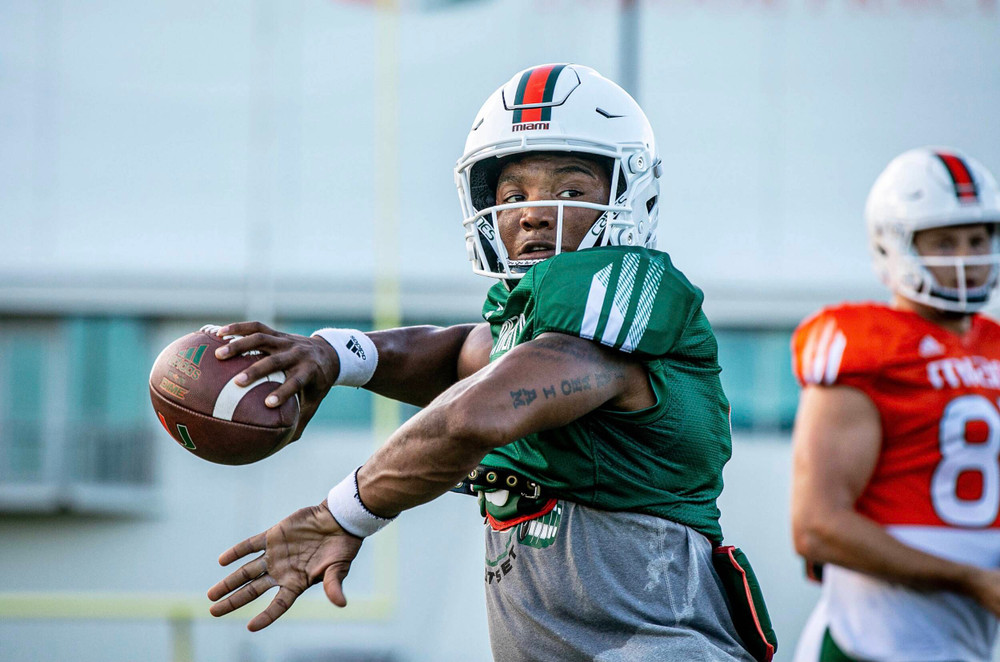 King's knowledge of Miami's offense and his physical health aren't the only things that have the quarterback feeling encouraged heading into this week's opener.
The Hurricanes return 19 of 22 starters overall, including multiple offensive playmakers like running back Cam Harris, wide receiver Mike Harley, tight end Will Mallory and offensive linemen Gaynor, Zion Nelson, Jalen Rivers, Navaughn Donaldson and DJ Scaife, among others.
All should help Miami build on a season in which they averaged 439.8 yards and 34 points per game.
Defensively, the Hurricanes return safeties Bubba Bolden and Gurvan Hall, cornerbacks DJ Ivey and Te'Cory Couch, tackles Jon Ford, Nesta Jade Silvera, Jared Harrison-Hunte and Jordan Miller, strikers Amari Carter and Gilbert Frierson as well as linebackers Corey Flagg, Jr., Bradley Jennings, Jr., Keontra Smith and Waynmon Steed.
While replacing the production lost at defensive end after the departures of Jaelan Phillips and Quincy Roche will be one of the questions the Hurricanes will have to answer, Diaz – who this season has resumed his role Miami's defensive coordinator – is confident players like Zach McCloud, Jahfari Harvey and Deandre Johnson, a transfer from Tennessee, will be successful.
And though some of Miami's defenders may be smaller, physically, than the opponents they'll face in Atlanta, but, Diaz pointed out, the Hurricanes' speed could be a big asset.
"That's what made Miami Miami, right? The smaller, fast defenders. Some of the all-time greats that played linebacker here were not big body types," Diaz said. "I can see some names on the ceiling [of the Carol Soffer Indoor Practice Facility] of guys that were small, fast missiles and explosive…This is what Jimmy Johnson brought to Miami…this is Miami. We're going to be fast on defense."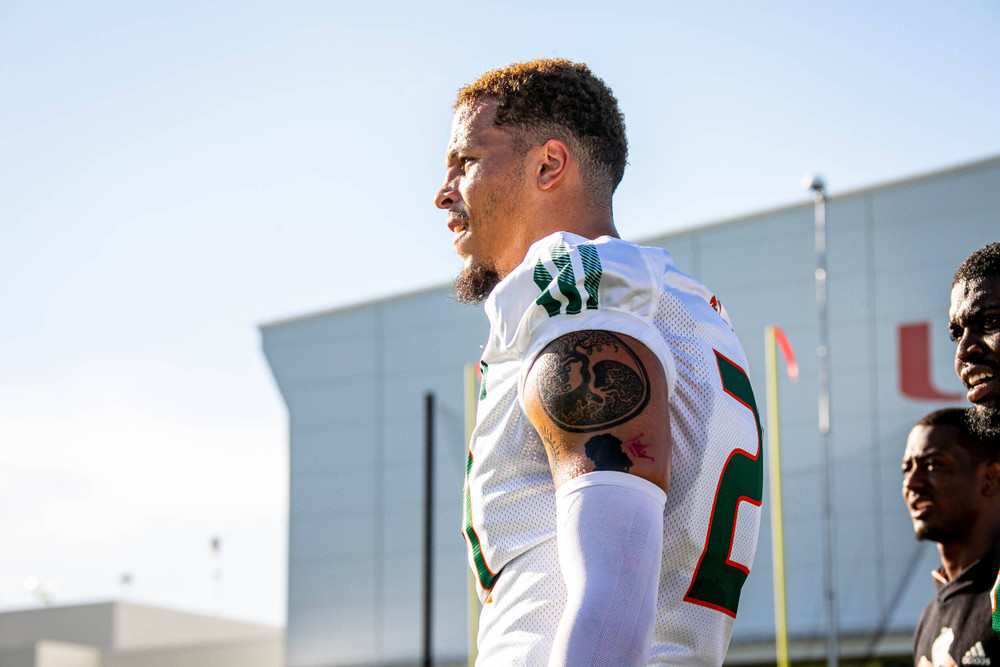 Alabama, meanwhile, finds itself having to replace a number of offensive playmakers from last year's undefeated championship team. Defensively, though, the Crimson Tide return nine starters from a unit that only got stronger as the season went on and combined for 21 sacks in the final five games of 2020.
Alabama enters the game as the heavy favorite and has posted a 15-1 record in games played in Atlanta under head coach Nick Saban. The Crimson Tide undoubtedly have the Hurricanes' respect, but Miami's players and coaches say they're ready for the challenge ahead.
"They have accomplished a lot of things that have not been accomplished at historic levels in college football. That's where it's been. [It's] similar to a run that happened here, similar to a run that I was a part of at Florida State [as a graduate assistant]," Diaz said. "That's why they have our respect. But as we know, this is a new year. There's new personnel on both sides…It's college football. It's the ultimate small sample-size sport. We'll be there Saturday at 3:30."
Added Bolden, "They're always going to have good guys. That's college football. That's Alabama. We just have to match up well and go out there and play hard. That's what we're going to do."