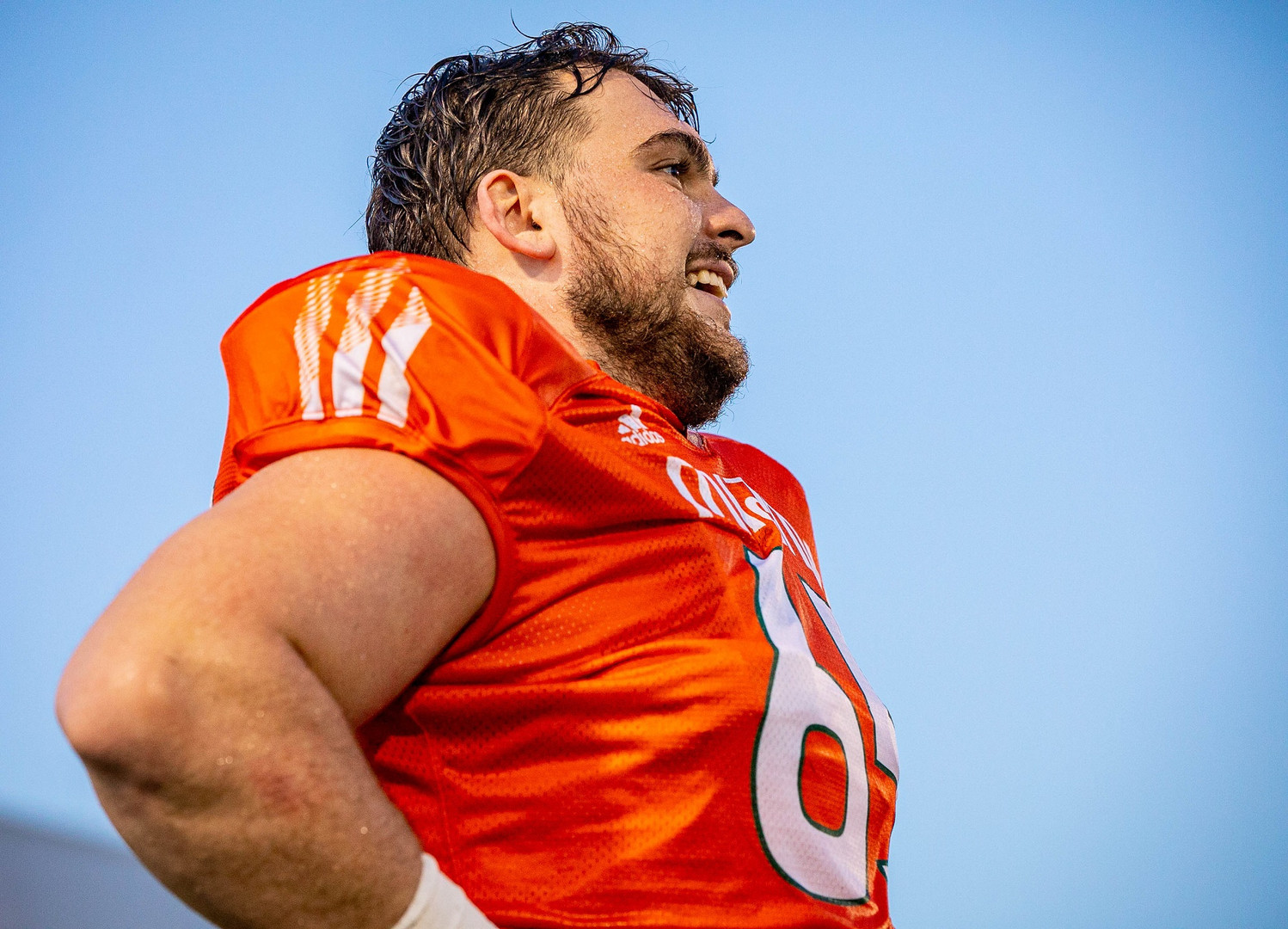 CORAL GABLES, Fla. – Corey Gaynor wasn't oblivious to the scrutiny.
He knows full well that two years ago, his young group endured its share of growing pains.
When he and the Hurricanes took the field in 2019 for their season opener against rival Florida, Gaynor was a redshirt sophomore. He was joined on the offensive line by a junior, a sophomore, a redshirt freshman and a true freshman.
Together, the group had combined to make just 30 starts at the college level with one of those linemen – Navaughn Donaldson – accounting for 22 of those starts on his own.
There were challenges and tests week in and week out. It wasn't always easy. But whenever he had the opportunity to try and remind his teammates to pick their heads up, Gaynor took it.
He hasn't stopped encouraging, leading, and pushing his teammates since and now, as Miami prepares to open its season Saturday against defending national champion Alabama, the Hurricanes' line is older, more experience and stronger than it was then.
That is something that makes Gaynor – Miami's center – plenty proud.
"It's been a lot of different trials and tribulations for this group of men to get where we are. I'm so proud of everybody. I'm proud of the growth. I'm so proud of the maturity," Gaynor said. "Back in 2019, we could have tucked our tails as a unit and just let what everyone said get to us, let the process get to us, but we really buckled down and I could not be more proud…As a captain and as the leader of the o-line, it's on me. It all falls on Corey Gaynor and the center. I've never been a quitter so we just went back to work. That's all I can say about it."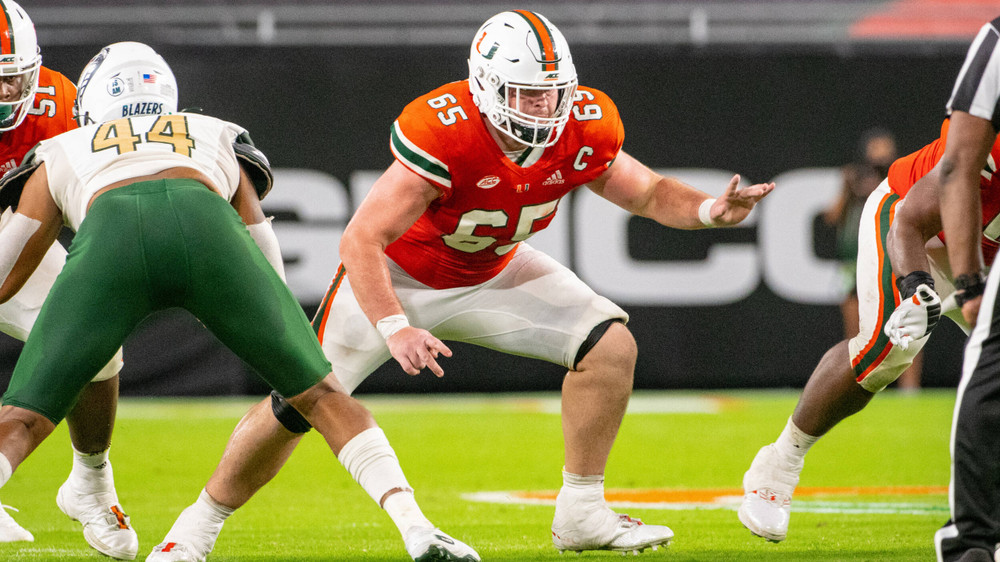 Gaynor credits his father, Chris Gaynor, and his brother, Chris Gaynor Jr., for helping instill that will, that motivation to keep going and his work ethic in him as a child.
A former football player himself, Chris Gaynor helped introduced his sons to the game and made it a point to be at as many games and practices of theirs as he could, despite the demands on him as a single father.
Chris Gaynor Jr., three years older than Corey, took the field first, but it didn't take long for Corey to follow suit. Though their age difference meant they couldn't play youth league football together, the two brothers grew up talking technique and strategy.
In 2014, the two finally had the opportunity to play together, with Chris Jr. a senior at Parkland's Stoneman Douglas High when Corey arrived as a freshman.
Playing time was hard to come by for the younger Gaynor that season, but in one big win, their coach gave the brothers the opportunity to line up together with Chris Jr. at tackle and Corey at guard.
The two ensured the defensive lineman across from them came nowhere near their quarterback and the memory often makes both smile.
"It was the first time we were ever on the same line together and we completely obliterated the guy in front of us. Pancaked him," Chris Gaynor Jr. recalled with a laugh. "Corey just jumped up and we hugged each other. It was great."
Added Corey Gaynor, "He's the reason I fell in love with football…He's obviously an older brother, but also like a dad in a sense. On the football field, he taught me everything, How to act, where to be, to be on time, all those sorts of things. He was definitely hard on me, but I thank him for it every day. He's definitely why I'm here."
Chris Gaynor Jr. eventually earned a spot on the roster at TCU where in 2018, he started 10 games for the Horned Frogs. When it was his turn to go through the recruiting process, Corey Gaynor heard from the likes of Minnesota, Pittsburgh, Arizona and others. He ultimately signed with Miami – the hometown team he'd long hoped would give him the opportunity.
It's an opportunity he hasn't taken for granted.
"I remember being a young kid, going to the Miami Hurricanes' spring games. Jacory Harris signed a football for me when I was like 14-years-old," Corey Gaynor said. "For me to get blessed with an offer to come here, I knew I wasn't just going to be a guy to sit in the back and get rolled over on. I wanted to come here. I wanted to play. I wanted to make a difference. Everything in my life has been about making this program better for the past five years…I wanted to wear The U on the side of my helmet. I wanted to run out of that smoke."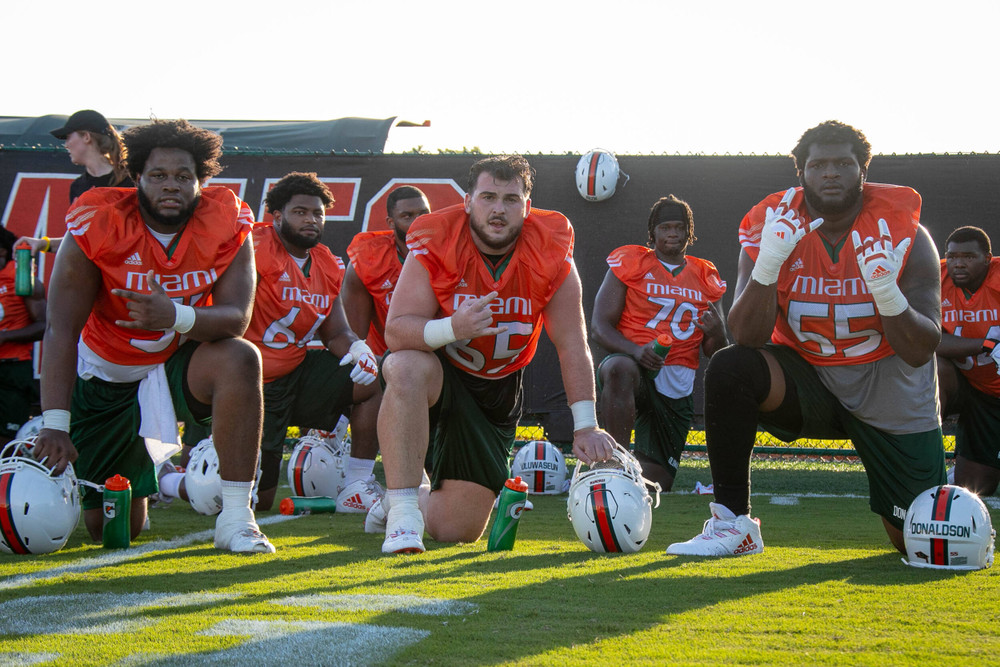 After four seasons at Miami, Gaynor – now a redshirt junior – has become one of the Hurricanes' most vocal leaders.
He has made 25 starts on the offensive line, including starting all 13 games at center in 2019 and all 11 games at the same position last year. He earned recognition as the ACC Offensive Lineman of the Week after Miami totaled 337 yards in last year's season-opening win against UAB.
He's also done his best to try and help the Hurricanes' offensive linemen forge a bond off the field, by helping coordinate intense video game sessions and the occasional dinner out, though those have been limited of late by the pandemic.
Still, all of that has helped make the Hurricanes better, Gaynor believes.
"[Chemistry] is so important. I remember looking back at 2019 and sometimes, we were just a bunch of individuals playing a position you need everybody for. But we got all those reps, we got all those games, we got all that rough experience past us," Gaynor said. "We had to go through real growing pains and now we know we need everybody to be successful. I think that's the biggest part, our cohesion, in the sense that we know what it takes."
Said Hurricanes offensive line coach Garin Justice, "As a leader, he's one of the best leaders I've ever had the pleasure of coaching. He gets the guys to rally around what we're doing. He gets the guys to buy into what I'm coaching and he brings energy every single day…His maturity level is through the roof. I think the best kind of leader is someone who can make everyone around him better and that's probably his biggest attribute. He makes the group better because he's in there."
For both Gaynor and the rest of Miami's line, the last two years have been about growth. And there's no doubt progress has been made.
The center is abundantly clear, though, his work at Miami is far from finished.
He wants to make sure his game continues growing and he wants to make sure the Hurricanes' offensive line continues building on the progress it has made.
Saturday's opener will just be another step in that journey.
"Just looking up at the banners, seeing the names that have come before me – Brett Romberg, Bryant McKinnie, K.C. Jones, Martin Bibla, just off the top of my head – there's a clear lineage of what it takes to be successful here. All I can hope, all I can do, is do my part to hold up that standard," Gaynor said. "I just want to keep improving on my craft. I want to be a better football player than I was the season before. As an offensive line, we want to cut our sacks in half from last season and as a team, we want to win some damn football games."