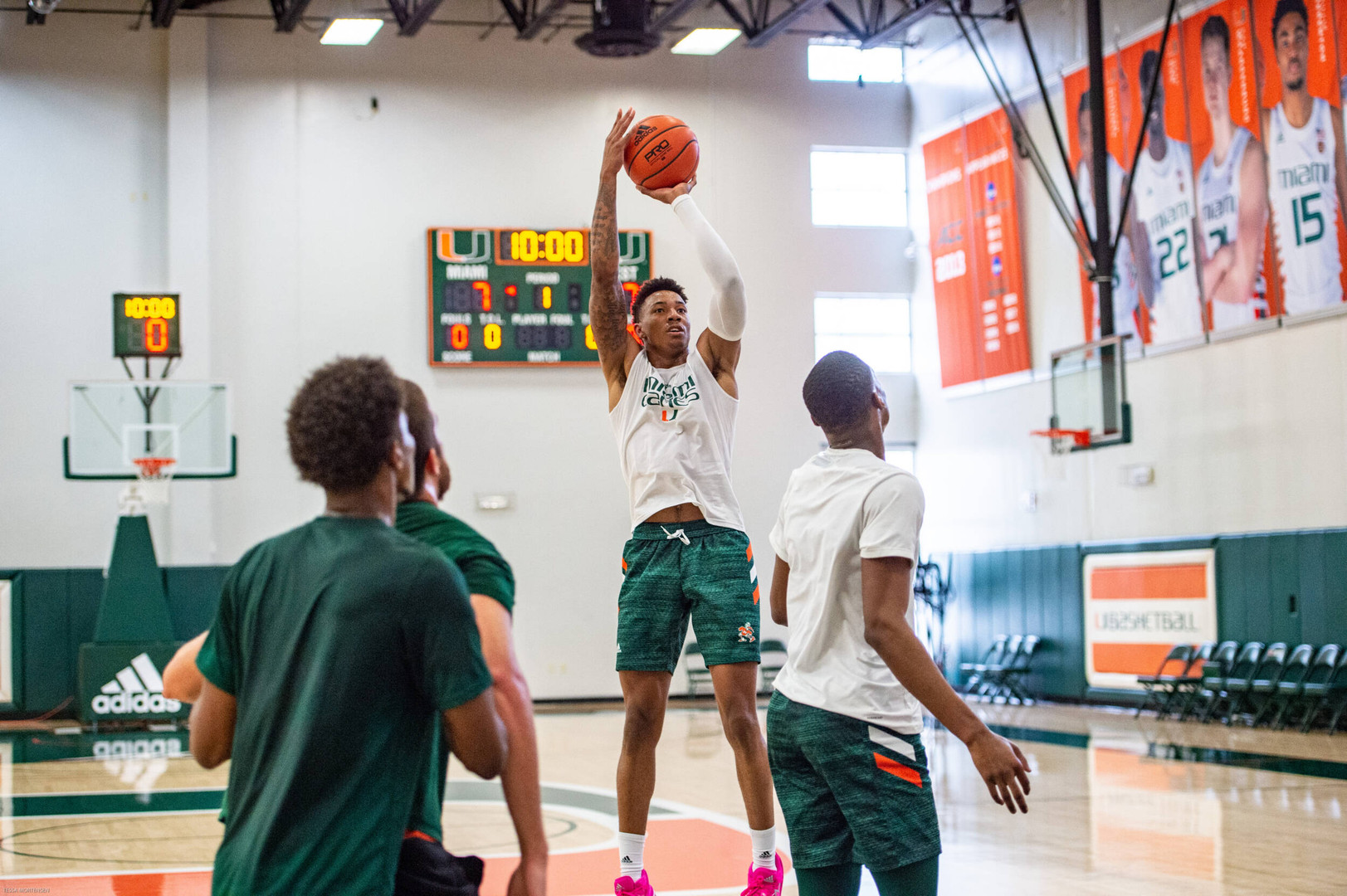 CORAL GABLES, Fla. – It was, of course, a significant part of his college basketball education.
During his three-year career at George Mason, Jordan Miller learned all about the Patriots' memorable run to the Final Four in 2006.
He knew the names of the players on the roster. The coaches, too. He gained an understanding of the history the Patriots made that season and how their Cinderella story captured the imaginations of college basketball fans across the nation.
So earlier this year, when Miller received a call from Jim Larrañaga, the high-scoring guard was intrigued.
"The first thing he said to me when I answered the phone was 'Do you know about my success at George Mason?' and I was like, 'Well, duh,'" Miller recalled with a laugh. "I know the fan base does. They live and die by that Final Four trip they took. It's impossible for me not to know about that success. Of course I knew. And we just got to talking from there."
It proved to be a memorable conversation for both Miller and Larrañaga, who led the Patriots on that historic run before taking over as the head men's basketball coach at Miami.
Not long after their talk, Miller – who had entered his name in the transfer portal earlier – made the decision to enroll at Miami and join the Hurricanes himself.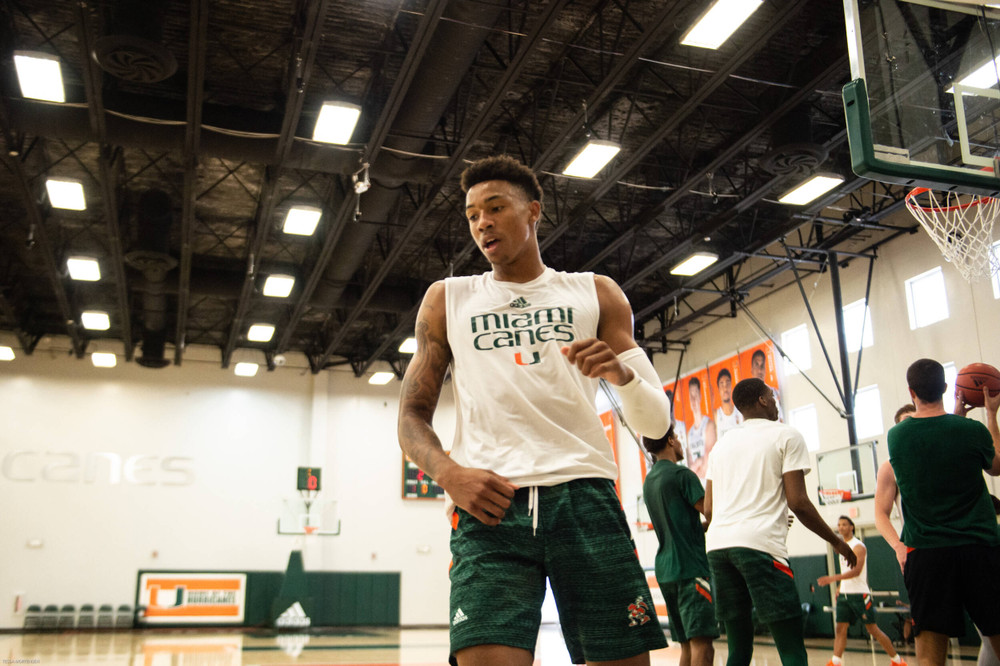 He did so without ever setting foot on Miami's campus or meeting with Larrañaga and the rest of his new coaches face-to-face.
Still, he was convinced his new home was the right place for him in so many ways.
"Compared to all my other Zoom visits, Coach Larrañaga and the staff put so much effort into making it a good presentation. They broke down my analytics and stats from my previous years and showed me how I could fit in at Miami," Miller said. "They sent me clips of full games they watched from my past season at George Mason and I really saw the effort. The amount of times they would reach out to me, throughout the day, just to see how I was doing…they cared about my wellbeing. That really stood out to me."
The Hurricanes' efforts to make Miller feel welcome didn't end there.
The same day he moved into his new dorm this summer, a handful of his new teammates – including forward Deng Gak, center Rodney Miller and guards Kameron McGusty, Harlond Beverly and Isaiah Wong – came over to chat before the group went out to eat together.
"It meant more than I could ever express in words," Miller said. "Being a transfer, I didn't know what to expect. Having that warm welcome and not feeling isolated was great. That first day, we were all laughing, getting to know each other and I couldn't have asked for a better welcome."
Since, Miller has been focused on trying to build on-court chemistry with those new teammates.
He brings with him an impressive resume, that includes being selected as a third-team All-Atlantic 10 honoree last season after averaging 15.8 point, 6.1 rebounds, two assists and a steal per game.
During his three years at George Mason, Miller had 50 double-digit scoring performances, seven double-doubles and on three separate occasions, topped the 25-point mark.
In high school, the Virginia native set the scoring record at Loudoun Valley High School with more than 1,700 points in his career. Twice he earned Virginia High School League All-State honors and in 2017, he was named the VHSL 4A Player of the Year after leading his team to the state championship.
Now, Miller is hoping to make a quick adjustment to the ultra-competitive ACC. His new coach already believes the experienced, high-scoring guard will make an impact.
"The first thing is he can play multiple positions. He can play guard, he can guard a guard, he can guard a big. He can shoot the three, he can post up," Larrañaga said. "He's very good at rebounding, driving the ball to the basket. He's got a lot of versatility in his game and that's going to be very helpful to us right from the very beginning."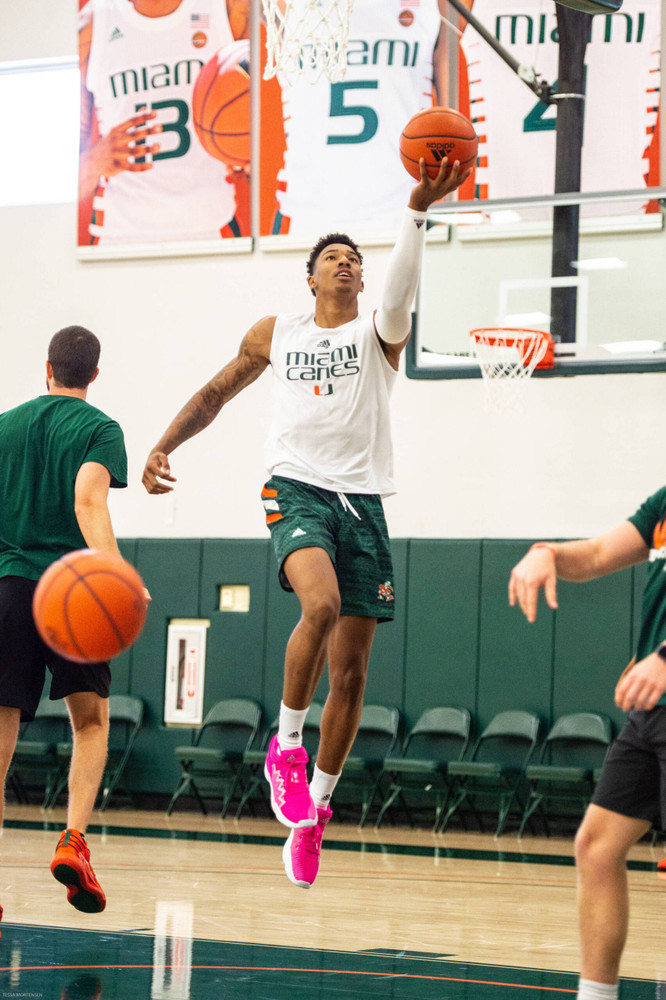 Miller also brings with him invaluable experience, something he's honed not only over the course of his collegiate career, but from growing up around the game and learning it from his three older brothers, Jeffery, Justyn and Jovon, a former player at Ferrum College.
Playing beside them, Miller said, helped him develop into the player – and person – he is today.
"We were definitely very competitive. Sometimes the arguments would go from the court to the house and my mom had to shut them down real quick," Miller said. "But I think that shaped me into who I am today. I have a love for basketball and I'm a very competitive guy at heart and that's where it all stemmed from. I always looked up to my older brothers and playing with them was bonding time. It was more than just shooting hoops. It was bonding and getting to spend time with your family. And yeah, there were definitely a lot of fights that got taken from the court to the house, but it was always in good spirits. I could not have asked for [better] older brothers. They've been great and supportive throughout my whole basketball career."
Now, Miller is hoping that competitive spirit leads to success at Miami.
The Hurricanes have faith that it will and that, both Larrañaga and Miller said, will only be a positive for the Hurricanes.
"He's quickly made the adjustment to our basketball program and fits in extremely well. He'll have no problems competing at this level," Larrañaga said. "He'll be able to compete in multiple positions because he's now older, stronger and has enjoyed a lot of success previously."
Said Miller, "I know a lot of people don't get to experience this and I'm blessed with this opportunity, to do something I love and play basketball at Miami. I've been blown away and I'm just happy, really glad to be here…It can only go up from here."