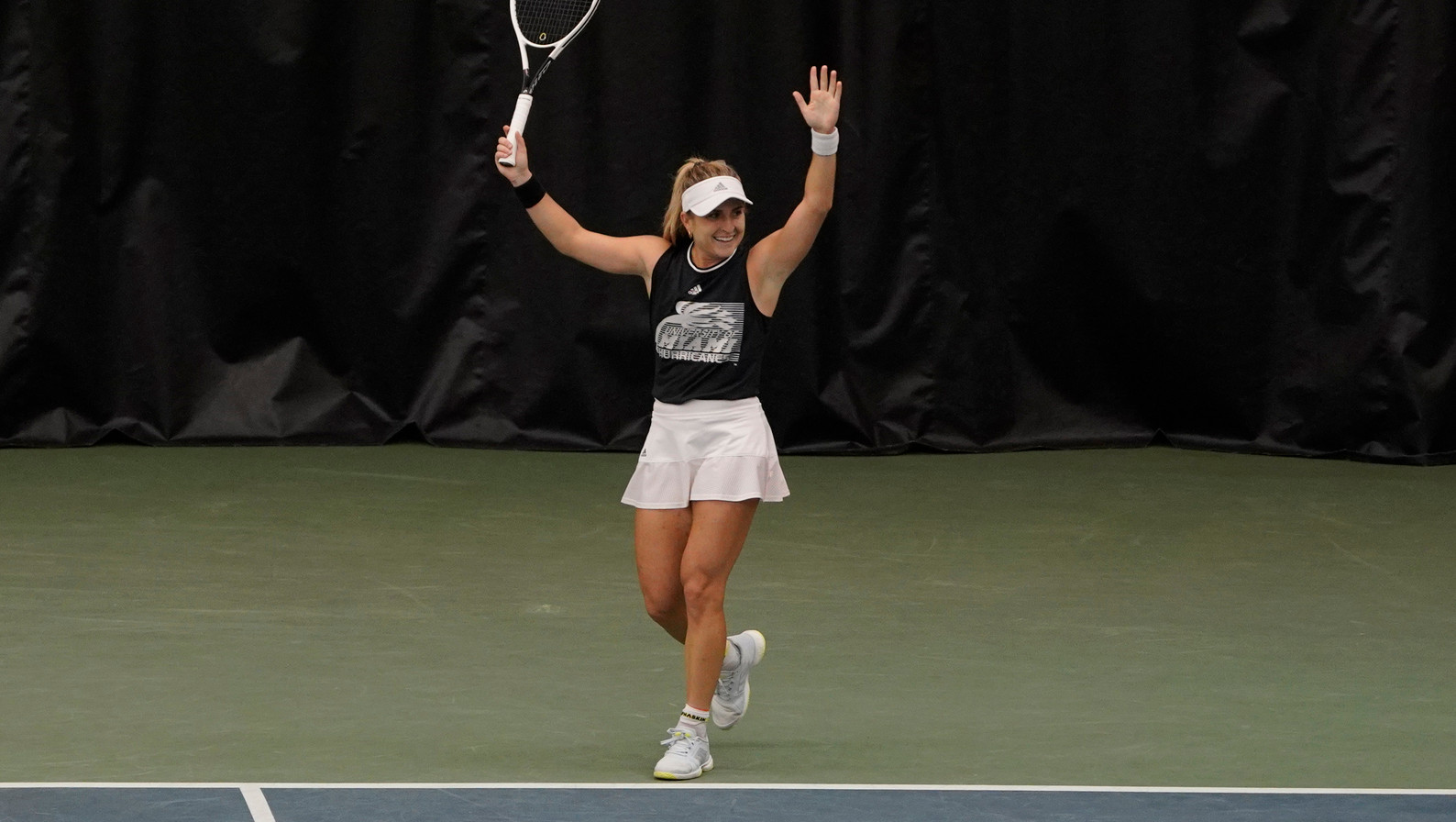 CORAL GABLES, Fla. – It was supposed to be a routine conditioning session, an opportunity for Paige Yaroshuk-Tews to learn a little bit more about some of the newest members of her team.
Five years later, Yaroshuk-Tews chuckles when she recalls that day and how a little-known freshman named Estela Perez-Somarriba handled one of her first challenges as a Hurricane.
"We're at the Watsco Center to run sprints and Stela was the color of a ghost after running like four sprints. She was so out of shape," said Yaroshuk-Tews, Miami's head women's tennis coach. "I put Stela on the line to keep going and she looked at me like she wanted to kill me. But she got on the line and she didn't just win the next sprint, she blew the other girls away.
"She finished the sprint, looks back at me again like she still wants to kill me and I just started laughing. I said to her, 'And you were going to take that sprint off? You were okay with that?' From that point forward, the kid never looked back. She went home, talked to her parents and made the decision to be great. She made the decision to be great."
That year, Perez-Somarriba became the first freshman in Miami's storied tennis history to advance to the semifinals of the NCAA Singles Championship.
Today, she leaves Coral Gables as one of the most decorated student-athletes at Miami, period.
A national champion. The nation's top-ranked player. The ITA National Player of the Year. A past Honda Sports Award Winner – and a finalist to bring the honor home again this year. A two-time ACC Player of the Year and soon-to-be five-time ITA All-American.
She posted a 165-26 mark during her remarkable career, shattering the Miami record for singles victories by 31 while finishing second in ACC history in the same category.
Her accomplishments extend beyond the court.
More than once, Perez-Somarriba has been recognized at Miami's annual Celebration of Women's Athletics for her efforts on the court, in the classroom and in the community. She was the 2019 ACC Scholar-Athlete of the Year and is a three-time All-ACC Academic Team member. Last spring, she graduated summa cum laude with a degree in economics and a 3.94 GPA and she expects to complete the necessary coursework this summer for her master's degree in sports administration.
It's been quite the journey for the Madrid native who wasn't quite sure what to expect when she made the decision to play collegiate tennis more than 4,400 miles away from home.
"I think back to myself as a freshman and I could barely speak English. I was like 'Where am I? What is this culture? This is so different. Are they going to like me? How's practice? What are the schedules like? Waking up early, what should I eat? I want to become fitter, but how do I do it?' It's been a learning process from start to finish," Perez-Somarriba said. "Even now, I'm still learning. But I think that I exceeded my expectations in a way by just believing that I could accomplish anything I wanted. And Paige made that possible. Paige made me believe I could."
For both the coach and her national champion, the past five years have been filled with memorable moments, on and off the court.
Their journey together – one that began in essence with a glare and some sprints at the Watsco Center – culminated in late May when Perez-Somarriba finished her career with a memorable run through her fourth NCAA Singles Championship.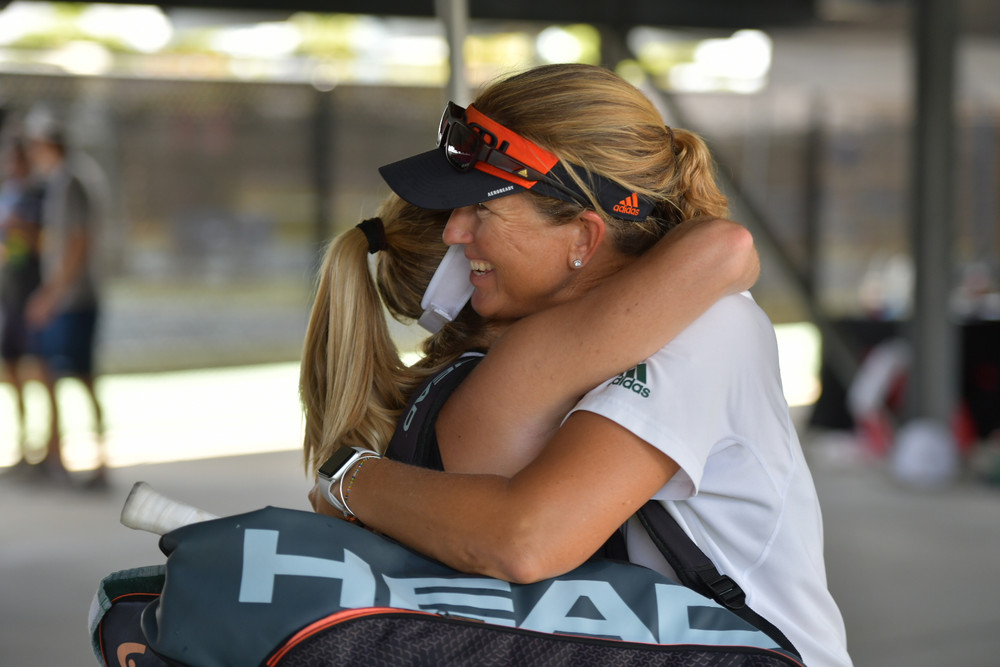 While she ultimately fell one win short of defending the national title she won in 2019, Perez-Somarriba was a force through the tournament's opening rounds.
Her thrilling, three-hour 6-7 (5-7), 7-5, 6-3 comeback win over UCLA's Abbey Forbes in the quarterfinals had Hurricanes fans on the edge of their seats and ultimately elicited congratulations from both head football coach Manny Diaz and head women's basketball coach Katie Meier, among others.
And more than once in Orlando, Perez-Somarriba showed her mettle, a challenge made all the more difficult because she knew every time she stepped on the court she could be playing her last match as a Miami Hurricane.
Those emotions proved tough to navigate, she conceded.
"I've always said that the NCAA Tournament isn't just about tennis. It's about being tough, being relentless and understanding you really need to push yourself and challenge yourself on the court," Perez-Somarriba said. "You have to give your absolute all and it was a little tricky for me because I knew that it was my last college tournament. Going onto the court knowing it could be my last match playing for The U wasn't easy. I knew I wasn't going to play my best tennis because of all of the circumstances, but I still embraced it…I think I handled everything pretty well and I was very proud when we finished, even if I didn't finish how I wanted to finish. I think I did great and I was very proud, honestly."
Proud, Yaroshuk-Tews said, was an understatement.
"To be able to do what she did in back-to-back tournaments, I mean, I can't even wrap my head around it," Yaroshuk-Tews said. "I felt like I was playing the tournament with her and the quality of tennis was just unbelievable…So many times, I've said that I've helped her develop into a better person and player, but she's also made me a better coach. There are so many times you go out on the court and you tell her one thing one time and she does it. And then you're like, 'Okay, what else do I have?' She forces that out of you as a coach. I mean, you cannot compare this young lady and who she was as a freshman to who she is walking out as a senior. They're like different people and it makes you want to coach another 20 years."
With her career at Miami now officially behind her, Perez-Somarriba is set to tackle her next challenge.
In the coming weeks, she'll finish the work for her master's degree. And then she hopes to begin her professional tennis career, likely in Europe.
However that may unfold over the course of the next few years, Perez-Somarriba says she intends to take the myriad lessons she learned at Miami with her.
And at Miami, she hopes she's left a legacy that won't be forgotten any time soon.
"I don't think there's a better feeling than leaving a place knowing you did your best. When I say I gave my best, I really mean it. I don't think I impacted this program just with my accomplishments," Perez-Somarriba said. "I think the most important part is that I left a mark with my work ethic…I look back and I think that I basically accomplished everything I did by being relentless, by being tough, by having my dream in mind and doing whatever it took to make it come true…
"To be honest, it's been a dream and I think I just gave all that I had. UM got all of me: my work ethic, my leadership skills, my commitment, my everything. I always thought that there was room for improvement, so I always tried to give a little more each day. But it really has been a dream and I can't put into words how much these five years have meant to me."