Pfennig, Perez-Somarriba Garner All-ACC Honors
CORAL GABLES, Fla. – Two members of the University of Miami women's tennis team earned All-ACC accolades, as announced Thursday morning by the conference office.
Estela Perez-Somarriba received her fourth first-team distinction in as many opportunities, while Isabella Pfennig picked up second-team status.
"Estela and Bella are two very well-deserving recipients for these honors in what is arguably the strongest field in the country," Miami head coach Paige Yaroshuk-Tews said. "I'm proud of their success this year. I look forward to ending one career and one freshman season on an extremely high note."
A fifth-year senior, Perez-Somarriba is the fourth Hurricane to tally a quartet of All-ACC honors, joining Laura Vallverdu (2007-10), Stephanie Wagner (2013-16) and Sinead Lohan (2015-18). She is the first of that group to claim four first-team recognitions, as the league did not move to naming separate teams until 2014. The only other player in the league to achieve the feat since then is North Carolina's Hayley Carter (2014-17), a fellow two-time ACC Player of the Year.
Perez-Somarriba is the top-ranked singles player in the nation and, alongside Pfennig, also holds the No. 25 spot in doubles. She is 19-2 in singles play this season, all at the No. 1 spot, and is 6-1 against top-10 foes, good for the most such wins in the ACC.
The Madrid native has won her last 15 singles matches to give her 160 such triumphs as a collegian, one shy of second place on the ACC's all-time leaderboard.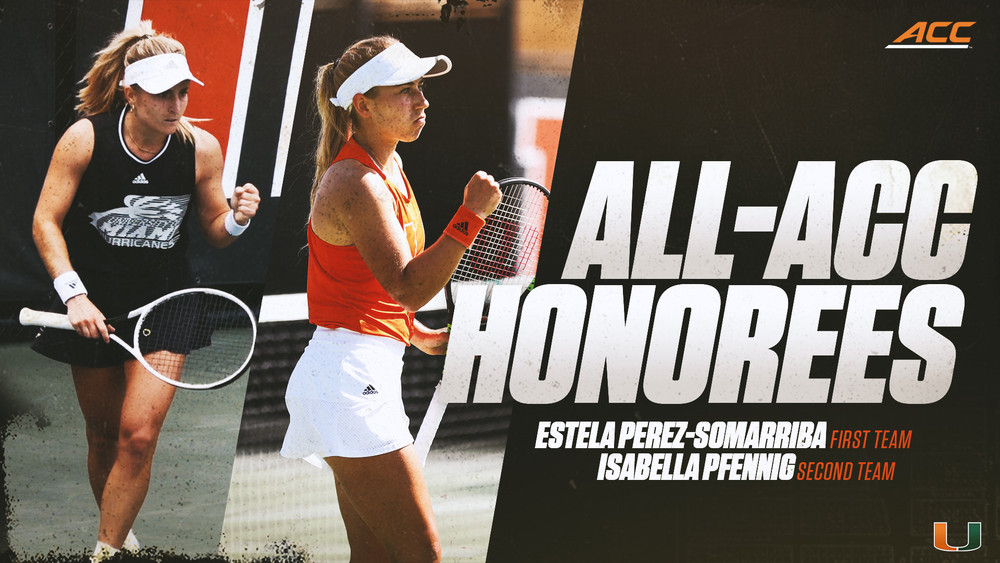 Pfennig, meanwhile, is one of four true freshman in the conference to earn all-league distinction. She is ranked No. 10 nationally in singles, good for the second-highest mark by a true freshman.
The Gauting, Germany, native is 16-4 in singles play during her first season of collegiate tennis, including 12-4 mark at the No. 2 spot in the lineup. She owns a 7-4 ledger versus ranked foes with five top-50 wins.
Pfennig is the seventh Miami freshman to garner all-conference distinction since the school joined the league in 2005. She joins Patricia Starzyk (2005), Vallverdu (2007), Wagner (2013), Lohan (2015), Perez-Somarriba (2017) and Daevenia Achong (2019) on that list.
In total, 19 Hurricanes have combined to receive 38 all-conference accolades during Miami's tenure in the ACC.
To keep up with the University of Miami women's tennis team on social media, follow @CanesWTennis on Twitter, Instagram and Facebook.