Takeaways from Miami's Spring Game
MIAMI GARDENS, Fla. – After five weeks of practice and two scrimmages, the Hurricanes wrapped up spring drills at a place they know well: their home field at Hard Rock Stadium.
And for the first time since December, Miami's fans got a chance to see how their team looked, with Saturday's spring game broadcast on the ACC Network. Players' families, meanwhile, had the opportunity to watch from the stands.
The Hurricanes gave those who were watching more than a few reasons to cheer.
Once again, Miami's two freshmen quarterbacks – Tyler Van Dyke and Jake Garcia – showed how much they've grown over the course of the past month. And veteran quarterback D'Eriq King – who continues working his way back from a knee injury, got to participate in an unexpected way, calling plays for his offensive teammates during the fourth quarter.
Meanwhile, several of the newest faces on Miami's roster – from transfers Charleston Rambo, Deandre Johnson and Tyrique Stevenson to freshmen Kamren Kinchens and Andres Borregales – made plays all across the field at their respective positions.
It was, Miami head coach Manny Diaz said, the kind of competition he hoped to see.
"A good, competitive scrimmage," Diaz said after Team Hurricane notched a 27-19 win over Team Ibis. "Good to get in the stadium. We had families here, wanted to see how the young quarterbacks looked like on a stage like this and from my vantage point, I thought they both did a nice job moving [the ball]…It was exciting. Now, we turn our focus to the offseason and we just talked about that in the locker room: our habits have to match our expectations and right now, our expectations are pretty high."
With spring football now officially in the books, here are five things the Hurricanes can take away from their Saturday afternoon at Hard Rock Stadium:
1. "The future of the Miami Hurricanes quarterback room is in good hands"
Since taking over as Miami's coach three years ago, Diaz has made it clear that one of his top priorities – even with his defensive background – has been to make sure the Hurricanes have a consistent, reliable, competitive quarterback room.
With King, Van Dyke, Garcia, redshirt freshman Peyton Matocha and redshirt sophomore Ryan Rizk, that's exactly what Miami has.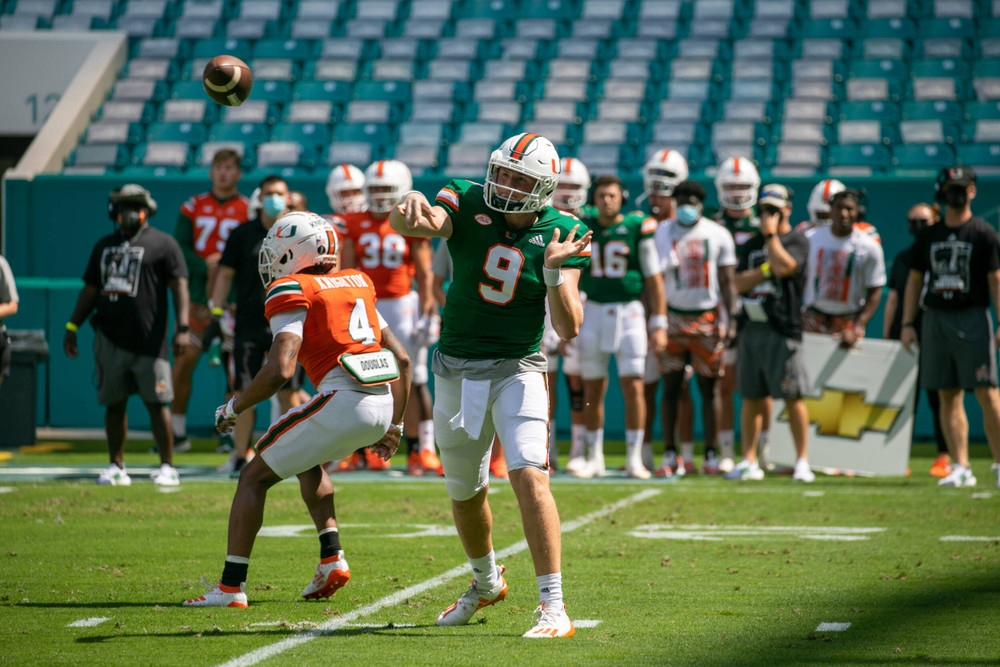 Van Dyke and Garcia got most of the playing time Saturday and each delivered some big plays, with Van Dyke completing 13 of 19 passes for 105 yards with a touchdown, while Garcia was 19 of 26 for 253 yards with two touchdowns.
Both quarterbacks saw time with Miami's first-string offense, showed their ability to get the ball downfield and earned praise from their teammates and coaches – though Diaz was quick to note it is nowhere near time to finalize the quarterback rotation.
That, he said, will come during training camp.  Still, he was encouraged by what he saw from Miami's signal callers all spring.
"I've said it – the future of the Miami Hurricanes' quarterback room is in good hands with these two and the way we're recruiting for that position," Diaz said. "I think what you saw today has been there all spring. Both guys have played really, really well this spring…Both guys, that's the biggest thing, they both have really good pocket presence. They both look really comfortable. They have a great understanding of where the wide receivers are and then, they've got the arm talent to get the ball there and we've got enough skill guys that can make things happen down the field. I thought our guys did a good job of making some plays down the field for our quarterbacks.
"This will be a battle that everybody will want to declare early winners in because that's just what people want to do, and that's okay. But this is going to be a long developmental process, of going into summer, training camp and beyond, but how cool that all the guys in the quarterback room have the opportunity to push themselves and that's the encouraging thing for the future of Miami Hurricanes football."
2. King continues working his way back – and participates in the spring game
 After getting hurt in the final game of the season in December, King has, by all accounts, been as big a force in the training room as he was on the field last fall.
The redshirt senior, who threw for 2,686 yards and 23 touchdowns while rushing for another 538 yards and four more touchdowns in 2020, has started to do some running and light throwing with his teammates in recent weeks. He's been a fixture at all of Miami's practices this spring, providing guidance for his fellow quarterbacks and learning from offensive coordinator and quarterbacks coach Rhett Lashlee.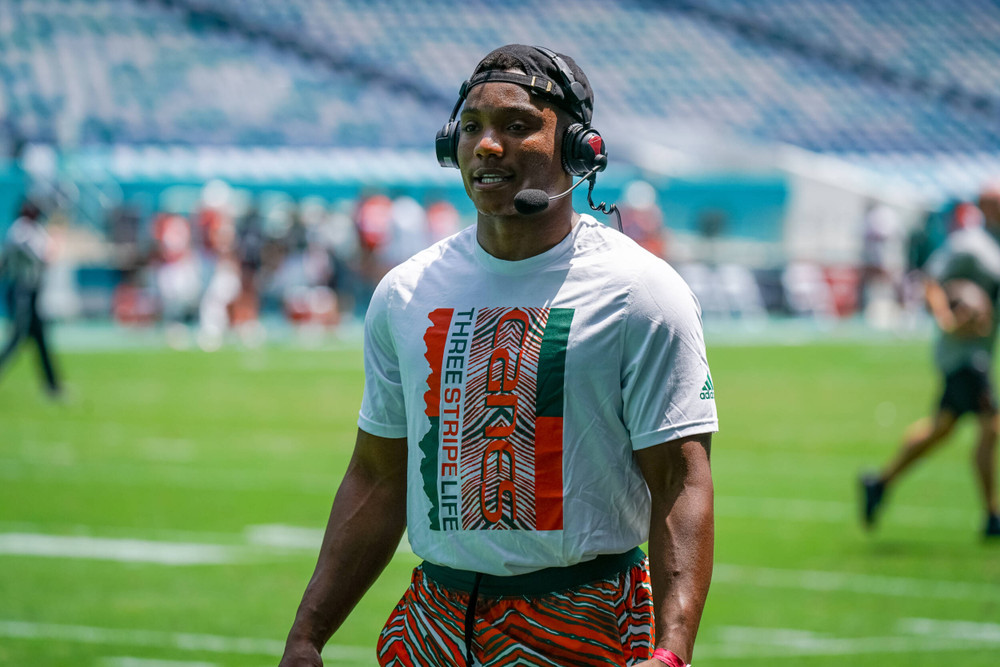 On Saturday, Lashlee gave King an opportunity to participate in the spring game in a way the quarterback may not have expected: he let King call the offensive plays in the fourth quarter.
And the quarterback – who has said he'd like to pursue coaching when his playing career eventually ends – showed he could still help his team move downfield, albeit in a way slightly different than what he's used to.
According to an ACC Network graphic shown during the broadcast, King called 10 pass plays and three run plays during the fourth quarter – and Miami scored two touchdowns during that stretch.
"It was good. Coach Lashlee told me this morning I would call the plays the whole fourth quarter, so I was just excited," King said of his experience. "I knew the game plan. I knew what we wanted to do – play fast, play simple. And I was just calling the plays. The players made the plays."
As to how he feels his rehabilitation process has gone, King credited Miami's athletic training staff with helping him get to the point where he's been able to hit several benchmarks in his recovery. He shared that he recently started doing some running and he hopes that soon enough, he'll be able to participate in some 7-on-7 work.
"Anytime you get hurt, it's always hard. But, just me wanting to be back out there with my teammates and wanting to do everything with those guys…when I first got back early in the winter, I was just pretty much working out by myself," King said. "Recently, I started working out with the team, which is good for me, just to get back with those guys and be around them. I think the next big step is me coming back for summer workouts…that's the next big step for me, but like I said, I have to take it day-by-day and keep going."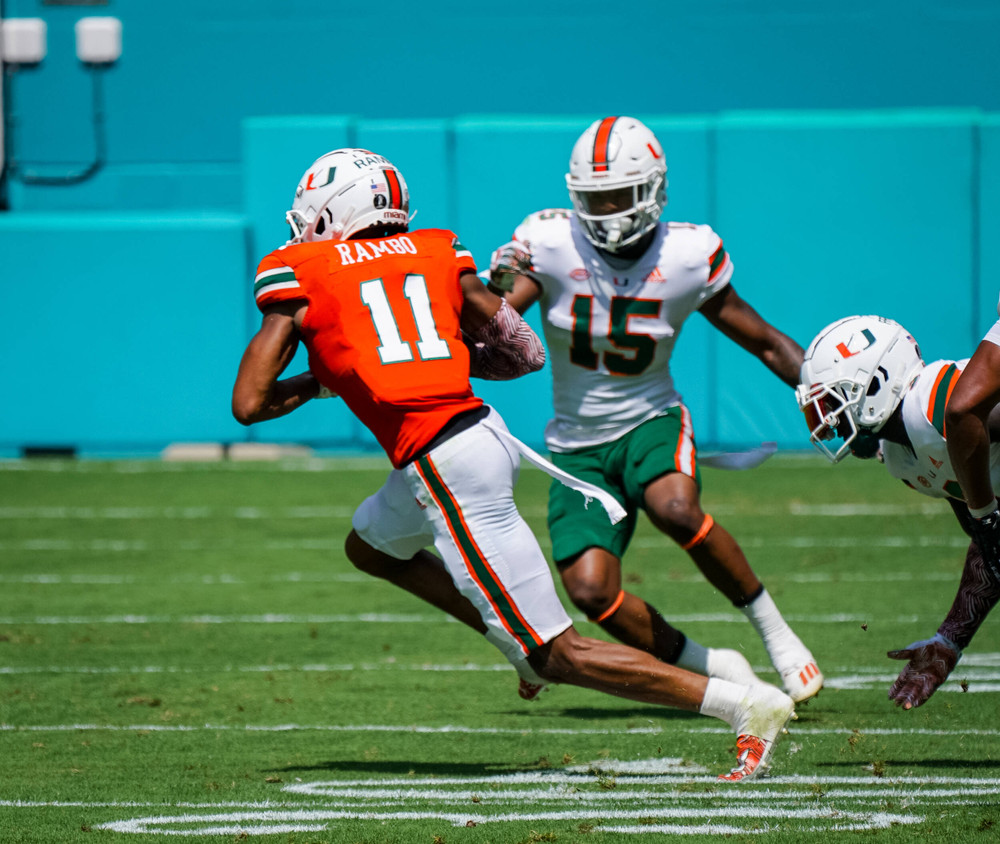 3. Rambo shines – again
Rambo, a receiver who previously starred at Oklahoma, needed a bit of time this spring to adjust to South Florida's trademark heat and humidity. But in recent weeks, he has become one of the Hurricanes' most consistent offensive threats.
On Saturday, the redshirt senior finished with a team-high seven catches for 72 yards. That followed a seven-catch, 107-yard performance in the Hurricanes' scrimmage last week.
"Rambo's a guy that, you get that ball to him in space, he's going to go," Garcia said. "He's going to go and it's going to be a lot of fun and you're just going to be back there watching him run…He's a tough kid. He's a kid that turns the page quick and that's a big thing for a receiver, or any player, really…It's been great working with him. He's worked with great quarterbacks in the past at OU, so I'm just asking him questions about how do I get to that level."
Now, with his first practices as a Hurricane behind him, the receiver said it's time for him to continue building chemistry with Miami's quarterbacks and learning more of the Hurricanes' system.
"Spring is over, so going into the summer, getting even better, building on what we did today, just getting better off of this and being that guy for my quarterbacks," Rambo said of his goals for the offseason.
4. Young defenders get opportunity to show their stuff
With a few of Miami's defensive veterans sidelined because of injuries Saturday, a handful of youngsters had the opportunity to show their coaches what they could do.
Kinchens, a safety, finished with five tackles and had an interception. Freshman striker Chase Smith had a team-high seven tackles, while freshman linebacker Tirek Austin-Cave had three tackles and freshman safety Avantae Williams had three tackles and broke up two passes.
"I thought it was okay," Diaz said of the defense's performance Saturday. "Again, by design because we didn't have very many running backs, we threw the ball a lot today and defensively, we were really only lined up in two coverages," Diaz said. "We were going to be vanilla on purpose today defensively, so, I think you're obviously looking at a secondary missing a lot of key parts and a lot of young guys that are in there. That's why this is a baptism by fire for them and the more they continue to get in there, the better off they'll be."
Miami's defensive line – which is undergoing transition after the departures of Quincy Roche and Jaelan Phillips – got a boost from Deandre Johnson, who notched a sack that went for a safety, and from Elijah Roberts and Jalar Holley, each of whom had a sack.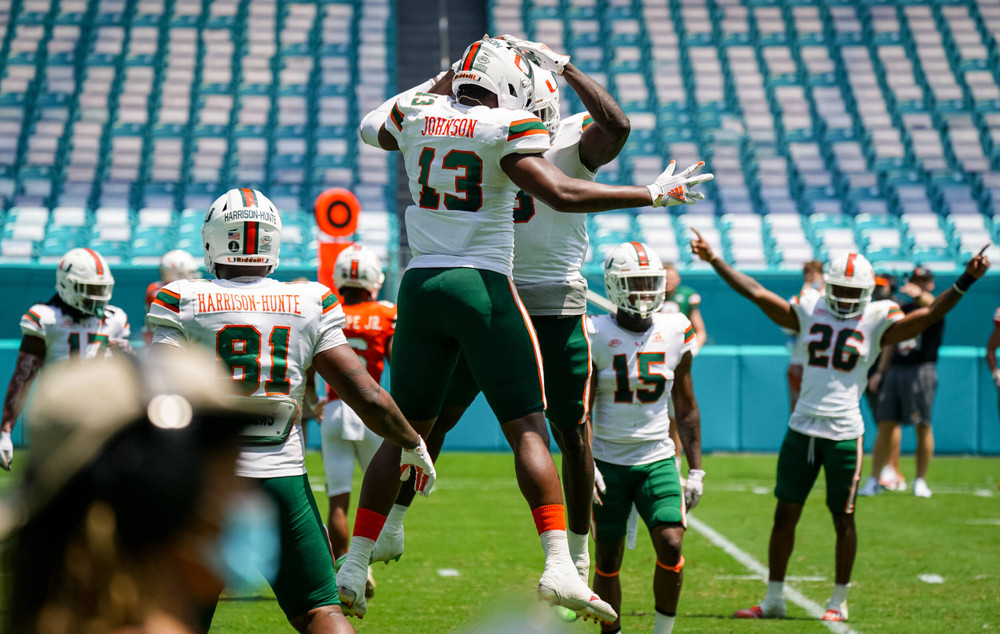 And at that position, Diaz said he remains confident the Hurricanes will find a consistent playmaker, just as they have in each of their recent seasons.
"We will continue to maintain the pressure that we have on the quarterback," Diaz said. "The best way to do that is what I thought we did a really good job with in the spring, which is stopping the run. When you stop the run, you leverage people into passing situations and then everybody can pin their ears back and go get after the quarterback. It's like eating your meat and potatoes before you get dessert. And I suspect we'll be able to feast on dessert as long as we get the main course right.
"I thought Deandre flashed today. I think we've got other guys that can really go…Cam Williams needs a great summer. Jahfari Harvey will get a great summer. Chantz Williams just needs to continue reps. Zach McCloud, who just with his effort alone we know will make plays. We told them today it's been a similar refrain every year. How are we going to replace Chad Thomas and Trent Harris? How will we replace Joe Jackson? How will we replace Jonathan Garvin? How will we replace Greg Rousseau? We didn't know at this time last year who Jaelan Phillips was. Now, it's how will we replace Jaelan and Quincy? It's just what we do here at the University of Miami."
5. Miami's specialists? Still special
In both of Miami's first two scrimmages, Andres Borregales – the younger brother of Lou Groza Award winner Jose Borregales – has shown his ability to put points on the board, particularly when the clock is expiring.
That trend continued in Saturday's spring game.
Andres Borregales converted on all three of his field goal attempts, hitting from 43 yards, 21 yards and 32 yards, with the 32-yarder coming as time expired in the first half.
Lou Hedley, meanwhile, booted his punts throughout the afternoon, with one going for 45 yards and another netting 59 yards to pin the offense on its own 2-yard line. That wound up leading to the eventual safety.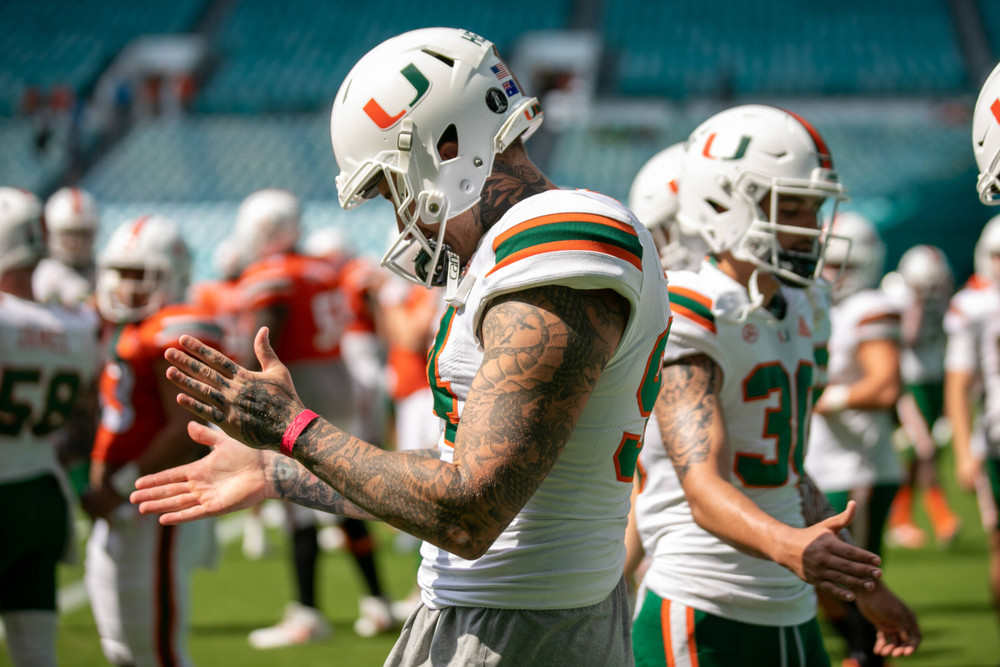 "Our specialists have, in the last two weeks when we've come into the stadium, been special," Diaz said. "I mean, we all know what Hedley can do. Last year, we set a record for net punt in NCAA history and the way Andres has looked coming into the stadium – not just his field goals, but his kickoffs, his kickoffs are five yards deep in the end zone. That has been as exciting of an event this spring as anything that we've had. He never looks like it's too big for him and that's encouraging."
6. It's time to get better
For many of the Hurricanes, the consistent theme after Saturday's spring game was that while the last few weeks have been encouraging, their work is far from finished.
Before Miami takes the field in Atlanta for its season opener against defending national champion Alabama, the Hurricanes will do their best to get healthy and build on what they've learned in their 15 spring practices.
There will be plenty of weight room and conditioning sessions. There will be film study. And, Diaz hopes, players will take it upon themselves to push each other.
"I've been watching a ton of film. I watched every single game from last year, every single game I played in last year and I tried to pick out little things I can get better at," King said. "Coach Lashlee has pointed out everything I need to work on. So I try to focus on that mentally and when I can do it physically, I'll do it physically. Just being here for the summer, I think it's really important for me because I missed spring. I missed spring ball, so being here for the summer, getting extra throws in with my guys, being around the team, getting the chemistry back, that's going to be a huge step for us and I'm excited to do it."
Said Diaz, "Now, the summer is really where the secret sauce comes. This is where our quarterbacks, our wide receivers, we've got to get together, we have to throw when our coaches aren't around. Defensively, we've got together as a back end. Those types of things will really help the growth of the team. And then when we come back in training camp, those first weeks of training camp is where we will really set the way we line up the first month of the season."