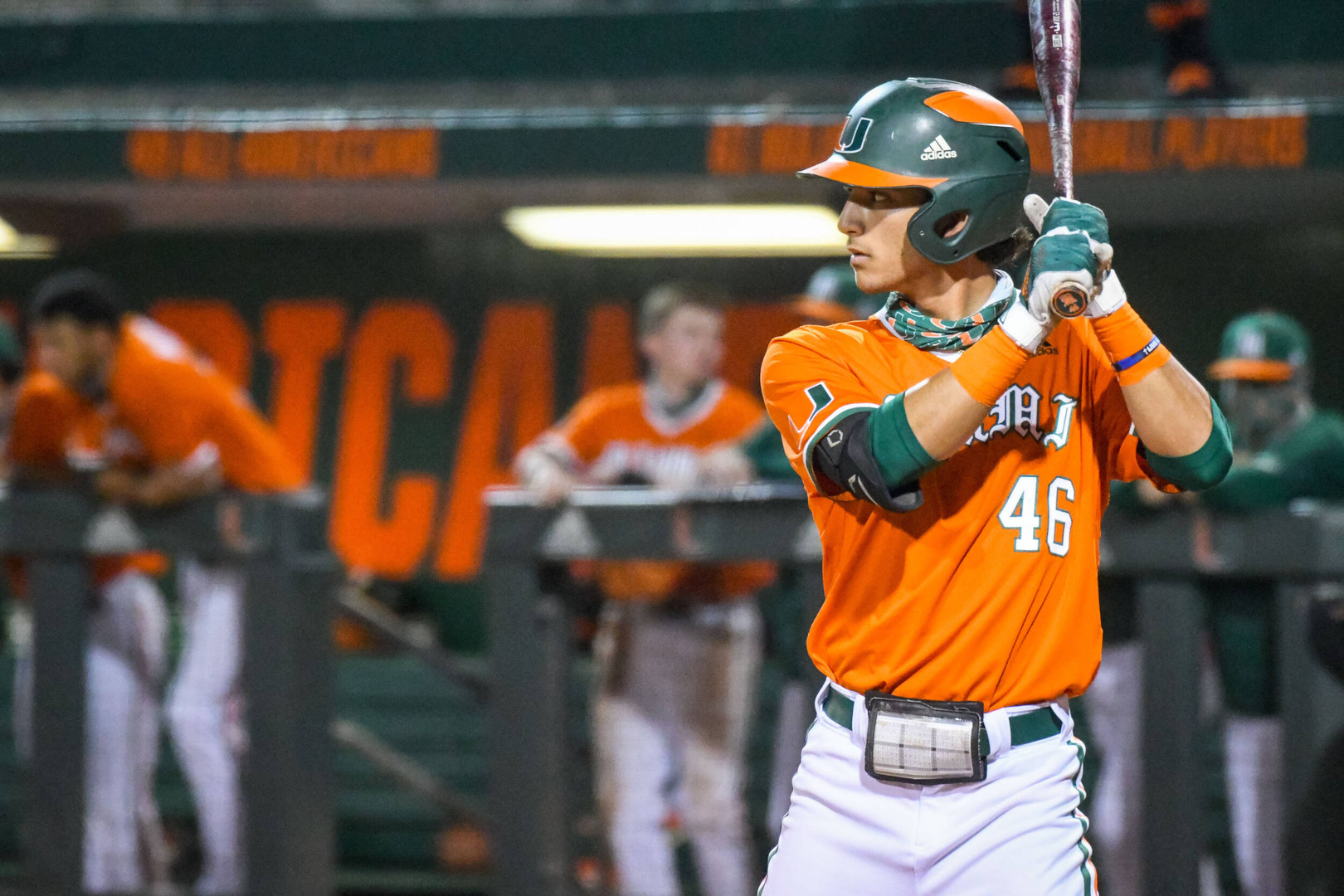 CORAL GABLES, Fla. – It was as bittersweet a moment as he'd ever experienced in a game.
As Dominic Pitelli rounded the bases after hitting the first home run of his Hurricanes career last week, the shortstop felt a surge of excitement, a sense of overwhelming pride and maybe, even a twinge of relief that he'd finally broken through at the plate.
But even as Miami increased its lead over crosstown rival FIU and he celebrated with his teammates, Pitelli couldn't help but think of the one person who would have most likely been cheering the loudest as the ball sailed over the right field wall – his father, Gino.
"He would have been very proud of me," Pitelli said. "That's a moment I wish he was there for."
Before this season, Gino Pitelli had been at just about every single one of his son's baseball milestones. But in January, just weeks before Miami's season opener, Dominic Pitelli was at Alex Rodriguez Park at Mark Light Field when his older brother, Nicolas, arrived with devastating news.
Their father – the man who'd introduced them both to baseball, had been their first coach and had taught Dominic to love the New York Yankees – had died after a five-year battle with pancreatic cancer.
In a moment, everything changed – including baseball.
"It's been really tough," Dominic Pitelli said. "The biggest thing was him not being able to see me play in college. Everything he's done for me, watching me grow up to play baseball and for him not to be able to see that, that's definitely been the toughest part. I think about it almost every game when I'm out there on the field. But I know he's looking down on me."
In the emotional three months since that day, Pitelli has found refuge on the diamond. His coaches and Miami teammates – several of whom have known the Pitelli family for years – have rallied around the freshman and done their best to try and provide whatever support they can.
For both Pitelli and his family, that has made a world of difference as the shortstop navigates his first year of college ball – a year he knew was already going to require some significant adjustment given the fact that his senior season at Doral Academy was cut short by the COVID-19 pandemic.
"We've always had a big community and that baseball community has become a family that's been really instrumental to us in our grieving," said Pitelli's mother, Zandra Diaz-Pitelli. "The amount of support has been overwhelming so it hasn't surprised me that he has that second family [at Miami] now…As bittersweet as it is, it is tenfold gratifying and heartwarming. It's just meant everything to us, to see him in such a difficult time, still have the drive and the passion and just the commitment to go out there every day for himself and for his father's legacy, which meant everything to him…It's beautiful, absolutely beautiful, to watch."
Added Hurricanes infielder Yohandy Morales, a longtime friend of Pitelli's, "It's been hard…I know it's been a lot of sad moments, but I feel like he's really working hard and improving at everything he can to make his dad proud."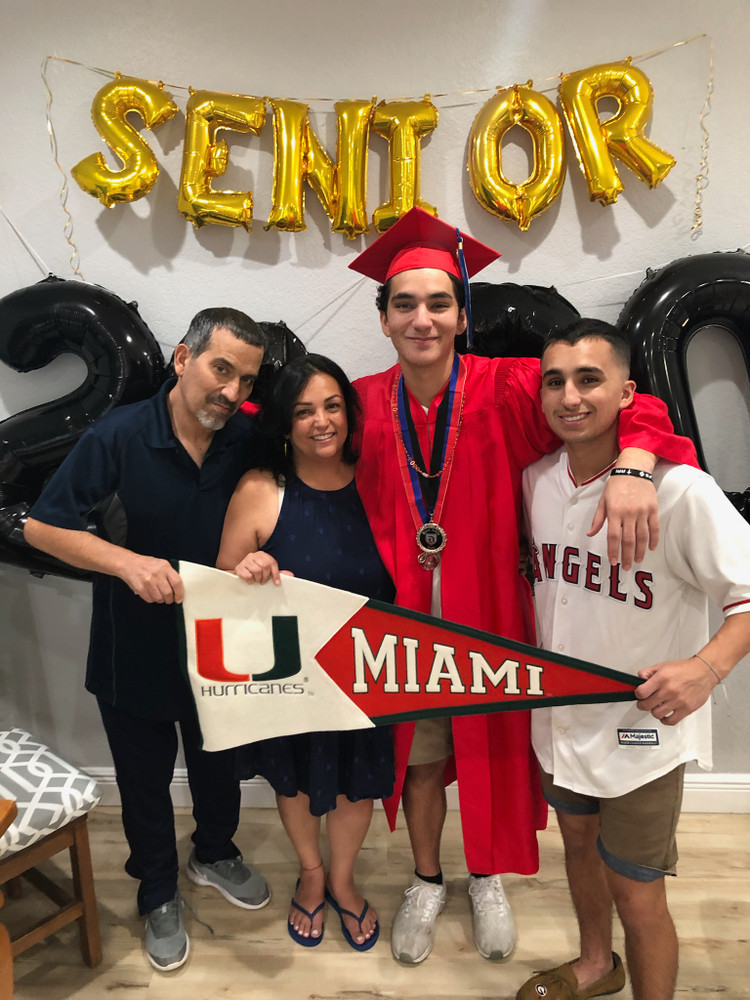 Through the first half of Miami's season, improving and finding consistency have been two major goals for Pitelli.
A shortstop who prides himself on his defensive prowess, he has helped Miami turn 14 double plays and assisted on 80 putouts. And four days after hitting the first home run of his career, Pitelli hit the second – a three-run shot in Miami's 12-5 loss at Pittsburgh last Sunday.
He knows there is still plenty of room for him to continue growing and his father would encourage him to keep pushing, even when it feels challenging – on and off the field.
"He was a big fan of going out there and having fun – just do what you do and have fun. That was his motto," Pitelli said. "And to win every inning. I remember he used to say that: 'win every inning.'…work on it inning-by-inning and just keep going."
There has been something else that has kept Pitelli going in recent weeks.
Before Gino Pitelli's death, Dominic told his family he wanted to get a tattoo to honor his father. After considering several designs, he settled on one that seemed a perfect fit – an image of a father carrying his young son on his shoulders, with both wearing personalized, pinstriped Yankees jerseys.
He got the tattoo on his 19th birthday – the same day his father was discharged from the hospital.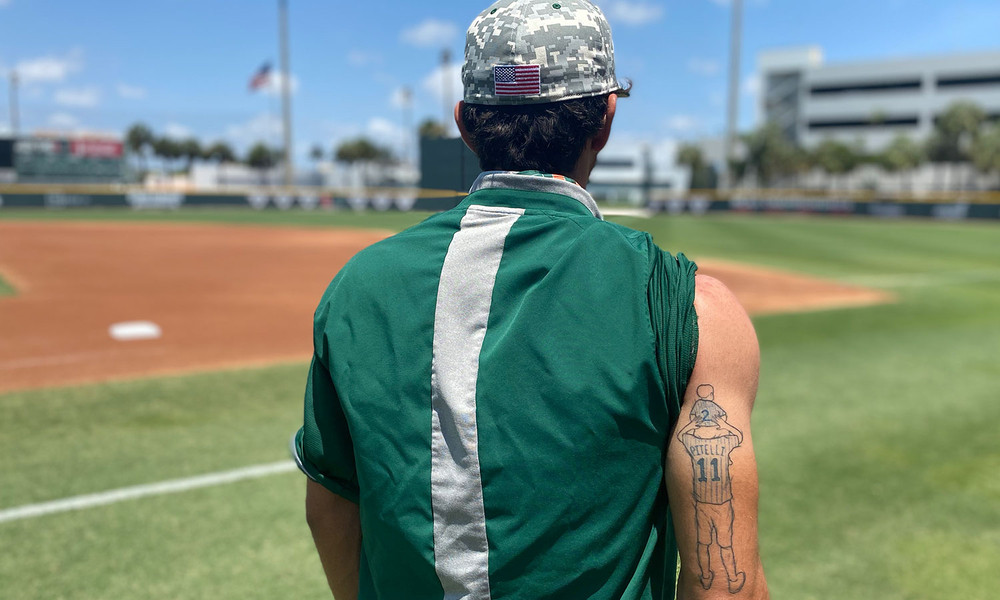 "When he unwrapped it and showed it to us and I realized what the whole picture was, I was like, 'Oh my gosh, it's beautiful,'" Diaz-Pitelli said. "It's them two, always. That's what it was like for them. To have that tribute on his arm…and it was just the right timing, too. My husband got to see it. He got to enjoy it. He got to flaunt it with all his friends. It's just beautiful. I feel like that's a recurring thing I keep saying, but it was just beautiful and I was overjoyed for them."
As emotional and as difficult as the last few months have been, baseball has, in its own way, brought some measure of peace for Pitelli, his mother and his brother.
And Pitelli is determined to keep playing the game to honor his father as best he can.
He'll have his next opportunity this weekend, when Miami hosts Clemson in a crucial three-game ACC series.
"Growing up in my hometown, I've always wanted to play for Miami. I eventually signed and my parents were super proud of me. I was happy they were going to be here to watch me play," Pitelli said. "It's been a lot of emotion, but I'm just proud, very proud, of myself and thankful for my parents and all they did to help me be in this situation."