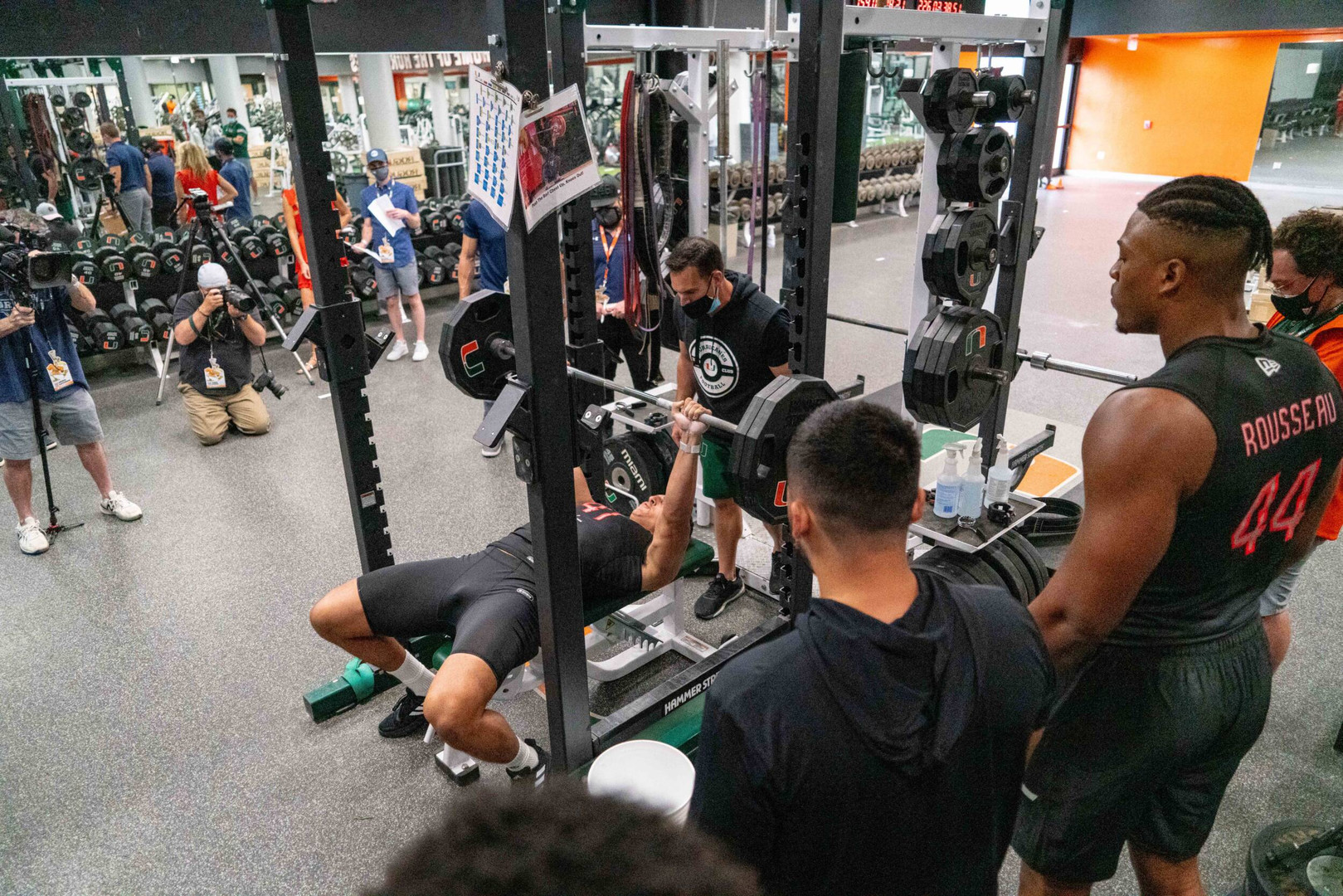 CORAL GABLES, Fla. – It was an image that seemed to perfectly capture the emotion of the day.
Just before running the high-pressure, high-stakes 40-yard dash that defines so many NFL prospects, former Hurricane standouts Quincy Roche, Jaelan Phillips, Brevin Jordan, Greg Rousseau and Chigozie Nnoruka huddled together, bowed their heads and took a moment.
Whatever happened during their respective runs – or at any other point in Miami's Pro Day – they were in this together, one more time as Hurricanes.
"It was awesome. You know, it's a blessing to be back here at my school and also just a blessing to be able to go out there and compete with Jalen and Quincy one last time," said Rousseau, referencing his fellow defensive ends. "I had a lot of fun."
Though Rousseau opted out of the 2020 season, he was among the six former Miami players hoping to make an impression on the dozens of scouts, coaches and NFL personnel that filled the Carol Soffer Indoor Practice Facility.
Every NFL team was represented at the event, with Miami Dolphins head coach Brian Flores and New England Patriots head coach Bill Belichick among those in attendance.
A few of the current Hurricanes stood watch throughout the day, too, serving as another reminder of the brotherhood many Hurricanes say defines their time at Miami.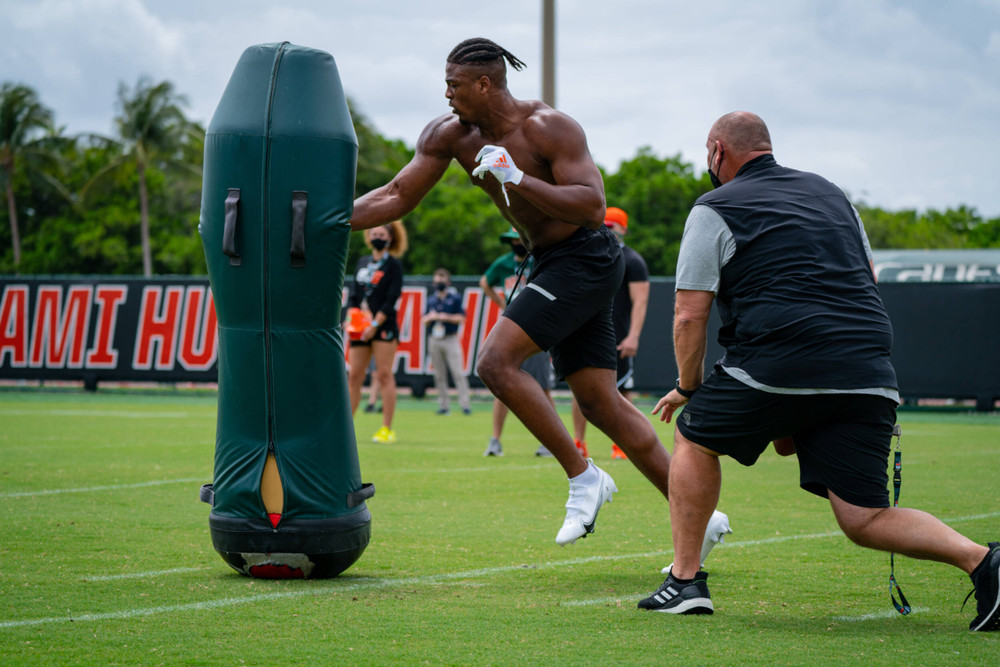 And Miami's trio of highly-rated pass rushers gave all of the spectators a show.
Phillips, who had a team-high 15.5 tackles for loss and eight sacks last season, raised eyebrows when he clocked a time of 4.56 seconds in the 40, while Roche led the way with 23 reps on the 225-pound bench press. Both Phillips and Rousseau had 21 reps each.
"I thought I missed my landmarks by a little bit, but overall, I'm excited with my numbers today," said Roche, who posted a 4.68 in one of his 40 runs. "I definitely think I showed my athleticism. Drills were smooth. I'm completely okay with today and what's gone on."
Said Phillips, "I'm definitely happy with everything today. I hit some [personal records]. That [vertical jump]. My broad jump was where I wanted it to be. Funny enough, you mention the 40, but I'm faster than that. It is what it is. I'm still happy with the time, no doubt. But I've run 4.4s in training. I'm still happy with everything. I'm just glad I can move on from this and get back into football training and what really matters."
But his Pro Day measurables weren't the only major topic of conversation Monday for Phillips.
The defensive end – who arrived at Miami looking to re-vitalize his football career after two injury-plagued seasons at UCLA – couldn't help but reflect on the journey that brought him to where he is now as a projected first-round NFL draft pick.
"UM gave me a second chance and not a lot of people get second chances in life," Phillips said. "For me, I'm eternally grateful to everybody here. The University, the higher-ups at the University, the coaching staff, my teammates, personnel and staff. I've developed such great relationships with the people here. Being a Cane is something I'll take with me for the rest of my life. It's all about The U and I'll be a Cane for life. The Hurricanes and the University of Miami, really, like I say, gave me a second chance and I just feel so blessed to be able to put that 'U' on my helmet."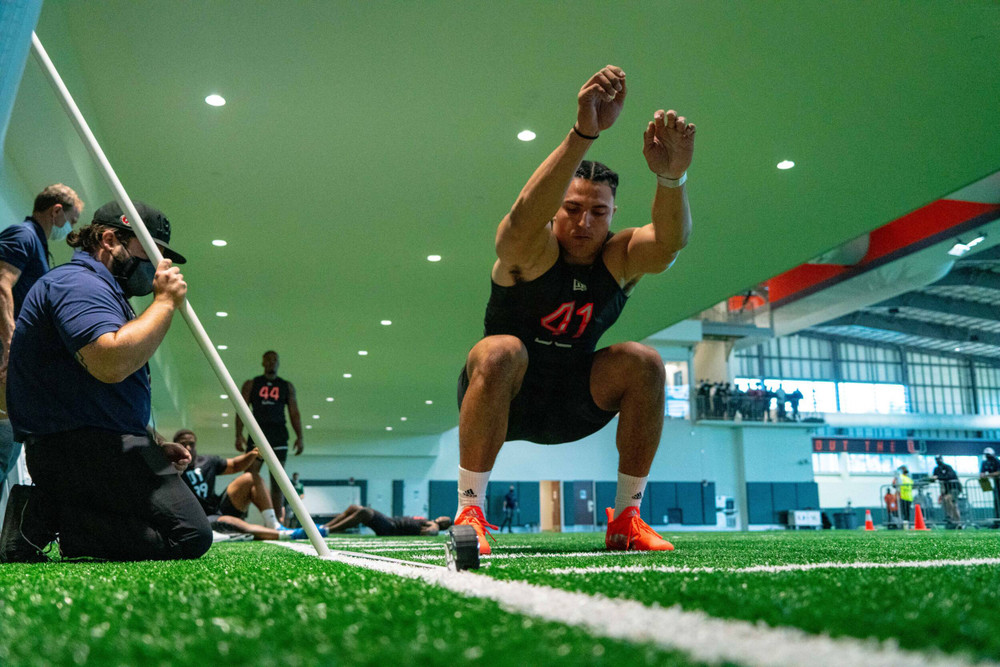 Like Phillips, Jordan used part of his post-Pro Day media session with reporters to express what his time at Miami had meant to him – and like Phillips, he said his time as a Hurricane has helped prepare him for the next step in his career.
"My love for this University is infinite. I'm going to go to the grave probably with a University of Miami jersey on. When I go into the league, you're going to see me…in pre-game, I'm probably going to have a University of Miami jersey on," said Jordan, who caught passes from former Miami teammate N'Kosi Perry during Monday's workout. "Probably going to be rocking a D'Eriq King or a Bubba Bolden jersey walking out of the tunnel."
While there were a series of emotional moments for several of the draft-eligible Hurricanes, Jose Borregales – widely projected as the top kicker in this year's draft – had a different kind of personal experience.
The kicker was joined at Pro Day on Monday by his younger brother, Andres, who enrolled at Miami in January and just days ago was kicking field goals in his first scrimmage as a Hurricane.
"I was trying not to think about what I was going to go through, in terms of kicking and stuff. So we were talking about how he's doing in school, how he's doing in classes, how he's adjusting to the college lifestyle," Jose Borregales said. "But when it came down to crunch time, obviously, you don't want to show you're nervous or show any jitters. I did get a couple jitters, a little bit of butterflies, obviously because you've been training your whole life for this one interview. It's the most important interview of our lives in terms of the sport that we play, so of course, he was there, telling me I was going to do fine, and just do what we've always done, go out there and kick some field goals, make them through the uprights."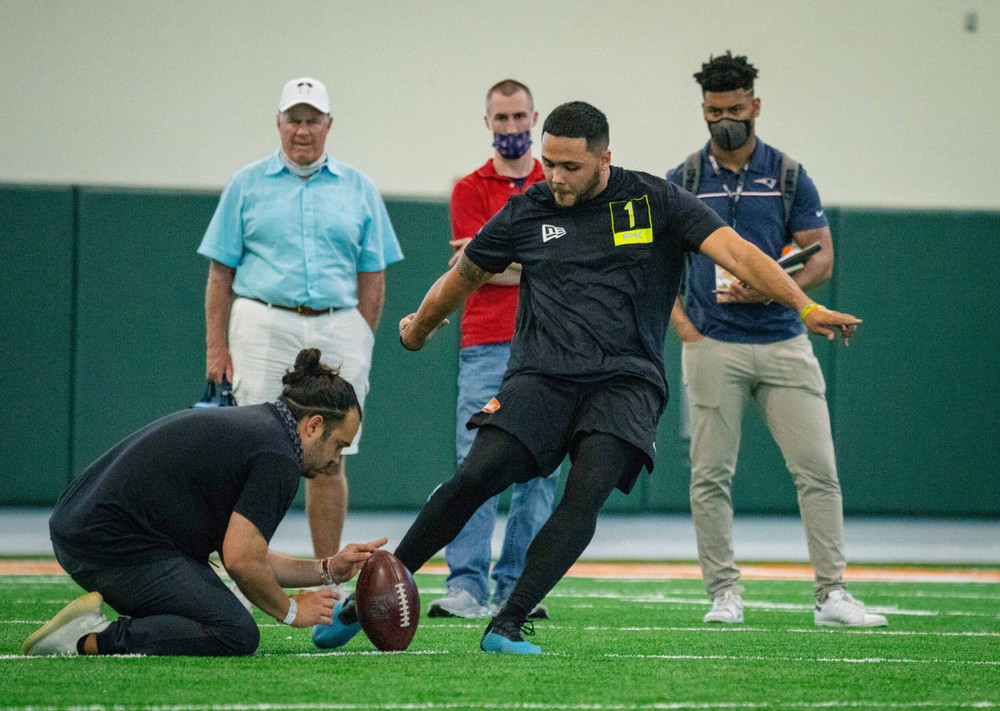 Given the fact there was no NFL Scouting Combine this year because of the COVID-19 pandemic, Monday's Pro Day was a huge opportunity for Miami's draft-eligible players to prove they belong on NFL rosters.
That they were able to do it at a place that was familiar was, no doubt, a plus.
And when the day ended, their former coach couldn't have been more proud of what the Hurricanes accomplished – and what he says he already knows they'll do in the future.
"You want to see them be able to fulfill their dreams of making the NFL, but I think the longer you're in this profession, you realize that's really one part of it," Miami head coach Manny Diaz said. "I'm equally as proud of them when I see them on social media posting that they took their kindergartener to school for the first day, or they got married or they had their first born, those types of changes. Football doesn't last forever, as we know. You want to help them. You do everything you can to help them get to the NFL, but you have to prepare them for life. One day, someone's going to tap you on the shoulder and say 'You can't play this game anymore' and you want them prepared for that part, too."