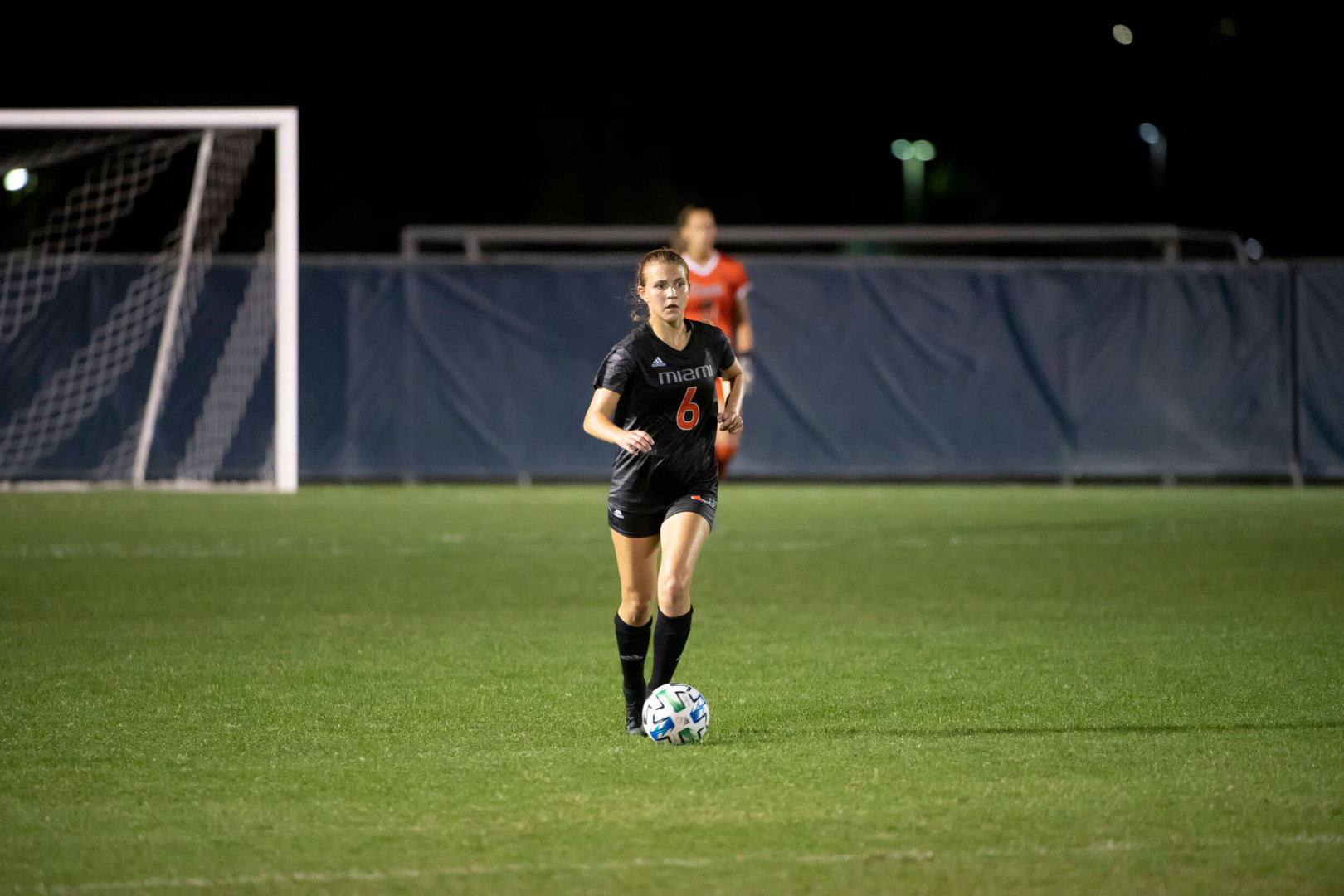 CORAL GABLES, Fla. – Two hundred minutes into the 2021 spring campaign, the University of Miami soccer program's underclassmen continue to shine.
Hitting the road to open the spring non-conference slate, Miami's freshmen and sophomores accumulated 2,174 of a possible 2,200 minutes on the pitch against FGCU and Florida Atlantic.
In a season with so many uncertainties, due to the ongoing COVID-19 pandemic, the youthful Hurricanes have gained valuable experience all season long in preparation for the 2021 fall campaign.
On Sunday, Miami will return to Cobb Stadium for the first time since nearly upsetting then-fifth-ranked Duke on Nov. 1, for the first of two home matches to close out the spring. Set for a 6 p.m. kickoff, the Hurricanes will play cross-town foe FIU, with action set to be streamed live on ACC Network Extra HERE.
"Having the home advantage is always the best feeling," freshman defender/midfielder Gabriela Rusek said. "The team and I are glad to be back on the pitch at Cobb and to show all the hard work we are putting in as a team. The mindset is to go out and play our best and work as hard as we can. We can only control how we play and act as a team. We are ready to go out and have a great game."
Like many of her teammates, Rusek has played multiple positions in her first season at Miami, helping the team any way she can.
To open the spring, the Warwick, N.Y., native made a shift to the back line and quickly earned the trust of the coaching staff playing all 200 possible minutes since returning from winter break.
Playing alongside fellow freshman Delaney Brown at center back, she has continued to learn from junior captain and fellow defender Selena Fortich about the position, while also referring to her past experience at the position to help make the transition.
"I grew up playing center back, so I had somewhat of an idea of what I was doing," Rusek said. "Obviously it is different when playing soccer at such a high level, but I was feeling confident heading into the FGCU match because I had received great coaching cues and the other defenders made sure to help me out on and off the field. I was excited to take on the challenge and step up for the position and the team."
Continuing to grow as a player every match and training session, Rusek said she has been working on her left foot services in the air because she wants to be able to do everything with her left foot that she can with her right foot.
Heading into Sunday's affair against the Panthers, prior to the season finale against the Florida Gators (April 3, Noon), Rusek and her teammates are looking to continue build on their strengths, focus on weaknesses and keep on growing as a unit.
"Individually, I want to progress as a player on the field and be confident with every decision. Off the field. I'm excited to be getting back into weight lifting," Rusek said. "As a team collectively, our goals are to be the best version of ourselves and to progress our speed and style of play."
Similar to the fall, fan attendance at Cobb Stadium for Miami home games will be limited to immediate family members of the participating teams.