Seasoned Canes: Fans Share Their Stories
Sean Smith & Stephanie Fleites
Stephanie Fleites calls herself the 'mom' of her tailgating contingent.
The group, made up of college friends who graduated from Miami in the Classes of 2011 and 2012, including Sean Smith, is mostly spread up and down the east coast.
That means that Fleites – one of the few who still lives in Miami – is the one who does most of the wrangling leading into game day.
"We learned quickly when we were on our own that all these things you never thought of, can make or break a tailgate," Fleites said. "Nobody has ketchup. Nobody has plates or napkins."
Fleites, who graduated one year ahead of Smith, said the group now splits tailgate responsibilities. Smith, who lives in Orlando, is responsible for the truck that carries the grill. Their other friend, Charlie, handles the music and drives down speakers from Tampa.
"If you think about it, tailgating – in terms of the depth of the experience – is not that deep, but the simple fact of interacting people, talking to people, spending time with people…those are the bare bones of a friendship," Smith said. "The more you can do that, regardless of where you are, the stronger that friendship is. You get to the point where even if you haven't seen that person for however long, that is someone you would still consider a friend for life."
For Smith, the evolution and development of those friendships, including that of Fleites', means more than anything.
"Steph brought a guy that she's dating to a tailgate," Smith said. "Over the years he went from a guy she's dating to boyfriend to fiancé to husband. You get to see and experience people's lives in a way that just feels easy. You're hanging out with them and spending time with them."
Though they were unable to gather in 2020 at Hard Rock Stadium due to the COVID-19 pandemic, the group plans on resuming their normal Saturday routine this fall.
"We had a very big Zoom call to watch 'The U' documentaries together the quarantine," Fleites said. "That's what we did in lieu of tailgating. I'll be ready for the fall, for sure."
Jim Eraso
Jim Eraso describes his fandom of the University of Miami in one perfect word:
Natural.
Given the unlikely twists and turns some fans take to end up at Hard Rock Stadium on Saturdays in the fall, Eraso's journey is about as straight-forward as can be.
Eraso moved to Miami with his family in 1960 and made the easy transition from Coral Gables High to University of Miami, where he graduated in 1966.
"That's when I started going to football games, when I was at the university," Eraso said. "I was in graduate school for about a year, but then I went to the Navy. The only time I hadn't gone to University of Miami football games was when I was in the Navy."
One of his favorite memories? A 7-6 win over Georgia in 1966, when he was in graduate school at Miami.
"I've seen the good and the bad," Eraso said. "But every year, there's something great, something that makes it memorable."
Eraso went on active duty in 1967 and was on duty for three and a half years before returning for a job on Key Biscayne.
He hasn't left.
For several years, he shared tickets with a dear friend, Tom Wilson, who passed away a few years ago. Now, he's often joined by his wife for games in the fall.
"Hopefully I can get to Atlanta to watch us play Alabama," Eraso said. "I'm already looking forward to the fall."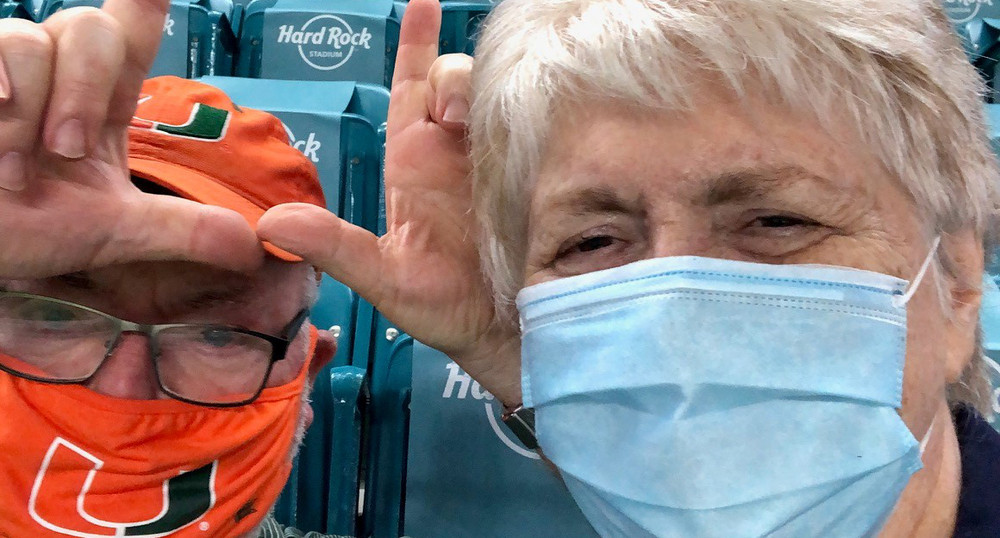 Andrew Powers
When he enrolled at the University of Miami in the fall of 1986, Andrew Powers admittedly didn't know much about college football.
Now, he can't imagine life without it.
Powers' first date with his wife, Amy, was at the 1987 season opener against Florida.
"I met my wife at the beginning of the school year. It was her freshman year and my sophomore year," Powers said. "I asked her, 'Are you going to the game?' She said, 'I don't know how.'"
The rest is history.
Powers was on the Coral Gables campus for 10 years. He finished his finance degree in the School of Business before moving onto a full-time job in the school's IT department doing PC software training.
"My freshman year in 1986, we went undefeated, Vinny Testaverde won the Heisman and they went to the Fiesta Bowl," Powers said. "That made me a fan. I started going to the home games my freshman year with friends on my floor."
While working at Miami, he earned his master's of science in computer information systems and, eventually, an MBA.
After the couple got married and moved to Fort Lauderdale, Powers remained steadfast in his commitment to his three-time alma mater. Powers says he and his wife have been to every single home game, more or less, for the past three decades.
"If I'm going to get another job, it's going to be somewhere in South Florida so I can make it six Saturdays per year," he joked.
Now, the couple takes their sons, Ian and Andrew, to every game.
"The real reason our family are such diehard fans is we wouldn't exist without Miami Football."