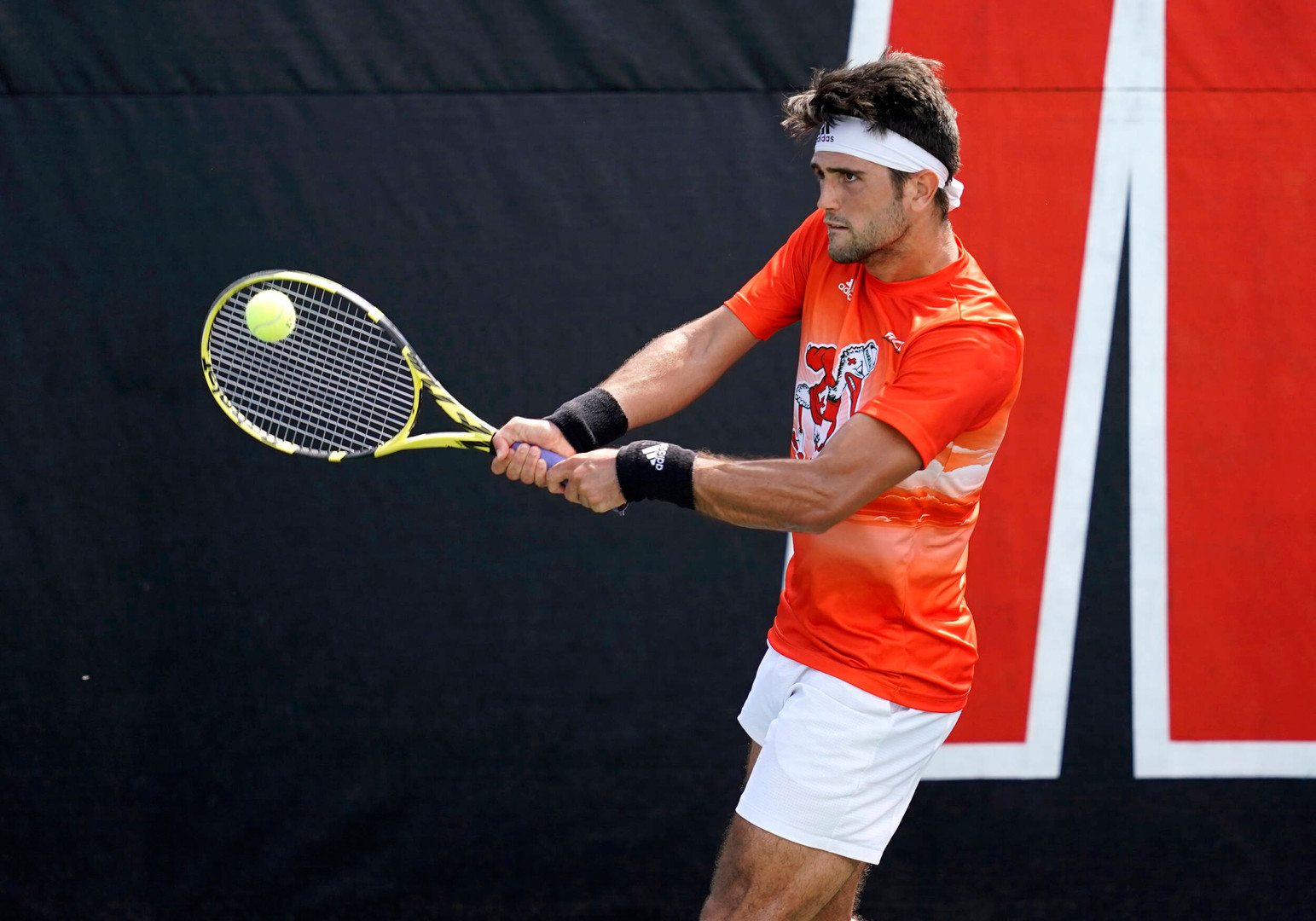 CORAL GABLES, Fla. – With a pair of top-15 road matches on the horizon, the University of Miami men's tennis team understands there is no time to dwell on the past and instead needs to continue to bring a fighter's mentality into the stretch ahead.
Entering their North Carolina road trip ranked No. 44 in the latest ITA poll, the Hurricanes (3-5, 2-2 ACC) open the weekend with a matchup against No. 11 Wake Forest Friday at 5 p.m. in Winston-Salem, N.C. Following the contest with the Demon Deacons, Miami will square off with No. 15 NC State Saturday at Noon in Raleigh, N.C.
The pair of matches wraps up a four-match road stretch against ACC foes, most recently falling at No. 3 Virginia and No. 36 Virginia Tech, before the Hurricanes return to the Neil Schiff Tennis Center on March 20 to host No. 34 South Florida.
Looking to right the ship, the Hurricanes took the past week of training fine-tuning specific areas, while also working together to continue to grow as a unit.
"Our mindset heading into this weekend is that we need to be positive," senior Bojan Jankulovski said. "We have been going through a rough patch recently with a couple bad losses in a row. So, we need to do better. And obviously, a prerequisite to that is to head into the weekend with a positive mindset because playing against two top-15 teams is never easy. Especially on the road. So, we all need to be very competitive, the energy needs to be very high and the positivity needs to be there.
"And this past week in practice, those are exactly the three things we have been working on and discussing as a team," Jankulovski continued. "They are three things that we know we need to do a better job of, collectively. This is because without those things, it is very difficult to be successful in this conference."
In the first matchup, Wake Forest enters Friday's tilt boasting a 13-4 (4-1 ACC) record, most recently coming up just short against second-ranked Baylor, 4-3, prior to sweeping Boston College, 7-0.
The Demon Deacons have four ranked individuals, led by No. 31 Bar Botzer. In addition, Rrezart Crungu (No. 92), Taha Baadi (107) and Luciano Tacchi (121) join Botzer on the singles list. In doubles, Henri Squire and Eduardo Nava form the nation's 18th-ranked pair.
In Saturday's affair, NC State (6-4, 4-1 ACC) are coming off back-to-back wins over Virginia Tech, 5-2, and Boston College, 7-0.
Alexis Galarneau is ranked seventh in singles action, while Tadas Babelis is ranked 95th. In doubles, Yannai Barkai and Babelis check in at nine, while Galarneau and Robert Turzak sit at No. 23.
"The goals, for this weekend and beyond, are that whoever is playing for us, has to go out on the courts, battle and give 110-percent effort from the first point to the very last," Jankulovski said. "We know that if we collectively do that as a team, we will give ourselves a chance. We believe we have the quality and the talent to beat the top-teams, but we need to bring that fight, that energy and battle at all three doubles positions and all six singles courts."
Live stats for Friday's match can be accessed HERE, with live video available HERE.