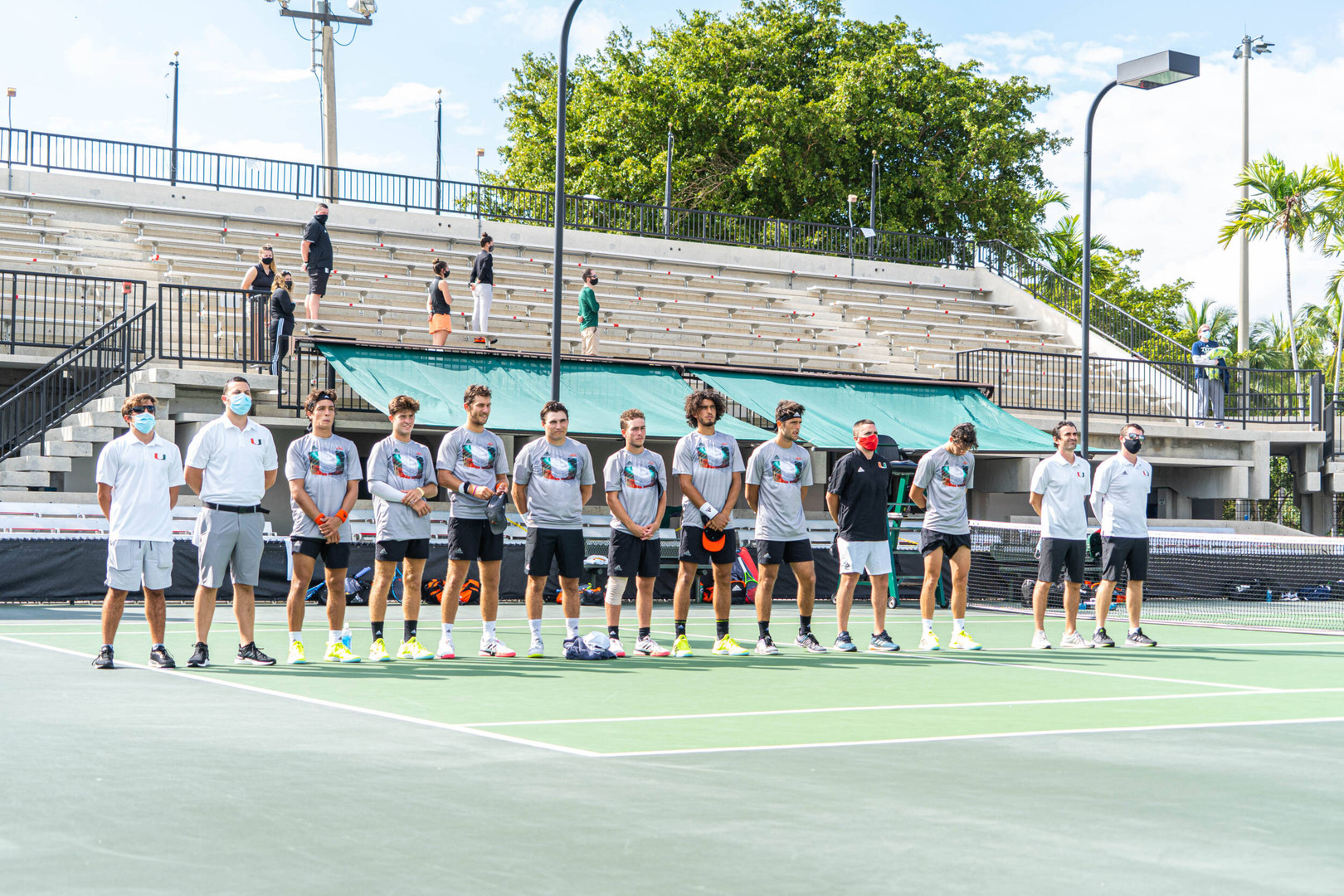 CORAL GABLES, Fla. –  Following a pair of neutral site affairs, along with four matches played at the Neil Schiff Tennis Center, the University of Miami men's tennis team is set to begin its road season Friday afternoon in Charlottesville, Va.
Over the next week and a half, the Hurricanes will play four matches on the road against ranked opponents. Beginning with fourth-ranked Virginia on Friday at 2 p.m., Miami will then travel to play No. 39 Virginia Tech on Sunday, No. 12 Wake Forest on March 12 and No. 15 NC State on March 13.
Tied with the Hokies as the nation's 39th-ranked program, Miami (3-3, 2-0 ACC) is looking to rebound from a 4-3 setback to FGCU this past Saturday as it gets into the thick of the Atlantic Coast Conference season.
"We've been working hard and focusing a lot on our energy and positivity as a team," Miami assistant coach Darragh Glavin said. "We've lacked that collectively the last few matches so it was important to get that going during the week. I look forward to seeing that out there this weekend against two very good teams."
"It will be a busy 10 days," Glavin added. "Lots of travel and change in conditions from one match to the next. We have really been focusing on how we are going to compete as a team. If we do what we have talked and worked on then I know we will have some great matches these next two weeks."
An area Miami had spent ample time working on early in the young spring season has been doubles action. Dropping the advantageous point in each of the first three matches this season, the Hurricanes have quickly made it a strength with three consecutive doubles points clinched in the most recent three contests.
Led by the nation's 22nd-ranked doubles pair, Franco Aubone and Benjamin Hannestad have outscored their opponents 18-6 over their three-match win streak.
In addition, seniors Bojan Jankulovski and Stephen Madonia teamed up for the first time against Tulane and have since improved to 3-1 as a pair.
"Doubles has been a lot better," Glavin said. "We worked a lot on our doubles after going 0-3. We know it will be very important in the next couple of matches to get off to a good start like we have in the past three matches."
Entering the match with a 9-2 (3-0 ACC) overall mark, the Cavaliers are coming off a pair of 5-2 wins at NC State and Wake Forest.
Virginia is led by a pair of ranked singles players, No. 29 Carl Soderlund and No. 105 Jeffrey Von Der Schulenburg. In doubles, Soderlund teams up with Matthew Lord to form the No. 35 ranked duo.
The Hurricanes sport a 5-19 all-time record against the Cavaliers, but in the most recent matchup at the Boar's Head Sports Club Miami secured a 4-3 victory.
Heading into Sunday's affair, Virginia Tech (5-4, 1-2 ACC) enters the match most recently coming up short in back-to-back 5-2 defeats to the Demon Deacons and Wolfpack.
No. 38 Mitch Harper is the lone Hokie listed on the ITA singles poll, while Virginia Tech does not have a doubles pair in the rankings.
Miami holds a 9-12 all-time record against Virginia Tech, securing the most recent victory in the series, 4-3, on April 5, 2019.
Following the pair of matches in Virginia, the Hurricanes will head to the Tar Heel State to take on NC State and Wake Forest.