Wong Leads Canes into Charlottesville
March 1 | 6 p.m. | ACCN
John Paul Jones Arena | Charlottesville, Va.
Miami (7-15, 3-14 ACC) at No. 15/14 Virginia (15-6, 11-4 ACC)

By Alex Schwartz
MiamiHurricanes.com
CORAL GABLES, Fla. – The only ACC men's basketball player with three 28-point games this season is Isaiah Wong of the University of Miami.
Two of those showings have come in the sophomore guard's last two outings. He dropped 29 points Wednesday against No. 11/9 Florida State and then tallied 28 more Saturday afternoon at Clemson.
Even more impressively, those performances came after Wong suffered a right ankle injury in his prior outing against Georgia Tech.
"Just getting treatment every day and just getting shots up late at night and just building my confidence up [was big]," Wong said of his recent outings. "I feel when I get more shots up, I build more confidence and … going through these few games, I'm trying to finish the season out strong and just trying to play the best [I can]."
Wong scored nearly half of Miami's points against the Tigers, as the team dropped a 66-58 decision. Sophomore forward Anthony Walker, the only other Hurricane with double digits in the scoring column, tallied a 13-point, 10-rebound double-double and redshirt senior Kameron McGusty notched a career-high seven assists.
For Wong, though, his dazzling performance—he shot 10-of-18 from the field, 3-of-6 on 3-pointers and 5-of-5 at the line—started from the opening minutes.
The Piscataway, N.J., native nailed his first three shots and scored seven points in the opening 4:09 of action.
"When I was in Miami, I just got a lot of shots up. I feel that coming into the game, I was real confident," Wong said. "When I saw an open shot, I was shooting it. I made my first shot and I went with that flow. When I hit my first one, it just starts to get real easy for me."
Although his recent numbers are particularly impressive, Wong has been sensational since the very beginning of the 2020-21 season.
The 6-foot-3, 180-pounder is averaging a team-high 17.8 points per game, good for third-best in the ACC, while shooting 44.5 percent from the field. In addition, he is tallying 5.1 rebounds, 2.1 assists and 1.2 steals per contest.
This comes after Wong logged just 7.7 points, 3.0 rebounds, 1.0 assist and 0.5 steals per game in his freshman campaign, during which he notched a 41.6 percent clip from the floor. Furthermore, during his first 18 games last year, Wong averaged just 3.1 points per outing and shot only 29.7 percent.
His development has been drastic, putting him clearly in the mix for both ACC Most Improved Player and All-ACC accolades.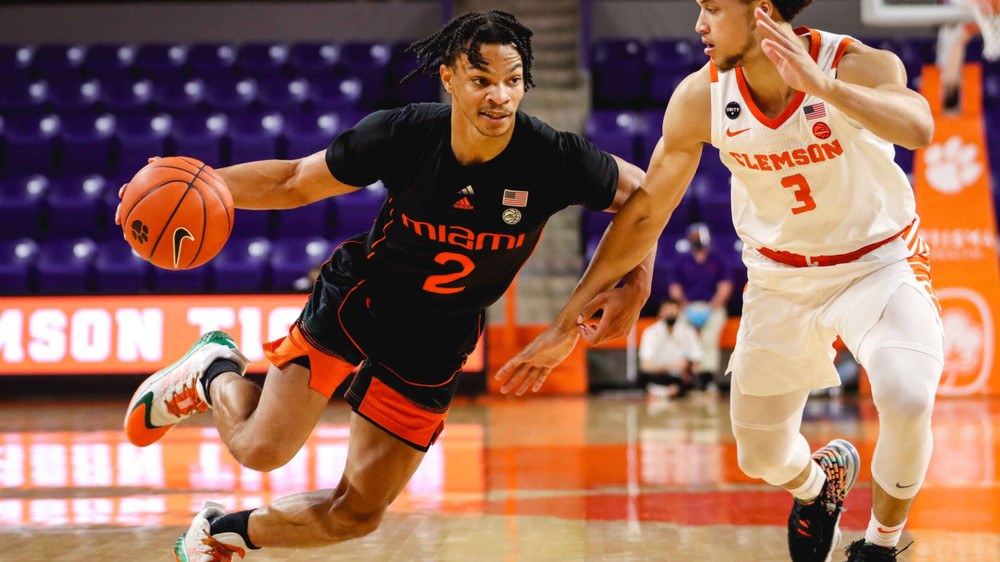 "I'd say just more confidence, shooting at a high rate and I'm getting more possessions coming my way," Wong said of where he has made the biggest strides since 2019-20. "The coaches really trust me throughout this whole season [and I am] just staying calm and composed throughout. I don't really … turn the ball over. I feel like I play with my own pace."
Indeed, Wong has been incredibly careful with the ball, notching just 37 giveaways in 778 minutes of action, a mark that equates to just one every 21 minutes on the court.
Along with his offensive prowess, Wong has also made a massive jump on the defensive end of the court. He is second on the team and top-15 in the ACC in steals, as well as tied for third among Hurricanes in blocks despite his position in the backcourt.
"Just trying to look through film, scouting the players. Just playing the best defense I can," Wong said of his work on that end this season. "…I feel like my intensity and my mindset is always to try not to let my man score on me. That's been my mindset for all my life."
When it comes to defense, no team in the ACC is more synonymous with it than the Virginia Cavaliers, who are next up for Miami (7-15, 3-14 ACC) in its last road game of the year.
The Hurricanes are set to take on No. 15/14 Virginia on its home court Monday night, with tip-off set for 6 p.m. at John Paul Jones Arena.
Although not on pace to do so this year, the Cavaliers have finished top-seven in KenPom defensive efficiency each of the past seven years, logging four top-two spots and two first-place final marks. Wong knows Miami will have its hands full trying to get going on the offensive end in Charlottesville, Va.
"They have five players that always play great defense," Wong shared. "They have a big that can shot block. They have a guard that likes to get into you and likes to play, probably, full court on you, if he wants to. They have a well-set team, just based on defense. So, it's going to be a hard game going up against them."
One player in particular who has "really stood out" to Wong when he has watched the Cavaliers this season is that big man, Jay Huff.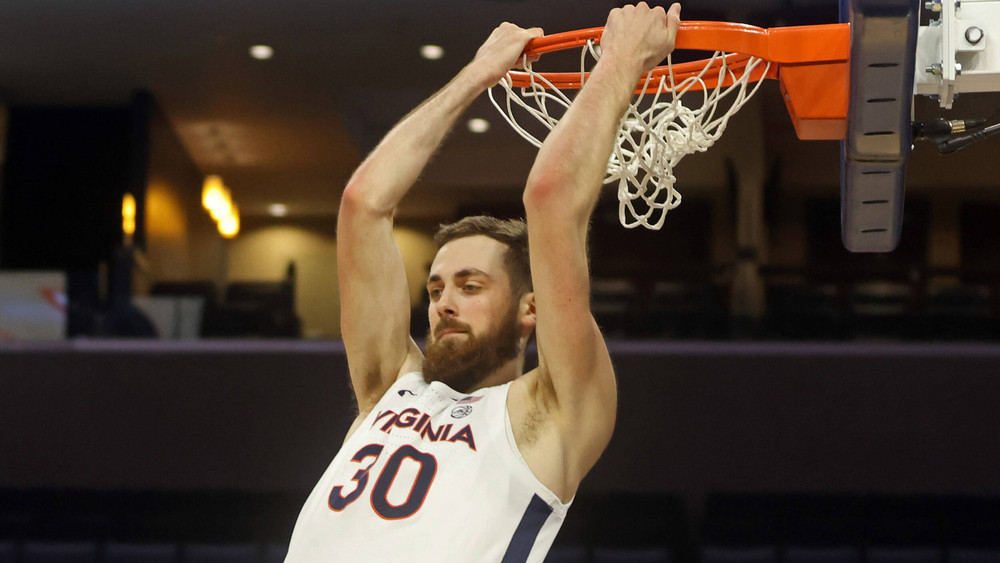 A 7-foot-1, 240-pound redshirt senior, Huff is averaging 13.6 points and a team-high 7.0 rebounds per game. He leads the ACC in field goal percentage with a 60.5 clip and ranks second in blocks with 2.5 per contest.
Huff, though, is not the Cavaliers' leading scorer. That distinction goes to Sam Hauser, a redshirt senior forward averaging 15.3 points per game in his first season on the hardwood for Virginia after sitting out last year as a transfer from Marquette.
The talented frontcourt duo has helped lead Virginia, which remains the reigning national champion after winning the crown in 2019, to a 15-6 (11-4 ACC) record this year. The Cavaliers currently sit second in the conference and were picked to win the league in the ACC preseason poll after going 23-7 (15-5) in 2019-20.
In addition to facing a talented foe in its own venue, the Hurricanes have to deal with a quick turnaround. While Virginia had the weekend off, Miami has just 50 hours between the end of its game against Clemson and the start of its meeting with the Cavaliers.
This is the third time in 2020-21 Miami has dealt with a Saturday-Monday turnaround, defeating Duke in its first Monday affair and having its second, at North Carolina, postponed just two hours before tip-off.
"Just trying to watch a lot of film the day before [in order] to figure out what plays work on them and … how other teams score on them," Wong said of the keys to getting ready without much time. "[We need to] just look at that and try to come in real confident. Me and the team just … [need to] try to play the best we can on defense."
The Hurricanes own a 12-12 all-time record against Virginia, including a 4-7 mark on the road and a 3-8 ledger under Jim Larrañaga, their 10th-year head coach. The Cavaliers took the most recent meeting, a 46-44 road decision on March 4, 2020.
Larrañaga is quite familiar with the Virginia program, as he served as an assistant in Charlottesville from 1979-86, helping Virginia to five NCAA Tournament nods, four Sweet 16 berths, three Elite Eight appearances and two Final Four trips in seven seasons.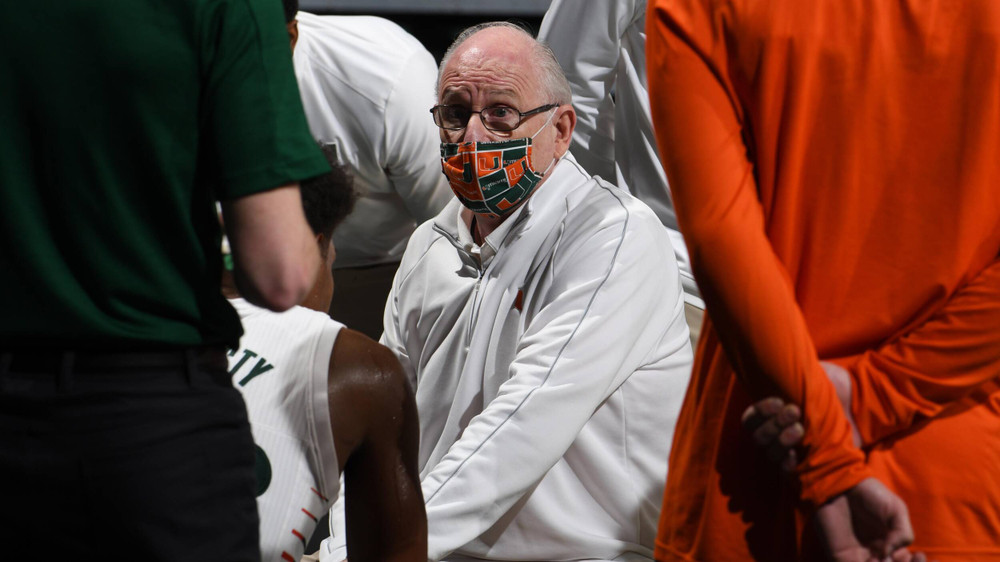 Miami assistant coach Bill Courtney also worked at Virginia from 2006-09, aiding the Cavaliers to a share of the 2007 ACC regular season title and a spot in the NCAA Tournament Round of 32 that year.
Monday night's matchup will be televised live on ACC Network HERE, with Dalen Cuff and Jordan Cornette on the call. Joe Zagacki and Danny Rabinowitz will have the radio broadcast on 560 The Joe WQAM HERE. Live stats for the contest can be found HERE.
Following its meeting with the Cavaliers, Miami returns home to conclude the regular season with a Friday night contest against Boston College. Action is scheduled to begin at 6 p.m., broadcast live on ACC Network from the Watsco Center.
To keep up with the University of Miami men's basketball team on social media, follow @CanesHoops on Twitter, Instagram and Facebook.
The 2020-21 Miami Hurricanes men's basketball season is presented by First National Bank.