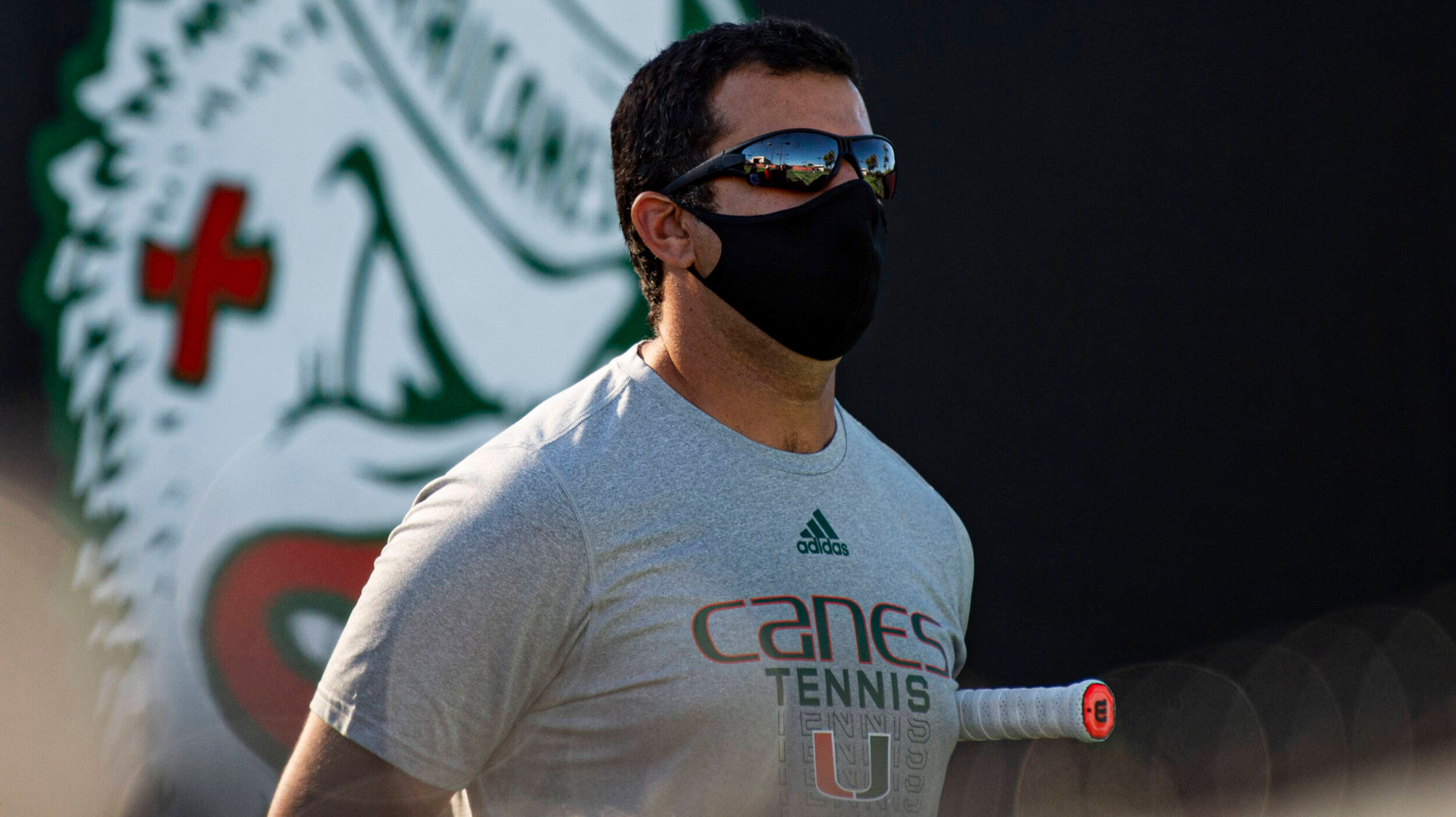 CORAL GABLES, Fla. – The University of Miami women's tennis team has played a particularly difficult schedule thus far, despite league play not yet beginning.
All four of the Hurricanes' matches have come away from home, with three on the road. Three of the contests have come against top-25 opponents, including two true road affairs versus top-20 foes.
Through all that, Miami (2-2) has some distinct positives, but also showcased some areas where work can be done.
"I think we are doing well overall, but there are always things to improve on," Miami associate head coach Alex Santos said. "I think at Miami, we like to use the word 'greedy' in trying to be the best we can be and win every single point … when we play dual matches as a team. I think we have played some of the best teams in the country and we have shown that we are very competitive, but there is room for improvement. Every single day, there needs to be a sense of urgency trying to capitalize on that improvement."
The Hurricanes have ACC play on the horizon, with conference play beginning this weekend. They play Saturday at No. 12 Georgia Tech and then Sunday at Clemson.
From that point forward, 13 of Miami's 15 remaining scheduled matches will be against league competition.
To Santos, the decision to schedule such tough foes early in the season is only going to help the Hurricanes once they begin play in a league that features six of the ITA's top 15 teams.
"I think the better competition you play, the better you will be prepared," Santos said. "…Having teams and players that challenge you and are trying to expose your weaknesses, while you are trying to expose their weaknesses and play with your strengths, that will, at the end of the day—if you stay positive, if you stay confident, if you stay resilient and you really take that as an opportunity to bring the best out of you—that will be your best chance to put your best team out there and for the players to develop individually and as a team. So, as of right now, I do think that we made the best decision in playing such a tough schedule and we just need to keep taking advantage of every single match."
Although in his first season as the Hurricanes' associate head coach, Santos is in his 11th year coaching in the ACC and certainly has a good feel for the league.
The Oeiras, Portugal, native previously spent four seasons (2009-13) working for Paige Yaroshuk-Tews at Miami and another six (2013-19) as the head coach at Pittsburgh.
Santos also spent the 2019-20 season coaching at Baylor and has an excellent understanding of the sport on a national level.
"ACC tennis is—if I could describe it one word, I would say 'elite.' It is one the best conferences in the country, if not the best, in women's tennis," Santos shared. "Every single week you have to be ready because [you are facing] the best teams, the best players, some of the best coaches in the country. Every match will challenge you, will push you and will hopefully bring the best out of you. So, I would definitely say it's an elite conference where, on a weekly basis, you'll be challenged and you'll have to bring your 'A' game in order to have a chance to win."
Miami's final outing before the start of conference play came last Saturday afternoon in Orlando, Fla., against UCF, then ranked No. 20 and now No. 18. The Hurricanes dropped a 4-0 decision at the USTA National Campus, but the score was a bit deceiving.
In doubles, Miami was two points away from victory on Court 3 when UCF clinched the opening doubles point on Court 2. There, the Hurricanes just narrowly missed leveling the score at 5-5 and instead fell, 4-6.
Then, in singles, Miami had a one-set lead in all three remaining matches, including on Court 1, where Estela Perez-Somarriba was one game away from victory.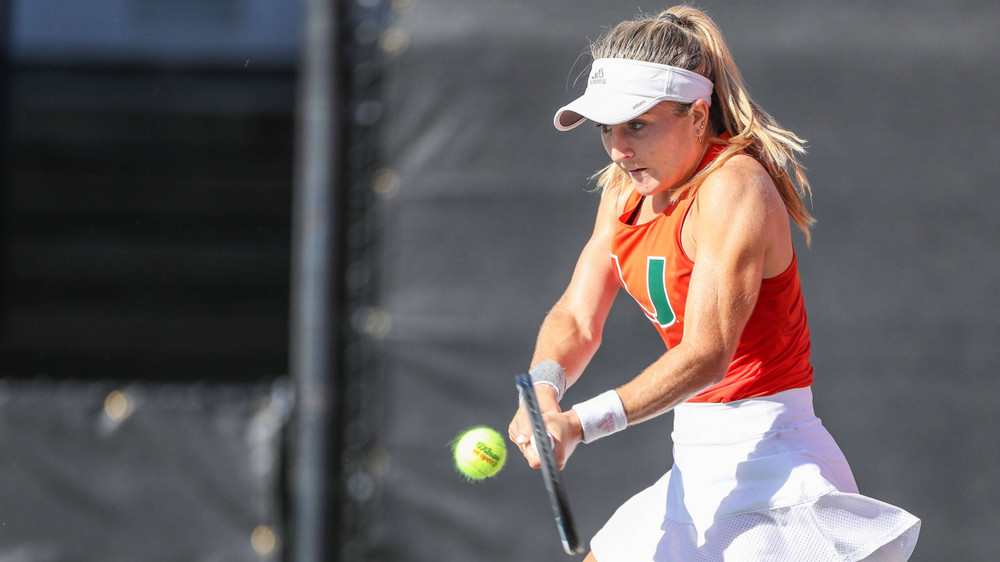 It is for those reasons Santos, while unsatisfied with the defeat, knows there needs to be some nuance when evaluating the team's performance against the Knights.
"Obviously, the end result wasn't the one that we were looking for. I do think that it's all about perspective," Santos said. "In doubles, we had 5-4 up on one court [with UCF serving at] love-30. We were a couple balls away from making it 5-all on court number two. At that point in time, momentum would have completely changed [and gone] our way. In singles, their courts came before our courts. Eventually, we could have been in a match where we would have beaten three of them in singles.
"So, I do think that it's all about perspective. You can be as close or as far as you want," Santos continued. "As long as we compete as hard as we possibly can on every single court and we use every match as an opportunity to capitalize—we won't be able to get better if we don't and that will earn big dividends if we do—I think we'll keep improving and at the end of the season, we'll be proud of ourselves."
Miami's next chance to show improvement does came Saturday with the start of ACC play. The Hurricanes square off with the Yellow Jackets at noon at the Ken Byers Tennis Complex in Atlanta.
Georgia Tech is 7-4 on the season, with all four of its losses coming to top-15 teams. It also sports two wins over top-15 foes.
Head coach Rodney Harmon, who led the Miami men's tennis program from 1995-97, has a trio of ranked singles players on his roster in No. 13 Kenya Jones, No. 56 Victoria Flores and No. 123 Gia Cohen. In doubles, Flores and Jones form the nation's fifth-ranked pair.
"They are a very strong team playing with a lot of confidence. [They have a lot of] individual talent, but also, obviously, are very deep with their level of talent and with their skill," Santos commented. "So, it will definitely be a challenge, but a challenge that we can overcome, if and when we go there with a mindset of being able to compete on every single point and wanting to [compete] until we get the results we want to obtain."
Miami owns a 14-12 all-time record against the Yellow Jackets, including a 6-4 ledger on the road and an 11-2 mark over the past 13 matches. The Hurricanes notched a 5-2 road triumph on Feb. 14, 2020, over then-No. 17 Georgia Tech in last season's affair.
After taking on the Yellow Jackets, Miami has under 24 hours to prepare for its next outing, which comes Sunday at noon at The Duckworth Family Tennis Facility in Clemson, S.C.
The Tigers are 4-3 on the young season and do not have any players in the ITA rankings in either singles or doubles. They do, however, have a first-year head coach in Christy Lynch.
"Obviously, [she] has been in the ACC before," Santos said. "She was the assistant at Georgia Tech for a long period of time. It will be a very competitive match and we'll have to be ready."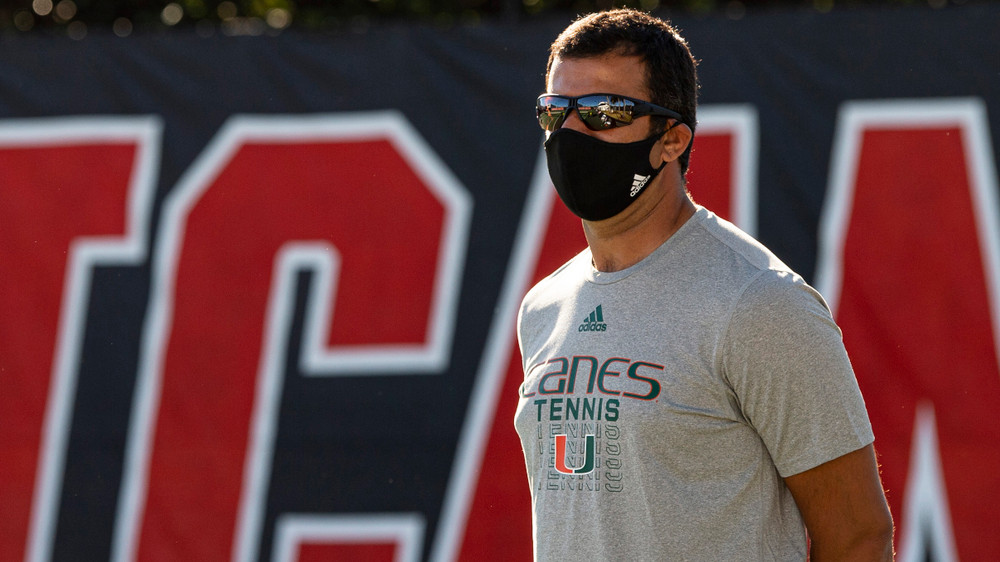 The Hurricanes are 31-4 in their series with Clemson, including 12-1 on the road. They have won 19 straight matches over Clemson, dating back to 2001.
Due to the early cancelation of the 2020 season, the two sides did not meet last year, but Miami took a 6-1 decision on March 29, 2019, in the last matchup between the programs.
The Hurricanes head into the weekend with a trio of ranked singles players, led by Perez-Somarriba at second in the nation. She is followed by Daevenia Achong at No. 87 and Selma Cadar at No. 102. Miami does not have any doubles duos on the ITA's list.
Live video and live stats for the Hurricanes' match at Georgia Tech will be available HERE, while live video and live stats for the outing at Clemson can be found HERE.
To keep up with the University of Miami women's tennis team on social media, follow @CanesWTennis on Twitter, Instagram and Facebook.