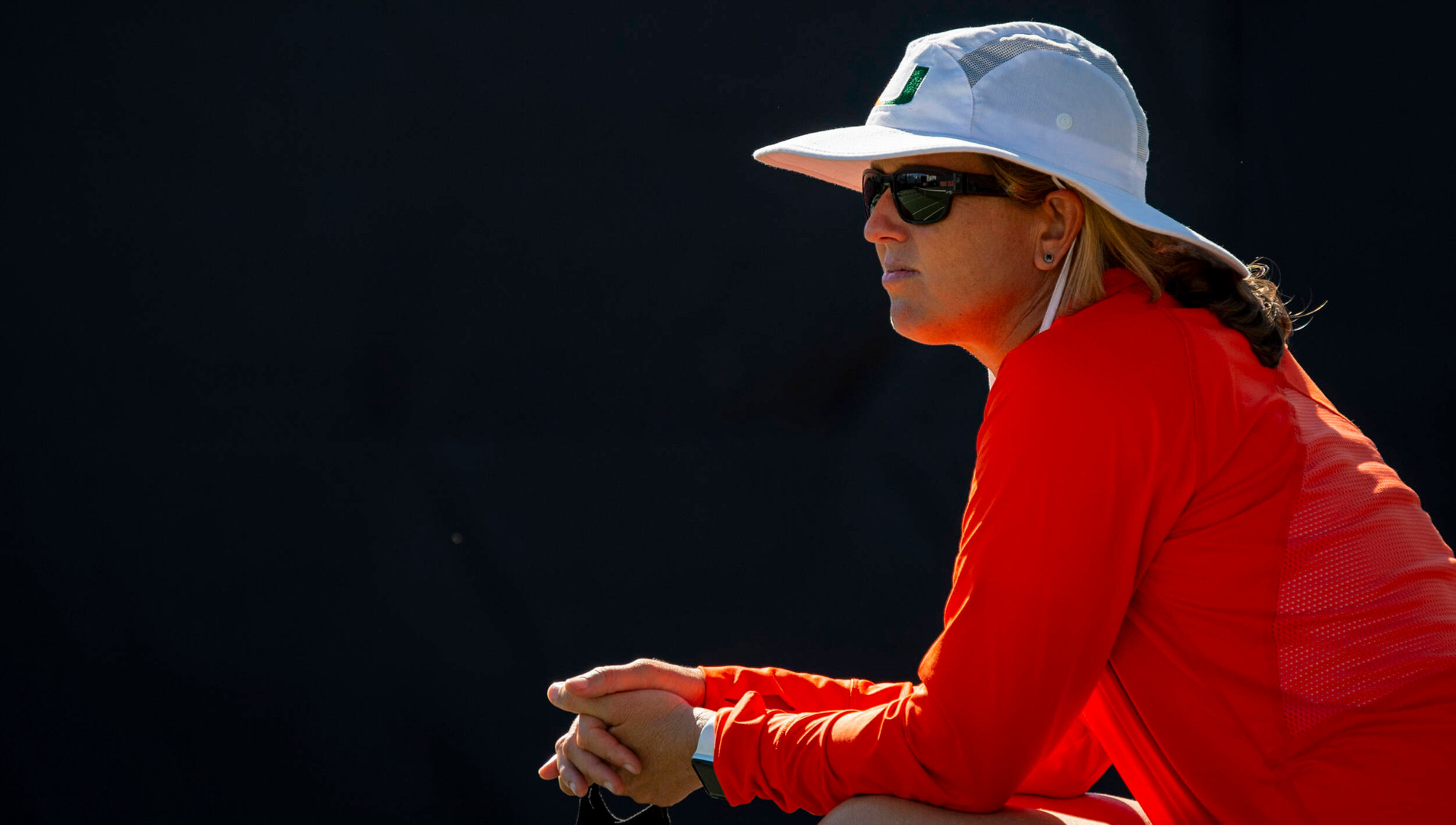 CORAL GABLES, Fla. – Sometimes early in a season when a team faces a big-time opponent or two, a coach learns valuable lessons about his or her squad.
Other times, what happens on the court just confirms what the coach already knew.
For University of Miami head women's tennis coach Paige Yaroshuk-Tews, the Hurricanes' matches against then-No. 23 Ole Miss and No. 15 Vanderbilt two weekends ago in Nashville, Tenn., fit into the latter category.
"I really, truly didn't learn anything about my team. I kind of had a really good idea of the pulse of where we were and I think we were pretty true to that," Yaroshuk-Tews said. "I think in some spots we were … [in need of] some more competitive match play. In other spots, we've had pretty competitive match play. So, I think those spots will only get even brighter. The addition of Bella [Pfennig] has undeniably been a positive for our program. She's going to really develop into, I think, a really good college tennis player. I kind of knew where we were going into [that weekend]. What I don't know is where there other teams are."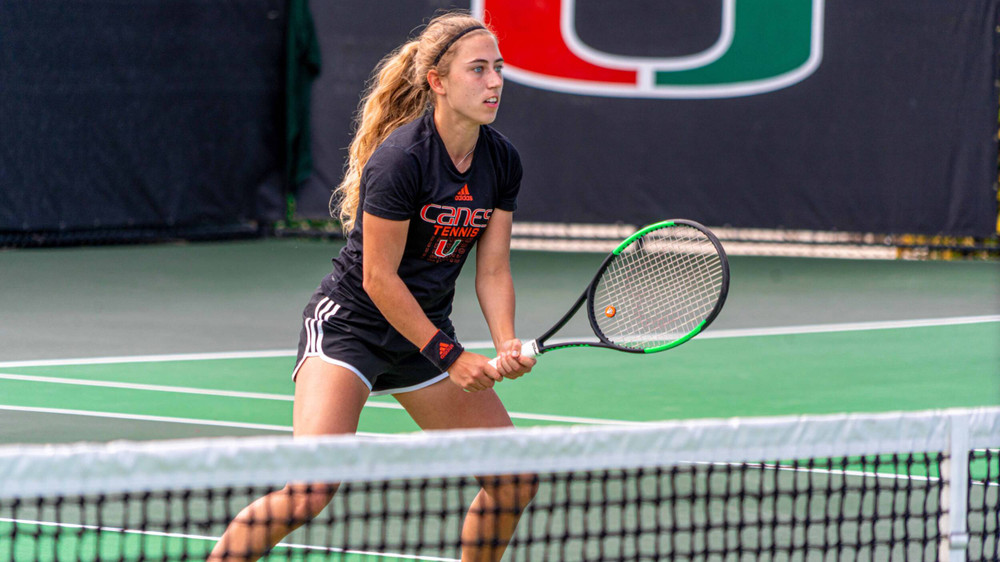 The 20th-year Miami coach saw her team earn a 4-3 win over the Rebels in a marathon match that came down to a third-set tiebreaker in the top singles spot and then, one day later, drop a 5-2 decision to the homestanding Commodores.
A key component in the Hurricanes' Jan. 29 victory over Ole Miss was its doubles performance, as Miami (2-1) won all three matches, including taking down a pair of ranked foes. With the teams splitting the six singles contests, the doubles point proved to be the deciding factor.
The following day, however, Miami fell short of the opening point, as Vanderbilt took both completed matches, making the singles task that much more difficult.
"I think we're doing a good job of playing on our terms. The reality is we did one day, though. We did it against Ole Miss. We didn't necessarily do that against Vandy," Yaroshuk-Tews said. "Women's doubles is funny. You have no shot if you play defensive tennis. You have absolutely no shot of being successful, whether we're playing a really good doubles team or an average team. You really don't have a shot if you play defensively because the better teams are playing offensively.
"So, we're trying to get that across to the girls," Yaroshuk-Tews continued. "We're trying to have them understand the impact of playing on our terms, taking balls on the rise, making more moves, just going after it and not waiting for things to happen. Look, like I said, solid against Ole Miss. We didn't really see it against Vandy. Hopefully, we'll see it against UCF."
The Hurricanes' matchup with the Knights is next up on the docket, as the teams are scheduled to square off Saturday at noon at the USTA National Campus in Orlando, Fla.
Miami is 11-0 all-time against UCF, but every meeting has come in Coral Gables and only one—a 4-3 triumph in the 2018 NCAA Team Championship Round of 32—is within the past nine seasons.
Yaroshuk-Tews knows the series history between the two sides is out the window when they meet on Saturday, as the Knights enter with a No. 20 national ranking after stringing together a bevy of strong seasons the past few years.
"UCF is a very talented team. They have solid players at the top of their lineup. They're a good team. They're a legitimate, in my opinion, top-20 team in the country," Yaroshuk-Tews said. "We're playing at their facility, playing away. I think we're talented. I think it's going to come down to details. That's what we've been talking about, that's what we've been focusing on. I think that's something that is completely within our control. Some of it will depend on matchups; we'll see what the lineups look like. But it's going to come down to just details. It's going to be [extremely competitive] … for sure because I know both programs are feisty, athletic, energetic teams."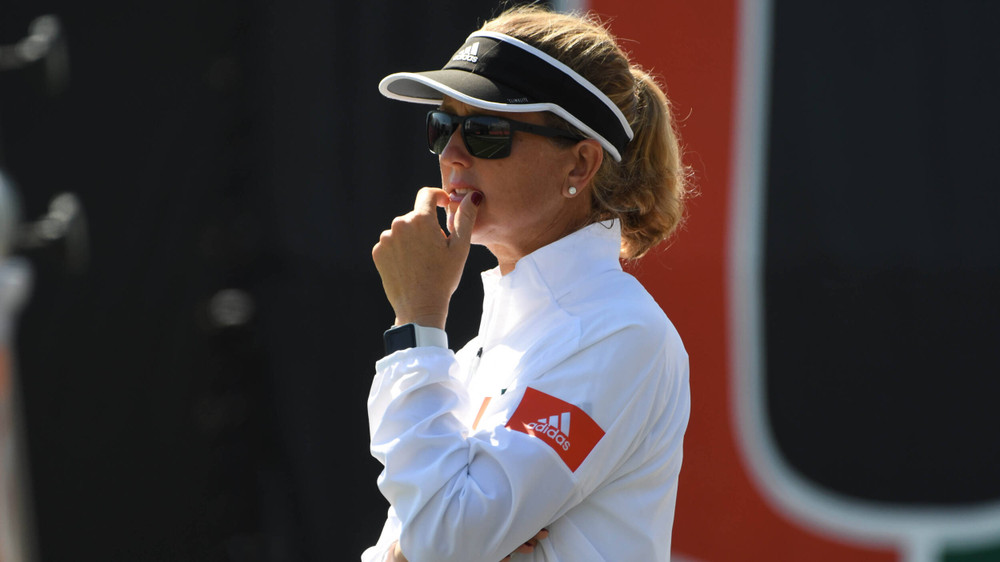 The Knights are 5-2 on the young season, including 4-0 at home and 2-0 against seven-time NCAA champion Florida. Their two losses came in their first two matches of the season, both in Raleigh, N.C., against top-20 teams from the ACC in then-No. 16 Wake Forest, 4-3, and then-eighth-ranked NC State, 4-0.
UCF has four players featured in the ITA singles rankings, with Rebeka Stolmar at No. 42, Valeriya Zeleva at No. 67, Marie Mattel at No. 72 and Evgeniya Levashova at No. 95.
In doubles the Knights have two ranked pairs, as Mattel and Stolmar come in at sixth nationally, followed by Zeleva and Ksenia Kuznetsova at No. 60.
"Every match that we get to play, we're so happy to have," Yaroshuk-Tews shared of facing the quality in-state foe. "Look, we haven't played UCF in a dual match [very recently], but we've seen UCF in regional competition and other types of competition. We've had some battles and we've had some blowouts, both ways. I think we have a lot of respect for them. Hopefully they have a lot of respect for us and we go play a fun match."
The Hurricanes head into the weekend with a trio of ranked singles players in Estela Perez-Somarriba at second in the country, Daevenia Achong at No. 87 and Selma Cadar at No. 102. Miami, set to play its third straight top-25 foe, does not have a ranked doubles duo.
For Perez-Somarriba, who defeated Levashova—then at Pepperdine—to win the 2018 Oracle ITA Masters title, the matchup with UCF comes at a facility at which she has fond memories. In May 2019, the Madrid native claimed the NCAA Singles Championship crown at the USTA National Campus and sports a 13-0 overall singles record there.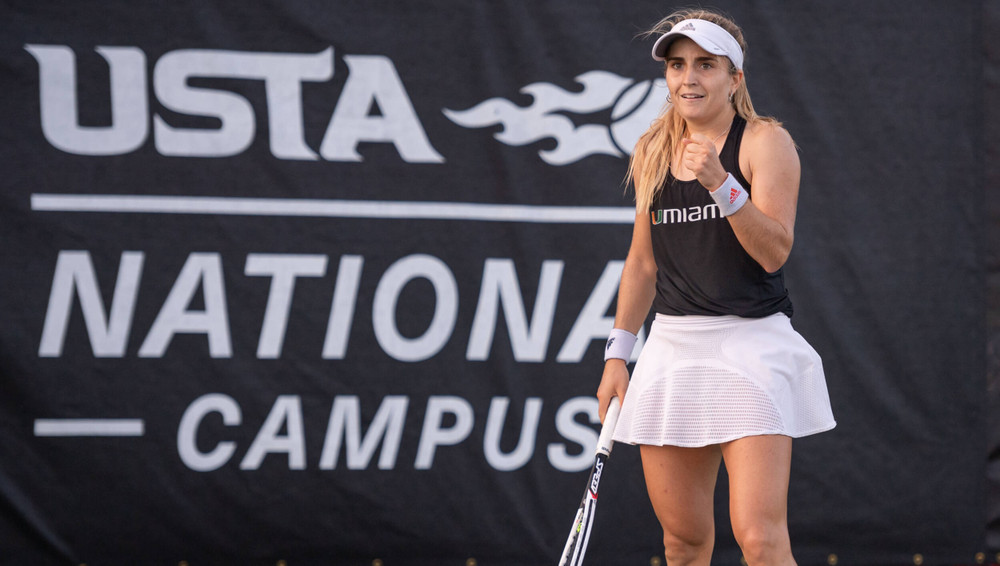 Although it has nostalgic vibes for Perez-Somarriba, it is also one of the finest facilities in the country and just three Hurricanes—Achong and Cadar are the others—have played there before as collegians.
"I think going and playing at the National Campus is a great experience for anybody, for any level of player," Yaroshuk-Tews said. "I think that playing at the National Campus is fun and it adds another dimension to what we do every day. I think that the girls will have fun playing there just [because of] the fact that it's such a nice facility. The setup is six courts in a row. I'm sure the girls are excited."
Unlike the preparation for the trip to Nashville when Miami played its second and third matches in an eight-day span, the Hurricanes have had ample time to get ready for this Sunshine State showdown.
The meeting with UCF will come exactly two weeks after Miami took on Vanderbilt, giving Yaroshuk-Tews' team the opportunity to further prepare in this young season.
During that time, there have been some particular areas the two-time ITA Southeast Region Coach of the Year has turned her attention to and she has enjoyed doing so.
"At a few spots, we truly just kind of needed to improve the mentality, the physicality, the focus, the understanding that this is happening. We're actually here and we're actually doing this. We need to start doing it a little bit better. That's what I've been focusing on the last two weeks," Yaroshuk-Tews shared. "We've got a great group of girls. We've got a young group of girls. So, it's really fun. We're still kind of molding that clay. These kids, they are so young. Our group is, obviously, led by Stela and Daev, but after that, we've got kids that this is a first-time situation for so many of them. So, as coaches, it's fun because … we're implementing a lot, we're teaching a lot. That's what I enjoy about the job.
"Listen, we're excited to get out there and just get on the road and spend time together," Yaroshuk-Tews added. "This is the only time we really get to stay together as a team for any long period of time."
Live video for the Hurricanes' matchup with UCF will be available HERE, while live stats can be found HERE.
To keep up with the University of Miami women's tennis team on social media, follow @CanesWTennis on Twitter, Instagram and Facebook.