Feb. 8 | 7 p.m. | ESPN
Dean E. Smith Center | Chapel Hill, N.C.
Miami (7-11, 3-10 ACC) at North Carolina (12-6, 7-4 ACC)

CORAL GABLES, Fla. – There is no way around it. Saturday's loss for the University of Miami men's basketball team was a devastating one.
After rallying from an 11-point deficit in the final eight minutes, the Hurricanes held a three-point lead on No. 16 Virginia Tech with 2.4 seconds left at the Watsco Center after a would-be dagger 3-pointer by sophomore guard Isaiah Wong.
The Hokies, though, hit a game-tying triple at the other end to send it to overtime and then earned an 80-76 victory in the extra session. Making the setback even more frustrating for Miami was the possibility Virginia Tech sophomore guard Hunter Cattoor stepped out of bounds on his buzzer beater.
Regardless of whether his foot was on the line, it does not change the painful outcome for the Hurricanes, who were just moments away from their second top-20 win of the season and instead went to the locker room gutted.
With nearly a half-century of coaching experience, few know better how to handle a heartbreaking loss—or, for that matter, an exhilarating victory—better than Miami head coach Jim Larrañaga. However, the key ingredient in doing so is something his Hurricanes simply do not have.
"Well, in most cases, you need time. There is a way to put the win or loss behind you and start preparing for the next game," Larrañaga said. "Unfortunately, we don't have a lot of time and we have no preparation … and [we are very] shorthanded. The guys who did play, played a ton of minutes [and so] we are not practicing today. We're trying to recover physically from a very well-played, very competitive overtime game and we have to travel, which also zaps your energy. So, the best thing we can do is—physically, mentally and emotionally—just try to recharge our batteries. We'll start preparing for North Carolina this evening when we're in North Carolina."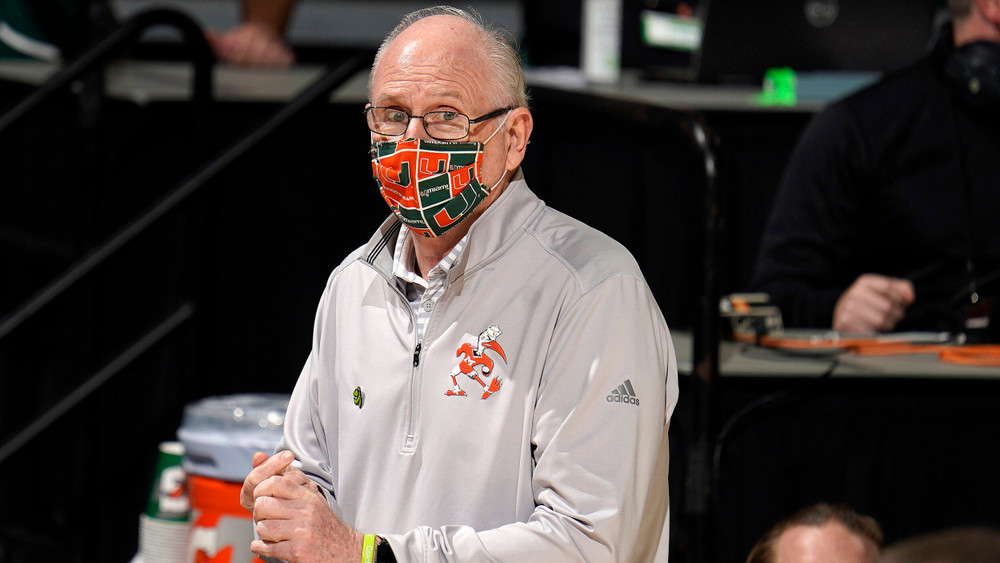 The Hurricanes' matchup with the Tar Heels is Monday night at 7 p.m. at the Dean E. Smith Center in Chapel Hill, N.C.  Tip-off comes under 51 hours after Miami wrapped up that thrilling game against the Hokies, in which five Hurricanes played 38-plus minutes.
Senior guard Elijah Olaniyi scored 19 points on 6-of-11 shooting in a career-high-tying 41 minutes, while Wong totaled 19 points, eight rebounds and six assists in 40 minutes of action.
Redshirt senior guard Kameron McGusty scored 18 points in 41 minutes and redshirt senior center Nysier Brooks logged a 10-point, 12-rebound double-double in a career-best 39 minutes. Sophomore forward Anthony Walker played a career-high 38 minutes in the setback.
One positive for Miami is that, while it may not have much time to prepare physically or mentally for the Tar Heels, it does have some familiarity with them already. The two teams met Jan. 5 in Coral Gables, with North Carolina earning a 67-65 victory on a game-winning shot in the closing seconds.
"Whenever you play someone for the second time, you can reevaluate your game plan to see if you felt that it was effective or if you need to make several adjustments," Larrañaga shared. "In this case, we don't really have time to make any adjustments. Carolina is dramatically improved. Their younger players are really coming on. It's going to be a matter of how many healthy bodies we can put out there and [if we can] execute a very similar plan to the one we had the first time around."
Larrañaga has certainly found a strategy that works well against North Carolina, as he owns a 7-11 mark versus the powerhouse Tar Heels in his career, including a 6-10 ledger at Miami. The Hurricanes are 8-26 all-time in the series, including 4-12 on the road.
Prior to Larrañaga's arrival, Miami was 2-16 versus North Carolina and 1-8 in Chapel Hill, a stark contrast to the success during the two-time ACC Coach of the Year's tenure. In fact, Miami is one of three teams—Duke and Virginia are the others—with at least six wins over North Carolina in the past decade and one of the same three with at least a trio of road triumphs.
All that said, the Miami coaching staff can certainly enter Monday's game with confidence in its emphases for the matchup, even if does not have much time to readjust anything.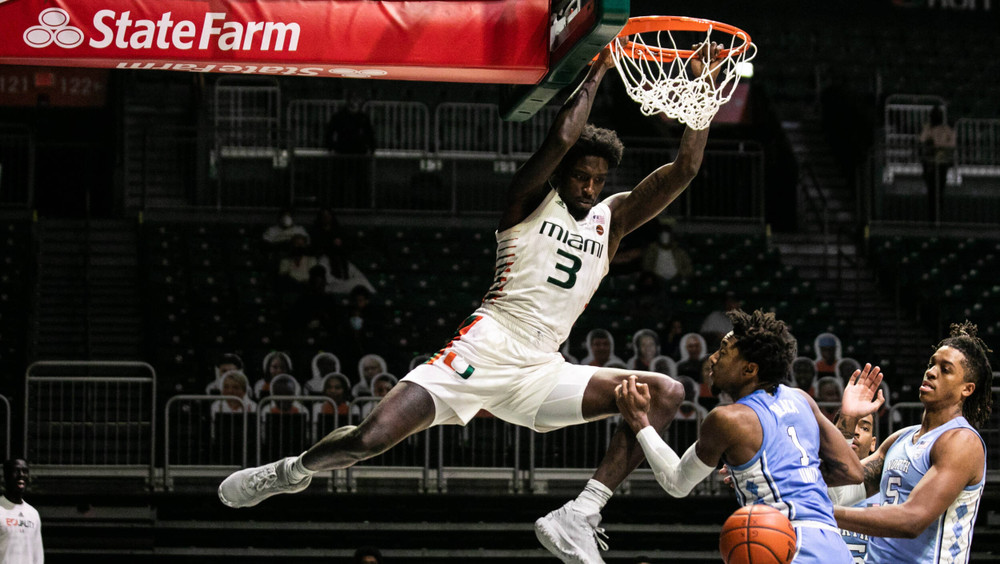 "Our game plan against Carolina the first time around was very, very similar to the game plan every time we play them," Larrañaga said. "That is to try to prevent the five-second layup and the tremendous inside scoring around the rim, either with jump hooks or offensive rebounds. Those will be two of our main focuses this time around, as well."
The Hurricanes' second consecutive Big Monday affair will be televised live on ESPN HERE, with Sean McDonough and Jay Bilas on the call. Joe Zagacki and Danny Rabinowitz will have the radio broadcast on 560 The Joe WQAM HERE, while live stats for the contest can be found HERE.
After taking on the Tar Heels, Miami has five days off before a road outing against Notre Dame, with action set for Sunday at 6 p.m., live on ACC Network from Purcell Pavilion in Notre Dame, Ind.
To keep up with the University of Miami men's basketball team on social media, follow @CanesHoops on Twitter, Instagram and Facebook.
The 2020-21 Miami Hurricanes men's basketball season is presented by First National Bank.