CORAL GABLES, Fla. – After winning six straight matches, including a sweep of a top-25 rival, the University of Miami men's tennis team was hitting its stride midway through the 2020 campaign.
A battle with second-ranked North Carolina loomed, so then-No. 21 Miami took the Neil Schiff Tennis Center courts on March 12 looking to fine-tune a couple areas before officially welcoming the Tar Heels to Coral Gables.
Just hours after exiting the courts, the news around the college world struck and the team was informed the season would be canceled for the remainder of the year due to the ongoing COVID-19 pandemic.
Fast-forward 329 days, the Hurricanes returned to their home court for one final dress rehearsal Saturday morning, as the Canes are set to welcome No. 18 UCF to the Neil Schiff Tennis Center Sunday at 1 p.m.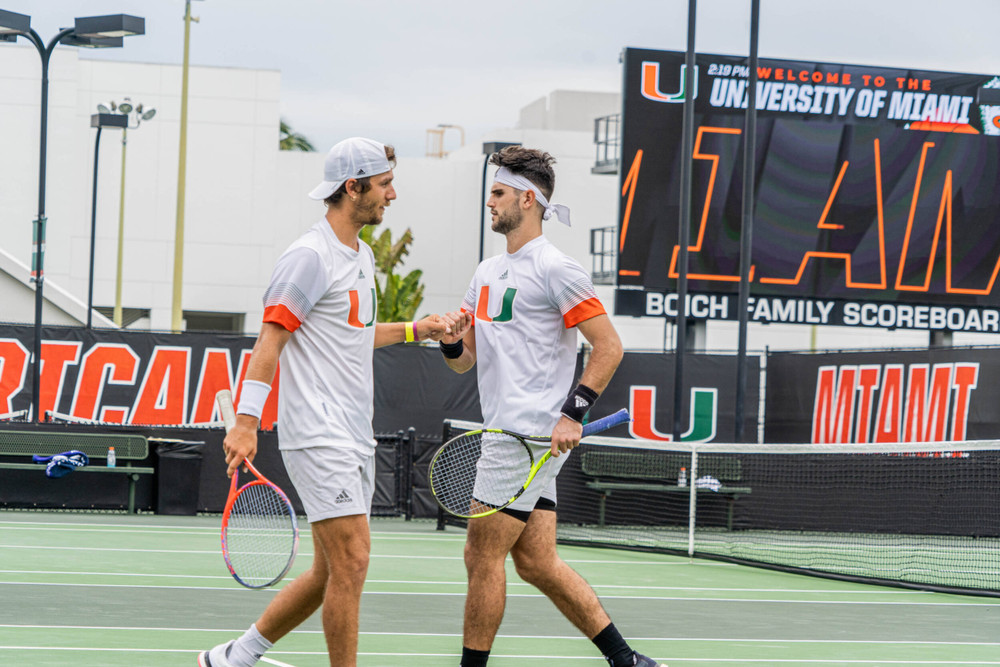 "It's just exciting to be back and competing," Miami head coach Aljosa Piric said. "This year has been like no other year, in my lifetime. I know that our guys have not competed since we played our last match here, almost a year ago now, against Florida State. Their preparation has been way different then in the past, but we have tried to do our best with the guidelines we have been given and are just looking forward to playing."
Sharing Piric's enthusiasm, Bojan Jankulovski entered Saturday's practice with jubilation and said, "I am excited for tomorrow." The senior then added with a laugh, "It has been a minute."
One of five returning upperclassmen, joining Jankulovski on Miami's veteran-led squad are seniors Benjamin Hannestad, Stephen Madonia and Adria Soriano-Barrera, as well as junior Franco Aubone.
Meanwhile, set to make their UM debuts against the Knights, graduate transfer Stefan Milicevic and junior transfer Oren Vasser bring additional experience to Miami, while Patrick Sebastian is the Hurricanes' lone freshman on the roster.
"As a team, we are just exited to play and I know our guys are excited to compete," Piric said. "We just want to go out there and enjoy the competition, enjoy the things we love to do. I think that is the message for this year. After having gone through everything we have gone through, there is an appreciation in the things we have and an appreciation in the opportunity to go out there doing what we love to do. And that is really the goal. To go out there and compete. Compete hard and enjoy it. Not just tomorrow but for the season as a whole."
Overall, a quartet of Hurricanes open the season ranked in the ITA polls, led by the dynamic duo of Aubone and Hannestad, sitting at No. 22 in the preseason doubles rankings.
In singles, Soriano Barrera leads the charge at No. 34, while Milicevic enters the year ranked No. 64.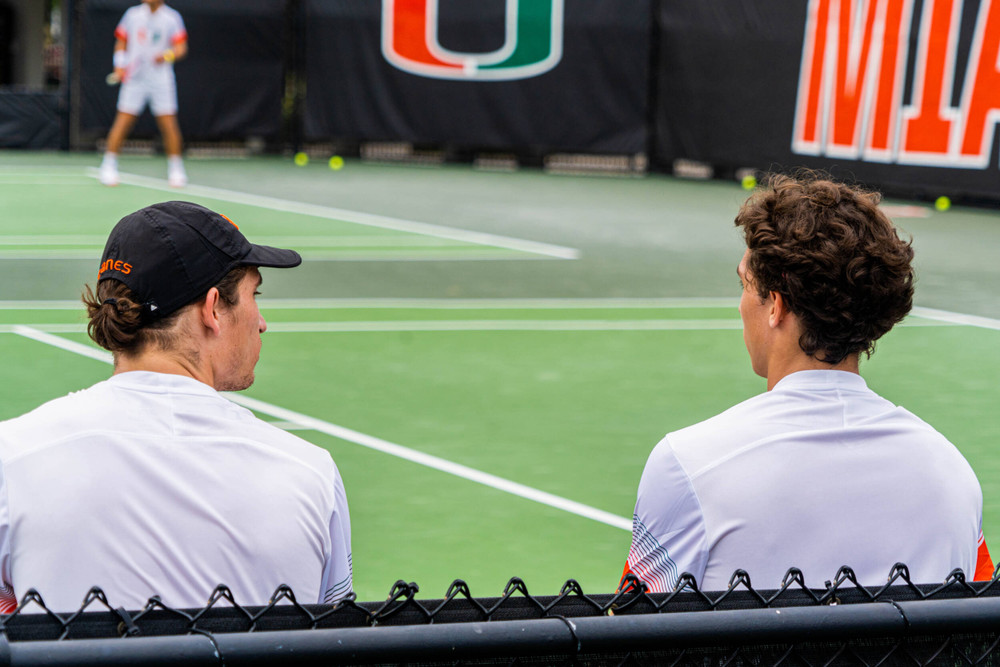 Facing an equally talented UCF team on Sunday, the Hurricanes are excited to be back on their home court where they have found success over the past three seasons.
Since the start of the 2018 season, Miami owns a 29-3 home mark, a ledger that includes 17 shutout victories.
But for that success to continue, Aljosa and the Hurricanes know they will have to come out ready to play and bring endless energy and intensity to the court.
"UCF is a really good team. They are very talented and are a veteran team now. It is going to be a very tough challenge," Piric said. "I mean, for this to be the first match after almost a year off, it is a very tough match. But, we are excited. We are at home and our guys are super excited to play. I know our adrenaline will be kicking in, so I am excited to see what happens. But it is going to be a really tough match, as UCF is one of the best teams in the country."
The Knights, coached by John Roddick, enter Sunday's affair with a 1-1 mark on the season, splitting its pair of home openers with No. 11 Florida (L, 5-2) and South Florida (W, 6-1).
UCF boasts two ranked singles players and a top doubles tandem. Gabriel Decamps and Juan Pablo Grassi Mazzuchi team up to make the nation's No. 12 pair, while Decamps is ranked individually at No. 16 and Grassi Mazzuchi checks in at No. 52.
Fan attendance at the Neil Schiff Tennis Center for Miami home games will be limited to immediate family members of the participating teams.