Feb. 6 | 12 p.m. | RSN
Watsco Center | Coral Gables, Fla.
Miami (7-10, 3-9 ACC) vs. No. 16 Virginia Tech (13-4, 7-3 ACC)

CORAL GABLES, Fla. – Sam Waardenburg is one of eight members of the University of Miami men's basketball team to miss time this season because of injury.
Just three of the team's 11 scholarship players have not been sidelined at one point or another. Six have missed multiple games, with four out for 10-plus contests.
The only one, though, who knew going into the season he would not be playing is Waardenburg. The redshirt senior forward suffered a left foot injury in late October that ended his 2020-21 campaign before it even began.
While certainly disappointed he would be unable to suit up for the Hurricanes, the timing of the injury did allow Waardenburg to come up with a new focus entering the year.
"I had a little a bit of time before the season started to reflect on how I'm going to approach it and whatnot," Waardenburg shared. "Going into it, I was just making sure I'm talking to the coaches, talking to Coach L and preparing for whatever I do after this season, if I stay or if I leave. Just trying to learn the game from the coaches' perspective much better and just get a better IQ and understanding for the game. I've been watching a lot of film … and just picking at Coach L, coach Caputo, coach Fish, BC and coach Franklin's brains. How can I be a better player while not playing? That's been a big emphasis of mine."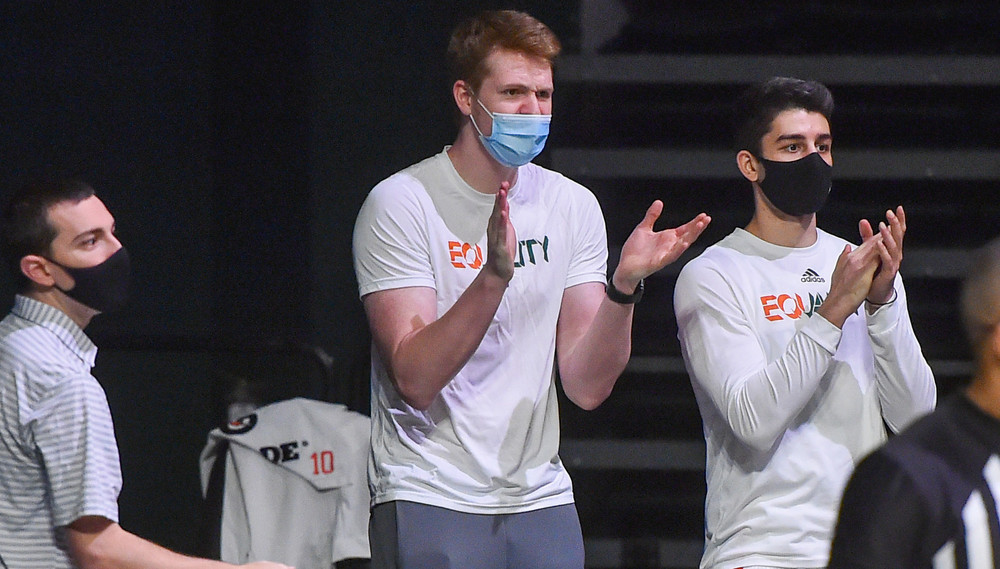 Due to the bevy of injuries—eight players have totaled 65 missed games and four additional early departures due to injury—Miami (7-10, 3-9 ACC) has not quite had the season it anticipated.
As CBS Sports' Jon Rothstein tweeted after Miami defeated Duke, 77-75, Monday night, the "Hurricanes could have won the ACC regular season title this season if they had no injuries."
It would be understandable if Waardenburg was discouraged about his inability to help his team while it has, at times, struggled due to depth issues. However, the big man has done his best to avoid displaying that to others and instead concentrated on being the best teammate possible.
"I never want to show it to the guys, any frustration whatsoever, because at the end of the day it's trying to help them on the court, just tell them what I've been learning, what I see," Waardenburg said.  "You do see a lot of different things that you don't see when you're on the floor. So, [I am] just trying to help them out, particularly the younger guys … [and these injuries are] hard, but it's out of our control and you've got to stay positive."
Waardenburg's commitment to helping his teammates has been evident since the day the season began, if not before it.
More so than in any of his prior four years with the Hurricanes, he has been a vocal presence in myriad ways. From sideline enthusiasm to speaking in huddles to one-on-one conversations, Waardenburg has stepped into a leadership role this season despite his injury.
That, however, is not a coincidence.
"I never thought of myself as a vocal leader. I wouldn't say still it's my strong point. I've always found if I'm going to lead guys, I'm going to be the hardest-playing dude on the floor and hopefully bring some guys with me to step up and play 110 percent, [to lead that] kind of way," Waardenburg shared. "I've always kind of led by doing something, but obviously you can't do that when you're sidelined. That's another thing that I've tried to improve on—it's been on my mind—trying to be more vocal and more [of a] vocal leader to this team … and it's a learning experience. That's something my dad's always told me; no matter what happens in life, try to learn something from it. And that's held with me forever, really, and that's what I'm doing this season."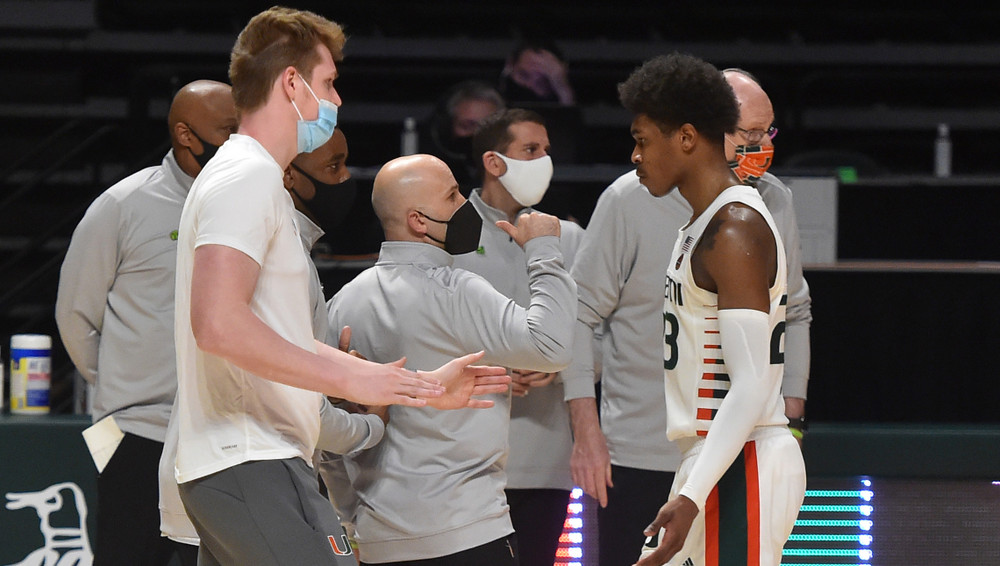 Waardenburg's leadership from the sideline was evident once again on Monday night, as he helped his team, even from his off-court position, defeat the Blue Devils.
The triumph snapped a four-game skid during which the Hurricanes twice played just six scholarship players. It also marked Miami's sixth win over Duke in Larrañaga's 10-year tenure, a mark greater than every program in the country other than North Carolina, which plays the Blue Devils twice a year.
"They're a historic program. Duke, I think they always know that they have a target on their back every year. It's just always fun to play them. They came with a great game plan; we had a great game plan of our own and we really executed it," Waardenburg said. "We ended the first half a little shaky, but we've had that and we've come back from that in previous games. I think the attitude of guys at halftime and the drive that you could see and the communication that we had from the players and the coaches [was great]. Every guy really wanted that one and it was a great game."
The mood at the break was certainly important, as the Hurricanes retained their positivity despite Duke closing the first half on a 10-2 run.
There was more, though, that went on in the locker room that helped turned the tide for Miami when the second session got underway, particularly from a strategy standpoint.
"Ending the first half, they dropped into a zone. We struggled with that, but we had a good game plan at halftime," Waardenburg commented. "We came out and executed in the second half, we got in and fed it in to the post. Deng [Gak] had a couple cuts to the basket, got a couple dunks off that. That was really working for us. We tried to emphasize that and it worked out for us."
Gak, whom Waardenburg said did "an amazing job" against the Blue Devils, finished with six points, four rebounds and two assists.
Sophomore forward Anthony Walker had 16 points on 6-of-9 shooting and sophomore guard Isaiah Wong had 16 points on 6-of-10 shooting. For the former, the 16-point total was the second-highest of his career and the six made field goals set a new top mark.
It was senior guard Elijah Olaniyi, though, who led the way for Miami. After missing the prior two games with a left shoulder injury, the Stony Brook transfer scored a season-high 21 points on 8-of-10 shooting. He also grabbed seven rebounds and notched three steals in the victory.
"Elijah, he came back and he did an amazing job for us," Waardenburg said. "He's a big part of this team. He's a very big leader, very vocal. He was just amazing to be out there and just help pull that one through for us."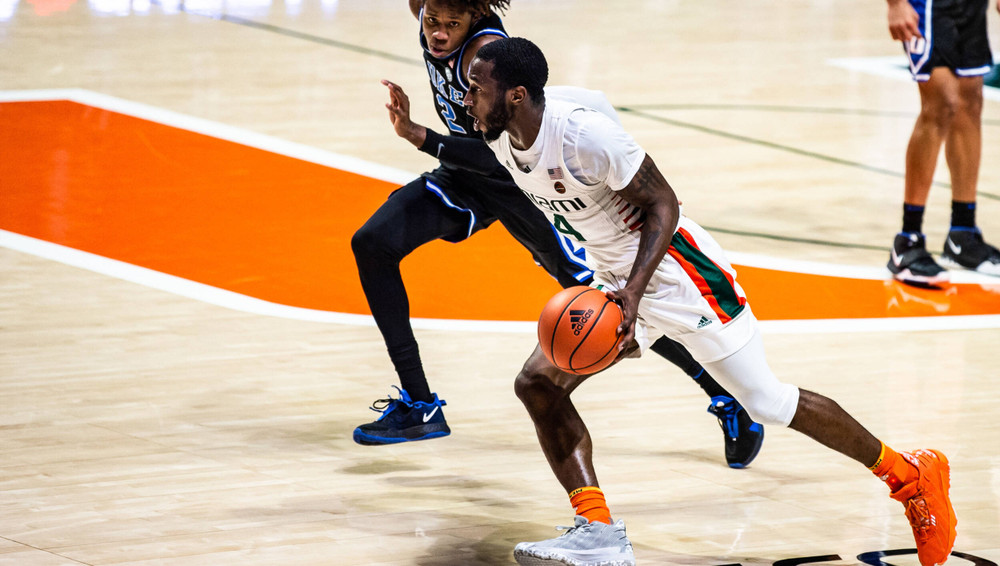 Next up for Waaardenburg, Olaniyi and the Hurricanes is a matchup with No. 16 Virginia Tech. It will be the second time the teams play this season, with the Hokies, then ranked No. 24 in the AP Poll, taking an 80-78 decision Dec. 29, 2020, at Cassell Coliseum in Blacksburg, Va.
Miami trailed by 17 in that game with under 16 minutes to play before climbing nearly all the way back, as it cut the deficit to one with 28 ticks remaining.
Wong's 3-pointer in the closing seconds rattled in and out, giving Virginia Tech the home win, but the Hurricanes proved they could hang with the top-25 Hokies, even with a depleted roster.
"We had a great stretch. We really locked down defensively, we got them to turn the ball over a few times and we were able to run," Waardenburg shared of the second-half surge. "I feel like when we play great defense, our offense really thrives, as well. We were able to do that. We've shown that, as well, [like in the] second half against Purdue and against Louisville. We just go on these little stretches where we just play impeccable basketball. We play great defense and it really reflects on our offense, as well.
"I think a big key is just trying to extend that, not [having to] rely on those stretches. Try to keep it consistent," Waardenburg continued. "That's something that we have been working on. Also, I think, going into this game, a big thing that we're talking about is limiting turnovers a little bit. We lost by two last time. That's not because of a play that happens in the last five minutes of the game. That's because we turned the ball over in the first five minutes of the game."
The Hurricanes had a season-high 19 giveaways, including 11 before the intermission, in their first meeting with the Hokies, offsetting their season-best 53.6 percent clip from the field.
Another issue for Miami in that initial encounter was the play of Virginia Tech redshirt junior forward Keve Aluma, who finished with 26 points, good for the second-most of any Hurricane opponent this season.
As a face-up four man, Aluma is the exact type of player whom Waardenburg would be tasked with guarding if healthy. Although he will, of course, not be available to do so this time around either, the Auckland, New Zealand, native does have some ideas of what his team needs to do to slow down the reigning ACC Player of the Week.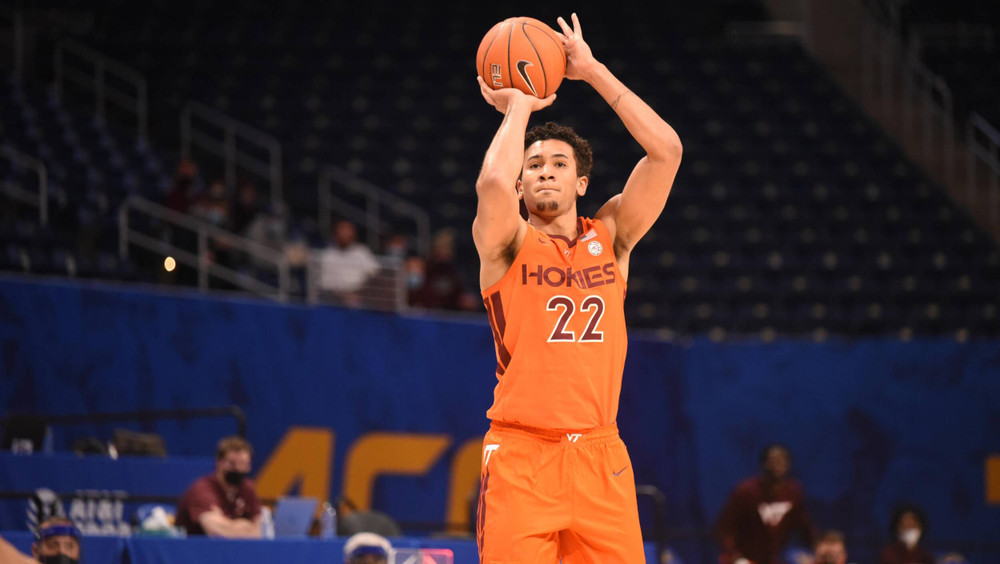 "Miami, we … have always done a pack defense. One guy guards the ball, four guys help him. So, it's not just one guy guarding Aluma. We've got the contain him," Waardenburg explained. "We can't let him do what he did last game, but it really starts with the little things. He's going to make some shots; he's a good player. He's going to do that, but it's limiting his rebounds on the offensive end. He had too many against us the last game. When he's in a pick-and-pop situation, obviously the guy guarding the ball screen, he's going to have the help the guy with the ball. We need that off-ball guy to help, to stunt him, make him uncomfortable.
"Again, it's team defense. We've watched a lot of film," Waardenburg added. "The other day … we all sat down together. We all watched every clip of our last game [against the Hokies]. Guys are really prepared to take it back to Virginia Tech and try to get this win. Every guy on the team, we weren't happy leaving Virginia Tech last time with that loss."
Despite that setback, the Hurricanes own a 24-18 all-time record versus the Hokies, including a 14-8 mark under Larrañaga. Miami is also 12-5 at home against Virginia Tech.
The Hokies head into the weekend at 13-4 (7-3 ACC) on the season, with Aluma leading the way in both points (15.7) and rebounds (7.7) per game. Virginia Tech was picked No. 11 in the ACC preseason poll after posting a 16-16 (7-13) record last season.
Miami's contest against the Hokies is part of "This Game is No Secret" weekend, which seeks to bring attention to the 1944 game when Hall of Fame coach John McLendon's team at now-NC Central defeated Duke, 88-44. It is part of an initiative to help create more opportunities in coaching for minorities. Additional information can be found HERE.
Saturday's matchup, which is Miami's third in seven games against a top-20 team, will be televised live on RSN—that is FOX Sports Sun locally—and FOX Sports GO, with Evan Lepler and Brian Oliver on the call. A full affiliate is available HERE and it can also be seen on WatchESPN, subject to blackout, HERE.
Joe Zagacki and Danny Rabinowitz will have the radio broadcast on 560 The Joe WQAM HERE, while action can also be heard on WVUM 90.5 FM HERE and in Spanish on WMYM 990 AM HERE. Live stats for the game can be found HERE.
After playing the Hokies, Miami has just one day off before its second consecutive Big Monday matchup, a 7 p.m. contest with North Carolina at the Dean E. Smith Center in Chapel Hill, N.C.
To keep up with the University of Miami men's basketball team on social media, follow @CanesHoops on Twitter, Instagram and Facebook.
The 2020-21 Miami Hurricanes men's basketball season is presented by First National Bank.