Jan. 24 | 6 p.m. | ACCN
Watsco Center | Coral Gables, Fla.
Miami (6-7, 2-6 ACC) vs. Notre Dame (4-8, 1-5 ACC)

CORAL GABLES, Fla. – Zone defenses have given the University of Miami men's basketball team problems this season. That is no secret.
Head coach Jim Larrañaga harped on it in his press conference after his team's 83-57 road setback Tuesday night against Syracuse, the team most commonly associated with playing zone.
The week prior, Boston College also played a significant amount of zone against Miami and earned an 84-62 victory. In between, however, the Hurricanes upset No. 16/18 Louisville, posting a top-20 victory against a man-to-man defense in a game they had just seven available scholarship players.
Up next for Miami is a Sunday night matchup with a Notre Dame team that plays zone on 26 percent of possessions, per Synergy Sports, and may well increase that mark against the Hurricanes.
"We just got to get in the lab and knock down shots," Miami sophomore forward Anthony Walker said. "At the end of the day, our shots aren't falling as a team from three. We just need to improve on that and we should be able to improve on that. There's a lot of season left."
Indeed there is, as the Hurricanes are only about halfway through the condensed 2020-21 campaign. They have more than enough time to mend their shot-making woes, a key against the zone, as well as improve in other areas.
Miami (6-7, 2-6 ACC) is also starting to get healthier, with redshirt senior guard Kameron McGusty and freshman guard Earl Timberlake back in the lineup.
The players know that even this shortened season is far from over and their goals remain in front of them.
"It's never too late to turn something around, especially with … 12 more games to play," Walker said. "[There are] a lot more games left. The season is far from over. Nobody in the locker room has given up hope. We're going to continue to fight as it is."
Walker was one of the Hurricanes who showed particular fight in the game at Syracuse, scoring 13 points, the third-most of his career and second-most on the team, behind only sophomore guard Isaiah Wong, who notched 16.
The Baltimore native logged nine of his points—more than his total the prior three games combined—in the first seven minutes of action. It was during that time Miami showed it does indeed know how to beat the zone in ways other than hitting 3-pointers, as Walker displayed.
"We were doing a good job executing our plan, which was getting the ball in the middle of the zone," Walker said. "I'm thankful for my teammates for getting me the ball. I was able to do my job and expose the middle of the zone, early in the game."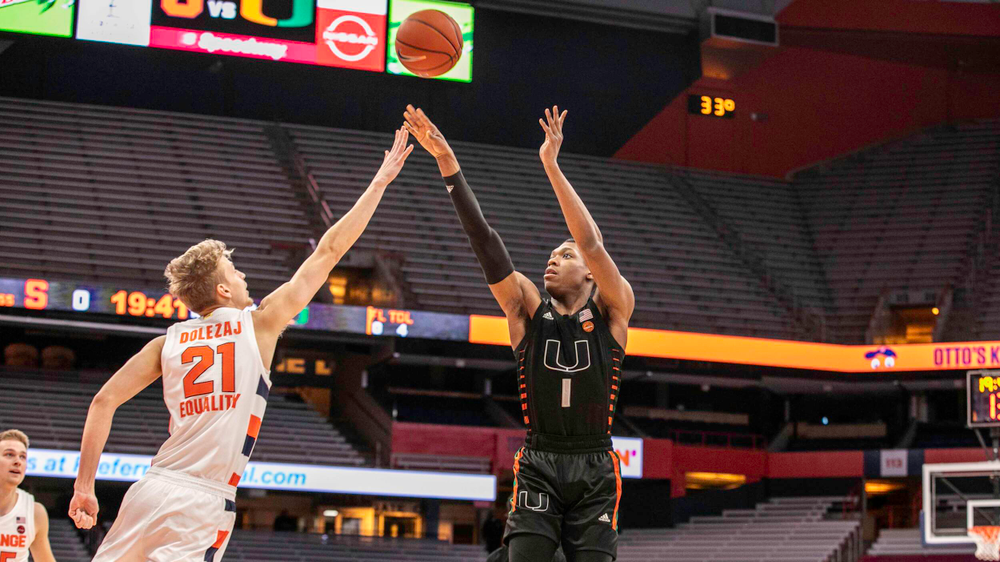 However, once the Orange went on a scoring run—they used a 23-3 burst to pull ahead by 11—Miami was unable to counter.
Walker could sense what was happening at the Carrier Dome, as the Hurricanes fell further into a hole they were unable to climb out of.
"I feel like once we started to get down, our energy dropped a little bit and we just didn't see the same things that we saw at the beginning of the game," Walker shared. "…We just didn't handle adversity well that night."
While it did not happen in that game, Miami has shown the ability to battle back from large deficits this season. The Hurricanes beat Purdue after trailing by 20, trimmed a 17-point deficit at Virginia Tech down to one, took a lead on Clemson after falling behind by 12 and edged NC State after facing an eight-point deficit.
Despite the inability to do that against the Orange or Eagles, Walker knows the Hurricane have what it takes if the situation arises again.
"The important thing is when everything is going wrong, you should be as close as possible to your teammates," Walker explained. "That's supposed to be the time where you become a family, you become a brotherhood and you get closer instead of pulling apart."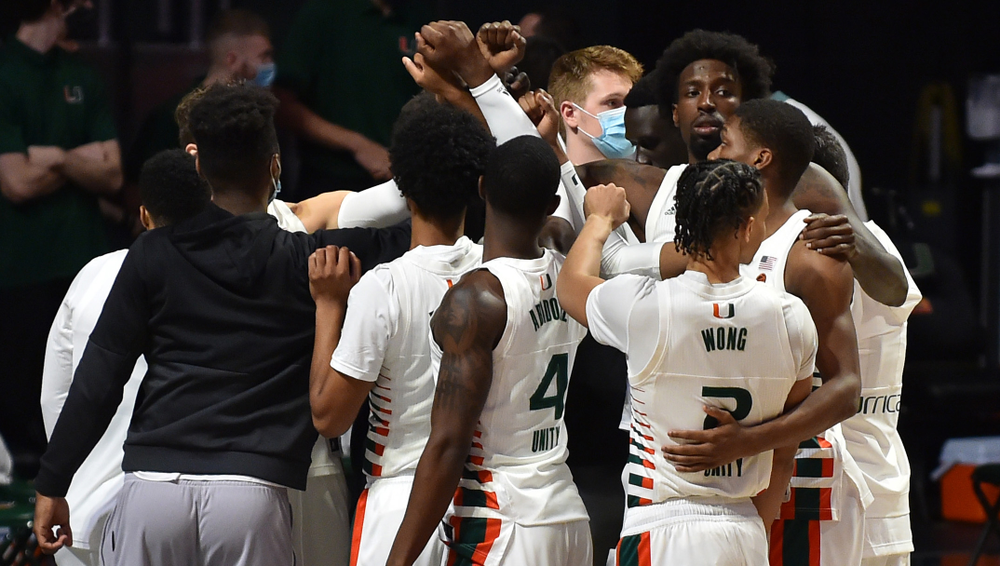 The Hurricanes had the last two days to think about that situation, as well as many others, as they had back-to-back off days due to the lengthy gap between games and the trio of contests in short order on the docket after that.
While the decision to give the players the day off on both Wednesday and Thursday may have been more due to scheduling, it may also prove to have a positive effect.
"We preach sharpening our saw, which is just taking days off to recover, to get our minds right, get our bodies right," Walker said. "So, this is good for us. A lot of us do need days off to get treatment and recovery … but it's back to work today."
The work now is about getting ready for the Fighting Irish, whom Miami faces Sunday at 6 p.m. at the Watsco Center. Notre Dame enters the game at 4-8 (1-5) on the season, but is coming off an 80-70 victory over Boston College in its last outing.
Walker has a speak focus in mind for when the team begins its preparation for its matchup with the Fighting Irish.
"Today in practice, I'm going to try to bring the energy and see where everyone's at, but I feel like we're good," Walker said." I feel like we're going to be good going into this next game."
The Fighting Irish feature one of the top players in the ACC in junior forward Nate Laszewski, who is averaging team bests in points (16.7) and rebounds (7.7) per game. Both of those marks are top-seven in the ACC.
However, Notre Dame is far from a one-man team and Walker knows the Hurricanes also need to be wary of the talent in the Fighting Irish's backcourt.
"Obviously, this won't be a team that's going to roll over," Walker said. "Every ACC game is going to be a tough one and we're just in for another battle Sunday night.
"They've got good guards," he added. "So, it's going to be tough on Harlond [Beverly] and it's going to be tough on Isaiah. They're going to have to step up, just like every other night."
Miami is 12-12 all-time versus Notre Dame, including 6-5 at home and 5-4 in Larrañaga's tenure. The Fighting Irish took the last matchup, an 87-71 home victory on Feb. 23, 2020.
The Hurricanes' game against Notre Dame will be televised live on ACC Network HERE, with Anish Shroff and Paul Biancardi on the call. Joe Zagacki and Danny Rabinowitz will have the radio broadcast on 560 The Joe WQAM HERE, while action can also be heard on WVUM 90.5 FM HERE and in Spanish on WMYM 990 AM HERE. Live stats for the contest can be found HERE.
After playing the Fighting Irish, Miami travels to Tallahassee, Fla., for the first of two straight road games, this one a rivalry matchup with RV/No. 25 Florida State, scheduled for Wednesday at 6 p.m., live on ACC Network from the Donald L. Tucker Civic Center.
To keep up with the University of Miami men's basketball team on social media, follow @CanesHoops on Twitter, Instagram and Facebook.
The 2020-21 Miami Hurricanes men's basketball season is presented by First National Bank.