Headed North, Back on Track
Jan. 12 | 7 p.m. | RSN
Silvio O. Conte Forum | Chestnut Hill, Mass.
Miami (5-5, 1-4 ACC) at Boston College (2-9, 0-5 ACC)

CORAL GABLES, Fla. – After back-to-back-to-back crushing defeats, the University of Miami men's basketball team returned to its winning ways Saturday afternoon at NC State.
Following a stretch of three straight losses by five total points—just the second time that has happened to a team in ACC history—the Hurricanes' fortunes took a turn for the better at PNC Arena in Raleigh, N.C.
Miami tallied a 64-59 victory to snap its skid, as well as give head coach Jim Larrañaga the 665th triumph of his career, moving him pass the legendary John Wooden on the all-time wins list.
"I've been coaching a very long time and every game is different, every opponent is different. What you hope to do is execute the game plan and give yourself a chance," Larrañaga said. "We've been doing that, but we're playing good teams and they're doing it, as well. Sometimes you execute a little bit better and you win like we did yesterday and sometimes the opponent does some things and they end up winning the game. But I don't consider [this victory] anything like a relief. Winning is more fun, but it's the competition that we look forward to."
Trailing by four with under four minutes left, Miami (5-5, 1-4 ACC) went on a 14-3 run to register its first road win of the year.
The final 10 points during that stretch came from sophomore guard Isaiah Wong and freshman guard Earl Timberlake, who combined for 37 points in the victory. Their play was particularly important in Miami showing it can indeed find a way to win a tight game down the stretch.
"At the offensive end, you have to have someone who kind of raises his game and makes some big plays, and we actually had several guys who did that," Larrañaga said. "Isaiah Wong probably is the most significant because he scored 24 points and made some really key shots. Earl Timberlake, who scored in a variety of ways near the basket. One time off an offensive rebound, another time a little jump hook, another time got fouled and made the two free throws. And that's really the last part of the picture; you've got to make your free throws to close out a game because you know you're going to get fouled."
While the backcourt scoring was certainly vital, it was not the only reason Miami flipped the outcome in this particular affair.
After averaging 16.3 turnovers per game in those three narrow setbacks, the Hurricanes committed just 12 versus the Wolfpack. In fact, Miami did not give the ball away even once over the final 12 minutes of the game.
"We made such a strong emphasis in the practices and in the pregame of paying close attention to the details of doing little things well, things that you might take for granted. Like, just inbounding the ball," Larrañaga shared. "When you're playing against a team that presses for 40 minutes, if you turn the ball over too often, they get to score without having to go against your defense. So, our guys did a better job yesterday of taking care of the basketball. I think we actually had fewer turnovers than NC State did."
There is no question the Hurricanes left the Tar Heel State feeling better than they did four days earlier following a 67-65 loss to the powerhouse program that bears that nickname.
The hope now is that the feeling that comes from ending up on the right side of a tight game can be an asset moving forward. While Larrañaga certainly does feel that can be the case, he does note it is not quite that simple and one of the dependable aspects of the 2020-21 Miami team needs to remain so.
"Well, I certainly think winning builds confidence. The more you win, the more confident you are, but as I mentioned earlier, every game is different," the two-time ACC Coach of the Year shared. "Every team's defense is different. We played our first four games against all zone teams and then, all of a sudden, we're now playing against all man-to-man teams. So, you have a different offense, you have a different set of circumstances. What has been pretty consistent is our defense and yesterday that was the difference. We held NC State to 59 points and had they gotten their average, there's no way we could've beaten them."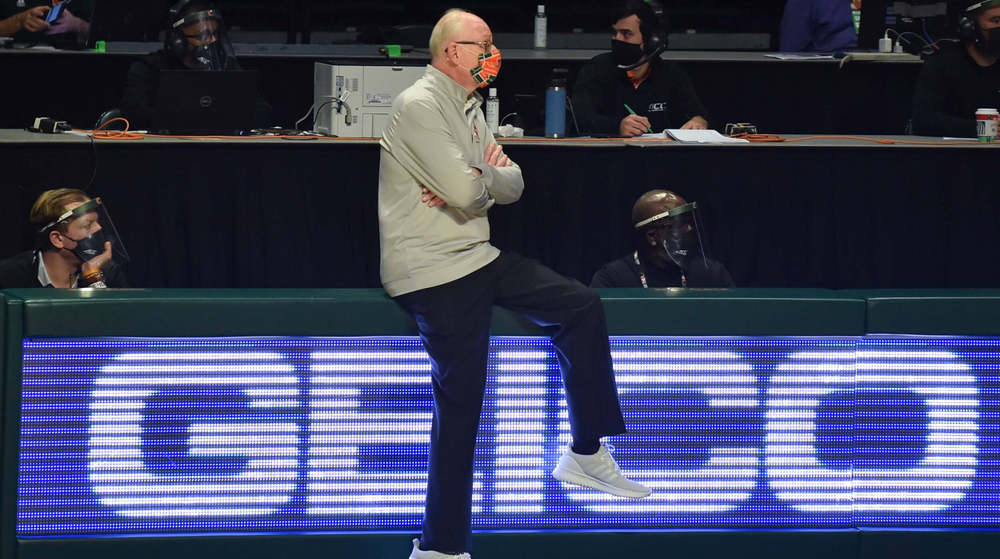 Indeed, Miami held the Wolfpack to over 20 points below their scoring average of 79.6 entering the game. The Hurricanes limited NC State to 37.3 percent (22-of-59) shooting from the field, including a 30.4 percent (7-of-23) mark from 3-point range.
After underwhelming defensively each of the past two seasons, an uncommon occurrence for a Larrañaga-led team, Miami has completely turned a new page this year.
The Hurricanes are No. 32 in KenPom defensive efficiency and are allowing just 64.5 points on 39.5 percent shooting in 2020-21. There are a variety of reasons for that uptick in performance, much of which can be attributed to new players and more experienced players.
"Our guards, Harlond Beverly and Isaiah Wong, have a good bit of experience from last year and now they're playing a ton," Larrañaga said. "They're learning as they go and they've both improved dramatically in that category. Earl Timberlake and Elijah Olaniyi are very competitive guys and have done a really good job of stabilizing our defense on the perimeter."
The next defensive challenge for the Hurricanes comes from Boston College. Miami is set to face the Eagles Tuesday at 7 p.m. at Silvio O. Conte Forum in Chestnut Hill, Mass., which is about 31 miles from freshman forward Matt Cross' hometown of Beverly, Mass.
Three of the last five matchups between the two sides have been decided by two points or fewer, with Miami winning twice by one and Boston College winning once by two.
Those are among the several memorable meetings in the series Larrañaga looks back upon through his 14 outings against the Eagles, during which he is 12-2.
"We've had great games at Boston College. One year, we beat them in double-overtime. I think a couple years ago they beat us at the buzzer. So, we expect another game like the ones we've been playing," Larrañaga said. "…With our shortened roster, we need everybody [who is available] to be healthy and playing well. I was pleased that Deng Gak gave us 14 quality minutes [against NC State]. He doesn't score, he doesn't get a lot of stats, but he definitely helps us."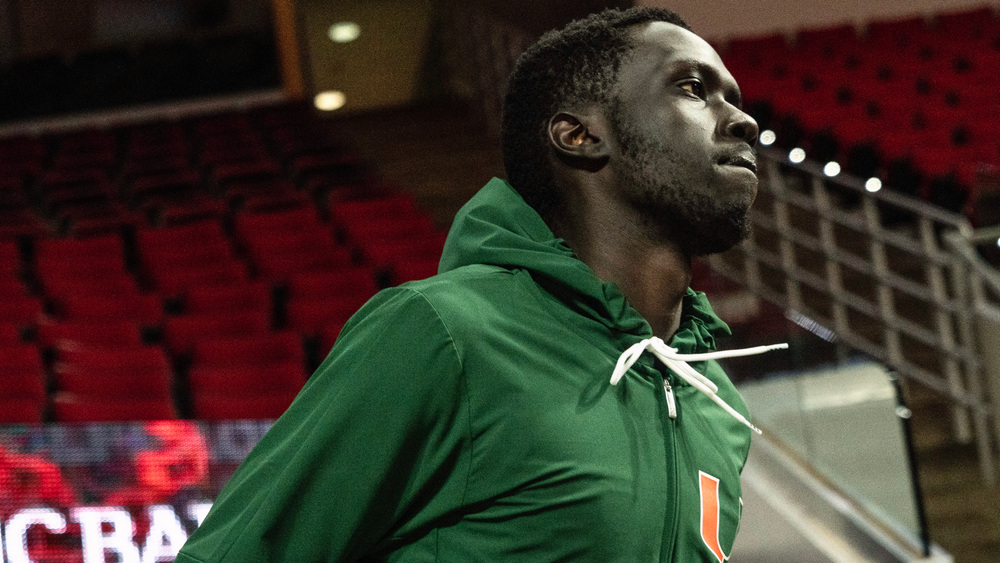 Miami is 25-26 all-time against the Eagles, good for its fourth-most games (51) and victories against any current Division I team.
Before splitting the past four contests, the Hurricanes were 15-2 in the prior 17 affairs, with 12 straight wins to cap that streak. Prior to that, however, Miami lost 13 consecutive games, mostly during the programs' BIG EAST days.
This will be the ninth time in the series Larrañaga squares off with Jim Christian, Boston College's seventh-year Boston College head coach, whose teams can present problems in a variety of ways.
"Jim Christian has a lot of head coaching experience in several different leagues. When he came into the ACC, his experience really showed," Larrañaga said. "He was able to do a lot of things offensively and defensively that no other coaches in the ACC were doing. He's had some really good guards who are very hard to defend. He plays multiple defenses that force you to really focus on your preparation because they will take advantage of any situation that you're not prepared for."
Christian's team this year sports a 2-9 (0-5 ACC) mark on the season, but lost by just one at Duke, went to overtime at Minnesota and held a nine-point second-half lead against Villanova.
Junior guard Wynston Tabbs is the Eagles' leading scorer at 13.3 points per game. Boston College was picked No. 14 in the ACC preseason poll after tallying a 13-19 (7-13) record in 2019-20.
Tuesday night's affair will be televised live on RSN—that is FOX Sports Florida locally—and FOX Sports GO, with Evan Lepler and Mike Gminski on the call. A full affiliate list is available HERE and it can also be seen on WatchESPN, subject to blackout, HERE.
Joe Zagacki and Danny Rabinowitz will have the radio broadcast on 560 The Joe WQAM HERE. Live stats for the contest can be found HERE.
Following its outing against the Eagles, Miami returns home to host Louisville Saturday night, with action set to begin at 8 p.m., live on ACC Network from the Watsco Center
To keep up with the University of Miami men's basketball team on social media, follow @CanesHoops on Twitter, Instagram and Facebook.
The 2020-21 Miami Hurricanes men's basketball season is presented by First National Bank.