Jan. 2 | 2 p.m. | RSN
Watsco Center | Coral Gables, Fla.
Miami (4-3, 0-2 ACC) vs. Clemson (7-1, 1-1 ACC)

CORAL GABLES, Fla. – The year 2020 has been an unquestionably difficult one for people all across the world. With 2021 beginning Friday, there is a sense of hope for a return to some normalcy in day-to-day life.
The University of Miami men's basketball team is also hoping for a new slate come 2021, as well over half the team has dealt with injury over the past few months. Five Hurricanes, including all four returning starters, have missed at least three games as a result.
The Miami (4-3, 0-2 ACC) players know, however, that they can still recover and turn in a strong campaign when the calendar changes. Their narrow setback, 80-78, on the road Tuesday at No. 24/RV Virginia Tech was proof of just that.
"People are getting down right now just because of the losses, but at the same time … with everyone healthy, we all think that we can be a top 10-15 team in the country," freshman forward Matt Cross said. "…It's not good to lose, but it's also a good sign if that's the score with some of our best players out."
Miami still has 18 league games on the docket come 2021, giving it ample time to get back in the ACC race.
In fact, the team plans to discuss just that in a meeting Thursday after practice, as it looks toward a successful new year.
"I honestly think that's the biggest reason why we're having the meeting now," Cross shared. "We need to figure out now, like, 'Those two losses are gone for the conference, but now we can't be losing games like that in the conference moving forward. We need to get this thing rolling, get it together.'"
If Cross' play against the Hokies is any indicator, he will be a big part of Miami's hopes for improvement moving forward.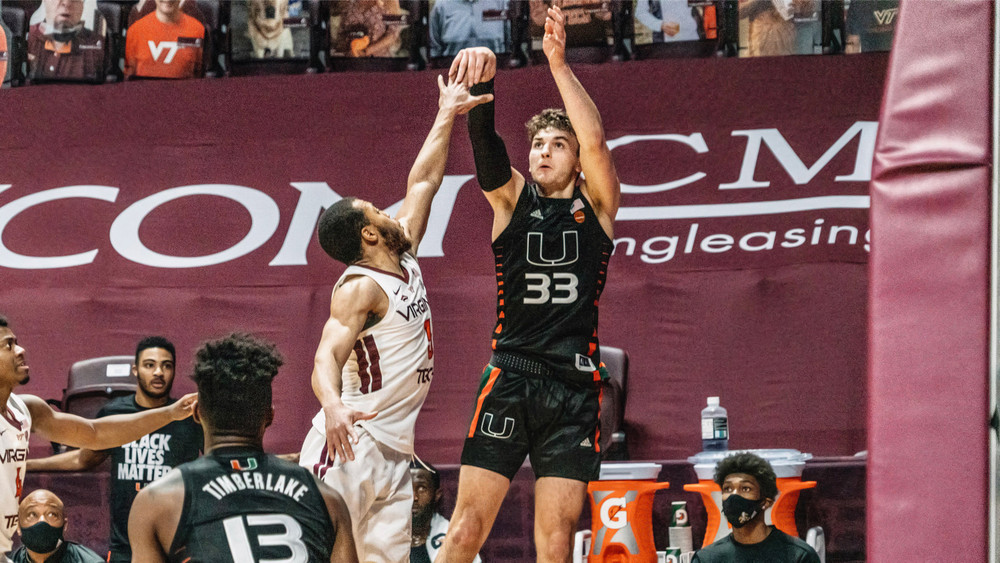 The Beverly, Mass., native scored a season-high 16 points to co-lead the Hurricanes. He shot 6-of-8 from the floor and connected on 4-of-6 shots from long range.
"My shoulder has just been bothering me, so that was the first game it's been feeling well," Cross explained. "I've been getting shots up at practice and actually [been able to fully] practice. Just being able to feel good with my shoulder, get my shots up and not worry about it, I think was the biggest difference."
Although he had the confidence to believe he would perform well with his improved health, it still felt good for Cross to see it actually play out that way on the road against a top-25 foe.
"When your shoulder feels good again, that's a good thing, but it's a whole different thing to see it go in now," Cross said. "It kind of confirms, 'Alright, now I'm good again. Now I can take these shots again.' Because before I was kind of not really taking shots that I would normally take, just because I was so concerned with my shoulder."
Four teammates joined Cross in double figures in Blacksburg, Va., with sophomore guard Isaiah Wong matching his 16-point performance and adding a season-high-tying three assists. Sophomore guard Harlond Beverly had 14 points, nine rebounds and six assists, while senior guard Elijah Olaniyi notched 11 points and redshirt senior center Nysier Brooks had 10.
The Hurricanes turned in 20 assists, their most since Feb. 23, 2019, against the Hokies. Their ball movement nearly helped them rally all the way back after trailing by 12 late in the first half, by 17 early in the second half and by seven in the final minute.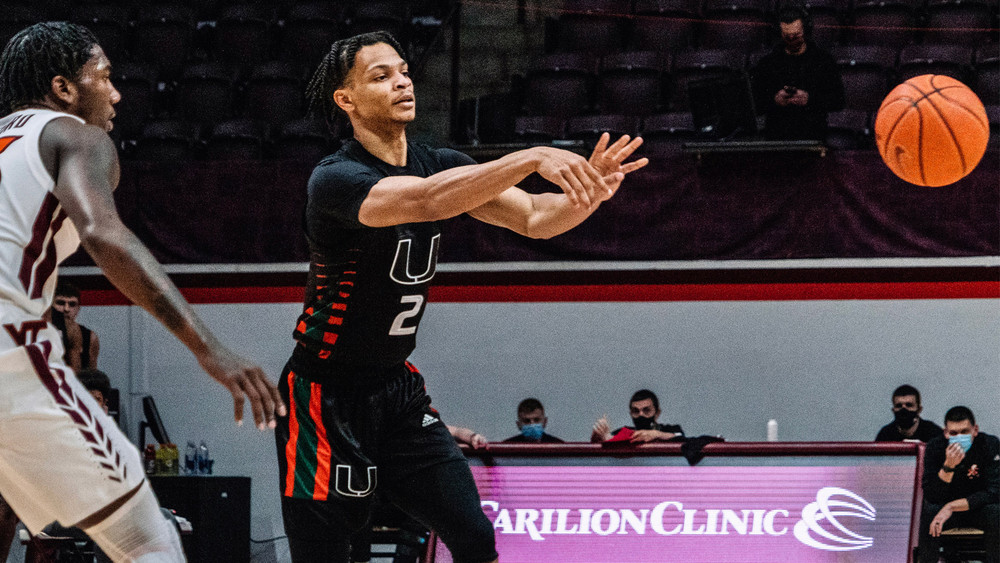 "Similar to the Purdue game, we got down a decent amount in the first half and I think we realized what we were doing just isn't working," Cross explained. "We came out in the second half really moving the ball and I think that was really the biggest change. The second half from the first half, I thought was a big difference."
Cross would also like to see Miami continue to distribute the ball better moving forward, in particular when it comes to finding "the hot hand."
The next chance the Hurricanes will have to do that is Saturday at 2 p.m., as they are set to host Clemson at the Watsco Center.
According to KenPom, the Tigers are the No. 18 team in the nation and their defense ranks third-best in the country. Thus, there is no question the Hurricanes have their work cut out for them in their first game of 2021.
Clemson is 7-1 (1-1 ACC) on the year and already has six wins over Power Five foes, including most recently topping No. 18/19 Florida State, 77-67, Tuesday night.
"We know that they play tough and their bigs are very versatile. They can shoot the ball a little bit and stuff like that," Cross said. "I think it should be a big game defensively for people like Anthony [Walker] and Deng [Gak], who can [display versatility and] guard bigs outside the 3-point line. I also think it's going to be a big game for Nas because his game is that he loves to play physical … I think if Clemson plays physical and we hit back with physicality, that's just kind of how the game is. I think that's where Nas will excel."
The Tigers are led by senior forward Aamir Simms, a Preseason First Team All-ACC honoree, who is averaging team highs in points (11.6) and rebounds (5.5) per game.
Miami is 13-15 all-time against Clemson, including 8-3 at home and 7-4 under 10th-year head coach Jim Larrañaga. In the most recent meeting, which came March 11, 2020, at the ACC Tournament in Greensboro, N.C., the Tigers posted a 69-64 victory.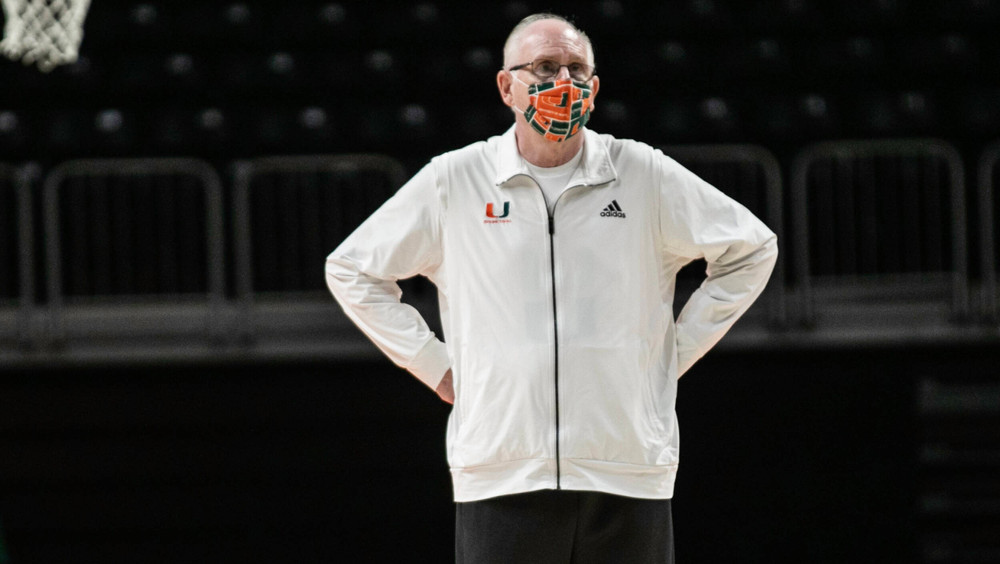 This will be the 22nd all-time meeting between Larrañaga and Clemson head coach Brad Brownell, including their time as CAA foes. The former holds a 13-8 edge and is a perfect 9-0 at home against Brownell.
Saturday's game will be televised live on RSN—that is FOX Sports Sun locally—and FOX Sports GO, with Evan Lepler and Mike Gminski on the call. A full affiliate is available HERE and it can also be seen on WatchESPN, subject to blackout, HERE.
Joe Zagacki and Danny Rabinowitz will have the radio broadcast on 560 The Joe WQAM HERE, while action can also be heard on WVUM 90.5 FM HERE and in Spanish on WMYM 990 AM HERE. Live stats for the game can be found HERE.
After facing the Tigers, Miami plays North Carolina Tuesday at 8 p.m., with action set to be televised live on ESPN from the Watsco Center.
To keep up with the University of Miami men's basketball team on social media, follow @CanesHoops on Twitter, Instagram and Facebook.
The 2020-21 Miami Hurricanes men's basketball season is presented by First National Bank.