CORAL GABLES, Fla. – Every morning, they're some of the first ones in the building.
Before the sun comes up, they're in the weight room at the Carol Soffer Indoor Practice Facility, lifting and preparing for the day and the practice ahead.
It's been their ritual for months. So, when several of them were called on last week to help the Hurricanes in their return to action after a weeks-long pause to the season, a group of special freshmen found ways to make big plays in Miami's eventual 48-0 win over Duke.
Running back Donald Chaney Jr., a former U.S. Army All-American, showed he could do more than run the ball, hauling in four catches for 81 yards and finishing the day with a game-high 143 all-purpose yards.
Linebacker Corey Flagg Jr., who had played sparingly in Miami's first eight games, logged a significant amount of snaps, finished as the Hurricanes' fourth-leading tackler with five stops – and got to wear the Turnover Chain for the first time when he recovered a Blue Devils fumble.
Dominic Mammarelli, a tight end who has seen the bulk of his experience this season come on special teams, got to wear the Turnover Chain himself after recovering a fumble on a Duke kickoff return.
And cornerbacks Marcus Clarke and Isaiah Dunson, both pressed into duty in the wake of cornerback Al Blades Jr.'s absence Saturday, saw increased playing time – with Clarke pulling in the first interception of his young college career and earning praise from head coach Manny Diaz in the process.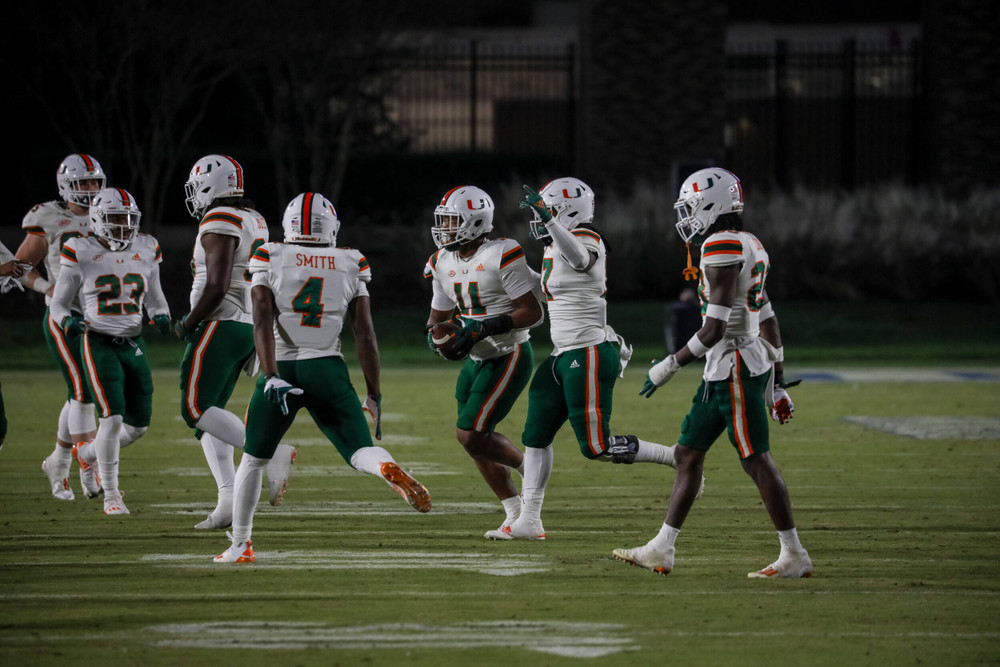 "The big interception [by Clarke], how about that? How cool was that?" a beaming Diaz asked after Saturday's win. "Just great to see all of the guys get in there and make big plays."
After playing nine games during one of the most tumultuous seasons in college football history, it's fair to say Miami's freshmen have experienced a gamut of emotions and weathered their share of challenges.
But many of them say they've felt ready to handle everything thrown their way, thanks to support from Diaz, Hurricanes Director of Strength & Conditioning David Feeley and their older teammates, many of whom spent the days prior to the Duke game encouraging the freshmen and reminding them they were ready to shine.
"Every game we go into, we prepare as if our name is going to be called. I prepare as if I'm a starter. [Defensive coordinator Blake] Baker prepares the whole defense as if we're going to be starters, so when they told us Zach [McCloud] and Sam [Brooks] were down, even though they don't play my position, I knew I might have to play their position," Flagg said. "Going into that, Jaelan [Phillips] and Nesta [Silvera] were telling me I'm good and that they trust me. Then, getting the call from Coach Baker and Coach Diaz, for them to be able to trust me…all those little things gave me confidence and helped me play better and be more calm and poised. The leaders on the defense had a big part on that. They really did."
Added Chaney, "I've been grateful to have leaders like [Cam Harris and Robert Burns]. Me and [Jaylan Knighton] would probably be a lot more confused. Everything would be on us. We could handle it, but you have veterans over there that will sit down with you and when your coach is talking, they'll pull you to the side and be like, 'Yo, let me show you maybe an easier way you can understand.' That's how Cam and Robert have been for us this entire season. To this day, I pull Robert to the side and I'm like, 'Robert, dude, you've got to tell me how to do this. You've got to tell me how to do that.' Stuff like that. It's very helpful."
As much as they've appreciated the support from their older teammates, the freshmen have relied on each other through this challenging season, too.
Many of them got to know each other during the recruiting process and became close friends long before they arrived in Coral Gables. And they stayed committed to the Hurricanes during a tough season last year, determined to stick together and help be the kind of change the program needed moving forward.
Saturday's win at Duke was just one more step in that process for the group.
"I really do think this recruiting class that are all freshmen now have a chance to be one of the most special classes I've ever been a part of," Baker said. "Their work ethic, they're blue collar. They don't say much. But they all have natural leadership abilities and they're very, very close-knit. It's very unique, in my opinion, nowadays to see to see a freshman class as close as they are. Some guys have played a bunch for us this year in that class. Some haven't. But you don't see any divide, regardless of playing time.
"So, overall, you get those guys in – especially the ones that haven't played a ton for us – it's going to make them so much better down the road, even next week. Who knows what next week's going to look like when you talk about the players we may or may not have. We know we have a huge game next week [against North Carolina], so getting those guys in there and getting them meaningful playing time is huge for their development and the team's development."
One thing is certain for Miami's freshmen – as well as they may have played last week, or as much as they feel like they've grown, they have high expectations for themselves and their teammates.
They're more than appreciative of the lessons they've learned – but they understand there is still lots more to accomplish, this season and beyond.
"I want to keep being the best I can be, on and off the field," Flagg said. "Be the best player. Be the best teammate. Be the best person. Just be the best that Corey can be, in all aspects of attending and playing at the University of Miami. If I finish that off, I think I'll be just fine with the results that come along with it."
Said Chaney, "My mindset is to keep doing what I'm doing, keep trusting in God and just keep doing what you're doing because, you know, God has a plan. Everything happens for a reason. These past couple weeks, everyone's been working a lot harder. Manny instills in us that November is what makes champions and November was a really important month for us. We made the most of it. Now we're just trying to keep going, become 10-1 and 11-1, however far the season takes us."