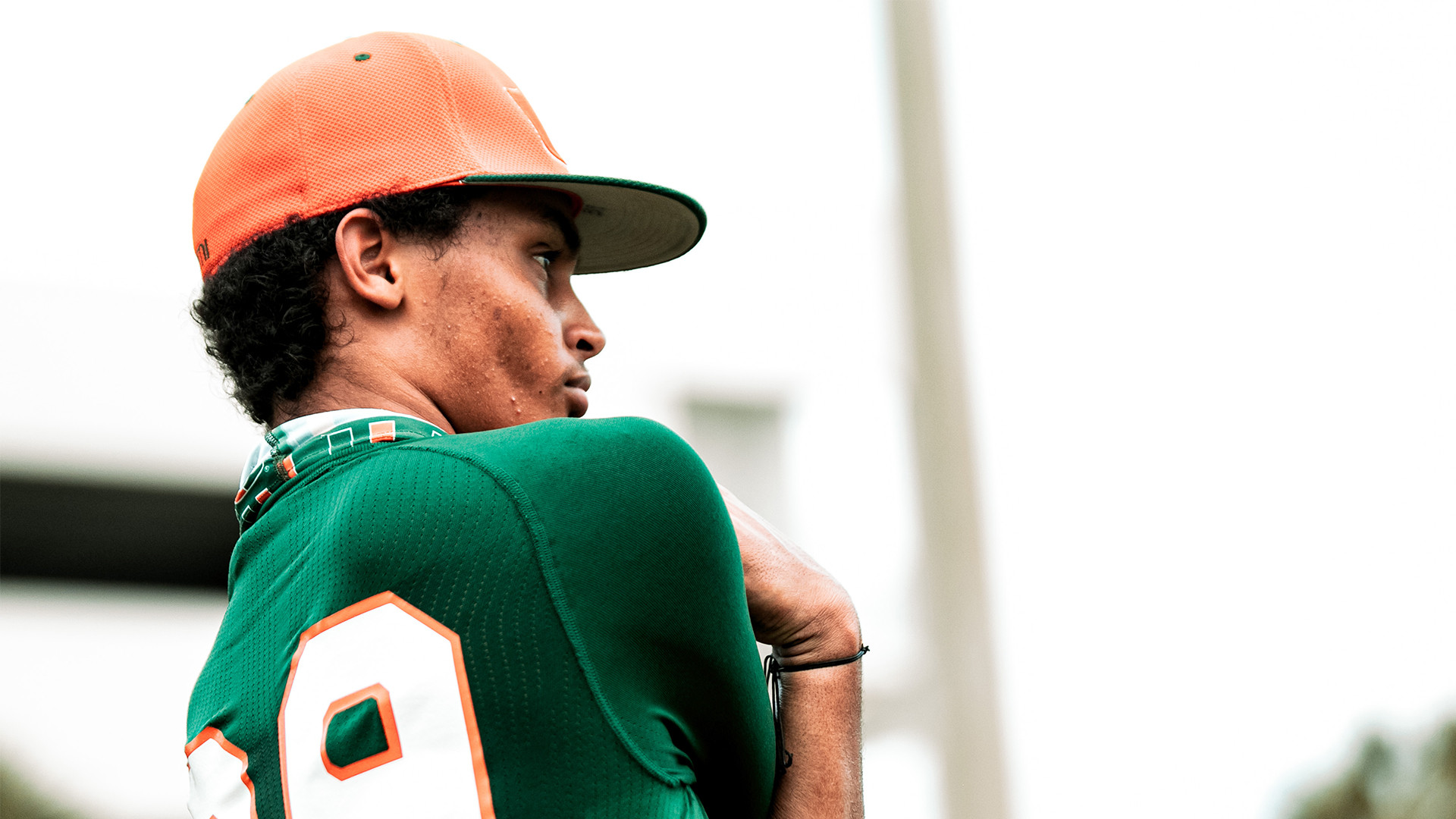 CORAL GABLES, Fla. – Everyone loves a big moment.
Whether it's a big hit, an incredible catch or an electrifying play, the excitement is palpable every time the crowd roars as a Hurricane steps up to make something happen for his team.
For freshman Jacoby Long, making highlight-worthy plays seemed like the norm in his first fall at The U.
"That's just what I do," said the Palm Beach Gardens, Fla., native.
But Long is not a brash, overconfident player ready to take the ACC by storm. Just 18 years old, the 6-foot-1, 173-pound outfielder just wants to be the best player he can be and help his new team at Miami win as many games as possible.
"It's been a great experience so far getting to know all of the players. I knew some of them coming in but getting to know the veterans and other new players coming in has been a great experience," Long said. "They're all very nice and they're like family to me now. The coaches have been amazing and I've learned a lot of things in the past three months. I'm just glad to be a part of this program."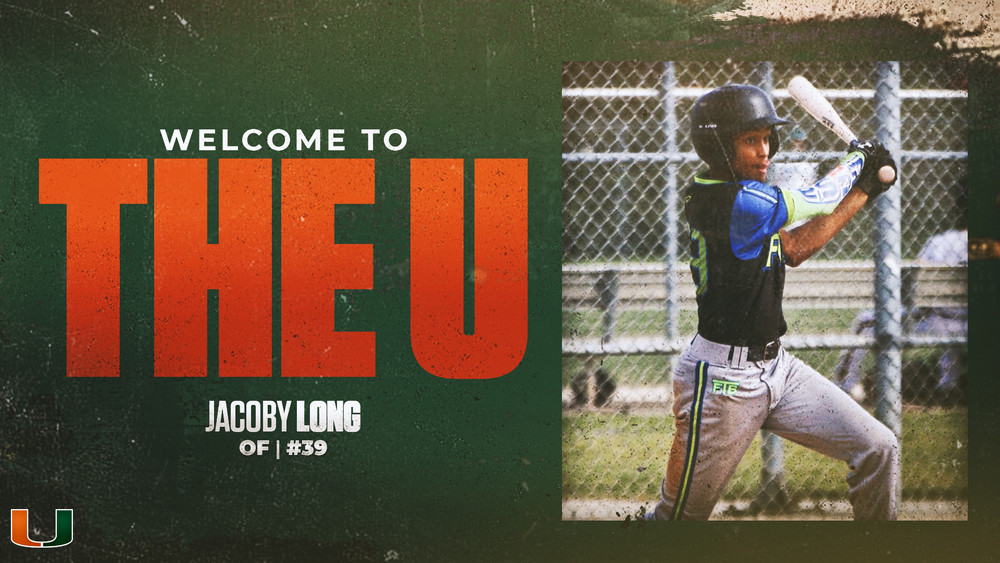 A three-year varsity player at Dwyer who was co-captain as a senior, Long was one of the most exciting players at Mark Light Field this fall. Veteran Daniel Federman coveted him when building his roster for the Orange and Green World Series.
"The biggest impression I got from someone came from Jacoby Long," Federman said. "He missed a little bit at the start of fall and I had never heard of him or seen him or met him before he got to The U, but he has really stood out to me. His speed is unmatched. I mean, he flies down the line. I don't know what he's hitting average wise, but it's got to be over .500. He's got a home run even though he's not a power guy. The way he's hit the ball and played in centerfield, where he's made two or three diving catches and he's thrown two or three guys out going to the next base [is impressive]. I drafted him, I thought it was the right pick and I like the way he plays."
Head coach Gino DiMare added, "He's probably one of our more exciting players. He runs really, really well. He has made a couple of plays in the outfield that I can honestly say I haven't seen anybody ever make before; catches straight over his head, Willie Mays style going back on balls and centerfield. He hit a home run not long ago. He doesn't look like a guy that's got power and he's not a power guy. He's a speed guy that puts the bat on the ball, but he's obviously got a little punch in there to knock it out of the park. He's just a quiet kid that seems to have become very popular with the players very quickly because he's exciting. He's an exciting player to watch."
That Willie Mays-style, over the shoulder catch was the exclamation point on an eye-opening fall filled with unbelievable plays.
"The reactions I got were amazing. After I made one of the catches, Gino came up to me and asked me how I caught that ball," Long said. "It was a deep fly ball to centerfield and I didn't get a good read on it because it was windy and the ball started tailing. I caught it over my head right before the wall. All my teammates were like, 'How'd you catch that ball? It was a crazy catch.' Hearing that from my teammates was awesome because they're my family so I really appreciate it."
It's those same teammates who have started to call the freshman "Willie Mays" because of the plays Long has made in the outfield.
"Getting a nickname like that from my teammates means a lot to me, especially because it's the first time that they've seen me play before," Long said. "It's an honor to be called 'Willie Mays.' He's obviously one of the greatest baseball players to ever play the game and one of the great defenders to play the game. Having that nickname motivates me to work harder and live up to the nickname."
Hard work helped Long succeed in his fall debut at The U. Competing in a deep outfielder group filled with established veterans and talented newcomers, Long has already improved significantly in part because of the gifted players around him.
"They've all been amazing. The competition is great in the outfield and I've also learned a couple of things from the veterans," Long said. "They brought me aside and just talked to me about some of the stuff they do and they've taught me a lot."
Long has the unique opportunity to work daily with his head coach, as DiMare coaches Miami's outfielders in addition to his duties leading the program.
"I've learned something new every day since I got here," Long said. "Working with Gino has been a big help for me as an outfielder because in high school I played infield, too. I knew that I wanted to become an outfielder because of my speed and my arm. But now that I get to work with Gino, it's been a great experience because I learned so much in the past three months and I can already tell that I have gotten a lot better as an outfielder."
That rapid development is something Miami recruiting coordinator Norberto Lopez expected from Long once he got to campus. Lopez and pitching coach J.D. Arteaga saw Long often while out recruiting and believed he was the kind of player that would elevate his game significantly once he arrived at a college program.
"I think Jacoby has a chance to be something special because he has a lot of upside and raw talent," Lopez said. "He hasn't been coached too much, so the upside is really big. Even in the weight room, there is a lot of room to grow and we think when you put some weight on that guy there's a lot there to like. He's already electric as it is. He has great bat-to-ball skills at the plate and he can cover a lot of ground in the outfield and that's all without even being coached too much. I think there's a lot of potential in there."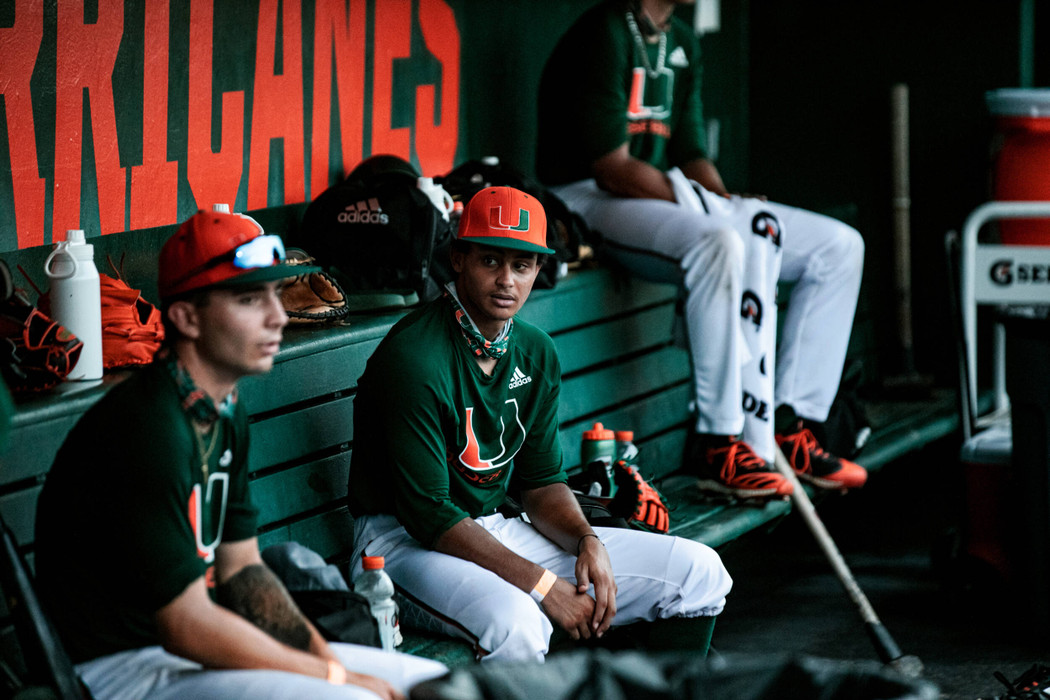 Long built a bond with Miami's coaches during the recruiting process. His relationship with the UM staff, as well as the opportunity to join an outstanding baseball program at an excellent academic institution, made Long's college choice an easy one.
"The coaches are amazing and I really connected with them while I was being recruited," Long said. "Obviously, I had heard about the school and it's a great academic school. Then you look at the baseball program here, it's accomplished so much and has produced so many great and amazing players. I just wanted to come here because this is the best place for me to get better and to make myself better as a person and to get better in baseball and academically."
While Long was falling in love with Miami, Lopez and Arteaga became more intrigued with the toolsy athlete every time they saw him play.
"The more we saw him, the more me and J.D. were like, 'there's a lot in this kid.' He's very electric when he plays; when he plays, he hits another gear," Lopez said. "He's definitely a guy that stood out to me a lot because we were always talking about getting a guy that could be that true centerfielder and a guy that could be a leadoff type of guy that could steal some bags. The more we saw him, we saw his rawness but we saw that there's something in this kid that he could be that in the future. The guy was covering a lot of ground when we saw him play without hardly any coaching, so imagine what it will be like when he gets with Gino and Gino coaches him for multiple years. He can be elite defensively in the outfield."
Long already opened a lot of eyes in his first opportunity to play at The Light and received excellent feedback in meetings with the coaching staff at the conclusion of this fall's practice session.
"When we had our meeting at the end of the fall, my coaches told me that I've improved tremendously in every aspect of my game: my speed, my strength, my hitting and my defense," Long said. "I've been a good defender, but the things I've learned and have put to use in the game has helped me get even better on defense. Coach Lopes told me that my hitting has improved tremendously and I definitely feel better at the plate. We've been working on things and I have seen the results all fall using what I learn from him and it's making me a better hitter."
If that developmental track continues its current trajectory, Lopez believes Long could be an elite player at Miami.
"He's just a very raw and toolsy athlete," Lopez said. "One time you'll see him get blown away by a pitcher and the next thing you know he's turning around a 97 miles-per-hour fastball out of the park. There's just a lot of talent in there and it's very interesting. I'm very intrigued to see him when you put a good 15 pounds on this kid or hopefully 20 by the time he's a junior. That's going to be a different animal."
DiMare was very impressed with Long's performance on the field this fall and challenged him to push himself in the weight room ahead of the spring semester.
"It's been a pleasant surprise for me. I'd like to see him get stronger," DiMare said. "A lot of the freshmen guys that came in, unfortunately, because of COVID, they weren't able to get that head start like we've had in the past with summer school and lifting and getting in the weight room and getting their bodies developed. Even when school started, we couldn't do the things we usually do for the first three weeks because of COVID. So, those guys are kind of two months behind when you add the five weeks of summer and the three weeks in the fall that under normal circumstances they would have lifted during that time. He along with a lot of the freshmen missed out on just the physical part of it, but he's a player that I'm very excited to watch develop because he's one of those guys that I think is going to get better very, very quickly."
Long is taking his coaches' suggestions to heart and working to better himself daily. With aspirations of playing Major League Baseball one day, Long knows he cannot achieve those dreams without putting in the effort necessary to get there.
"It definitely feels good to earn the respect of my teammates and the coaches, too," Long said. "I hope I am showing them that I really want to play for this program and become the best player I can be and help them win games and hopefully help take us to Omaha and win a national championship."
Knowing his first collegiate season is just months away, Long is eager to take the field for his first official game as a Hurricane.
"That's going to be a crazy experience and a once in a lifetime experience. My first college game ever will be something I never forget," Long said. "I definitely want to be the best team player I can be and help our team win games in any way I can. We have a lot of returners and they're really good. So whenever I get into the game, I'm just going to help my team in the best way I can."