Born's Quiet Strength on Display
CORAL GABLES, Fla. – Some people prefer to be seen and not heard.
Chad Born kept quiet in his first fall at The U, but the freshman's teammates and coaches cannot stop talking about him.
"You won't hear a lot of words out of him, but he's a guy that works hard and he cares about everyone on the team," said catcher Jared Thomas, who was Born's high school teammate. "All he wants to do is play baseball. Chad is a grinder, but you won't hear much out of him. He lets his actions speak for him."
But Born's quiet personality initially had head coach Gino DiMare concerned that the talented outfielder was unhappy to be nearly 3,000 miles away from home.
"When he first got here, I was worried because he didn't say too much," DiMare said. "I was hoping he wasn't homesick, but I know when I asked the other players we all figured out that's just how Chad is. He loves it here and he's come out of his shell. He's talking more and I'm sure by year two and three he'll be probably one of the more talkative guys on the team. That's usually how it works, but we're just thrilled that we were able to get that guy out of Southern California with all those schools there and he chose Miami. It says a lot and I think it helps our program in the future, because they see kids come out of that area and hopefully he has a great experience here in Miami and that will make more kids want to come out here like Chad did."
Admittedly a man of few words, Born prefers having his performance do the talking for him.
"I feel like I do the little things right and I get the job done," Born said. "I'm not the loudest guy in a dugout, but I try to stay positive and I'm always trying to bring in positive energy to the team. I wouldn't say that people know me as someone that has this one like standout tool. I feel like I just do everything the right way and try to help my team win."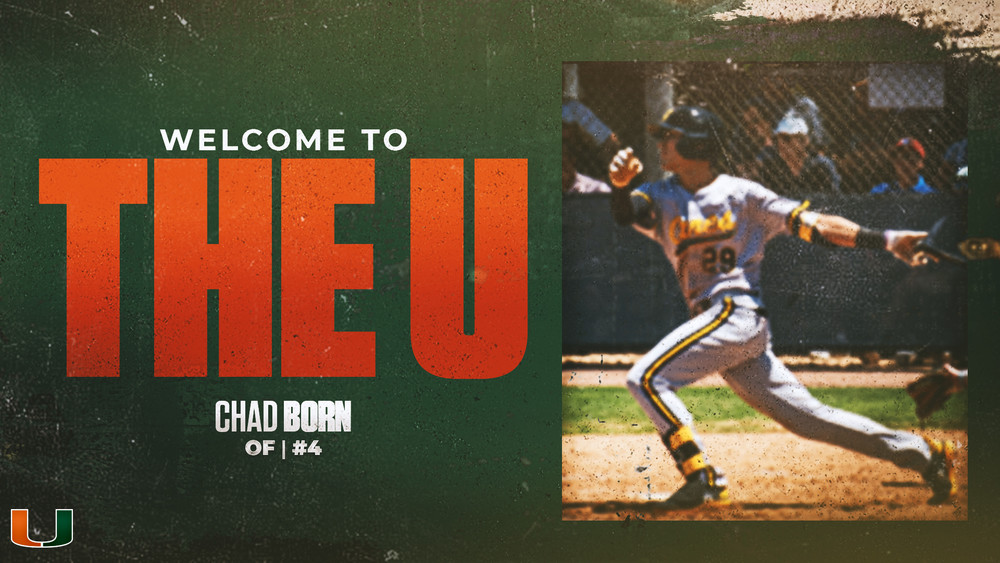 Born certainly knows about winning, helping lead Orange Lutheran to three consecutive championships from 2017-19 at the USA Baseball National High School Invitational – the first three-peat in the event's history. His success on the diamond caught the attention of Miami's coaching staff and the Hurricanes offered Born a scholarship.
"When I took my visit here, it was just different than all the other schools I went to. The coaches here always welcomed me with open arms and we really connected," Born said. "Knowing I'd be coming across the country, it was a big decision but the more I thought about it, I just realized Miami would be a cool place to come. My visit was really cool and Miami has a really different atmosphere that's kind of how it was in California with a big city kind of feel. I just wanted to get away and Miami seemed like the perfect fit for me."
The Canes have had a long line of great players from California, including former No. 1 overall pick Pat Burrell and former National League MVP Ryan Braun. The opportunity to follow in their footsteps at Miami appealed to Born.
"Historically, I knew how good Miami was and I wanted to be part of that," Born said. "I know they always get good guys from California. It seems like they're getting someone every year and they obviously have produced guys like Ryan Braun, so I just wanted to continue that tradition. I thought it would be super cool to be part of that group of California guys that come to Miami and, hopefully, I can do great things like they did."
Though Born and Thomas were teammates at Orange Lutheran, they were Miami commits first. Thomas transferred to Orange Lutheran for his senior year, but was committed to the Hurricanes prior to his arrival at the high school baseball powerhouse.
"It was cool going to Orange Lutheran and being teammates with Chad, especially because out in California there are not many Miami commits," Thomas said. "He was a big reason why I went to Orange Lutheran because I saw he was coming to Miami and I thought it would be cool to be teammates before college. We always talked about it and looked forward to the moment and now we are here."
Thomas and Born are the latest Canes to make the cross-country trek to Coral Gables and DiMare believes they will help Miami continue its pipeline to elite prospects from California.
"The kids from California, for many years we were so fortunate to have brought in a lot of those guys and they all end up being great players. That's the first thing that stands out in my mind.," DiMare said. "Those guys never had a problem with getting on a plane and coming across the country. To me, that says something right there in terms of their character, their personalities. You know those guys are going to fit in because those guys are willing at that age to pack their bags and go that far away from their family. Those guys are fearless and are probably, certainly, in my opinion, a little bit more mature than some of the other kids maybe that aren't able to do that."
In addition to Born's maturity and character, Miami recruiting coordinator Norberto Lopez and associate head coach J.D. Arteaga saw special physical ability, as well as room to grow, making him a highly coveted recruit.
"His bat really stood out to us. I kept on telling J.D., 'I want to find that guy with power, that guy that can really hit and be a three-hole type of guy.' We were looking at him and really liked his swing, but he did not have the power yet," Lopez said. "The more we kept on watching him, the more we felt like he could grow into that guy. We look at these guys when they're sophomores in high school, so you've got to try and see the future. When you looked at Chad's body, it was projectable for someone who could add strength and power.
"But the best thing me and J.D. really liked was the way he separated. When we go look at hitters, we watch how they separate their bat in their load and that's something that Chad does really well," Lopez continued. "He has a tremendous way of separating the bat when he gets in his load just like big leaguers; it's very, very repeatable. That's something that we saw that told us, 'This guy is going to really hit.'"
The Placentia, Calif., native did a lot of hitting in his debut fall at Miami. Born absolutely raked in his first Orange & Green World Series, batting a team-best .455 with five RBI and was named the hitting MVP of the annual intrasquad series.
"I feel like I have a way better approach at the plate now than I did in high school," Born said. "Lopes really helped me out, especially with the mental side of hitting. He really helped me to look for balls I can drive and focus on getting into good counts and when I do, taking advantage of those good counts and really driving the ball instead of just trying to put it in play. I feel like that really helped my approach."
DiMare has been very impressed with Born's work ethic and desire to improve as a baseball player.
"Chad came in and has really impressed all the coaches," DiMare said. "He's a guy that doesn't say a whole lot, like quite a few of our freshmen. This is the most coachable group that I can recall as an incoming class. The guys are very quiet, they work hard and don't complain a lot."
Instead of making a lot of noise, Born spent more time listening to Lopez and asking Miami's hitting coach questions as he learned to adjust to collegiate pitching. His dedication to improving his skills already paid off significantly in the fall.
"When we first started scrimmages, I felt like I would just keep hitting ground balls in the shortstop, third base area," Born said. "Maybe I was trying to get out of the box too much or just not really taking full advantage of like the power I could have and really staying behind the ball, but I feel like I really was able to improve that and I started to hit some balls off the wall. And I really improved my balance and my timing and my rhythm when up at the plate. I've gotten a lot better through working with Lopes and have gained a lot by learning his approach on hitting."
While Born felt great at the plate and knew he was improving, one moment stood out above the rest as a sign that he was making significant strides as a hitter.
"It's got to be when I went yard over the scoreboard on the first pitch off of [Alex] Munroe because he lives one run room over from me so we always talked about how he would face me and then literally the first pitch, I hit it out," Born said. "I didn't realize it when I hit it, but it went over the scoreboard."
The power surge was not an accident, as work with strength coach H.R. Powell and an improved hitting approach helped Born become a much more dangerous hitter than when he first arrived at Mark Light Field.
"I feel like working with Lopes has really helped me out in my approach at the plate," Born said. "Like I did not expect to go yard in one of these at-bats but after talking with Lopes and him working on my approach, the power just went way up and I've been hitting more doubles and home runs. In the first half of the scrimmages, I had more doubles than I did singles so that was different for me because I've always been more of a contact guy."
Lopez believes Born will only continue to get better over the course of his career at Miami and he envisions him developing into an elite prospect that will be a cornerstone of the Hurricanes' lineup.
"Even though he was young at the time when we saw him, we were really projecting more towards the future and he ended up being more physical when he got here on campus," Lopez said. "As a freshman, he's not going to be that homerun hitting type. He might pop a few out of the park but his best tool is his ability to hit. He's had tremendous two-strike approaches all fall."
DiMare agrees that Born's ceiling is very high. Miami's head coach expects the talented outfielder to become a player that professional teams will want to select very early in the MLB Draft one day and that is something that would be great for Born and for the Canes.
"He's going to develop a lot as a player. I think he's going to be a very, very high pick in a few years when he is draft eligible," Born said. "Those things are all positive things for the next kid that might want to come out of Southern California is thinking about getting away and going across the country. There are similarities between the two areas. I think the fact that Southern California has the weather and the beach and the ocean and the city and it's very similar here. I think just with all those similarities, it makes for guys being comfortable to come here and I'm hoping we can start that trend again as we've done in the past."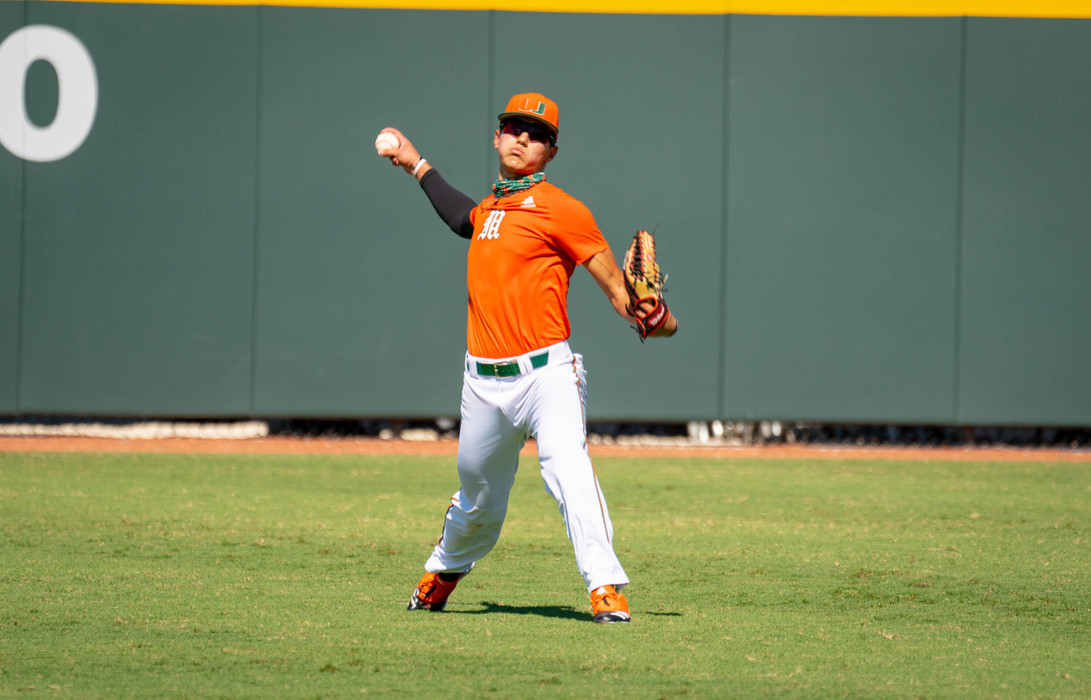 Even though he has yet to play an official game, Born has gotten off to an impressive start in his Hurricanes' career. But the humble outfielder credits the help he has gotten from several of his teammates for his strong performance in the fall.
"Knowing Jared was so helpful actually because I actually worked out with him and this group that we worked out with for like a month before we came out here and he just really prepared me mentally and physically coming in here," Born said. "I would have had no idea what I was going into. So, it is super nice having him as a guy I can look to for advice and as a friend that I already know while I was coming to a new team and new place."
Thomas has been impressed with how seamless Born's transition from Southern California to South Florida has gone.
"He's adapted really well to the college lifestyle," Thomas said. "In the beginning, he asked a few questions, and it was cool because he was interested and wanted to know more. That's really good. I'd rather he ask me questions and want to learn how we do things than have him stay quiet and not want to understand how and why we do things."
Another player that has come away very impressed by Born is arguably Miami's best player. Catcher Adrian Del Castillo is projected by many as a top-5 pick in the 2021 MLB Draft, but he feels Born made one of the biggest impressions of any Cane this fall.
"Chad Born is a guy that surprised me," Del Castillo said. "I think the first few weeks he was still adjusting and then all of a sudden he just picked it up and he's absolutely raking right now. … He's really stood out to me. He's a fast runner. He's really good at tracking the balls in centerfield. He's got a good arm. He doesn't talk much. He just does his job."
Born is grateful for veterans like Del Castillo and first baseman Alex Toral, both of whom have taken the time to ensure he is on the right track toward success at The U.
"Toral and Del have always been there for me to ask them questions and they always talk to me and are giving me advice," Born said. "They're both really cool dudes that I didn't necessarily think I would talk to all the time when I was coming here, but as soon as I met them, I found out they're great guys."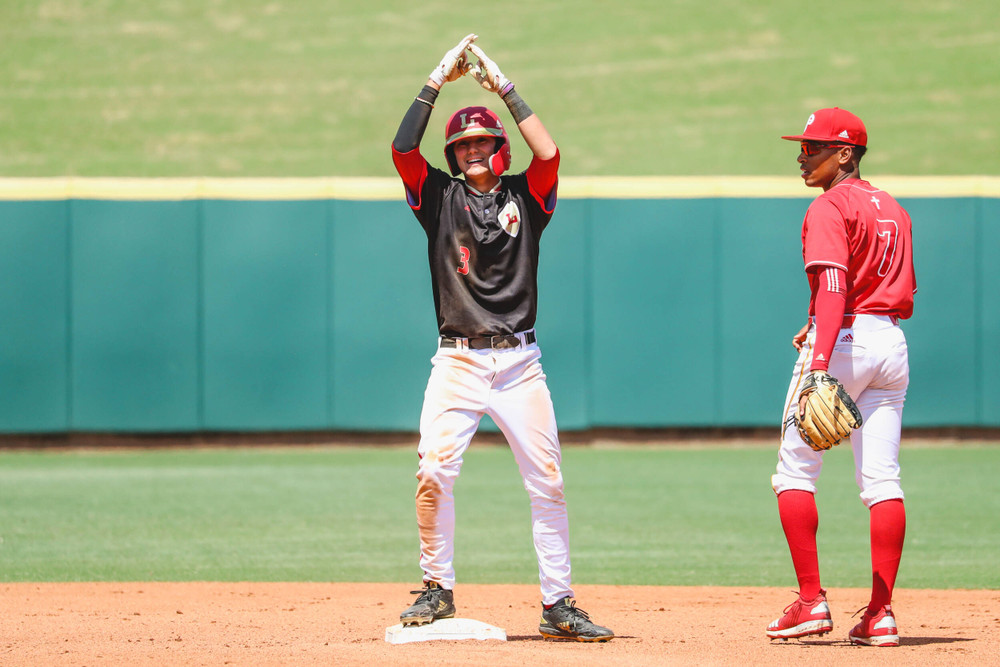 Born is one of several exciting newcomers in the outfield, along with freshmen Jacoby Long and CJ Kayfus, graduate transfer Christian Del Castillo and junior college transfers Mike Rosario and Adam Frank. The group joins four players with starting experience in the outfield in Thomas, Tony Jenkins, Jordan Lala and Gabe Rivera, creating a serious competition that has helped all the players elevate their game.
"It's fun to compete with these guys every day and it definitely has pushed me to get better," Born said. "I wasn't sure if they were going to be here when I was deciding to commit here, but that changed because the draft went down to five rounds. We all know that there is a reason why we're here and we know that we're good enough to be here. For me, it's about going out there, having fun and working to get better because we all know we have the talent to be here. Now, it's just trying to do what you can to help the team."
As a toolsy outfielder, Born can play all three spots but he definitely has a favorite among the positions.
"Center is my favorite. I've been playing center my whole entire career," Born said. "I know I started in center since my sophomore year at Orange Lutheran and that was going into a really good core of outfielders with guys that were getting drafted. I've always felt comfortable in center. I can always play corner outfield positions if they need me to, but center is pretty much where I've been so that's probably where I'm most comfortable."
Both his head coach and oldest friend on the team certainly believe Born can be a key contributor for Miami in his debut season.
"Chad is a guy that has improved a lot in a short period of time," DiMare said. "He's just a very, very good athlete. He looks the part of what an outfielder should look like with his mannerisms, his body language, his athleticism and how he glides in the outfield when he goes after balls. He swings the bat well and he's got a very good swing. He's also probably been one of the harder guys to strike out on our team this fall as a freshman. Chad has been very, very impressive and I'm just excited to have him here."
"I think Chad can be a big part of this team," Thomas added. "He's more mentally tough now and he's ready to battle versus whatever comes his way. He can play all three outfield positions, he's athletic, he can swing it and obviously showed that in the Orange and Green World Series. I think his athleticism and what he does at the plate can help us out this year."
The Southern California native models his game after Angels centerfielder Mike Trout, who Born confidently calls "the best player in baseball." The 6-foot-1, 190-pound Born hopes to one day reach the same level as Trout but is focused on excelling at Miami first.
"I feel like I will definitely have the chills when I first step on the field for my first game," Born said. "I don't think I'd realize I'm actually playing from Miami Hurricanes at that moment. It's always been something I looked forward to and now I'm here. It's gone fast, the whole process from being recruited to committing and now being here. It's been fun and my teammates have made it fun for me. It's great to finally be here and I can't wait to help us win games this spring."