From the Hardwood to the Gridiron
CORAL GABLES, Fla. – Jared Harrison-Hunte cringes when recalling the first plays of his college career.
"I played three snaps and I remember I didn't know what I was doing," the defensive tackle laughed. "I was scared. I don't know. It just looked bad on film. … I played three plays and picked up a loaf. It was like, 'How could you do that?' From then on, I thought, 'Wow. Football might not be it for me.'"
Harrison-Hunte was, more than likely, being harder on himself than he needed to be. After all, It's not uncommon for even the most highly touted high school prospects to struggle when thrown into the fire of their first college games. Because Harrison-Hunte was still a relative newcomer to football, it might even be expected his learning curve might be a little steep.
Still, Harrison-Hunte wasn't pleased with his performance. And so, the former basketball standout at New York's Christ the King High School, threw himself into improving his game.
A year later, things are different – and a whole lot better.
As the 11th-ranked Hurricanes prepare to host Virginia on Saturday night, Harrison-Hunte has a team-high three sacks, no small accomplishment given the veteran defensive linemen he plays beside every week. Five of his 10 tackles have come behind the line of scrimmage. And Harrison-Hunte made one of Miami's biggest plays against top-ranked Clemson earlier this month when he blocked a field goal and teammate DJ Ivey scored on a 48-yard return.
His skill and athleticism have meant more playing time for Harrison-Hunte – and plenty of high praise from teammates and coaches, who have excitedly watched his development through Miami's first five games.
"He's a guy that's made tremendous amounts of improvement over the time that I've been here, just that I've been able to see, not just on the field, but off the field, too. Everything kind of ties together," said redshirt senior Quincy Roche, the nation's active leader in career sacks. "That's a guy that has a bright future and I'm excited to watch. I'm excited to watch him grow and I'm excited to play beside him."
Said defensive coordinator Blake Baker, "Very, very proud of Jared and I think he's a testament of hard work and sticking with it, even during tough times. People have this expectation of him to be really, really good because of his athletic ability, but football, as we know, is much more than just being athletic. He's really starting to trust his technique and he's going to be a really, really good defensive tackle for us when it's said and done."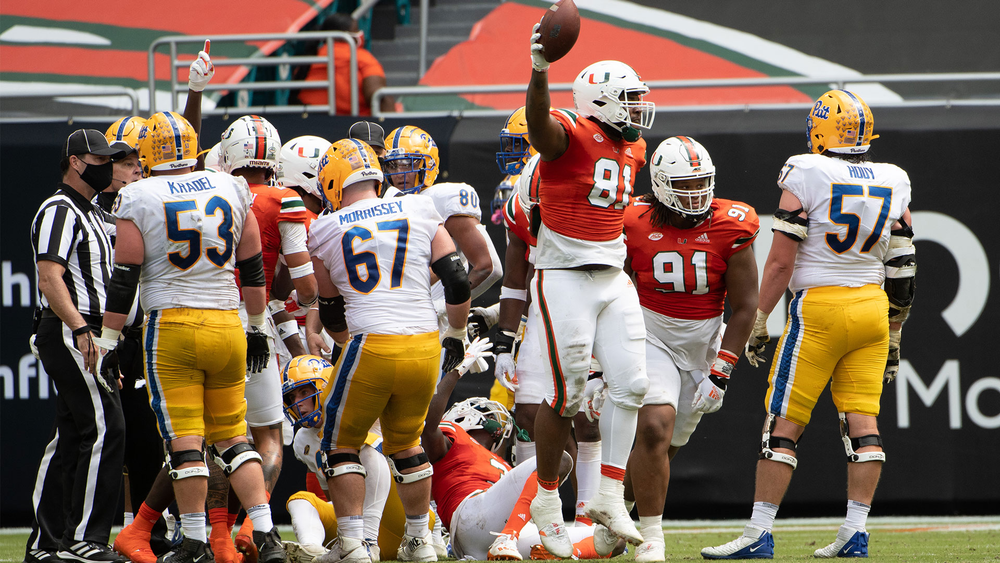 Five years ago, Harrison-Hunte seemed more destined for a college basketball career than a football one.
Though the football coaches at his high school continued trying to convince him to join the team, the former shooting guard and life-long basketball player kept turning them down.
Then came a growth spurt. Harrison-Hunte gained muscle. He shifted positions on the hardwood and finally, gave in. Maybe it was time to give football a try after all.
Harrison-Hunte started his gridiron career in a spot familiar to many basketball players: tight end. He moved to the defensive line not long after and discovered it was far more fun to deliver hits than try to avoid them.
His basketball background led to success on the field, his athleticism and footwork making him a near-natural. And colleges – including Miami, Alabama, Ohio State, Georgia and LSU – took notice. So, too, did recruiting analysts, who rated Harrison-Hunte one of the top 40 defensive tackles in the nation in 2019.
Harrison-Hunte and former high school teammate Adam ElGammal both eventually signed with Miami and now, Harrison-Hunte is doing his part to help make life difficult for opposing offenses.
His basketball background, Hurricanes head coach Manny Diaz, has helped on that front.
"I think the basketball part of it is his footspeed, his quickness, his change of direction. … We're talking about the part of the football field where you've got defensive tackles and guards and he's so much more athletic than anybody else who lines up in there," Diaz said. "The downside of basketball is, when they double-team you in basketball, it's a very different thing than getting double-teamed in football, right? You've got 600, 650 pounds of human pushing on you [in football], so you've got to have a toughness.
"Jared's done a great job with [Strength and Conditioning Director] David Feely and our strength program to really bulk up and get strong. He's tough and he's not afraid."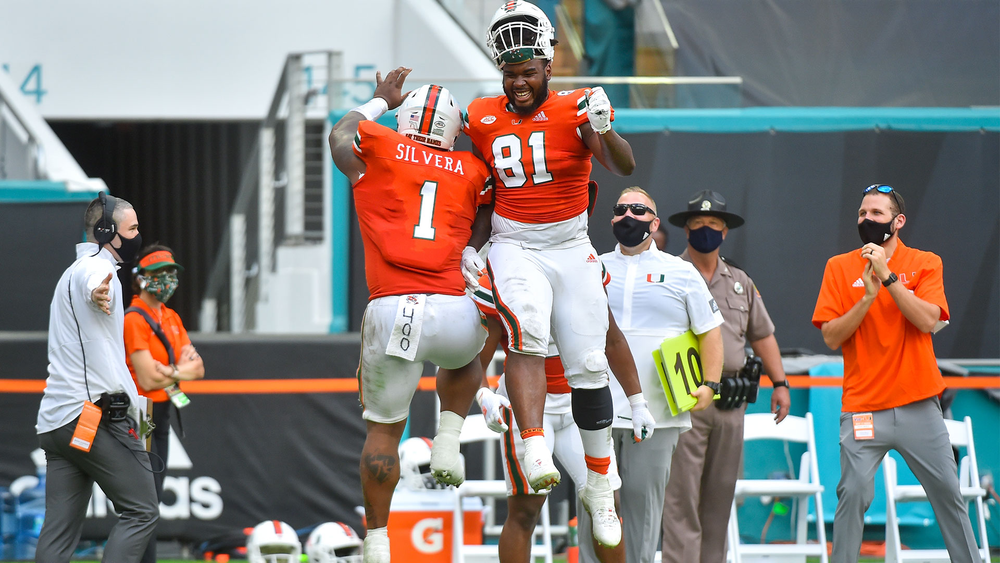 Not afraid to rush ACC passers, and not afraid, Harrison-Hunte laughs, to challenge his teammates on the basketball court.
He's already had the chance to see some of his teammates dunk and is confident he can more than hold his own, including against his fellow lineman, Roche.
But for now, the basketball training will have to wait. There's still more work to be done on Greentree and beyond.
"This not what I envisioned. I thought I would be struggling at first because when I first came here, I wasn't very in-tune with football itself because it was just my second year being here," Harrison-Hunte said. "But, this year has been so good for me so far. I just hope I can keep it up."